NEXT in UK Fashion Trends Autumn/Winter 2005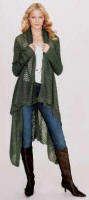 These images are good as a fashion history record of real clothes worn by real women in 2005.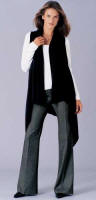 I have browsed through the NEXT UK press catalogue and collected some images for you which are an everyday version of some of the trends this autumn as we run up toward Christmas. All of the goods are available until late December 2005. When the NEXT sale starts NEXT always reduces all items by at least 50% so there are always long queues on the first sale day.
NEXT Fashions for your Wardrobe
Left - NEXT Green Pointelle Cardigan £34.99. XS - XL. 944-984-X36. worn with Blue/Black Skinny Leg Jeans £32.99, 98% cotton 2% elastane. Petite 6 - 16, Regular 6R - 20R, Long 8L - 20L, Extra Long 8XL - 18XL. 943-955-X36. Brown Toe Loop Buckle Long Boots £74.99. Right - NEXT Long Cardigan £39.99, 951-319-X36. XS - XL.
Knitwear is interesting everywhere this year and these styles from NEXT are typical of knits seen in lots of shops.
Middle left -NEXT Long Sleeveless Shrug 947-947-X36 £16.99, S - L. Scoop Neck Top 956-784-X36, £12.99, 6 - 22.
Near left - NEXT Red Tassel Knitted Jacket £39.99,100% lambs wool. S - XL. 950-100-X36 Moleskin Trousers £36.99, 98% cotton 2% Lycra®. 6R - 20Reg, Long 8L - 20L,Extra Long 8XL - 18XL, 947-527-X36.
NEXT Mink Brooch Detail Knitted Cardigan, £39.99, 50% lambswool 40% angora 10% nylon. 6 - 22. 962-728-X36. Mink Dot Skirt £39.99. 97% wool 3% polyester. Lining 100% viscose. 6 - 22. 957-216-X36.
Knitwear Trends 2006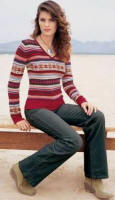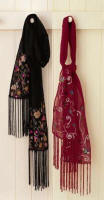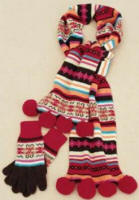 Strong trends in knitwear this fall winter include the elongated and often asymmetrically styled cardigan. This is always a useful garment in the UK climate as shopping in winter in centrally heated stores can be a stifling experience when the stores are crowded. When shoppers travel into town by car they are often totally inside a mall or store and don't always need a full coat. This is where the long cardigan with scarf tails or cable knit to knee coat comes into play.
On a warm early autumn day a ribbed cropped shrug knit, gilet or sweater may be enough. For colder days add some headwear and a fun folkloric fashion scarf. Folkloric and Inca inspiration is seen in scarves either with crafted bobbles - bobbles were thought delightful at Burberry by the show models or with Bulgarian style rose embroidery.
Above left we we have homage to folkloric fair isle and floral embroidery as techniques. NEXT Fairisle Pattern Stripe Sweater in 100% lambswool is £24.99. Sizes 8 - 20, 943-057-X36. Moleskin Trousers £36.99, 6R - 20Reg, 8L - 20L, Extra Long 8XL - 18XL, 948-017-X36. Above centre - Peruvian scarf set. £16.99. 955015. Above far right - Wool Wrap with Embroidery, £28.99. 976763.
‡‡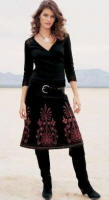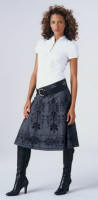 Knits or easy jersey tops can be teamed with skirts and these skirts below follow the lines of the fuller from hipline slouch styles seen much more this summer. Intense folkloric embellishment, tie dye or beading which can be worn day or evening all add to the season's look.
Far left - NEXT Three Quarter Length Sleeve V-Neck Tops Three Pack With woven trim detail, £24.99. 100% cotton. Sizes 6 - 22. 941-822-X36. Embroidered Mid Length Skirt £39.99, 98% cotton. Petite 6 - 16, 6 - 20 Reg, 949-795-X36. Black Belt £24.99. Black Wedge Boots £69.99.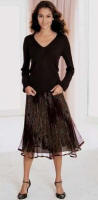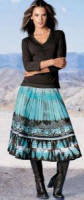 Centre left - NEXT White bib front short sleeve top 6-22, 937978, £12.99. Embroidered skirt 6-22, £44.99, 939816. Petite through 8-22 Long. 955006 Black brogue round toe long boots £89.99. 953766 Black wide leather stud punched belt £24.99.
Centre right - NEXT Crochet Wrap Top 100% cotton. Crochet trim 100% nylon. Sizes 6 - 22. 941-055-X36. £17.99. Blue Print Skirt 100% cotton. 6 - 20, 977-720-X36. £34.99. Conker Crêpe Stack Boots £74.99.
Far right - NEXT Brown Ruched V-Neck Top 79% viscose 21% nylon. 6 - 22. 942-848-X36 £26.99. Chocolate Printed Skirt 100% silk. Lining 100% polyester. Dry clean. 6 - 20. 950-492-X36 £39.99. Shoes £44.99
As an alternative to skirts, you can opt for trouser combinations from skinny jeans to the still popular and very leg flattering bootcut trouser lines which flatter the leg and the way footwear appears beneath. For those who find skinny jeans a nightmare be assured there are still plenty of alternative styles around including straight legged trousers as opposed to drainpipe styles as well as cropped trouser versions.
For work lots of combos here will work well for you, from the tailored sharp suit to the waistcoat teamed with cropped pants or any variety of skirts. You will know what is acceptable at your place of work.
NEXT CITY SLICKERs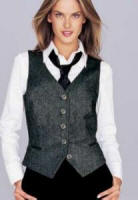 Whether it's a tweed or check version for the office or a bare halter neck number in black for going out in the evening there's no doubt that the waistcoat is back!
NEXT When you need a cover up, but it's not quite cold enough for a jacket then a waistcoat is the ideal choice for work. This black and white tweed effect waistcoat on the left from NEXT is a classic in the making. Wear with a crisp white shirt, black jacquard tie and black slouch trousers for a look that's the business - smart, versatile and slick!
Left - NEXT Black and white tweed effect waistcoat 6-22, £34.99, 940718 White stretch shirt, 6-22 £14.99. 939675. Available in petite sizes. 937549 Black slouch trousers 6-20R, £32.99. Available in petite through 8-20L & 8-18XL 971426. Black jacquard tie £ 4.99.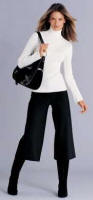 Above right - NEXT Red Tweed Jacket 60% wool 32% viscose 8% nylon.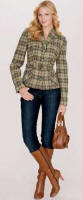 Red lining 51% acetate 49% viscose. Black lining 51% viscose 49% acetate. Dry clean. Petite 6 - 16, Regular 6R - 22R, Longer Sleeve 8L - 22L. 941-911-X36. £69.99. Skinny Roll Neck Sweater Petite 6 - 16, Regular 6 - 22, 952-150-X36. £16.99
Left - Skinny Roll Neck Sweater £16.99, 952-150-X36. Black £32.99 Cropped Trousers, 6 - 20 952-836-X36.
NEXT Neutral Checked Belted Wool Blend Jacket 937-814-X36, £69.99. 6 - 22. Blue/Black Skinny Leg Jeans 943-955-X36, £32.99. 98% cotton 2% elastane. Petite 6 - 16, Regular 6R - 20R, Long 8L - 20L, to 8XL - 18XL
A good winter coat should last 2 to 3 seasons. Cheaper coats may only last one season and more expensive coats may last up to 5 seasons dependant on frequency of wear. For this reason it's important to choose a coat with classic elements when planning your wardrobe if like most people you need to consider a budget.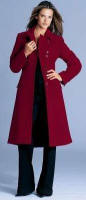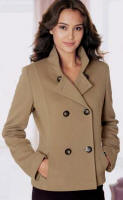 With coats opt for an uncluttered, unfussy shape that follows the general fashion lines of the season and in this season's colour. Extreme styles soon look dated.
Left - NEXT Camel Double Breasted PeaCoat £59.99. 72% wool 20% polyamide 8% cashmere. Lining 100% acetate. Dry clean. Sizes 6 - 22. 954-499-X36.
Right - NEXT Red Coat with asymmetric fastening, £89.99. 75% wool 20% nylon 5% cashmere. Regular 6R - 20R. Longer Sleeve 8L - 18. 959-097-X36. Black Slouch Trousers £32.99. 64% polyester 32% viscose 4% elastane. Petite 6 - 16. Regular 6R - 20R. Long 8L - 20L to Extra Long 8XL - 18XL. 937-549-X36.
Popular elements found in both day and evening fashion include use of velvet, lace, and fur.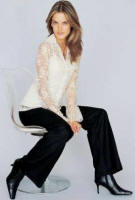 Black is always a great wardrobe standby for evening and this year is no exception.
Left - NEXT Lace Shirt with camisole also in black, £39.99. 100% polyamide. Camisole 100% polyester. 6 - 22. 949-481-X36. Belted Flannel Trousers £36.99 6R - 20R, 8L - 20L, 8XL - 18XL, 951-648-X36.
Right - NEXT Black Flannel Jacket £59.99, 951-376-X36 - With lace detail. Petite 6 - 16, Reg 6 - 20. Black Flannel Skirt £39.99. 949-324-X36 With lace hem. 65% wool 35% viscose. Dry clean both. Petite 6 - 16, Regular 6 - 20. Jet Coloured Shower Choker £19.99, 976-648-X36.
Black is particularly wonderful when made up in velvet or lace. Other rich colours like purple, kingfisher, midnight blue and claret wine suit winter festivities very well.
‡
Left - NEXT Chocolate Velvet Tunic with brooch detail. £44.99. 82% viscose 18% silk. Trim 100% silk. 6 - 22. 945-707-X36. Tinted Contemporary Boot Cut Jeans, £26.99. 99% cotton 1% elastane. Petite 6 - 16, Regular 6R - 20R, 8L - 20L, 8XL - 18XL. 960-994-X36. Pink Beaded Frame Bag. £19.99. 963-433-X36.
Right - NEXT Mink Faux Fur Jacket £69.99. 967-041-X36 70% acrylic 30% polyamide. Backing 100% polyester. 8 - 20.
Evening Looks at NEXT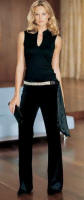 Many women despise the top of their arms so this is where a lace sleeve can be feminine and attractive whilst covering up imperfect arms for whatever reason. Tops with three quarter sleeves also give the wearer an opportunity to show arms decorated with bracelets without feeling bare or cold. Likewise a velvet jacket is opulent and yet can be a comfort blanket for those who don't wish to be too exposed. The square neckline has a newness to it as we become bored with plunging necklines. If you still want to retain a bare effect opt for an almost there small shrug like the sequin version below or for standing around outside on chilly nights the faux fur jacket above might be more useful.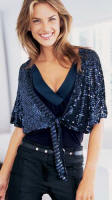 Far right - NEXT Mandarin Collar Tops Three Pack. £21.99. Pack consists of one each of Black, White and Pale Blue. 6 - 22. 950-267-X36, Black Velvet Trousers £44.99, 100% cotton. Dry clean. 6R - 20R, 8L - 20L, 8XL - 18XL. 959-294-X36, Black Velvet Clutch Bag, 963-387-X36 £10.99
Near right - NEXT Midnight Blue Sequin Tie Front Cardigan, £34.99. 970-309-X36 100%
viscose. XS - XL. Satin Trim Vest £9.99, 943-226-X36, 93% viscose 7% elastane. 6 - 22.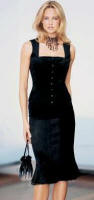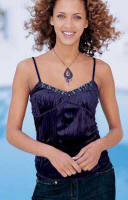 Left - NEXT Pale Purple Crinkle Velour Camisole 932-074-X36, £16.99 With sequin trim. 100% polyester. Sizes 6 - 22.
Right - NEXT Black Velvet Top with mock button fastening. 961-578-X36, £34.99. 6 -22. Black Velvet Skirt/pleated georgette hem. £39.99. Both 100% cotton. Lining 100% polyester. Dry clean both. Petite 6 - 16. Regular 8 - 22. 948-984-X36. Black Beaded Sequin Pouch Bag 966-077-X36 £19.99.
So you've read all the fashion reports you can find across the internet and devoured every fashion magazine and newspaper article going and you are still wondering how you will literally make the new looks fit your looks. These examples above might be just what you seek. Very much a middle road and you'll probably be able to wear the items next year too. Could it be then that is the reason that www.next.co.uk and NEXT shops throughout the UK are so popular with the masses is that they are tuned in to Ms Average woman.
-------v6-------
Sizing at NEXT
NEXT spans a large size range catering for petite figures to tall figures as well as regular and fuller sizes. Some styles have shorter or longer sleeve, trouser or skirt lengths. The sizes range from UK sizes 8 to 22 (which are about 2 sizes smaller than American sizing) all dependant on product item, but larger women may find they can be fashionably accommodated.
NEXT produces clothing which pays homage to fashion changes, but which still has a classic edge that makes it very wearable. They have done a home delivery service for 20 years and so they understand the needs of speedy delivery and return of goods by demanding customers, with very busy lives. But as always, if you really fancy an item either in store, online or casually browsing the NEXT catalogue at home, then shop for it well before a great item gets sold out.
All the images on this page are courtesy of NEXT and all images here enlarge - in some cases you will be able to see a fuller enlargement at the next website.
Available from NEXT stores nationwide (Call NEXT customer services on 08702 435 435) NEXT Directory on 0845 600 7000 and online @ www.next.co.uk
Images valid until end December 2005.
To Top of Page
If you like this page then please share it with your friends
---
For more information on women's and teens fashion trends go to:-
Custom Search
About Fashion-Era.com
Fashion-Era.com looks at women's costume and fashion history and analyses the mood of an era. Changes in technology, leisure, work, cultural and moral values. Homelife and politics also contribute to lifestyle trends, which in turn influence the clothes we wear. These are the changes that make any era of society special in relation to the study of the costume of a period.

Fashion-Era.com can take no responsibility for any information on the site which may cause you error, loss or costs incurred from use of the information and links either directly or indirectly. This site is owned, designed, written and developed by author: Pauline Thomas and Guy Thomas. This site is designed to be viewed in 1024 X 768 or higher.
ALL RIGHTS RESERVED. Fashion-era.com reserves the right to add or delete information, graphics and links. Copyright © 2001-2014 on all content, text and images in Fashion-era.com. Images and text in this website may not be used on other websites.
Before you write to me for costume/fashion help or information please, please consult the extensive sitemap which lists all our pages. If you still cannot find the answer after searching the site, then before you email me, please consider if you are prepared to make a donation to the website.
Donations
Reader's donations help this site flourish, in particular donations encourage me to write more articles on fashion history as well as current trends. PayPal allows anyone with a credit card to donate easily and securely. You may donate any sum you feel appropriate.