Tips for Sellers & Buyers of Vintage Textiles
These are some guidelines aimed in particular at new sellers of vintage who may be considering selling clothing or dresses via the internet, but have no idea what points to consider other than they want to sell items. Buyers may also find them useful as guidelines on buying and what features to look for in sale details.
1. Give a precise and accurate written description of the condition of the item. State whether it is mint, near mint, excellent, very good, good, fair, poor, well worn, tattered, soiled, damaged, ripped, moth eaten. Whether or not you need to use the latter derogatory words will depend on your mode of operation and standard of purchases. With the latter terms consider using the word 'cutter', which is a useful term to doll makers, dressmakers and quilt makers who seek antique fabrics for reproducing vintage looking reproduction or theatrical goods.
Mint means mint. It means rare, flawless and as perfect and pristine as it was originally, to the point that it may never have been even worn. Garment tags may still be attached.
Near Mint shows the lightest of wear and a garment or dress that is in complete condition in all aspects. Wedding suits and special occasion ball, red carpet and cocktail gowns for example are often near mint.
Excellent condition means totally sound in condition and appearance, but any wear is a result of having been worn now and then, but the item has been well looked after and stored to still keep good looks. The construction of the garment is sound with no buttons missing or unavailable for matching.
Very good condition means wearable with some flaws. Flaws such as stains or minor structural flaws have made an appearance. However, overall the garment has redeeming factors such as scarcity or a rare print making it desirable. The position of the soiling or staining is also important. Since the marking may be permanent this should be reflected in the selling price.
Good means wearable, but the dress is no longer in pristine condition and if there are repairs to be made it could never achieve excellent condition. Remember vintage garments have been around a long time, so will have deteriorated with the years and with storage conditions. These clothes have been worn, but the fact they still exist means they were favourite items or stylish treasured garments in their day.
‡‡
Vintage Tips
Anything beyond these terms means the garment gets less and less desirable. Whilst I have suggested terms such as fair and poor above, it is really better to try to trade in items in very good condition or better. You will have less personal headaches than if you deal with tat. A wide range of terms is required if you sell a broad range of textile goods sourced as 'lots' from estate sales. Once experienced, with sound finance behind you, you may prefer to buy single top condition items from an auction house and trade more exclusive items that actually give you more pleasure to sell and to buy.
Give your general opinion of the quality of the garment. As buyers get to know you they will recognise fact from fiction. Sellers like the ones recommended here actually draw attention to flaws so the buyer knows exactly what to expect. A buyer expects to see pictures of flaws, minor holes, tiny seam splits where appropriate, for any of the descriptions above.
All flaws should be disclosed. Do not mislead as you will do yourself long term customer relations damage. You want buyers to come back again and again because you provide a good service and because you are honest and do this not only to make money, but because it gives you satisfaction of the love of a job well done. You want to develop a win win situation for you and your customer. Integrity on your part will enable you to sleep well at night.
If you cannot be descriptive enough, if it is not in good state, write "sold AS IS" which puts the onus on the purchaser to read that phrase and derive meaning from it. You can invite them to email you for more information if you don't want to jeopardize the sale, or put people off considering the item when you write AS IS. Don't think a torn garment is worthless and has no monetary value as many collectors buy up older damaged garments specifically for quilting, dressing old or antique dolls in authentic fabrics as well as using pieces of material in re-enactment costumes. But it's worth may be limited. Describe it as Cutter.
Repro and retro goods are sometimes described as BN or Brand New.
2. State the dimensions of an accessory or state garment measurements, measured by you with a tape measure in many places. You must state the bust, waist and hip measurements always. Have ready other measurements for email queries or special extra details or even make it a policy to list fuller measurements.
A good pattern drafting book can highlight typical areas to measure. Apart from the obvious measurements of bust, waist, hips, other areas like back waist, cross chest, cross back, and bodice length are important too. Include garment length, plus widths and circumference of hemline sweeps on skirts and jacket tops, as well as any original statistics stated on the garment. Sizing varies from era to era and you need to be aware which eras have a smaller more nipped in fit. Laundering may have increased or decreased the original sizing. (See cleaning vintage tips in another section)
3. State the era - date it - what date do you give it? Aim for accuracy with 5 or less years either side of the original date. Get familiar with fashion and costume history books. Use the sitemaps and search facilities of websites like www.fashion-era.com and www.costumes.org , that give reliable logically presented information. There is no one way to date vintage clothing, but over time and with experience you will develop a feel for dating items. You must read up on fashion history and get a reasonable selection of costume books that cover your sales eras.
If you are searching for initial clues to the date of the silhouette, my new section here with clear outline drawings of the era 1900-1940 may help you. Check back frequently as I plan to add more similar styled line drawing images. Likewise there are sections on this site on cloaks, capelets, mantelets, bustles, crinolines, redingotes and hats etc. The coats and capes section on site actually developed after I dated some vintage garments for an eBay vintage shop seller and I realised how confusing it was to find coordinated information in one place.
If you have a dated photograph of the garment's first wearing it may also be useful. But don't rely on being told the date. You need to develop these skills yourself. You can learn how to date the clothes in photos by starting at my webpage section here. It is all about comparison. With time, knowledge builds and you cannot beat sketching out the images and highlighting skirts, necklines and sleeve silhouettes year by year. I might add though, that dating lace is a whole field in itself.
4. Name the brand or designer label name. Name the designer or company if known to you and always show the label, including any care labels in the photographs which may exist with garments post 1950s.
§
Some labels, especially in beautifully made clothes, may be well hidden underneath layers of linings up side seams. If the original garment tags are still attached, state that they are with the garment.
Sewn in Care Labels introduced into the UK by the HLCC (Home laundering Consultative Council) and as we know them today, are post c1975. Standardization in the UK was introduced in the mid 1980s. This link will give you access to typical care symbols for UK, USA and Japanese systems. But good brands often included a swing booklet on looking after a garment long before this date and would have advised on hand washing, bleaching, machine washing or dry cleaning.
5. Give a full description of stains and smells, mildew, rust stains or odour of dust, smoke, perspiration/body odour or other smell. Photographs help here. It may put some people off, but some people are able to deal with stain removal and stains and some smells like dust come out of certain fabrics better than others. Build and keep your reputation. Give the facts and let the buyer decide if they can deal with the problem - it is after all vintage and there are often imperfections. If you are more experienced try to clean up some problems using the hints and tips on the cleaning vintage page.
6. Tell prospective purchasers if the item has been cleaned or not, either by hand washing or dry cleaning. Old and very precious antique items are best left to the conservationist professionals. The aged look may even be part of the attraction.
...(v4r)
If you are in doubt about the success of any cleaning you might do, don't clean it as the buyer may prefer to have it specialist cleaned. However selling disgusting, filthy articles is not generally good for business and the best answer is to try to avoid purchasing unpleasant goods in the beginning.
7. Give clear fabric composition, type and trimmings descriptions where known. Here try to familiarise yourself with fabric terms from past and present eras. Learn the meaning of terms like dupion silk, mousseline de soie, damask, jacquard, sea island, cheesecloth, crape, crepe de chine, grosgrain, batiste, organdie, organza, poult de soie, voile, voided velvet or devore, velveteen, chiffon, dimity print, brocade, waffle, pique, georgette and so many more and find out the differences. Read more about Tweeds here on the fashion-era website.
Learn also about trimming terms like passementerie, soutache braid, trapunto quilting, picot edging, faggotting, bias trim and rouleau work, Vandyke edging, guipure lace, Irish crochet, Battenburg lace, Chantilly lace, Italian quilting, appliqué, shadow work, tatting trim, filet, openwork and drawn threadwork, cutwork, macrame fringe and whitework. You will find links to just about every craft skill link listed at www.costumes.org
Many of these typical terms can be found in a good basic sewing book like Vogue Sewing, which is hard to beat for understanding various descriptions of terms used in sewing clothing. If you are new to all of this it will take time, but there is no substitute for diligent research, asking knowledgeable individuals at forums and looking at clothes in museums.
8. Always give a colour description which is attractive sounding. Variations of blue for example sound more interesting and are possibly more accurate when described as hyacinth, iris, saxe blue, bluebell, sky, powder, royal, periwinkle, forget-me-not, Wedgwood, peacock, cornflower, sapphire, aquamarine, teal etc. Avoid using unattractive descriptions of colours such as mouse, mole or clay mud. In preference use cinnamon, taupe, cafe, red earth which have a more pleasant visual connection.
9. Give prospective clients clear shipping details - let them know how soon after purchase and clearance of payment you intend to send their item to them. Tell them how well you intend to pack it and if it will be insured, sent first or second class delivery. Tell them if uninsured if they can arrange to pay extra to have insured shipping. Give them information on any extra or basic costs to shipping and think about adding phrases that imply cost will be greater or lesser if special delivery or inside/outside the USA, UK or Antipodes for example, dependant on which side of the pond you are. Consider where in the world you are prepared or not prepared to send this item.
My advice is that before you attempt to sell something on a site such as eBay you first buy several products such as old fashion magazines or other small goods such as hats, scarves or bags within a specific budget to understand the stages involved. Buying a few items first, gives you the stage experience that a purchaser might have. Observe how the transaction is dealt with, and when/how and what condition the item is received in and your sense of pleasure or displeasure.
10. Describe the garment and the garment construction details - tell them if it is couture, mass produced or custom made. The inside will reveal a great deal of information about construction methods such as pre and post development of serging. Likewise fabrics and methods used in the construction tell much about the quality of a garment. Careful use of net, horsehair, padding, stay tape and stay pieces, but beneath the top layers, all indicate quality construction which takes more time to do. This makes the article more costly when first made.
‡
Vintage Garment Descriptions
Describe carefully garment styling lines such as princess seaming, tucking, godets, insertions or peplums. Sleeves may be set in, leg o'mutton, gigot, dolman, raglan, batwing, cap, drop, blouson, shirt, bracelet, angel, puff, straight, fitted or kimono sleeves. Collars or necklines such as Bertha, peter pan, Eton, shirt, granddad, cowl, fichu, V-neck, bateau, sailor, cowl, crew, polo, stand, roll, or topstitched are often featured.
Describing garments depends on the item, but when you have a mental block or are new to descriptive sales narrative, a good idea is to simply logically work down the garment describing the neckline, then the bodice, yoke, waist appearance and closure. Sleeves may have cuffs or ornamentation. Describe the skirt and the hemline sweep or train. Mention any interesting back views. Any decoration such as beading or passementerie can then be highlighted or reinforced again as you sum up.
Give them a garment condition report which can be as brief or as long as you like. Tell them if there is button loss or loose stitching such as hems coming down, fading, or colour loss or pinholes. Photograph special areas of construction or any flaws that might give more guidance to the buyer.

In this example the small seam split of this vintage dress has been pointed out in this photograph. Shown with the dressform arm to indicate the position, it makes the statement that it is in a less obtrusive place making repair more acceptable especially as the dress is good otherwise.
Image courtesy of www.contentmentfarmantiques.com/
I think it's preferable to call handmade suits, custom-made tailored suits. When describing items do not imply at any time with quality made PROFESSIONAL seamstress suits, that they are vaguely connected to homemade items that might have an unprofessional finish. If you know the item was home made, but the quality and finish is that of a superior craftsperson and you admire the finish greatly, then state custom made. But if the item is very obviously home made, be realistic and state that's what it is. No one will rate you if you tell porkies!
Similarly if you are buying, learn to read between the lines on such item descriptions. One important point is to make sure that the item is very carefully measured. Women who have clothes made often have figure flaws such as thick or narrow waist, slim or fat top upper arms, flat or fuller bust.
11. Let them see the zipper and describe it. Photograph the zipper. Photograph major fastening features such as bakelite buttons. Read about zippers below and how many people use this as guidance when dating.
12. Tell them your methods of acceptable payment such as using ClickBank or PayPal or Visa, but don't labour everyone who peruses the sale with too much info on this at the selling stage, leave the bulk of the payment information for the final purchaser or anyone who cares to email you about their preferred method of payment.
13. If you have accumulated too many of a particular item and only perhaps 3 out of 6 items are desirable items think about selling lots.
If you have for example a selection of 20's hats, 50's skirts, 60's pinafore dresses, or 70's caftans they may do well as a 'lot' of one type. At least one third of the items should be very desirable so that people get something out of bidding on a lot. No buyer wants 6 reject caftans, but they might like 2 highly attractive items with a special cache perhaps in a Pucci print fabric or with interesting beading.
You can also group lots as sizes making a lot of five or six items all size 32 bust, or all size large items. Group items together as day dresses, evening dresses, trousers, shirts, coats, stoles, scarves etc.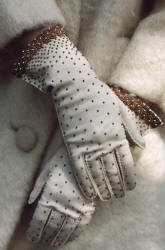 14. Avoid off putting descriptive terms like "mother of the bride" and "would suit older person" both of which can imply a limited wear, often dowdy style in favour of terms that sound more favourable to all age groupings such as classic elegance, classy and sophisticated, elegant and luxurious, feminine or cute when appropriate.
15. Develop a refund policy. Either choose to refund or don't, but state clearly your returns policy. I have to say I know which seller I would support. Trust and integrity in sales brings repeat custom. Imagine how you would like to be treated yourself when making decisions like this.
16. Let your buyers see your love of vintage and your reputable personality with integrity shine through your descriptions and quality sales. Success and profit will become yours.
Update September 2006 - One site that has incorporated some of my policy suggestions above is buffalogalvintage. This website gives clear information on their approach to shipping, returns, sizing etc. They sell interesting vintage items across the clothing range as well as accessories such as the 1950's beaded gloves shown right.
...(v4r)
Nothing can replace an understanding of the quality of a garment, of fabrics, trimmings, construction methods and sewing techniques. This combined with a knowledge of fashion history gained over time will eventually ensure you develop an eye for dating items and for sorting the desirable vintage piece from the undesirable. Some collectors use techniques like the presence of a zipper or its absence to help indicate the age of an item.
Schiaparelli liked new things as well as new ideas. In 1933 she promoted the fastener we call the zip or zipper. The metal zip had been invented in the Victorian era as far back as 1891 by W Litcomb Judson of Chicago USA. He patented a clasp locker system of fastening constructed from a series of hooks and eyes with a clasp lock for closing. By 1893 the zipper was in production. But it was clumsy as it needed to be locked tooth by tooth. It was slow to catch on until refinements were gradually introduced.
In 1913 a Swede developed Judson's ideas in the USA, making a hook less fastener with interlocking teeth. By 1917 it was somewhat timidly used for tobacco pouches and shoes. B. G. Worth of Goodrich and Co., gave those shoe zips the name zipper and it stuck. In 1917 it was used for clothing when the U.S. Navy applied it to windcheater jackets.
Schiaparelli's use of the new plastic coloured zip in fashion clothes was both decorative, functional and highly novel. Her 1930's designs were the first to use it as a major feature of fashion garments. Even so most garments were still designed with button fastenings until the 50s when improvements in zip manufacture were acknowledged. They soon became universally used and are now a very reliable form of fastening.

Many dress patterns sold to the public still did not include instructions for zippers. Many considered it 'unreliable' as it was prone to failure. More traditional closures were often thought more reliable and easier to insert. This means that many 1930's dresses are finished with press studs or buttons as shown here.
Image courtesy ofwww.contentmentfarmantiques.com/
Zippers were usually put in the side seams of dresses, skirts and trousers until the 50s. Later they were used in the centre back of dresses, skirts and the centre front of trousers. Whilst there is no official reason to this it is obvious to anyone who is capable of constructing garments that it is much easier to apply a zip to the centre back piece of a garment in the flat stage, rather than to the side and curved hip seam of an almost completed closed garment. Zips were often unreliable in the early days and so if a zip split open in a side seam underarm insertion it would provide the wearer with greater modesty when covered with the arm than a gaping back of a garment might.
Garment shape change may also be responsible for this. Pre 1960 garments were very fitted. They often had a waist seam and so bodices were almost totally completed and then applied in the round to the full or straight skirt of a dress. Applying the zip to the side may also have been a leftover technique from the times when zips were inserted by hand.
In my opinion it is easier to invisibly hand insert a zip into a side seam using a hand couture sewing method than to machine stitch a zip into a curved side seam. The hand sewing allows for manipulation of the fabric in a way that the machine will not. Improvements in mass production during the Utility Era also meant that production methods were speeded up and it is certainly more speedy to apply a zip to the centre back of a garment at the flat stage.
In vintage terms many enthusiasts believe that a metal zipper in a garment is a good rule of thumb that along with other factors indicate a garment is probably pre 1960. I say be wary, as whilst the presence of a metal zip may be an indication of age it is not reason enough to believe an item is vintage. Metal zips can be replaced and there are unscrupulous people who will deliberately fake items using metal zippers. Metal zips can still be bought today particularly for use with work or jeans wear and many dressmakers continue to use them.
Plastic zippers were available in the 1930s, but made with individual teeth moulded onto them in the exact same way as metal zippers were constructed. Concealed zippers which are very fine were introduced in 1958. In 1961 I recall my sister having a beautifully made bought dress from a local boutique in the latest new fabric "Crimplene". It was the height of luxury, with a concealed zipper of such neat insertion it fascinated the whole family. The dress cost her 7 guineas, about $30 at that time.
Some people who dressmake regularly recycle zips from garments no longer worn and even buy jumble or boot sale thrift garments just to remove zips and buttons. Likewise a vintage garment may have had its metal zip replaced at some time with a nylon coil (self healing) zip.
In 1963 EFLON woven zippers appeared and this is where some people become confused with the later finer knitted tape zips, but with continuous coil features of one single shaped monofilament. Plastic coil zippers as we know them were first introduced in 1971. The plastic coil is woven as part of the fabric of the tape with single loops each making one tooth. Thermoplastic resins, specific versions of the plastics Nylon and Polyester are both used today in zip making.
Zips are not the only things to be wary of.
Other factors to consider include what type of item to collect, vintage garment sizing, preparing and displaying your garment for photographs, possible cleaning or valeting and once sold, shipping the garment. These points are covered in the next pages.
-------v6-------
(Page Date 18 Feb 2005)
If you like this page then please share it with your friends
---
--Link--
For more information on go to:-
Custom Search
About Fashion-Era.com
Fashion-Era.com looks at women's costume and fashion history and analyses the mood of an era. Changes in technology, leisure, work, cultural and moral values. Homelife and politics also contribute to lifestyle trends, which in turn influence the clothes we wear. These are the changes that make any era of society special in relation to the study of the costume of a period.

Fashion-Era.com can take no responsibility for any information on the site which may cause you error, loss or costs incurred from use of the information and links either directly or indirectly. This site is owned, designed, written and developed by author: Pauline Thomas and Guy Thomas. This site is designed to be viewed in 1024 X 768 or higher.
ALL RIGHTS RESERVED. Fashion-era.com reserves the right to add or delete information, graphics and links. Copyright © 2001-2014 on all content, text and images in Fashion-era.com. Images and text in this website may not be used on other websites.
Before you write to me for costume/fashion help or information please, please consult the extensive sitemap which lists all our pages. If you still cannot find the answer after searching the site, then before you email me, please consider if you are prepared to make a donation to the website.
Donations
Reader's donations help this site flourish, in particular donations encourage me to write more articles on fashion history as well as current trends. PayPal allows anyone with a credit card to donate easily and securely. You may donate any sum you feel appropriate.