Presenting Vintage Clothes with Photographs
Should You Buy a Mannequin
Generally garments look much better when photographed on either a mannequin or a dress-form.
A mannequin has arms, legs, hands, feet and a head and usually a wig. It is the sort of model you see in shop windows. Dressmaker's dress-forms are usually just torsos, but the dress-form below is a couture model and has a half arm with a jointed elbow increasing display possibilities. A lower arm and hand is often available for such superior models.
Mannequins are not cheap. When new, those in department stores cost up to £1000 or more if they are the current version. That would mean it would have the latest facial expressions, hair style, body shape and posture. But second hand and even vintage dress mannequins and forms can be obtained.
Couture Model dress-form
This photograph right is a couture model dress-form and is the model which Linda Ames frequently uses to display many of their fine couture pieces. The slender form makes it ideal for antique and vintage clothing which pre-1960 will have smaller waists and smaller measurements in general.
Image courtesy of www.vintagetextile.com
‡‡
I recall in the 1980s there was a mannequin called Laid Back Larry and he slouched in an ever so casual way and had huge iron pumped 1980's shoulders. Likewise many 80's mannequins had head features modelled on the Princess of Wales, Diana. 15 years before that many had head features modelled on Princess Anne. Some of the older models at the V & A, London costume section in the 1980s had Princess Anne's face. Now in the UK many mannequins look like Victoria or David Beckham, or the latest celebrity such as Gwen Stefani. More recently whilst checking out vintage sites, I noticed that many model heads used actually looked as if they had been modelled on Vivien Leigh.
Detachable limbs that unscrew on a model make it easier to dress and undress. Any screw fitting or limb stiffness can usually be sorted out with a spray like WD40, but not of course near textiles! Be lavish with kitchen roll when applying the spray to just a joint and for cleaning up excess spray. If you have very expensive vintage garments think twice before using such a product. It may be preferable to spray kitchen paper instead and wipe the lubricant precisely just on the stiff fitting.
Just don't frighten the life out of your neighbours as I once did when I stacked one in a box in my garage and then one day left the garage door open and they wondered who the naked lady, legs up in the air in a TV box was! Although second hand prices of ex-shop model mannequins must vary a great deal worldwide, I paid £20 for a second hand one from a small ad in the local free Advertiser newspaper about 8 years ago.
Dress forms can be almost as effective as mannequins, but try to put a nice filler in the neck either of contrast fabric or toning stockinet or make a little bib filler. There are also briefer half girl models on the market and these are a good investment.
If you have no mannequin or dress form do you know someone the garment might fit - could you pad them out a little or hold the back of the garment in with clothes pegs so that no one will see poor fit in the photo. As a last resort hang the garment from a door frame and photograph it against a plain door, but hanging freely.
The best way to show for example skirt or sleeve shape is to use a long thread and secure it from another point or get someone to hold the other end of the thread whilst you take photos. It will be easy to crop the person's hand out of the picture if the elevated thread is a distance away from the garment. Make sure you use a good length of sewing thread or invisible thread lifting the garment sleeves or skirt up in a delicate manner as often seen in window displays.
Dress forms are often sold by vintage clothes sellers too. Modern forms can be obtained from many stockists such as the USA Greenberg-hammer web site or MacCulloch and Wallis of Dering Street London.
...(v4r)
When you photograph items for placement on internet auction sites try to use a special daylight bulb to gain colour accuracy. Household bulbs cast a yellowish light, fluorescent light a green cast and halogen lights a blue cast.
If you have the expertise and your photograph colour looks a little off compared to the actual garment or perhaps too dark, try to lift or enhance the colour, or lighten it using software features. Try correcting colour backgrounds or flood filling them with colour using the magic wand selection tool. I can highly recommend the software Paint Shop Pro 7 or higher from JASC to help you manipulate pictures in this way. This is the software I use for all my pictures here.
Whatever you do, don't include cornflake packets and the like in the photograph as I have sometimes seen on numerous eBay sales.
Here is an example of an 'old' saved leather handbag I have, now fitting into the vintage category. The handbag was originally from the well known exclusive London shop Mappin and Webb. The handbag shows a small amount of wear on the edges, but otherwise is in very good condition and is still useable and is suitable for sale. It has a lovely clean suede interior and a zipped pocket. Best of all it is in a currently fashionable textured skin, classic in style and is brown, making it suitable for the fifties look now.
These thumbnails enlarge and the last one shows the label clearly. There is no extra clutter in the pictures to distract the viewer.
You don't have to be an expert photographer to take clear uncluttered photographs. A corner of your desk will do as I have used here, but I made sure nothing else in the picture was distracting the viewer's attention. Focus on the object you intend to sell and if there is clutter try to crop that away or colour a new background using graphics software with perhaps black or off white to isolate the image.
Notice too how each image has a border of white that is not proportionate size wise in all these pictures here. The first two I'd probably pass, but the last image should be adjusted when it's adjacent to another.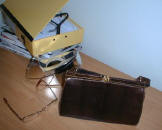 This may seem fussy and unimportant and it happens to us all using graphics, but you need to be aware it's not quite perfect and at least think about it next time, aiming for consistency and improvement. The reason this happens is that the images have been resized to different pixel height so when the border is added the proportion differs.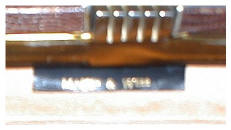 The photo right shows an example of a cluttered setting and a bad angle so that the box file clutter is more noticeable than the handbag.
In this image shown left the light is shining on the label making it unreadable. Investing in a digital camera and graphics software can help you quickly and instantly sort out problems.
‡
Flat Displays.
Finally nothing makes a full length garment look duller than laying it flat on a table or bed when no flowing drape is possible. However one exception to the rule is beaded knitwear, which can sometimes display much better if laid flat to show the whole pattern.
On the next page I look at Couture Vintage from vintagetextile.com and you will see there how beautifully displayed the models are.
(Page Date 18 Feb 2005)
If you like this page then please share it with your friends
---
--Link--
For more information on go to:-
Fashion-era.com

Fashion-era.com looks at women's costume and fashion history and analyses the mood of an era. Changes in technology, leisure, work, cultural and moral values, homelife and politics have all contributed to lifestyle trends which influence the clothes we wear. These are the changes that make any era of society special in relation to the study of the costume of a period.

Fashion-era.com can take no responsibility for the information above and any outcome which may cause you error, loss or costs incurred from use of the information and links either directly or indirectly from this website or other websites.

If you would like to receive information advising you of updates to the site and other information of interest, sign up for membership now. Click here and get a free sample ebook to kick off your membership.

This web site is owned, designed, written and developed by Pauline Weston Thomas and Guy Thomas.

ALL RIGHTS RESERVED. Fashion-era.com reserves the right to add or delete information, graphics and links to this website. Copyright © 2001 - 2011 on all content in Fashion-era.com.

If you email me below for costume/fashion help or information please consider first if you are prepared to make a payment to the website. Make a payment for Pauline's help here

Please read the message directly above before E-Mailing us if you have comments at

This site should be viewed in 1024 X 768 or higher.

Home Sitemap