This page looks at couture vintage clothes. All the image examples of dresses here are from Vintagetextile.com who sell high end vintage fashion on the internet. On the previous page I mentioned the importance of clear photography for internet vintage sales. Notice how beautifully displayed the clothes are on these models. Trains are artfully draped and fanned, whilst sleeves are supported to show their true shape.
Antique and Vintage Couture from Vintagetextile.com
Many people want to concentrate on collecting vintage couture only. Haute couture reached it's peak in the late 1940's to the end of the 1950s. Thus couture vintage has become highly sought after. Haute Couture is a French phrase for high fashion. Couture means dressmaking, sewing, or needlework and haute means elegant or high and together they imply excellent artistry and fashioning of garments. The top level of hand customised fashion design and clothing construction made by a couture design house is the purchase of a haute couture model garment.
Model haute couture garments are different in that they are made solely for the wearer's body stance and to personal body measurements. Exclusive made to measure clothes like these are virtually made by hand, carefully interlined, stay taped and fitted to perfection for each client.
This is time consuming with about 100-150 hours for a suit and up to 1000 hours manual labour for an embellished evening dress. An evening dress might have thousands of hand sewn beads. It may have been done the famous Parisian embroidery and beading firm of Lesage, founded in 1922 by Albert Lesage. An example of a beautiful beaded gown from vintagetextile.com is shown directly below.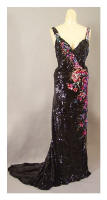 This gorgeous couture fashion gown right has extraordinary beading, as one might expect of a Worth Paris original.
Worth couture high-style sequined tulle gown, c.1930. An asymmetrical floral spray design, featuring a plunging neckline and dramatic back train. A show stopper!
Image right courtesy of www.vintagetextile.com
Vintagetextile.com is a stand alone vintage website selling a variety of finest quality antique and true vintage garments. Countless items are couture and most have superb provenance. Each garment is photographed in great detail and is accompanied by clear explanatory expertly written notes. Some of the museum quality artefacts they sell are over 200 years old and can be found in both mint and excellent condition.
Left - Directoire-period fancy silk evening dress with metallic trim, c.1800. High-style fashion with distinctive detail work.
The sleeves are a work of art: outlined with green silk corded binding and scallops of gold bullion.
Image courtesy of www.vintagetextile.com
Their site is enjoyable to browse and is informative about antique and vintage clothing from an investment point of view. These sellers really understand the many reasons why an individual would want to buy a vintage or antique garment. Many of the antique and vintage pieces they sell are works of art. Dedicated collectors will enjoy visiting their site to see luscious dresses, coats and scarves.
‡‡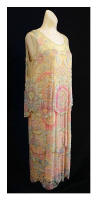 1920's vintage beaded dresses and evening wear are very desirable as many are like works of art. Frankly the quality of artistry is such that it's unlikely that similar items will ever be produced again as the cost and existing skill base prohibits this from happening. This gown right is an example of outstanding beadwork.
Right - Couture-quality yellow silk tulle, three-tier evening dress, c.1924. It is lavishly beaded with bold colourful flowers. A masterful floral design!
Image right courtesy of www.vintagetextile.com
One aspect of couture that excites the vintage buyer is the quality of materials used. The fabrics available to the couture houses have always been very luxurious with expensive silks, fine wools, cashmeres, cottons, linens, leather, suede, the latest novelty fabrics and skins or furs. In the case of a famous design house the design and colour of a cloth, would have been exclusively reserved for that couture house for that season of use. Quality in couture fabrics has always stood way above the fabrics used in mass produced goods. Typical fabrics used today might cost about £100 or more a metre.
Dependant on the Haute Couture design house and the garment, the cost of a couture item today can run to £40,000 and often beyond that figure. A Chanel couture suit for example in 2003 might have cost £20,000. The price reflects an original and unique design, materials of the finest quality, superlative workmanship, customer service and personal attention.
It follows that if you are buying vintage garments with haute couture designer labels of any era, the value of a vintage couture dress, gown or suit in excellent condition will astound you. The low price of a couture garment in a poor and tattered condition will also amaze you. Some mint condition couture designs can sell for $10,000 and more (with provenance such as that of Princess Diana) at auction, but the same unwearable item may attract only $100 when in a tattered condition.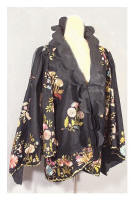 Outside specialists made accessories and innovative pieces and trims to complement the fabrics and fashion ideas being created. Superb craftsmanship and exclusivity commanded a price to match. Likewise people will still pay for vintage couture today.
§
Right - Couture quality jacket, c.1890. Made of black tulle, it features Persian style embroidery and lined with black taffeta.
Fabulous wide sleeves!
Image right courtesy of www.vintagetextile.com
The lower priced designer ready to wear version called Prêt-à- Porter makes large profits for the couture design house through the volume of mass market international sales. These items made for the ready to wear market and which include just about anything from clothes to belts to perfume to powder compacts are also considered to be very collectable vintage pieces, but are not as valuable as custom made or catwalk couture items.
Whether or not you will ever be lucky enough to find a great couture designer vintage dress no one can tell. It may be more likely than you may think, as on occasion cast off couture pieces were passed to valued house staff such as maids and housekeepers or to impoverished relatives. These eventually surfaced from ordinary homes in sales when grandma moved to smaller accommodation.
Beaded tulle evening gown, c.1910. The opulent elegance of the Gilded Age.
The ingenious textural combination of black glass beads, paillettes, and assorted sequins producing a glittering three-dimensional effect.
Embellishment skills reached a peak of perfection by the close of the Edwardian era.
Image courtesy of www.vintagetextile.com
Some couture gowns have simply been stored for years in grand houses where adequate room existed to store wardrobes of garments. This beautiful black beaded Edwardian gown left would be just the type of garment I should like to collect myself.
Right - Fortuny couture pleated garnet silk Delphos gown, c. 1928.
Fortuny's famous hand-pleating method has never been successfully duplicated. The resulting garment is incredibly soft and liquid, moulding to the curves of the body. From the grandmaster of 20th century design and decoration.
Image right courtesy of www.vintagetextile.com
If the twenties is where you want to be you will still have opportunity to buy a variety of quality couture made 20's garments. There is a collector's market for 20's clothes of all types including unusual items like this exquisite, desirable and rare Fortuny couture pleated garnet silk Delphos gown, c.1928 shown right.
One reason a Mariano Fortuny vintage dress is so desirable is that every aspect was hand crafted in the Fortuny studio. The original Fortuny method of producing the fine silk pleated fabric is lost, but another reason would be that for very occasional wear this late stylish example in a luxury fabric is timeless and so could be worn today. Another probably more valid explanation is that this garment was and is, fashion as art.
‡
Bon Marche - A. Boucicaut elegant evening gown, c.1890. Made from black velvet, trimmed with iridescent sequins and feathers.
Fabulous French chic!
Image left courtesy of www.vintagetextile.com
Stores often sourced garments from well know designers of the day. Look out for bills of sale or labels which provide extra information. Couture labels will be well hidden very often in the make up of the garment side seams.
Search for the labels and note that true couture has the designer name label usually with a stamped or hand written ink number and sometimes the customer's name. The quality of workmanship will also be very noticeable with small, neat, even fine stitches around cuffs, hooks, fasteners, collars and buttonholes. The garment was probably also respected by the owner because of the initial cost and so is likely to have been stored well and should be in great condition. Deciding to collect couture vintage may easily be justified if one considers the phrase 'less is more' when choosing what to collect.
My sincere thanks to www.vintagetextile.com for the use of their beautiful images. You can read more about the investment value of collecting couture vintage pieces at vintagetextile.com.
-------v6-------
(Page Date Feb20 2005)
If you like this page then please share it with your friends
---
--Link--
For more information on go to:-
Custom Search
About Fashion-Era.com
Fashion-Era.com looks at women's costume and fashion history and analyses the mood of an era. Changes in technology, leisure, work, cultural and moral values. Homelife and politics also contribute to lifestyle trends, which in turn influence the clothes we wear. These are the changes that make any era of society special in relation to the study of the costume of a period.

Fashion-Era.com can take no responsibility for any information on the site which may cause you error, loss or costs incurred from use of the information and links either directly or indirectly. This site is owned, designed, written and developed by author: Pauline Thomas and Guy Thomas. This site is designed to be viewed in 1024 X 768 or higher.
ALL RIGHTS RESERVED. Fashion-era.com reserves the right to add or delete information, graphics and links. Copyright © 2001-2014 on all content, text and images in Fashion-era.com. Images and text in this website may not be used on other websites.
Before you write to me for costume/fashion help or information please, please consult the extensive sitemap which lists all our pages. If you still cannot find the answer after searching the site, then before you email me, please consider if you are prepared to make a donation to the website.
Donations
Reader's donations help this site flourish, in particular donations encourage me to write more articles on fashion history as well as current trends. PayPal allows anyone with a credit card to donate easily and securely. You may donate any sum you feel appropriate.