1950s Vintage Clothes - The Look
1950s fashion is very popular with vintage collectors and so I discuss aspects of it here. The list of course is not exhaustive, but should help you steer a course to make a choice amid all the fifties items there are to choose from. On the next page I look at 50's Knitwear, Leather Jackets, 50's Vintage Denims - The Big E, Accessories, Scarves, Bags, Bakelite and Lucite Bags, Bags by Enid Collins, Chanel and Kelly Bags, Nylons or Stockings and Costume Jewellery.
Collecting Fifties Vintage Clothes
Also see my pages on Collecting 50s Vintage Part 2 and the fashion history page Fifties Glamour.
The fashion of the 1950s is based primarily on the New Look style set in the late 1940s by Dior. Many vintage styles of the 50's are full skirted, but some are the slim sheath dresses favoured by other designers such as Jacques Fath, the sack dress of the late fifties designed by Hubert de Givenchy and the encrusted embroidered striking jewelled evening designs of Pierre Balmain.
Other famous European designer names of the 50's era include Christobal Balenciaga, Coco Chanel, Jacques Heim, Molyneux, Paquin, Robert Piguet, Jean Patou, Jean Desses, Jacques Griffe, Nina Ricci, Fabiani, Madame Gres (earlier models called Alix) and the House of Lanvin. They are the most sought after vintage European design names to seek from 50's clothing.
Prized 50's American designer names include Claire McCardell, Mainbocher (Main Rousseau Bocher), Galanos, Pauline Trigère and the Anglo-American Charles James.
Throughout the 1940s and 1950s, Mainbocher was the most expensive custom dress designer in New York. His couture house was the only design establishment in New York that never produced ready-to-wear clothing.
This luxurious silk satin gown is divided into four sections of colour. The front bodice and skirt are alternating ivory and pastel peach; the back bodice and skirt are alternating pale dusty rose and blue.
This c.1950 red carpet dress shown right is from www.vintagetextile.com, who kindly provided the image. Read more about this high end seller on this website here. Thumbnail enlarges.
‡‡
Only a minority of women could afford to wear couture designer clothes in the fifties and the majority of women wore mass produced goods. Yet fresh ideas and fashion concepts trickled down from the French salons to Madame dress shops and department stores throughout the world.
Miss and Mrs. Average were soon seen in looks that captured the essential style set by Paris. These are the clothes most vintage pickers find today. They were produced fairly rapidly by improved production methods in a post war economy boom for a society desperate for "new" goods of every description.
Clothes worn in the day were very feminine and designed to remind women they were women. Women also still craved luxury in dress after years of deprivation during the Utility period. Evening wear produced in the 50s even for the masses was often ultra glamorous. Aspects of 50's vintage clothing to collect are clothes with tiny waists, shown often as glamorous, luxurious, feminine, low necked evening dresses or boned strapless dresses in taffetas, lace, nets, tulle, chiffon and satin or even nylon.
A wide range of net and nylon hoop crinoline style petticoats were produced to support the full bouffant skirts. Vintage under slips of the era are very collectable. You may even find a well designed vintage strapless bra of the era or wasp waist corset, but stiffened boned areas were often built into bodices and that forced a specific shape when on the wearer.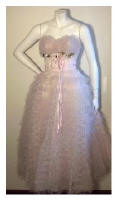 Net and lace were both used extensively to make many mid priced dresses. The strapless example below from anothertimevintageapparel.com is typical of a ballerina length early fifties evening dress very suitable for the local dance. www.anothertimevintageapparel.com sells a wide range of mixed vintage items including rockabilly (RAB) goods.
You are reading an original fashion article on fifties vintage by Pauline Weston Thomas at www.fashion-era.com ©
A true 1950s ballerina length vintage bouffant style party formal with extra details. This 1958 pink net tulle and lace dress was probably a prom dress and it is perfect for dancing. The skirt is frothy layers of stiffened net and lace and is extremely full. Sweet pink paper flowers accent the bust. This item also includes a matching net stole not shown.
This image right is courtesy of www.anothertimevintageapparel.com
...(v4r)
Shorter Cocktail Dresses
Shorter cocktail dresses with higher necklines were never worn before 6pm and they were often of shot silk, brocade, lace net, grosgrain, tulle, chiffon, lustrous satin and even floral or abstract prints. The LBD or little black dress as we know it today evolved from this period.
The trapeze dress was a high busted swinging dress, whilst the waistless chemise look of 1958 was a forerunner of sixties styles and really began to catch on with a simplicity of shape welcome after the rigor of belts.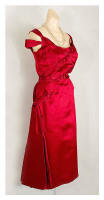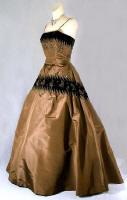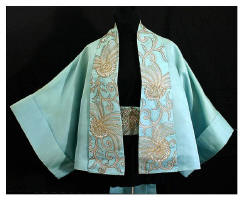 A killer little red cocktail dress far right, a Lanvin jacket with an obi sash right, and a copper evening gown left by the New York fashion house of Gothé. The latter is made of rich brown silk taffeta. The bodice is outlined with darker brown velvets embroidered with Soutache and faceted bronze beads.
All these images of stunning vintage 1950s garments are courtesy of www.vintagetextile.com Read more about this high end seller on this website here.
1950s - Full Skirted Dresses
For day, calf length, small waisted full skirted cotton and cotton satin or seersucker dresses with covered matching fabric belts, in glorious floral and botanical prints, such as cabbage roses were typical choices. Autumnal leaves or green ferns, cherries and acorns all looked good in lustrous cotton sateen and were used for dress and scarf fabric prints. Fresh looking gingham checks, diamond trellis checks and spots were also popular and all make for very collectible fifties vintage now.
1950s - Straight Sheath Dresses
Also for day and in marked contrast, straight sheath dresses fitted and darted, or princess seamed, were made from satin cotton in sleeveless and cap sleeve versions. Fine wool crepe or Barathea was often used for a sleeved version. Many early fifties garments had boat or jewel necks and nearer the sixties scoop necklines were more usual.
‡
1950s Shirtwaisters
As the 50's decade progressed shirt styles were put atop the waist of either a straight or full skirt making the shirtwaist dress a popular practical style among young and old alike. 1950s shirtwaisters often had three quarter sleeves and turn back cuffs. Many were made in striped fabrics with typical colour combinations being navy and white, emerald and white or candy pink and white as well as plain solid strong colours like turquoise or coral.
1950s Suits and Accessories
Hour glass styled suits were popular. Jackets that flared over the hip with a hint of a peplum were both worn with calf length narrow pencil skirts and gored fuller skirts, especially in the early 50s. In the mid to later fifties many of the skirts began an upward creep toward the knees. Garments had narrow rounded or sloped shoulders, scarf necklines, with wide rather than low décolleté necklines, higher waistline seams and fluid drapery.
Small Juliet caps or decorated headbands and gloves accessorised them. Another oft worn accessory was the fake flower corsage or a pin consisting of acorns and autumnal foliage with berries or a pin made from cherries or violets.
Coat with Dresses
One feature outfit of the fifties was the matching dress with either a jacket or three quarter sleeve swing duster coat, sometimes also called an opera coat when made in a glamorous evening fabric like satin or brocade. For day they were made in crisp firmer cottons in solid colours.
Dress jackets varied in silhouette from chopped off small boleros cut above the waist by a few inches having a toreador effect, or jackets could be bloused at the waist or appear as hip length jackets.
Styles
...(v4r)
Other 1950s style aspects to look for are kimono sleeves, mandarin collars, gloves of all types, printed foulard silk or Tricel scarves and stoles or wraps in satin or fur. More casual dresses were also liked for holiday resorts and the halter neck dress was a favourite holiday style along with playsuits of shorts and bare midriff top in matching print fabrics. Unlike denim jeans strictly worn by teenagers, mid calf Capri pants made popular by the Italian film industry were worn for casual wear by women of all ages.
The 1950s motifs that were all the rage, were Venetian themes, masks, harlequins, ballet dancers, playing cards, shells and fish, cats, cherries, daisies, fruit segments, Hawaiian palm trees and pineapples. Images of Chinese, African, Mexican or similar ethnic caricatures in appropriate hats that might cause racial uproar today are often found on scarves, bags and textiles.
Poodle designs, Eiffel tower designs, hand painting and other novelty designs such as cute kittens are often seen on fifties skirts, blouses and scarves. The skirts are sometimes made of felt and often are circular in cut.
Kitten Motifs were a feature of 1950s skirts and tops of the era. Here this blouse top coordinates with this typical easy wear skirt, perfect for rock and rolling. Images courtesy of www.anothertimevintageapparel.com
Read more about collecting 50's vintage items (part 2) including Knitwear, Leather Jackets, 50's Vintage Denims - The Big E, Accessories, Scarves, Bags, Bakelite and Lucite Bags, Bags by Enid Collins, Chanel and Kelly Bags, Nylons or Stockings and Costume Jewellery.
Read more about typical sources of 50's vintage here.
Image of 1950s' purple vintage dress in the page header by arrangement with www.contentmentfarmantiques.com/ Other images provided by www.vintagetextile.com and also www.anothertimevintageapparel.com
(Page Date Feb 26 2005)
If you like this page then please share it with your friends
---
--Link--
For more information on go to:-
Custom Search
About Fashion-Era.com
Fashion-Era.com looks at women's costume and fashion history and analyses the mood of an era. Changes in technology, leisure, work, cultural and moral values. Homelife and politics also contribute to lifestyle trends, which in turn influence the clothes we wear. These are the changes that make any era of society special in relation to the study of the costume of a period.

Fashion-Era.com can take no responsibility for any information on the site which may cause you error, loss or costs incurred from use of the information and links either directly or indirectly. This site is owned, designed, written and developed by author: Pauline Thomas and Guy Thomas. This site is designed to be viewed in 1024 X 768 or higher.
ALL RIGHTS RESERVED. Fashion-era.com reserves the right to add or delete information, graphics and links. Copyright © 2001-2014 on all content, text and images in Fashion-era.com. Images and text in this website may not be used on other websites.
Before you write to me for costume/fashion help or information please, please consult the extensive sitemap which lists all our pages. If you still cannot find the answer after searching the site, then before you email me, please consider if you are prepared to make a donation to the website.
Donations
Reader's donations help this site flourish, in particular donations encourage me to write more articles on fashion history as well as current trends. PayPal allows anyone with a credit card to donate easily and securely. You may donate any sum you feel appropriate.