1950s Vintage Clothes - What to Collect
In addition to the 1950s dresses and suits discussed on the last page, Vintage pickers look out for specific 50's items and these include Big E jeans, scarves, beaded knitwear, bags and costume jewellery.
Collecting 1950s Vintage Clothes
Big E pickers look out only for vintage denim jeans by companies like Levis and Wrangler. Jeans were another fashion favoured by 50's teenagers and there is some cache to wearing original 50's Levis. You can tell Levi jeans were made before 1971 if the label is totally printed in capital letters as LEVI. In other words look for a big 'E' if seeking vintage levis, whilst later jeans by Levi after 1971, have a label bearing a lowercase 'e' in the word Levi. Leather Jackets often worn with the big E jeans are discussed here.
The cardigan was a great feature of fifties fashion. Many dresses were sleeveless and the cardigan acted as a quick, often glamorous cover up. For day, cardigans were often worn with a short sleeved matching sweaters and were called twin sets. They could easily be dressed up with some pearls. Twin sets of the fifties were almost always quite short waisted. Twin sets are wonderfully useful items so it is no wonder there was such a revival of them in the 1990s.
Today 50's beaded knits are very desirable collectable items, so if you have one to sell make sure you find out the going rate before parting with it, especially if it is a great example.
1950's cardigans were always fully fashioned. This method involves hand tooling, to shape and to move stitches by increasing and decreasing in a specific way to create attractive fashion marks. Anyone who can machine or hand knit knows that if you decrease or increase a knit stitch on the very edge of a garment you get a ragged edge, but if you increase or decrease say seven stitches in from the final stitch, you move the stitch into the body of the fabric, but it creates shaping and neat contour lines about half an inch from the fabric edge. This give a fashion mark of two stitches together becoming one on the stitch above, which is also considered attractive. 1950's knits generally all have such fashion marks.
Worn with evening wear such as cocktail dresses or long silk skirts, cashmere or lambswool and angora wool cardigans were embellished with beads, self embroidery, trapunto quilted areas, appliqués, sequins, rhinestones and lace. Much of the best beadwork and embroidery, easily matching couture cardigans, was done in Hong Kong workshops. Such cardigans are exceptionally desirable today, especially as they are a current fashion item in many stores. But by buying a vintage 50's Hong Kong made knit you have an original and now rare quality item and are very unlikely to bump into a neighbour wearing an identical copy bought at a local shop.
‡‡
Right - Sought after vintage knits of the fifties by Helen Bond Carruthers. Images courtesy of www.vintagetextile.com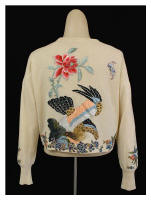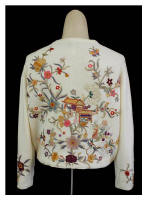 Most of these cardigans were made from delicate fibres. So sometimes new nylon finishes were applied and this is why knits occasionally state 1%nylon or perhaps 5% nylon plus 95% cashmere on a label.
The addition of nylon either as a polymer coating or as a percentage inserted into the carded yarn before twist is added, makes for a stronger knit, particularly with soft weak yarns such as cashmere or angora. Usually the nylon is added as a fine polymer coating to the fibres and at the same time it fills in the spaces between the wool hair scales. It is these rough overlapping tile effect spaces that catch on each other and tangle as the scales lock into themselves. This is what causes shrinkage, so if the spaces made by the scales are filled in with the polymer coating of nylon, less tangling of fibres occurs and therefore less matting, felting and overall shrinkage when washed.
Other yarns were used to make knits in the late 1950s and included Orlon a brand name of acrylic fibre. Nylon was also made into cardigans, but the best examples usually have a wool or cashmere base. Such items are sometimes lined with fine light Jap silk.
One of the best things about these cardigans is that you really can get away with wearing them today.
...(v4r)
Accessories provide the perfect finishing touch for any 1950's ensemble. These are the items women used to self style themselves. They never used stylists as they instinctively knew what was needed to complete an outfit for the totally groomed put together look. This was achieved because they observed how studio groomed starlets were dressed and copied them. Handbags and gloves were as essential as well shod feet.
Vintage scarves have value. Check for designer signatures on the scarf. Look carefully at the fabric, as silk was used for better scarves just like today.
A regenerated cellulosic fabric called Tricel Foulard (tri-cellulose acetate) was also used to make scarves and to the inexperienced bargain hunter it can be difficult to initially spot the difference between this and silk foulard. Go by feel and touch. The pure silk feels wonderful to the touch and airier, feeling neither warm nor cool. The Tricel has a heavier denser, cooler feel. However a hand rolled hem on a scarf is a very good sign of being a better quality item as is evidence of hand painting. Tie and dyed scarves are post sixties.
Signatures to look for include Christian Dior and Chanel and other designers listed here. Specialist scarf dealers like Liberty, Pucci and Hermès also have good value. Make sure the accent is correct on Hermès and the spelling perfect for any designer signature.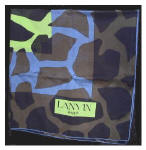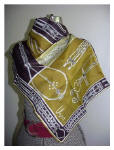 Left Lanvin scarf. Right - Scarf with Vera's signature is clearly printed on the scarf corner as is that of Lanvin, making both items just the type collectors seek.
Designer signature scarf images courtesy of www.anothertimevintageapparel.com
Americans may access a lot more Vera Neumann scarves than UK vintage hunters. Vera's scarves started when she was allowed to use surplus parachute silk in 1947 in America. She used a wide range of design sources to make interesting lively patterned designs and Vera scarves are much sought after today.
If you are buying or selling scarves consider doing it in lots of 10 or more at an auction site like eBay. That way a beauty must emerge for some purchaser seeking a certain style, print, name or colour of scarf. This really is an area where there are finds in charity shops and in Grandma's old chest.
‡
Many collectors love 50's bags. You don't have to worry about fit or shrinkage and the variety of materials range from quality leathers, suedes, straw raffia, embroidered, canvas tapestry, mother of pearl, sequins to Bakelite and Perspex. Fun bags follow the same decorative effects as fun skirts. Day bags were trimmed with pictorial motifs from poodles to French street scenes and many of the themes mentioned above were regularly used.
Many of the bags had a slightly crazy quality and were truly eccentric in design. At one point Bakelite and Lucite box bags were a rather expensive craze in America, with box bags selling for about $55. I recently saw one of these at an antique fair in UK and it was priced at about £220. Fashion stylists and fashion fanatics love these quirky bags, so if you see one at a good price be aware you have a bargain, but check out the plastic really is Bakelite using the test I mention in this webpage.
Bag names to look out for are those made by the Couture designers and also specialist firms like Hermès, Whiting and Davis.
One other important name with regard to innovative funky bag styles is that of Enid Collins of Texas who opened her first shop in 1959. She sold fun bags either made as a wooden box purse or as a canvas bucket style bag with whimsical decorative ideas. The bags were always well made and trimmed with leather, painted areas, mirrors, sequins and crystals in themes such as birds facing each other. They have a great feel of the design motifs of the era, but in her individual way.
Many of the designs remind me of embroidery motifs and symbols of the era found in decorative needlework and embroidery design books of the 50s to 70s. Her bags from the 50s and 60s are very sought after, but by the 1970s she had sold her company.
...(v4r)
Handbags of note from the 50's include the Chanel quilted bag and the famous Kelly bag made for Grace Kelly by Hermès.
Although the original design based on a saddlebag existed in the 30s, it was Grace Kelly who made the bag famous in 1956 when she used it to cover her pregnant tummy bulge. In the 50's, women were reserved about showing the world their pregnancy. The Kelly bag is a beautiful hand stitched bag of the best quality and is usually made of calfskin, but can be made of crocodile, lizard or ostrich. Today new Kelly bags demand a six month wait from Hermès or the purchase of a vintage bag at equally great cost.
The Chanel quilted bag is actually the '2.55' bag conceived on February 2 1955, and the style was quietly worn by fans of Chanel clothes. In the logo obsessed 1980s, fake or real chain twisted Chanel diamond quilted shoulder bags flooded the market. It became the bag to be seen wearing. Fakes are everywhere.
If you have never worn the stocking of the 1950s you will experience a sensuous moment when you slide them onto your legs. Stocking in the 1950s felt different. They were fine and cool and silky to the touch. They felt like the height of luxury as if you were about to give your legs a beauty treatment just by wearing them.
Pictures of Vintage Fully Fashioned Stockings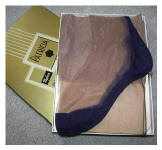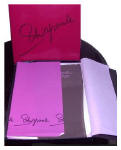 Right - Fully fashioned boxed stockings from anothertimevintageapparel.com who sell a wide range of mixed fifties vintage goods as well as goods from as far back as circa 1900. Stockings on the right by Schiaparelli.
Both images are by arrangement with www.anothertimevintageapparel.com
Unlike pantyhose tights which are sized small, medium, large, extra large etc., 50's stockings came in foot sizes. To find your size to wear flat fully fashioned seamed stockings measure the length of your foot. If it measures 9 inches long, a size 9 would suit you, but if you have fatter legs a larger size may be better.
I recall though that the largest stocking size you could buy was an 11. This was all very well if you had slender legs, but for those poor souls with larger legs the width of the stocking was taken up by the fatter leg and so the stocking did not go so far up the leg as it might on a tall slim leggy woman. This was never much trouble for most people, but lumps of fat could hang over stocking tops and often did. It was not necessary to have a much fatter leg to develop the thigh bulge. But the main problem for most people occurred when skirts gradually shortened in the 1960s and stocking tops were seen as ugly and giving an overall poorly groomed fashion look. That is when tights really developed for the masses.
Stocking sizes ranged from size 8 to size 11 going up in half sizes. The fit varied from brand to brand, but fully fashioned seamed stocking were well shaped on the foot and heel although the yarn used was not stretchy and sometimes a little bagging could happen so that fine wrinkles appeared. It was essential to either check your seams were straight using a back mirror or get a sister or friend to tell you nothing was crooked.
Better brands made longer stocking lengths and by the end of the decade more people wore the newer seamless stockings first introduced in 1952, but slow to capture the public's affection. Once yarns with better cling were introduced they were seen more and more.
Costume jewellery from the 50s is very collectable.
Names to look out for are Trifari, Dior, Schiaparelli, Chanel and Miriam Haskell. Costume jewellery is sold in abundance on the web and I suggest you key in keyword phrases such as vintage Trifari costume jewellery into Google and see what sites come up. You will have the chance to browse through some wonderful pictures of Parures, bracelets, novelty brooches, pins, earrings in designs that will stun you.
To develop an eye for vintage costume jewellery you will need to study typical pieces and read about it in the same way you need to read about costume to have an understanding of seeking out vintage fashion. You can see examples of costume jewellery on the fashion-era site.
Conclusion
The 1950s is an era full of rich choices for the vintage collector and unlike some later 20th century periods can be classed as true vintage fashion. Collect what appeals to you most, only selecting the highest quality items in favour of larger quantities of less desirable clothes and accessories. Quality 50's items can only become more desirable and valuable vintage items as time passes.
www.contentmentfarmantiques.com/ featured here on this site provided the image of the vintage striped swimsuit in the page header.
Other images courtesy of www.anothertimevintageapparel.com and also knitwear images courtesy of www.vintagetextile.com also featured here on this site.
-------v6-------
(Page Date Jan 2005)
If you like this page then please share it with your friends
---
--Link--
For more information on go to:-
Custom Search
About Fashion-Era.com
Fashion-Era.com looks at women's costume and fashion history and analyses the mood of an era. Changes in technology, leisure, work, cultural and moral values. Homelife and politics also contribute to lifestyle trends, which in turn influence the clothes we wear. These are the changes that make any era of society special in relation to the study of the costume of a period.

Fashion-Era.com can take no responsibility for any information on the site which may cause you error, loss or costs incurred from use of the information and links either directly or indirectly. This site is owned, designed, written and developed by author: Pauline Thomas and Guy Thomas. This site is designed to be viewed in 1024 X 768 or higher.
ALL RIGHTS RESERVED. Fashion-era.com reserves the right to add or delete information, graphics and links. Copyright © 2001-2014 on all content, text and images in Fashion-era.com. Images and text in this website may not be used on other websites.
Before you write to me for costume/fashion help or information please, please consult the extensive sitemap which lists all our pages. If you still cannot find the answer after searching the site, then before you email me, please consider if you are prepared to make a donation to the website.
Donations
Reader's donations help this site flourish, in particular donations encourage me to write more articles on fashion history as well as current trends. PayPal allows anyone with a credit card to donate easily and securely. You may donate any sum you feel appropriate.