Collecting Vintage Lace
There are many many types of lace and lace comes under the classification of non loom textiles.
Lace is the most recent of traditional textile techniques to come into being. Lace in the form we know today is thought to have originated in Europe in the Adriatic region in the 1400s. Methods of working spread far and wide rapidly. Soon lace making was an art craft done by both professionals and amateurs and found throughout Europe from the outermost parts of Russia to England and Ireland. Hand made lace was a fashion item which spoke volumes because it was always expensive.
By 1818 machinery existed to make lace, but handcrafted lace was still practised in Eastern Europe especially in the Baltic region. Lace is often combined in pieces with whitework embroidery or drawn-thread work and the combinations often make wonderful articles for vintage enthusiasts to collect.
Identifying lace is a field in itself and many vintage sellers often take their lace or send photographs to experts for identification of difficult pieces. The best advice I can give you, is to obtain a modern book on lace naming such as that by Helen Toomer which gives a very clear identification of old lace techniques and types. You can also browse a few of the excellent website pages I suggest here.
In simple terms some descriptions can be arrived at by these classifications below.
Basically lace can be divide into 3 types
Needle Made Lace also called Needlepoint Lace
Bobbin Lace
Machine Made Lace
In addition Tape laces, Tatting, Knitting, Crochet and Macramé are classified as minor techniques that create openwork decorative fabrics. Whitework is frequently bundled together with lace goods as cutwork and openwork, since both frequently achieve lace like effects. There is no point in my duplicating what I believe to be the best pictorial reference illustrating the main varieties of other work which interests lace collectors already here at http://www.marlamallett.com/l-other.htm
Machine made lace sets out to imitate hand made laces. Because of this books on lace identification concentrate on hand made laces and distinguishing between bobbin made lace and needlepoint lace. To complicate matters further some lace is made using a combination of the two hand methods and also may incorporate whitework and perhaps Irish crochet. You can only hope to begin to identify lace and therefore develop experience by using good reference books and/or museum study for comparison purposes. An online explanation with good diagrams showing the difference between bobbin and machine lace is at this page link http://lace.lacefairy.com/ID/FollowThread.html
Machine made lace deliberately sets out to deceive and one place to see original pattern books and examples for machine made lace is in the fine converted Church now known as the Lace Hall in Nottingham city. The Lace hall Museum is at High Pavement, Nottingham, England UK.
‡‡
Needlepoint Lace is made entirely with a needle and thread and developed in the 1400s whereas bobbin lace is thought to have developed in the 1600s.
Needlemade lace in brief is made when foundation threads are secured to a paper pattern which is already tacked to 2 layers of foundation fabric. The foundation threads are couched into position with further threads through every layer of the paper and the fabric. When the pattern is in position the excess fabric is removed and the real build up of the lace with needlework begins. Using mainly buttonhole stitch, design motifs are filled in with needlework stitching, including short linking bars, picots and loops. The huge variety of open or closed stitch work and filling stitches is what gives such a range of individual variation within needle made lace. It is much, much more complex than this, but this is sufficient explanation here.
To add further complication sometimes bobbin made grounds or machine made net grounds are used as a base for the needle made motifs.
An openwork style includes Reticella whereas a Guipure style includes Punto in Aria, Flemish needlepoint, Venetian needlepoint and French needlepoint (Point de France). More mesh like needlepoints are Alençon, Argentan and the net grounded needlepoint lace called Burano.
Brussels Lace a popular lace in vintage terms, is a needlepoint lace, but uses several various base grounds including a bobbin made net ground. This application of needle made motifs to a net based ground, meant that when machine net was introduced the Brussels workers adapted to working with the new material better than the French workers, developing mixed skills to a high art form thus staying in employment.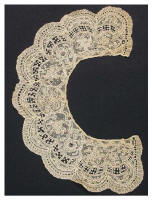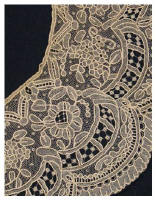 This beautiful lace collar from contentmentfarm antiques is hand made Brussels lace, one of the most sophisticated and loved laces in the world. This collar is exceptional in detail and workmanship featuring floral and scroll motifs. Each motif is beautifully outlined in heavier thread giving a three dimensional effect

Image by arrangement with www.contentmentfarmantiques.com/

Machine made net started to be manufactured by the 1820s and by the 1850s bobbin net grounds had been superseded by the lighter point de gaze ground nets, which generally changed the look of the lace, combined with the fact that less area was covered with clothwork. As the Victorian era progressed, the Brussels workers of the 1850s and 1860s produced more assured designs in the new style creating a sought after lace type. The lace continued to develop and change often being used for wedding trousseaux, but began to wane as the century ended. By the 1920s the fashion for this type of lace died out as simpler less ornate more stylised art deco forms of decoration on dress, particularly beading and appliqué became the rage.

Brussels point de gaze lace was often produced as parures or sets of lace especially for a Victorian wedding trousseau. A wedding lace parure might contain some flounces ten and eight feet in length, matching edge pieces, cuffs and sleeves all with obvious matching pattern elements giving a harmony to the set. Typical depth of the widest flounce might have been 11 inches.

§

Left:-

This dress from contentment farm is a lovely early Edwardian era, mixed lace wedding or dinner gown. The laces are handmade and the embroidery is hand done. It has a feature high stand up dog collar of the Cluny lace.

Right - Lace hem detail.

Images by arrangement with www.contentmentfarmantiques.com/

The two best pictorial clear lace references online I have found for all needle made laces are at http://www.marlamallett.com/l-needle.htm with many other examples shown in the listing at http://lace.lacefairy.com/ID/laceID.htm

Bobbin lace probably began as a simple flat straight plaited woven braid made by interlacing threads in geometric patterns. The threads were manipulated from the bobbin pins made of carved bone, ivory or wood, to which the thread was wound. As time moved on so the pattern formation became more complex, creating more and more intricate edgings.

There are many types of bobbin lace including Flemish, Milanese, Venetian and North Italian varieties and imitations which are accepted in their own right. In the case of lace, imitation is often inspiration for another land and frequently the fresh idea is then reworked by the original source land creating even more variations. Within these bobbin lace types are specific styles such as Italian Baroque and Flemish Baroque, Brabant, Honiton and even a Russian style which developed from Northern Italian bobbin laces. Brussels also mixed needlepoint with bobbin lace to exquisite effect making it a much prized lace.

Those from Britain include Honiton lace of Devon as well as East Midlands lace which includes Buckinghamshire Point and Bedfordshire Guipure. In addition there are other continental varieties which are wonderful such as Valenciennes,Maltese, Mechlin, Le Puy and Lille lace. Most famous of course is Chantilly lace with its related Blonde laces (sometimes worked in black) being very important. The beautiful lace is so marvellous that it has been immortalized in well known love songs.

‡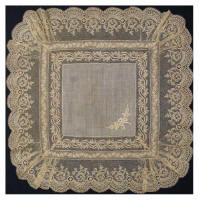 This exquisite Victorian handkerchief from Contentmentfarm Antiques is tissue thin cotton batiste with a bow and flowers embroidered in one corner.
It is surrounded with a 1.25" wide border of hand made Valenciennes lace, then a hand embroidered band edged with a 3" wide hand made Valenciennes lace flounce. The work is so fine that it is almost impossible to tell the front from the back without close study.
Image by arrangement with www.contentmentfarmantiques.com/
One aspect of old lace making that is hard to reproduce today even by skilled amateurs is the fineness of the thread used. It is the fineness of the threads which gives lace its delicacy. In the Victorian era the threads used were just a few fibres thick with a count of over 1100 enabling up to 800 bobbins to be plied to create a lace just 4 inches wide. The count of the finest threads used today is a much coarser 320. To understand this take two reels of modern sewing thread and note the count number printed on the reel label, so that one reel is 40 or 50 and the second reel has a count of 60. You will notice how much finer the thread with a count of 60 appears. So imagine how much finer a thread of 320 might be and even far finer than that, a thread of 1100 or 1200. Far finer than a human hair or strand of a yarn from modern pantyhose I suspect.
By the 1840s machine made lace was making inroads into the hand lace making industries. By the 1880s chemical lace which mimicked guipures was being produced at an affordable price and by 1914 less fancy clothing altogether became the norm.
The best pictorial clear references online for this again are at http://www.lynxlace.com/ and http://www.marlamallett.com/l-bobbin.htm . You will find you often go round in circles looking for the best lace links, but almost always come back to the Lace Fairy and Lynxlace links.
http://lace.lacefairy.com/ID/laceID.htm
-------v6-------
Image in header and all images on this page by arrangement with www.contentmentfarmantiques.com/
(Page Date 14 Mar 2005)
If you like this page then please share it with your friends
---
--Link--
For more information on go to:-
Custom Search
About Fashion-Era.com
Fashion-Era.com looks at women's costume and fashion history and analyses the mood of an era. Changes in technology, leisure, work, cultural and moral values. Homelife and politics also contribute to lifestyle trends, which in turn influence the clothes we wear. These are the changes that make any era of society special in relation to the study of the costume of a period.

Fashion-Era.com can take no responsibility for any information on the site which may cause you error, loss or costs incurred from use of the information and links either directly or indirectly. This site is owned, designed, written and developed by author: Pauline Thomas and Guy Thomas. This site is designed to be viewed in 1024 X 768 or higher.
ALL RIGHTS RESERVED. Fashion-era.com reserves the right to add or delete information, graphics and links. Copyright © 2001-2014 on all content, text and images in Fashion-era.com. Images and text in this website may not be used on other websites.
Before you write to me for costume/fashion help or information please, please consult the extensive sitemap which lists all our pages. If you still cannot find the answer after searching the site, then before you email me, please consider if you are prepared to make a donation to the website.
Donations
Reader's donations help this site flourish, in particular donations encourage me to write more articles on fashion history as well as current trends. PayPal allows anyone with a credit card to donate easily and securely. You may donate any sum you feel appropriate.