Collecting Vintage Lace
These are not so minor as the name suggests and are the laces many of us are familiar with typically found decorating old clothes and vintage goods.
There are many types of whitework, but 3 main methods are usual, including openwork, cutwork and classic whitework.
Openwork draws and pulls threads. Norwegian hardanger comes in this category.

Cutwork involves cutting out fabric shapes from the background and then neatening the edges in a decorative manner. Broderie Anglaise and Italian Reticella are both cutwork methods of whitework.

Classic whitework uses white embroidery stitching of various depths to create soft and darker shadows. This is often down on exceptionally fine cottons such as fine linen, batiste, muslin, organdie or on nets. Typical classic whitework includes Irish Carrickmacross, Scottish Ayrshire which uses pulled threads with embroidery, Dresden and Chikan a floral variety of patterning from India (Lucknow).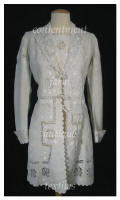 Left - An Edwardian era linen jacket and blouse heavily embellished with cutwork and white embroidery makes this an outstanding set. The jacket is a tailored style with turned back cuffs and embroidered scalloped edges around all the edges. The embroidered decoration is found on the collar, cuffs, either side of the front opening, along the hemline as well as on the upper back and shoulders of each sleeve.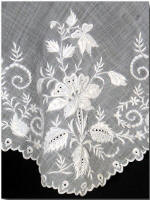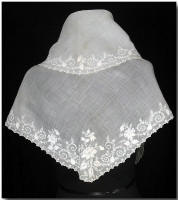 Right - Civil War Era Whitework Fichu.
Near right - Beautifully hand embroidered handkerchief linen lady's fichu intended to worn folded as a shawl.
Images all courtesy of www.contentmentfarmantiques.com/
‡‡
Many individuals will recognise a piece of tape lace and this is the easiest lace for amateurs to make as a hobby. Through the centuries tape lace has had several names including, mezzo punto, Renaissance lace and more recently the coarser Brussels tape known as Battenburg. Luxeuil is also famous for tape lace.
This is a comparatively quick method of producing lace fabrics using pre made tape lengths mostly now made by machine. The lengths of narrow tape are joined together with connecting hand stitches, worked in an open manner. Machine made tapes have more folded kinks in them because they don't easily navigate corners. Some tapes have a thread running down one side which can pulled to help it curve more. Bobbin made tapes being hand made are usually designed to curve corners more naturally. Washing the item usually reveals differences as machine made laces don't lie so flat after laundering.
One step away from this type of lace fabric is faggotting which uses rouleau tubes of fabric then joins these together with stitches. This creates a lacey effect which can be heavy or fine dependant on the fabric used to make the tubes. In all cases the tapes or rouleaux are tacked to sturdy paper in a pattern formation and the stitches worked between the tapes.
...(v4r)
Filet lace is a knotted mesh like net and on this mesh patterns are darned to create lace like effects. At first the mesh ground was made by hand, but by the Victorian era the ground was mostly machine made and hobbyists filled in the ground net with the more enjoyable task of decorative stitching. Italian Burato (quite different from Venetian Burano needlepoint) is a square mesh filet filled with filet lace which can sometimes be coloured.
Crochet is a chain technique made by catching loops on each other with a crochet hook. Each loop is pulled through another so the whole becomes a chain. The chain is worked into with even more loops one at a time and a fabric forms as chains build up. Pieces can be worked in one continuous thread interlocking on itself and forming a fabric made of chains. The looping arrangements can be doubled and trebled and this creates areas which are more solid or more loopy and lace like in effect or raised to create rich areas of texture. The yarn thread used is important in achieving a particular end result. Crochet is a simple, fast, easy and transportable technique.
Probably the most famous crochet technique is Irish Crochet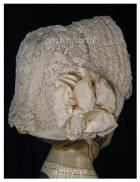 This Victorian child's bonnet is encased in hand made Irish crochet lace. The Irish crochet is extremely detailed and a riot of flowers and vines. Overall, this is a wonderful piece that would be appropriate for a larger doll or display purposes.
Image courtesy of www.contentmentfarmantiques.com/
Irish Crochet
Irish Crochet is a lace like fabric formed from chain stitches made with the use of a hooked crochet needle. Its design began in the 1840s and was an attempt to imitate Venetian laces and ultimately the rose style Venetian laces which had a raised guipure form. Irish crochet was hugely successful as a lace type and spread way beyond Ireland and County Cork and was copied widely throughout Europe. These skills were often taken to America too and patterns were reproduced in magazines like Petersons. It has been used for all types of goods from baby's bonnets to dresses, coats and bedspreads.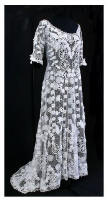 The beauty of the Irish Crochet technique is that ornate complex individual motifs can be made and joined into larger units, and then those units joined into whole garments making items totally composed of what appears to be seamlessly one marvellous piece of Irish lace.
Right - Irish crochet lace gown, c.1905. The best of the art of raised crochet. This gown has large three-dimensional motifs; a variety of motifs and a pleasing arrangement falling into a slight trained skirt.
The quality of this beautiful dress is exceptional!
Image courtesy of www.vintagetextile.com
‡
Macramé is an ancient knotting technique which reached Europe in the 8th century when the Moors brought it from the near east. From Europe sailors took the craft all over the world. In the 19th century it gained in popularity and has moved in and out of fashion ever since. It can be used to create fringes, braids and tassels, bags, belts, chair backs and hammocks.
Conclusion
Many of these lace techniques are being kept alive by small groups of enthusiasts or lone individuals with a passion for lace. The internet has also provided individuals with an opportunity to trade in vintage lace pieces which the experienced eye can often use as a pattern to re-establish the older pattern form.
But lace is delicate and special and those pieces that have survived have been kept because they were special and glorious and valued. So if you plan to wear your vintage lace remember to treat it with care, storing it well and carefully.
-------v6-------
Image in header by arrangement with www.contentmentfarmantiques.com/
(Page Date 14 Mar 2005)
If you like this page then please share it with your friends
---
--Link--
For more information on go to:-
Custom Search
About Fashion-Era.com
Fashion-Era.com looks at women's costume and fashion history and analyses the mood of an era. Changes in technology, leisure, work, cultural and moral values. Homelife and politics also contribute to lifestyle trends, which in turn influence the clothes we wear. These are the changes that make any era of society special in relation to the study of the costume of a period.

Fashion-Era.com can take no responsibility for any information on the site which may cause you error, loss or costs incurred from use of the information and links either directly or indirectly. This site is owned, designed, written and developed by author: Pauline Thomas and Guy Thomas. This site is designed to be viewed in 1024 X 768 or higher.
ALL RIGHTS RESERVED. Fashion-era.com reserves the right to add or delete information, graphics and links. Copyright © 2001-2014 on all content, text and images in Fashion-era.com. Images and text in this website may not be used on other websites.
Before you write to me for costume/fashion help or information please, please consult the extensive sitemap which lists all our pages. If you still cannot find the answer after searching the site, then before you email me, please consider if you are prepared to make a donation to the website.
Donations
Reader's donations help this site flourish, in particular donations encourage me to write more articles on fashion history as well as current trends. PayPal allows anyone with a credit card to donate easily and securely. You may donate any sum you feel appropriate.