Traditional Norwegian Costume Wedding
Photo of Unusual Bridal Crown 1883
Like many site visitors to fashion-era, Patti Mikkelsen is tracing her family tree. Patti's family emigrated from Europe to the USA throughout the Victorian and Edwardian eras. Some of her close relatives were from Hanover, Germany and the first immigrants headed toward the Americas in 1833, the last of five families making the crossing in 1912. Researching family history opens up new vistas, not only new found relatives, but also a new interest in subjects such as older photography methods, fashion history as well as genealogy and geography. This page is not about dating an old photo, but an examination of the information one might find in researching elements within the old photograph.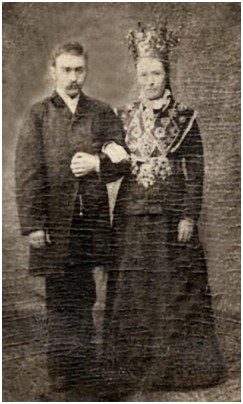 Torgir Andreasen Wed Malene (Magdalene) Andersdatter a Nordic Bride of 1883
Patti wrote to me:-
'I've been working on my family tree for about 7 years, with about 80% of the work done on the Internet. Like you, I've made some wonderful connections.... My father's parents and my mother's father were all from Norway. I have traced some of their lines back to the 1400s...'
This is the first of Patti's antique wedding photos and my purpose is to look at the costume of Malene the bride. If you are researching Norwegian relatives, you may find some of the notes about peasant dress/crowns at the bottom of the page of interest.
Left - Bergen Photo - Patti Mikkelsen's great-grandmother Malene Andersdatter, age 31 on her marriage to Patti's great-grandfather, Torgir Andreasen age 22. The Norwegian couple were married in Bergen, Norway, on the 7th of January, 1883, which happened to be the first Sunday after Epiphany.

The original 125 year old antique wedding photograph that Patti sent me is torn at the top (see left), probably cracked with humidity damage. The original physical dimensions of this photograph are very small, which is much of the problem. But, at 125 years old, it is incredible that an image transported so far geographically, and passing through so many hands, still exists. What a pleasure it is to add it here.
I have kept much of the original image as scanned, but cleaned up the torn repair to make it more acceptable. Better results can be achieved, but time restrictions and sometimes very small images limit that opportunity and I want you to see as much as practical of the original photograph. This image does give those of you researching weddings a chance to see the magnificent bridal crown headdress, together with typical Bergen dress as worn in the late C19th Victorian era.
‡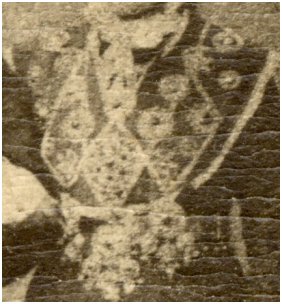 This 1883 antique photo shows a close-up of the bride Malene wearing what looks like a European style of jacket. The skirt appears to flow dirndl fashion rather than bustle panelled. However, her costume has styling elements suggestive of the Scandinavian region.
The decorative elements on the jacket remind me of similar pattern grids used by peasants throughout Europe. Norway, Shetland, Fair Isle, the Balkans, Ukraine and Finland all have traditional knitwear and embroidery featuring related motifs.
My lack of expertise in the field of Norwegian folk dress means I cannot tell if the ornamentation is part of the jacket or a separate ornament.
I suspect it is a huge ornamental detachable metal collar much like mayoral neckwear, or a small detachable shawl collar cape embedded with disc like metal brooches, since it does appear that Malene is wearing a traditional bunad blouse visible at the neckline beneath her jacket. After all, this was a winter wedding in January, and the weather at this latitude may well have demanded a heavy jacket, so it would be natural to cover up a thinner blouse.

A similar Bergen styled outfit immediate right was shown at the International Exhibition/Great London Exposition of 1862. The exposition featured over 28,000 exhibitors from 36 countries and was held just a decade after the very successful Great Exhibition of 1851, also at Kensington, London.
The Norwegian court sent a model of bridal dress to England; they wanted to show the splendour of wedding attire of their peoples. This drawing is of the peasant bride representation from the exhibition, and shows how a Bergen bride might look when dressed for her nuptials.
Notice how the bodice decoration of the 1862 image right is more in line with the bodice of the costume in the old photograph shown above, than the drawing of 50 years later shown below. Similar bridal decorations are on display in a Copenhagen museum.
Patti has confirmed that some ornamental discs are called Sølje, a Norwegian brooch that can have spoon like forms dangling off it. The volume of metal in the crown and Sølje were to ward off trolls and illness.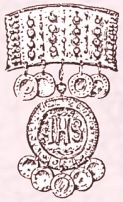 The bridal set of ornaments was loaned for the big day, and consisted of the bridal neckwear, the crown and a girdle. As a result, every peasant girl could be regally attired for the special wedding day. The set was probably owned by the parish church, who then rented the regalia to the brides. Another possibility was that it might also have been a family heirloom owned by a farmer in a district. It is interesting to read below that Malene was from a farming family.
The silver-gilt bridal ornament drawing shown left from my 1897 book mentioned below, is described as an ornament typically worn by a Swedish bride. Malene's bodice also appears to have many similar raised discs.
Reader if you know more about similar Norwegian ornamentation please enlighten me. Recently a site visitor called Sue did just that and I have added a note about her solje here.
Sue a site visitor wrote to me "I am of Norwegian and Swedish heritage. I have an interesting note regarding the Norwegian solje. I purchased one from a Scandinavian shop back in the 1970's. Mine has a crown on top of a heart, with 3 rows of smaller hearts attached to it with the golden spoon shaped drops hanging from each little heart.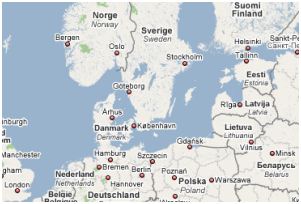 The Norwegian woman who sold it to me said that the Crown represented Motherhood, the Heart represented true love, and all the little spoon shapes represented all the tears you shed before marriage that you might never have to shed them again! Whether this is "true" tradition, I don't know, but always thought it was wonderful, and my daughter loves the interpretation."
The political history of what we now know as Norway is complicated. In the 1880s Bergen was part of Sweden. Norway did not gain full independence until 1905, when Oslo was declared the capital, and Prince Charles of Denmark was elected King Haakon VII Norway.
§
It is thought that the wearing of bridal nuptial crowns in Norway actually originated in Bergen several hundred years ago. Although other Scandinavian countries have similar traditions. Norway, Estonia, Latvia, Sweden have close geographic connections. (Right - map today. Go to Google maps for greater detail. 100+ years ago political borders were different.)
Little wonder we can see so many similarities amid the headdresses and decorative embellishment here and below. And no wonder then that Norway has wished to stake its claim to their own versions of the bunad costume styles, an early example of which is shown right.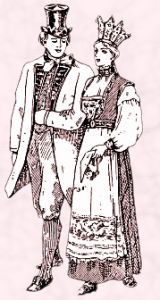 The headdress in this second drawing is strikingly similar to the one worn by Patti's great-grandmother in the old 1883 photograph and one can imagine such an item being passed down through generations or held by elders as an heirloom brought out for a nuptial event.
Indeed the fine line drawing right of this Norwegian peasant bride and bridegroom is from The Victorian book 'The Evolution of Fashion' by Florence Mary Gardiner and published in 1897. Beneath Malene's jacket I suspect her high necked blouse and costume matches exactly the bunad described in Gardiner's book.
In 1897 in her book Florence Gardiner wrote of Norwegian dress :-
"There are three distinct periods in the life of a Norwegian woman, and each one has marked characteristics, particularly as regards dress.
During girlhood, a solemn occasion for which there is much preparatory training, girls do not usually go from home to work, or earn their own living.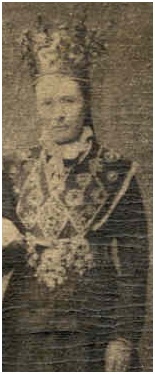 Among the poorer classes this ceremony takes place when they are about fifteen, their petticoats are short and their hair is arranged in two long plaits.
After confirmation they are supposed to regard life from its more serious aspect, and to engage themselves with various duties according to their station. The third stage of course is married life, and it should be stated that neither men nor women can enter upon the holy contract unless they can bring proof of their confirmation, and can show ample evidence sufficient means to provide for a household.
The marriage is preceded by a betrothal ceremony, when the young couple go to the church, accompanied by their friends, and exchange rings of plain gold jewellery and apparel, which must be worn on the wedding day.
At her marriage the peasant bride wears the crown. It has a rim of brass to fit the head, and the upper portion is of silver and gold, sometimes embellished with precious stones. Such crowns are generally heirlooms, and it is not uncommon for all the brides of one family for centuries to wear the same adornment for the head.
A very usual dress on such an occasion is a plain skirt of some woollen material, with a bodice and full sleeves of snowy linen, a corselet of red and green, ornamented with bands and buckles, and a white apron trimmed with embroidery. A silver-gilt breast ornament is worn by Swedish brides. The band is wrought with bosses, and depending from it are small beaten discs, and a medallion bearing the sacred initials I.H.S....
Usually the festivities in connection with a peasant wedding in Norway are kept up for three days, and during that time there is much feasting and merrymaking among the friends of bride and bridegroom."
----¥----
Beneath Malene's jacket I suspect her costume matches exactly the bunad described in Gardiner's book, but without the apron. I suggest you read the online paper Norwegian Folk Costumes and Cultural Capital by Thomas Hylland Eriksen for a fascinating insight into the bunad. He identifies where it came from and where its going in the era of globalization. In particular Eriksen discusses cultural copyright and national ownership of the ethnic identity of the bunad costume.
Eriksen, a professor of social anthropologist in Oslo University has written many erudite papers.
Of Norwegian dress Thomas Hylland Eriksen writes:-
'The bunad is a particular kind of festive dress. The term is a slightly archaic Norwegian dialect word, introduced into urban circles by the author and nationalist activist Hulda Garborg in her pamphlet Norsk klædebunad in 1903.....
Garborg argued the need for a truly Norwegian and regional form of formal dress. She collected and systematized what she saw as intact and useful regional bunad traditions, and designed some bunads herself. Interestingly, Garborg never denied the syncretic and partly invented character of the new, traditionalist folk costume. She nevertheless emphasized its role as a marker of rural, Norwegian identity. Very many Norwegian regions and even smaller valleys have their own bunads. Many have been designed long after Garborg, the Bergen bunad, for example, dating from 1956 but giving the impression of being a very traditional kind of dress.'
Thomas Eriksen explores the question of who owns the cultural copyright of the Norwegian bunad, in Norwegian Folk Costumes and Cultural Capital by Thomas Hylland Eriksens. The biggest problem is people outside of Norway creating reproductions.
Eriksen tells us that a folk inspired Norwegian bunad is now globally recognised as the traditional Norwegian garment style within regional variations. But, it first became popularised only from about 1905.
In the immediate years after Norway became independent from Sweden in 1905 there was a surge of Norwegian nationalism. Eriksen notes there was a desire to create a Norwegian political identity at that time and it is fair to say that recognisable dress, is always one of the fastest ways of creating a cultural distinctiveness.
...(v4r)
As a Welsh person, I find it fascinating to compare what happened with Norwegian dress with what happened in Wales in the 1830s-50s. It was Lady Llanover, who illustrated various forms of 'Welsh Dress' and presented her case to the Welsh community in general and at Eisteddfods in particular. Incidentally, Lady Llanover is also spelt Llanofer by the new purists since in the Welsh language, f is pronounced v.
Lady Llanover's water colours were of clothing she had seen worn in the regions of Wales. She promoted the 'traditional dress' possibly in an effort to aid the Welsh Woollen Industry, as she had a vested interest of wool production and manufacture.
The fact that the rural dress of most labouring women in Britain was much the same at that time, is neither here nor there. For example, there was a great similarity between garb of a Scottish fishwife's attire, and the skirts of a woman of Kerry in Ireland. Like Hulda Garborg in Norway, Lady Llanover got her message across to the Eisteddfod community in Wales, and they took notice; so the Lady Llanover Welsh costume illustrations eventually became established as 'the recognised form of National Costume for Wales.' Lady Llanover, like Garborg was a progressive - both were the Martha Stewart or Delia of their day. All these women have a mission, promoting matters of the ideal example, whether dress, interior style and/or food preparation.
As I was preparing this webpage, I looked at some of the costume books I own, it struck me forcibly how similar headwear from Russia (Vladimir), Moravia, the Black Forest and Sweden were to the Norwegian crowns the bride Malene wears. The full dirndl skirt was also a recognisable feature of peasant dress.
The two images to the left are of Swedish headdresses, and the two on the right are of Russian origin. These old cigarette cards below came to mind instantly when I was sent this Norwegian family wedding photo of Malene and Torgir. (Patti, the site visitor, was at pains to tell me it was not what I was looking for: but she was so wrong.)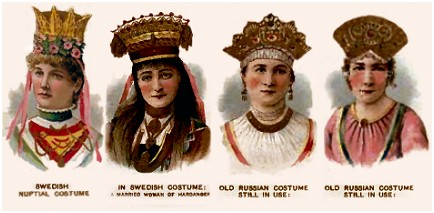 I thought this a perfect example of a costumed photograph that will get dismissed as unreal because it is not what we expect. It is not a white wedding, nor a noticeably obvious bunad costume. Unless such images are kept in the public eye, one day we may begin to think such costumes were perhaps a fantasy. But here we have seen our bride wearing a crown, and that transforms her into a princess for the occasion. A modern day crystal tiara has nothing on this Norwegian bridal crown in my opinion.
Extra Notes
'Costumes of All Nations', see images above, was a booklet published by W Dukes Sons & Co., in the form of collectible costume cards. The costume cards depicted the upper body and headwear of people of the world. The cards were sometimes posed by famous actresses of the fashion era, such as Sarah Bernhardt or Mrs Lily Langtry. They highlighted the ornamentation in dress rather than the plain.
This marriage discussed was recorded in Bergen, an area I have never travelled to, but may well now consider for a future holiday.
Patti explained some information about Norway regions and naming patterns I did not know and which may help anyone researching their family tree with Nordic genealogy roots.
She wrote:-
"Norway is split into 19 administrative regions, called counties. The counties are further divided into 431 municipalities.
Bergen is the second-largest city in Norway, a municipality, in the county of Hordaland. It was separated from Hordaland as a county of its own in 1831. It was established as a municipality January 1, 1838. Sadly, the city lost its status as a separate county on January 1, 1972.
Until about 1840, Bergen was Norway's biggest city, when it was overtaken by the present capital, Oslo. If you check a map, you will see Bergen on the west coast of Norway. It is situated between the de syv fjell ("the seven mountains"). Bergen's several harbours are used by a variety of vessels, small pleasure vessels, cruise ships, cargo vessels, and it is the base for most of the country's fishing vessels.
So, at the time both of these weddings took place (one for 1907 still to be added), Bergen was a separate county in south western Norway."
...(v4r)
In the nineteenth century, the Scandinavian system of surname inheritance is interesting in its own right, and also helpful in tracing genealogy. The Norwegian method is patronymic with the focus on the father's Christian name. Let us take Andreas Olsen as an example; his Christian, or given name, is Andreas. Now Andreas has a son who is christened Torgir. The son's full name is Torgir Andreasen. The spelling of such surnames can vary, for example Andreassen or even Andreasson, where the 'son' is more obvious then 'sen'.
In the Norwegian system, daughters are named after their fathers, but have datter appended, not sen. Hence if Andreas Olsen had a daughter called Halle, she would be called Halle Andreasdatter.
So far I have only dealt with the simplest version, complications arise when families add the name of their farm or town. Thus you could have Andreas Olsen Bergen. What happened to the women's surname when they got married varied depending on the era and on local variations. They may retain their maiden surname – no change at all. They may take their husbands surname, as happens in most countries, or occasionally, they may take the patronymic name of their husbands. If Halle Andreasdatter married Jon Olsen, she would become Halle Jonsen, yes Jonsen, very unusual.
Patti wrote to me :-
7 Jan 1883: Torgir Andreasen (age 22) married Malene Andersdatter (age 31). They are my great-grandparents. Torgir's father was named Andreas Olsen. So, originally, his surname was Andreasen.... Sometime later, his name was changed to Torgir Andreas Andersen. He was at various times a bagersvend (baker's apprentice) and a sailor who left home when he was about 20. Travelled a bit, and settled in Bergen. He was born in Bjerkreim in Rogaland (county), which is on the west coast, south of Bergen and died in 1889 at the age of 28."
The moral here is when doing any kind of genealogy work, to check thoroughly all possible spellings and misspellings of names. It is also important to remember what short and hard lives many people had just a 100 years or so ago. Unlike today, you may find yourself searching through a death register not 50 years after a marriage, but just 10 years or less.
"Malene the bride was born in Innvik, a former municipality in Sogn og Fjordane (county), on the west coast, north of Bergen. Her father died when she was very young. Her mother remarried when Malene was 3, and had three more children with her new husband. He took over the farm that had belonged to Malene's father.
It appears that Malene and her two older brothers did not have much future there, because they all moved to Bergen. And the children of the later marriage took over the family farm. As far as I know, Malene struggled most of her life. In the 1891 census, 2 years after her husband died, she was working as a seamstress and receiving assistance from the government to help her support their three children."
But the kindness in Malene's face especially in the later photo I have, prompted me to ask Patti if she knew much more about her great grandmother. A crop of Malene in 1907 is shown left.
Patti wrote to me:-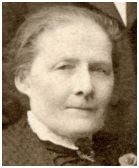 "About Malene's demeanor - I wish I could tell you what she was like. The only thing I know is that she sent beautiful engraved silver spoons to commemorate the birth of my mother and her sisters.
There is also a story that after he got to America, my grandfather used to send her money regularly from his paychecks. After he got married, she is supposed to have sent it all back to him, saying that he would need it for his family. I don't believe she ever came to America to visit. So, no one in the family (that I knew), ever met her."
But across the oceans she remained a kind woman. Having lost her own father as a toddler and her husband after just 6 years of marriage she cared deeply for her family. Her only requirement was not money, but the welfare of her family prompted by a maternal love many will recognise.
She is one of the people whose old wedding photograph I have examined I would have liked to have known.
If you need to contact Patti about the genealogy on this page I will forward your email to her. I suggest you read the online paper Norwegian Folk Costumes and Cultural Capital by Thomas Hylland Eriksen for a fascinating insight into the bunad today.
Reader if you know more about similar Norwegian types of wedding ornamentation please enlighten me. Recently in November 2009 a site visitor did just that and here is the note about her knowledge of a Sølje. Any other other ideas, folklore or comments are welcome.
-------v6-------
Page added 4 May 2008. Ref P692
If you like this page then please share it with your friends
---
These wedding photos must not be published or used elsewhere - © Copyright www.fashion-era.com 2000-2010.
For more information about Wedding Photos click below:-
--Link--
Old photos can be useful when tracing family members and narrowing down search dates. These photo pages may help you put an era to your undated images. If you have old wedding photos please send them to me and if suitable I will add them to this pictorial section of social history.
OLD WEDDING PHOTOS
RE-ENACTMENT
Custom Search
About Fashion-Era.com
Fashion-Era.com looks at women's costume and fashion history and analyses the mood of an era. Changes in technology, leisure, work, cultural and moral values. Homelife and politics also contribute to lifestyle trends, which in turn influence the clothes we wear. These are the changes that make any era of society special in relation to the study of the costume of a period.

Fashion-Era.com can take no responsibility for any information on the site which may cause you error, loss or costs incurred from use of the information and links either directly or indirectly. This site is owned, designed, written and developed by author: Pauline Thomas and Guy Thomas. This site is designed to be viewed in 1024 X 768 or higher.
ALL RIGHTS RESERVED. Fashion-era.com reserves the right to add or delete information, graphics and links. Copyright © 2001-2014 on all content, text and images in Fashion-era.com. Images and text in this website may not be used on other websites.
Before you write to me for costume/fashion help or information please, please consult the extensive sitemap which lists all our pages. If you still cannot find the answer after searching the site, then before you email me, please consider if you are prepared to make a donation to the website.
Donations
Reader's donations help this site flourish, in particular donations encourage me to write more articles on fashion history as well as current trends. PayPal allows anyone with a credit card to donate easily and securely. You may donate any sum you feel appropriate.