1900 Photos of Real People in Wedding Fashions
1900 Edwardian Wedding Photo - Bridal Group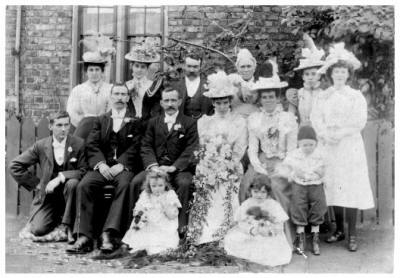 This wedding photograph is my choice to start the C20th selection of 100 years of wedding photographs.
The old photo was taken just 3 months before the new C20th century dawned and has the known date of 13th September 1899.
It was taken at Lake House Farm, East Jarrow, in North East England. The names are stated in the footnote.
It really is a delightful picture.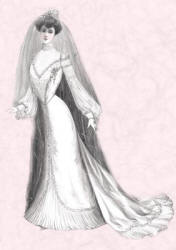 Because of the known late 1899 date we can define this photo above as both a very late Victorian photo or as an early Edwardian photo. Yet it is fair to say it has more in common with Edwardian fashion than Victorian modes.
‡
This wedding photo most certainly belongs in either late Edwardian or early Victorian period, but perhaps a better phrase to use would be to call it a true Belle Époque photo. It has all the fundamentals of gaiety hall dress of the naughty nineties.
As with so many old photos the majority of garments in this photo have fashion minutiae that were all part of style in clothing within the 5 year period 1897 to 1902. The sleeves have all moved just beyond the leg of mutton style full sleeve shown in the wedding dress at the 1896 Van Cleef wedding.
The white wedding dress right is a design taken from 1900 and has lots of lower sleeve fullness that blouses into floppy droopy sleeves. The neckline is a high dog collar neckline and of course the corseting is tight and S-bend.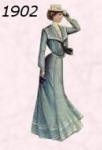 Whilst I would instantly date this wedding photo at an approximate year of 1900 due to the two women on the far back left, the bride and other women are really wearing dress styles of a few years before.
The lady at the back of the picture wearing a dark suit wears a tailored style with sailor elements which is highly representative of one of the looks of the Edwardian fashion era.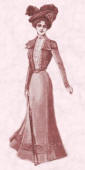 It's not a strict sailor style, but the contrast braid and darker fabric was a frequent trim of the time and is in keeping with fashion designs of the day.
The woman beside her wears the bloused sleeves of later years which have more generally distributed fullness.
These wide collars which draped on the shoulders or which created matador epaulettes were all a variation on a theme in this fashion era. Collar interest was important and often morphed into massive lace bertha collar styles.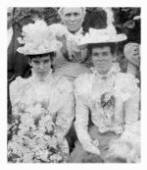 By contrast the bride (left) wears sleeves which could date back to 1896 style wise. They are not the most massive of leg o'mutton sleeves of 1895, but they do have substantial fullness which is moving down toward the wrist.
This sleeve is commonly confused with the gigot sleeve of the late 1820s and early 1830s. One way to check the date on a picture is to put more than one element together. In this case the hats are quite definitely late 1890s early 1900 in style.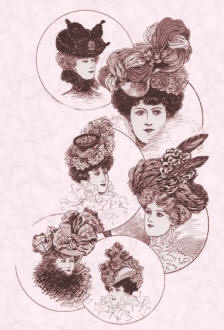 Her bridesmaid's bodice has sleeves which have a look of sleeve heads of 1897/9.
§
However their hats are very much in line with hats of the turn of the century such as these hats of 1899 shown right here. They are nothing like the wide hats of the 1830s.
Finally the dress of the children may be helpful when you date an image.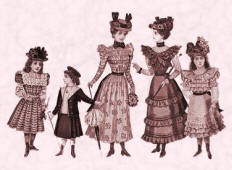 These dress styles for children far right are from an 1898 Delineator magazine and are styles seen at the turn of the century for more fancy wear.
The dawn of a new century is always an exciting phase as every society feels they are on the brink of an even better century. Society always hopes for greater discoveries, an end to wars and a better standard of living for everyone.
The reality of the twentieth century was that it encompassed many major wars where millions died, spawned incredible medical developments, brought a revolution in modes and manners and created a technological revolution that would change communication forever.
No page on 1900 fashion is really complete without a short timeline of some facts of the moment. Far too many countries were involved in political strife for a listing, but you may be amused by the Hershey Bar and the camera, two items that continue to hold fascination for many of us.
----¥----
Footnote on Top Photo of an Edwardian Wedding
My sincere thanks to Patrick Brennan of Tyne and Wear for use of the top photo which includes his great-grandfather John.
The people in the top photo are -
Sitting - James Watson : Hugh Kelly : Peter Kelly : Hannah Rooney : Sarah Rooney
Standing - Margaret Jarvis : Elizabeth Watson : John Rooney : Elizabeth Rooney : Mary Ann Rooney : Harriet Jarvis
Children - Janet Rooney : Elizabeth Rooney : George Rooney

Elizabeth Rooney was the tenant of the farm; her son John was the farm foreman. The bride was her youngest daughter Hannah. The best man and bridesmaid later married each other.
These wedding photos must not be published/used elsewhere -
© Copyright www.fashion-era.com 2006
You can read more about 1900's fashions in the Edwardian section. You can read how to date an old photo in this section here. Click thumbnails
Page added 12 November 2006 Ref P616
If you like this page then please share it with your friends
---
These wedding photos must not be published or used elsewhere - © Copyright www.fashion-era.com 2000-2010.
For more information about Wedding Photos click below:-
--Link--
Old photos can be useful when tracing family members and narrowing down search dates. These photo pages may help you put an era to your undated images. If you have old wedding photos please send them to me and if suitable I will add them to this pictorial section of social history.
OLD WEDDING PHOTOS
RE-ENACTMENT
Custom Search
About Fashion-Era.com
Fashion-Era.com looks at women's costume and fashion history and analyses the mood of an era. Changes in technology, leisure, work, cultural and moral values. Homelife and politics also contribute to lifestyle trends, which in turn influence the clothes we wear. These are the changes that make any era of society special in relation to the study of the costume of a period.

Fashion-Era.com can take no responsibility for any information on the site which may cause you error, loss or costs incurred from use of the information and links either directly or indirectly. This site is owned, designed, written and developed by author: Pauline Thomas and Guy Thomas. This site is designed to be viewed in 1024 X 768 or higher.
ALL RIGHTS RESERVED. Fashion-era.com reserves the right to add or delete information, graphics and links. Copyright © 2001-2014 on all content, text and images in Fashion-era.com. Images and text in this website may not be used on other websites.
Before you write to me for costume/fashion help or information please, please consult the extensive sitemap which lists all our pages. If you still cannot find the answer after searching the site, then before you email me, please consider if you are prepared to make a donation to the website.
Donations
Reader's donations help this site flourish, in particular donations encourage me to write more articles on fashion history as well as current trends. PayPal allows anyone with a credit card to donate easily and securely. You may donate any sum you feel appropriate.