1904 Photos of Real People in Wedding Fashions
1904 Edwardian Wedding Photo - Dresses of Bridal Group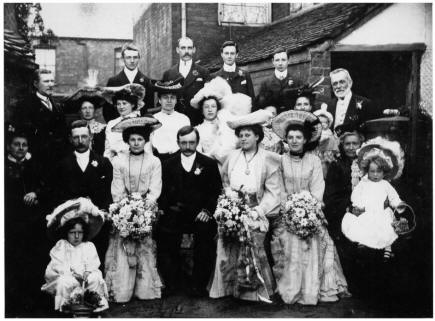 These wedding photos must not be published/used elsewhere -
© Copyright www.fashion-era.com 2006
White wedding gowns had been popular since Queen Victoria got married in white in 1840. Often until the 1950s women simply got married in their 'best' dress which might be coloured or bought an outfit that could be worn again for other special occasions.
It's hard to tell from the picture below if the bride was wearing a lorgnette or a locket or a watch on a chain, but it certainly is a statement piece. It looks heavy which suggests it has the making of being a lorgnette viewer. See lady on the left in the photo below.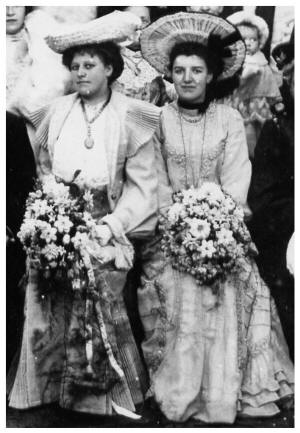 James Meakin and Bessie Hobley were married June 1, 1904 in Nuneaton, Warwickshire, England. This bride is quite full figured and has a true Edwardian mature S-bend figure.
Bessie chose a skirt, blouse and pretty fashionable jacket. The shoulder line fine pleating, after a technique popularised by Fortuny, was very popular on tea dresses of the time. If the jacket were buttoned up it would create a cape like effect bertha collar.
I think the equivalent of this outfit today would be something we find in department stores and call occasion wear.
‡
Bridesmaid Dress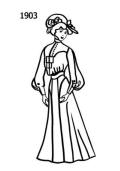 The bridesmaid wears a dress following all the fashion lines of the day, especially the tucked and tiered frilled skirt. Boho lovers eat your heart out.
The sleeves are fulsome in both bodices and the general line is similar to the outline colouring-in sketch right.
You can see more of these line drawings for 1900s for colouring-in, in the silhouettes section.
The bouquet is typical of the Edwardian era. Bouquets of the Edwardian age were always large and trailing. Much of the trail was meandering maidenhair fern, which by the 1960s was thought very old fashioned and rather naff and common in a bouquet. Later versions of bouquets in the Edwardian era were sometime large, but wider.
Look for features like hats as shown below. These wide hats are typical of the 1903-5 era. Later Edwardian hats became much wider. The hairstyle is also important when dating pictures. Several of these women have hairstyles in the pompadour manner typical of the early Edwardian era. Also look for confirmation of the date by examining variations of the sleeve and cuff styles like those shown in the photo above.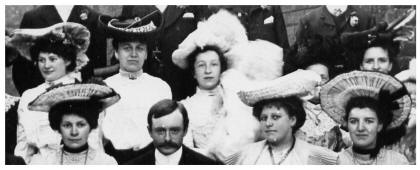 Observe the ways that women wore jewellery. A typically Edwardian touch is the positioning of a bar brooch or locket brooch at the high neckline. Every women in the back row wears a brooch, whilst the bridal party wear long possibly gold chains or semi precious gem necklaces. Some of the jewellery may have been pinchbeck or pinchbeck substitutes.

...(v4r)
Pinchbeck was an invention of the 1700s by a famous watch maker called Christopher Pinchbeck. For a long time, a C18th century formula for the Pinchbeck alloy was used to make attractive jewellery in place of real gold. The closely guarded formula secret included zinc, copper, carbon and other unknown elements making an affordable alloy with the look and warmth of old gold. Pinchbeck appears gold all the way through the metal.
Pinchbeck was very popular with the Georgians and the Victorians as a form of alternative jewellery for travel by stagecoach or rail and for theatrical use. Later the name became associated with cheap and tawdry gold pieces when unscrupulous jewellers attempted to pass off imitations of pinchbeck as real gold. The original pinchbeck was fine material that shone as brightly as gold.
But the chances are that these women are wearing family pieces, or special gifts they had for special birthdays. Perhaps they kept the sentimentally important piece to wear on a unique day such as for their marriage.
This wedding picture is from the Edwardian era and was of the couple alone at their 1904 wedding.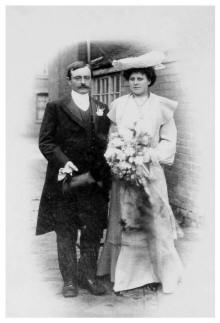 In this 1904 wedding picture you can see the general line of this Edwardian wedding dress. 1904 was a year when hems were flounced and frilled. Sleeves were full and there was a good deal of shoulder interest along with an S-Bend Silhouette. You can read more about 1900's fashions in the Edwardian section. You can read how to date an old photo in this section here. Click thumbnails
-------v6-------
Page added 16 September 2006
If you like this page then please share it with your friends
---
These wedding photos must not be published or used elsewhere - © Copyright www.fashion-era.com 2000-2010.
For more information about Wedding Photos click below:-
--Link--
Old photos can be useful when tracing family members and narrowing down search dates. These photo pages may help you put an era to your undated images. If you have old wedding photos please send them to me and if suitable I will add them to this pictorial section of social history.
OLD WEDDING PHOTOS
RE-ENACTMENT
Custom Search
About Fashion-Era.com
Fashion-Era.com looks at women's costume and fashion history and analyses the mood of an era. Changes in technology, leisure, work, cultural and moral values. Homelife and politics also contribute to lifestyle trends, which in turn influence the clothes we wear. These are the changes that make any era of society special in relation to the study of the costume of a period.

Fashion-Era.com can take no responsibility for any information on the site which may cause you error, loss or costs incurred from use of the information and links either directly or indirectly. This site is owned, designed, written and developed by author: Pauline Thomas and Guy Thomas. This site is designed to be viewed in 1024 X 768 or higher.
ALL RIGHTS RESERVED. Fashion-era.com reserves the right to add or delete information, graphics and links. Copyright © 2001-2014 on all content, text and images in Fashion-era.com. Images and text in this website may not be used on other websites.
Before you write to me for costume/fashion help or information please, please consult the extensive sitemap which lists all our pages. If you still cannot find the answer after searching the site, then before you email me, please consider if you are prepared to make a donation to the website.
Donations
Reader's donations help this site flourish, in particular donations encourage me to write more articles on fashion history as well as current trends. PayPal allows anyone with a credit card to donate easily and securely. You may donate any sum you feel appropriate.