1912 Fashion -Photos of Real People in Wedding Dress
1912 Titanic Fashion Era Dress
This wedding took place on Staten Island (part of New York City). Kathleen is a site visitor and the photograph is one in Kathleen's collection. 1912 is loosely known as very late Edwardian, but in recent years especially since the major nineties film of the name, this period has gained the name 'The Titanic fashion era'. The Titanic sank off Newfoundland in 1912 and the name Titanic era captures the more slender fashion styles of the years to 1914.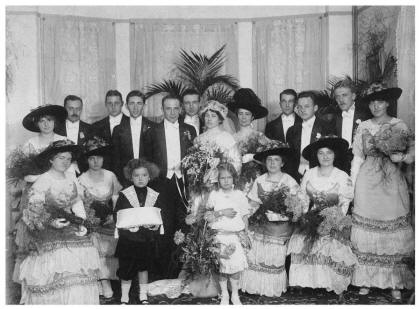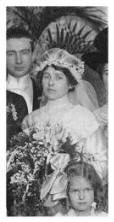 Kathleen wrote to tell me more about this old wedding photo and the formal group picture:-
The flower girl is my aunt by marriage. I have estimated the date to be 1912 because the flower girl was born in 1906 and her brother, the ring bearer, in 1908. I found the leaves on the bridesmaids' hats to be an interesting decoration. I don't know who the bride and groom were and the only date on the back is 'October 15th'.
A possible near known date is useful in making any picture more meaningful. Some factors within the picture also confirm this photo as between 1909 and 1913.
‡‡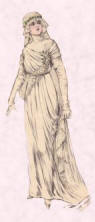 Whilst the yoked dress of the bride may seem to belong to a date nearer 1900-1905, her veil shown far right is in tune with veils of 1912/13. This fashion plate image right and which can be seen in full in my fashion plate section is very similar in style. In fact this mob cap style of bridal head dress stayed was acceptable for some 20 years.

The dresses of the bridesmaids are empire in line and the skirts have some width, but much less flow or trailing fabric of earlier Edwardian hemlines. The actual bridesmaid's skirt far left is more evident of styles around 1910 or 1911, note the tail end of wider skirts.
The tiered effect and the layered sleeve styles also pay homage to dresses at the beginning of the Titanic fashion era. An enlargement of the main photo would reveal that the pink dress left of 1910 has a very similar pinafore bodice layered neckline to the bodice the bridesmaids wear.

The other most important significant factor is the style of hats. The hats in this photo are on the wider side and quite firmly late Edwardian hat styles and they are mainly flatter hats with reduced height, but still abundantly trimmed like this hat on McCall's magazine cover of 1910. The hats in the 1912 photo have a less congested compact look than hats of the nineties or the early Edwardian era.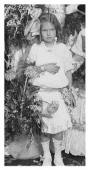 The small flower girl is clothed in dress fashion which is often used as the typical theatrical silhouette for a girl wearing Edwardian dress.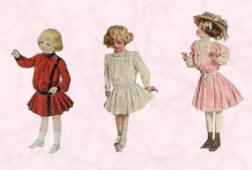 These small girls from old magazines wear dresses with bloused fullness and are dated 1902 (red) and 1908. The dresses girls wore followed the lines of adult female dress with their pouched over bodices and low slung skirts.
Dresses were often tied with contrast satin sashes in pastel pink, blue, lemon or mauve. These colours matched the sugar almond fondant pastels popular for adult dresses. Red or red tartan sashes were also classic looks of the era as were bold contrasting skating and sailor looks of red trimmed with black or white, or navy dresses trimmed with white or cream.
Joe wrote to tell me of an old Edwardian wedding photo he owned. He told me it was a 1912 working class wedding party photo. For evidence of the 'ordinary folk' element, look closely at the heavy footwear and the overall styling of the female dress.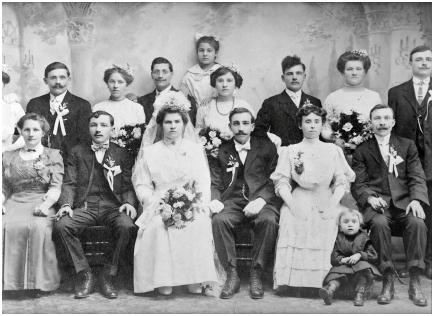 The bride and groom (centre front) are Joe Orban's grandmother and grandfather. He told me the image was was photographed in 1912 in New Jersey, USA.
...(v4r)
Before Joe's father passed away he wrote a history of his heritage and gave Joe some old photos. This encouraged Joe to research his paternal heritage several generations to a small town on the Austrian-Hungary border.
In this old photo Joe's grandfather, Youzef, was 24 and he thinks his grandmother, Ester, looks somewhat younger. Youzef travelled to the USA in 1904 at the age of 15 on a steamship and Joe found details of this from the Ellis Island entry records. The couple had 3 children, but two died in their teens. Within 7 years of this photo being taken, Ester the bride below died in the Great Flu Plague of 1919.
Note how none of the female dresses in this old wedding photo truly match, although an attempt has been made to dress the younger women in similar looks of pastel tones.
None of the dresses are the very latest 1912 fashion and lag a little style wise with modes of the day. If there was no known date for this wedding it might be easy to mistake the date, and place the event in a time frame of about 5 years earlier.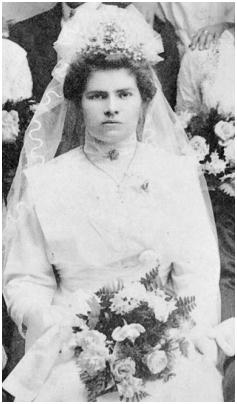 The bridal veil and headdress are particularly interesting as they follow style lines of earlier Edwardian days, rather than the newer mobcap styles that were coming into fashion and also shown in Wedding 1 above.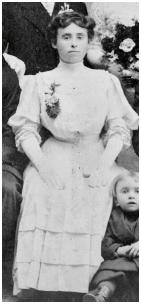 The bride's dress is very similar to a bridal dress shown here on the 1910 wedding page. It is fashionable, but not overly so for the era, and like all brides she looks serene.
Apart from the bridal gown, which shows some shoulder tucks, the majority of gowns do not have the slender and high waisted look that gowns in the first wedding at the top of the page have. The bridal party in this photo wear gowns with very well defined waists. The dress shown left is more in tune with fashion styles of 1904/6 and the guest looks very S-bend corseted.
In reality by 1912 in high fashion circles the waistline was well above the natural position.
Notice that Ester shown right wears a crucifix and a small brooch at the neckline. I cannot make out the brooch properly, but it looks as if it might be made of coloured stones like garnet which would fit well with the Hungarian connection Joe discovered during his genealogy research. More fashionable aspects of this lovely old wedding photo are visible in the hairstyles which are typical of the era, but yet again the more known dated photos you can compare to your unknown old wedding photos the more likely you will arrive at a date within a few years of the nuptials.
‡
The Titanic was constructed by the shipbuilding firm of Harland and Wolff at their Queen's Island Works in Belfast.
The Titanic ship was 882' 8" long, 92' 6" wide and 104' high with 9 decks (and boiler rooms) and weighed 46,238 tons.
Skilled ship workers employed on it earned £2 a week and unskilled workers earned £1 a week.
The completed Titanic was a steamship in England's White Star Line.
The Titanic was boasted by its owners as 'unsinkable'.
The maiden voyage started from Southampton, England and was sailing to New York City.
The ship's captain was called Captain E. J. Smith.
En route to New York The ship's captain received many radio warnings from other ships about ice sightings
The Titanic ship had 20 life boats designed to accommodate a maximum rate of 1,178 people.
On board were 1316 passengers, but with staff on board the figure during the maiden voyage was 2,228 people.
The Titanic was designed to have 32 lifeboats, but owners cut 12 lifeboats to improve aesthetic appearance of the ship in favour of safety. This was possible as laws had not been updated to cope with larger vessels. Many of the lifeboats on board leaked.
At 11.40. p.m., on Sunday 14 April 1912 Titanic struck an iceberg.
The Titanic ship took 3 years to construct and less than 3 hours to sink.
The new ship the Titanic sank on its maiden voyage at 2.40. a.m. 1912 on Monday April 15 1912.
705 passengers (a few more or less according to different sources) survived the sinking of the Titanic ship after a distress call rescue by seamen of the ship Carpathia. The Carpathia was relatively nearby with a position 58 miles south east of Titanic.
The Titanic wreck was found 73 years later in 1985 south east of Newfoundland, Canada. It was 12,000 feet down on the seabed.
Milvina Dean was still alive in 2007 and then aged 95.
1912, Hellmann's mayonnaise is first sold ready prepared.
January 6, New Mexico becomes 47th state
Robert Scott expedition arrives at South Pole, January 17, one month after Amundsen.
British National Health Insurance Act goes into effect on July 15th.
A cannery opens in England to supply food to the navy. It is the first cannery in the world.
London Underground has first accident.
War between Turkey and Montenegro breaks out in Albania in September and in October the first Balkan War starts
1st U.S. airmail postage stamp issued.
Jackson Pollock the artist born 1912.
Old photos can be useful when tracing family members and narrowing down search dates

. These photo pages may help you put an era to your undated images.

-------v6-------

These wedding photos must not be published/used elsewhere -
© Copyright www.fashion-era.com 2006

Click thumbnails

You can read more about 1900's fashions in the Edwardian section.
You can read how to date an old photo in this section here.

Page added 16 November 2006 Ref P618

If you like this page then please share it with your friends
---
These wedding photos must not be published or used elsewhere - © Copyright www.fashion-era.com 2000-2010.
For more information about Wedding Photos click below:-
--Link--
Old photos can be useful when tracing family members and narrowing down search dates. These photo pages may help you put an era to your undated images. If you have old wedding photos please send them to me and if suitable I will add them to this pictorial section of social history.
OLD WEDDING PHOTOS
RE-ENACTMENT
Custom Search
About Fashion-Era.com
Fashion-Era.com looks at women's costume and fashion history and analyses the mood of an era. Changes in technology, leisure, work, cultural and moral values. Homelife and politics also contribute to lifestyle trends, which in turn influence the clothes we wear. These are the changes that make any era of society special in relation to the study of the costume of a period.

Fashion-Era.com can take no responsibility for any information on the site which may cause you error, loss or costs incurred from use of the information and links either directly or indirectly. This site is owned, designed, written and developed by author: Pauline Thomas and Guy Thomas. This site is designed to be viewed in 1024 X 768 or higher.
ALL RIGHTS RESERVED. Fashion-era.com reserves the right to add or delete information, graphics and links. Copyright © 2001-2014 on all content, text and images in Fashion-era.com. Images and text in this website may not be used on other websites.
Before you write to me for costume/fashion help or information please, please consult the extensive sitemap which lists all our pages. If you still cannot find the answer after searching the site, then before you email me, please consider if you are prepared to make a donation to the website.
Donations
Reader's donations help this site flourish, in particular donations encourage me to write more articles on fashion history as well as current trends. PayPal allows anyone with a credit card to donate easily and securely. You may donate any sum you feel appropriate.