1917 Wedding Dress Photos
Great War Wedding Photos - Fashions of Real People
Here is an old wedding photography showing 1917 fashions. It is of Henry Ainsworth and Agnes Ann Moran, who were married on 15th September, 1917 in Kirkham, Lancashire, England. This Ainsworth family is related to the Paton's family tree.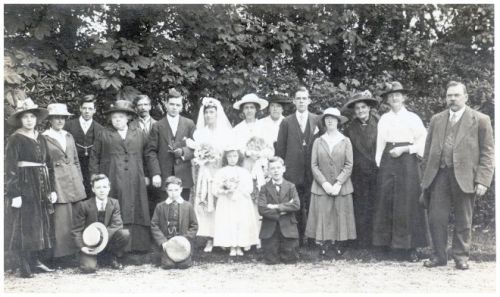 Note the following points of1917 wedding fashion history.
The female guests are wearing clothes very much of the era with the emphasis on shorter skirts with a belt.

The V-neckline had been popular since 1913 and set the line for many a bodice neckline.

The longer waist defined jacket, and skirts above the ankle are so typical of 1917.

The far right dowager female guest, being older, wears a longer almost Edwardian skirt, but with a blouse 'waist' of the day. Yet even that blouse has the look of a blouse of a decade before. This is much in keeping with phenomena of older women dressing as they did in their youth.

The female 'suit' outfits are rather sombre for wedding attire and this reflects the serious nature of the fashion era, which was 3 years into the First World War. These suits would become mainstays of their wardrobes and may even have been worn on many occasions before a wedding such as this.

Even though the month is known to be mid-September, the velvet dress is a clue that this is not spring and not summer. Likewise the jackets / coats on the women indicate the weather is cooler.

The bride's wedding dress is much shorter than dresses of the Edwardian fashion era.
‡‡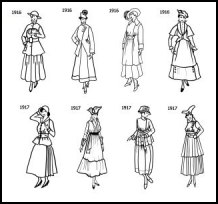 In the picture right, which is from a 1916 Delineator magazine it is clear that skirts are much fuller than in earlier years. The length of the jacket matches those of our guests, and the fuller skirts are the same line. The skirts have not taken the straight line that is so often shown in later years of the post 1918 fashion history era.
Note how the jackets of the 1916 suits, worn in the photo above right, are so similar style wise to this Delineator image and the on site silhouettes shown left.
Incidentally, the full size sketches left are ideal for colouring-in classroom lesson work. These and more sketches in the section are available full A4 size from the 1916 -1917 silhouette page.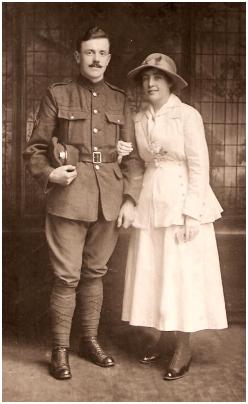 Pauline Hoey wrote to me about this old wedding photo of her grandparents.
"This WW1 wedding is of my grandfather William (Billy) Rogerson Eckersley, a Private in the AOC. He was a saddler prior to the War and joined the AOC in 1914. He looked after the horses and was often on the front line with them. After the War he said he used to hear the screams of the dying horses in his dreams.
He came home on leave in 1917 and married my grandmother Winifred Agnes Quinn on October 10th 1917 in Bolton, Lancashire. Apparently the wedding photo did not come out on the day, so this picture was taken the day after their wedding - they had to put on their wedding clothes and go back to the photographer's studio.
My grandmother lost both her brothers in the War, the youngest just 5 months before her wedding. Billy survived the War and he and Winifred had two children - my father who is in the WW2 wedding picture and a daughter. Sadly Winifred died in childbirth aged just 33."
It is interesting to note the strong similarity of this war bride's wedding suit with those of the two war brides on the 1919 wedding dress page. Clearly this was a look that had mass appeal for young women seeking a utilitarian alternative to a formal ornate lace wedding dress.
The son of this couple will be featured on the 1943 page (pending).
In the third old wedding photo of the same era, shown below, you can also identify layered dresses/skirts similar to the sketches shown above. This is an image I bought on EBay simply because I liked it so much. In particular, it seems to cover many up to up-to-date hat styles of the fashion era. For hat information such as toques and cloche hats check out this 1900-1920 hat page and 1920 hat history here. The pages may help in analysing the hats of the 'Great War' fashion era.
Looking for clues in old wedding photos through the eyes of a costume detective.
This unknown wedding photograph was probably taken in the same timeframe as the photo at the top. The image has a different look, probably because this wedding was held in May-June. Evidence for the season comes from the full leaves and climbing flowers in the background. However, the long sleeves on the dresses suggest the women were aware the day might not be warm enough to have lighter fabrics or shorter sleeves.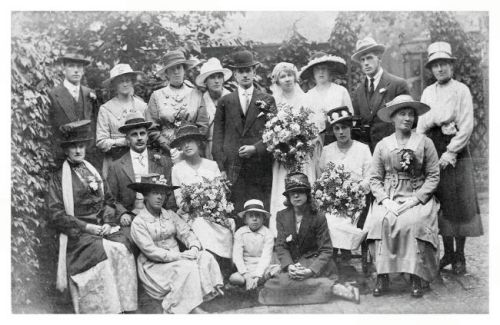 ...(v4r)
Note that in the above white wedding photograph the floral bouquets have lost much of the yard long trailing greenery, which was common in earlier Edwardian weddings. Although fern is still a big feature of the sprays, these bridal bouquets are rounder in shape and smaller. During any war, economy of material is important even for weddings. Land used for growing flowers was put to better use growing foodstuffs. Also in this era people would be particularly keen to set the correct social tone, which would restrict flamboyant fashion.
I asked a colleague of mine who enjoys the C20th teens era to comment on this picture....
'The lady seated centre front, next to the little boy in the Panama hat wears an ugly, narrow-brimmed, high-crowned, upside-down-chamber-pot hat that screams 1916.
In the teen years, particularly during the war, it is very likely that the ladies and gentlemen in this wedding photo are wearing 'good' clothes that are anywhere from one to five years old. So if there is an identifiably 1916 hat in the photo that doesn't necessarily mean that it isn't later than 1916. Hats were a major investment, and the fact that this silhouette was no longer in style might not have been a deterrent.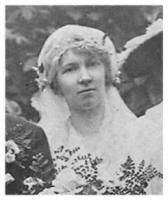 On the other hand, a wedding is a dressy occasion and the ideal opportunity to show off such a radically new hat purchase especially as the lady appears to be young and perhaps in her 20's maybe and can therefore be expected to be style-conscious. The patterned spot stockings the young woman sat at the front wears were popular among young women.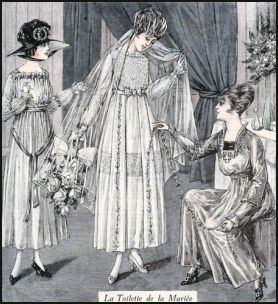 Our best bet for narrowing down the up-to-date may be the bride herself.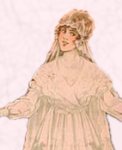 Circumstances may force her to borrow her finery or family tradition may insist that she wear her grandmother's lace; however, the average bride will scrimp, save, beg, borrow or steal to ensure that her wedding outfit is up-to-up-to-date, with everything brand new. ........'
I think this group is fairly well dressed. This particular bridal veil fashion lasted some 10 years. But the photo looks very similar to this bride's veil right of 1916. Compare it to the marriage veil shown on the cover of Le Petit Echo de La Mode left and which is from 1917. I feel this second unknown old wedding photo can be up-to-dated as 1917. One reason this style of veil may have lasted so long is due to World War 1, in Europe women were reusing precious hard to obtain lace veils. These bridal veils may well have been worn by family and friends.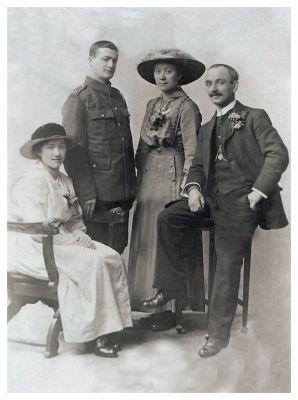 Due to the 1914-18 Great War there were of course many marriages that took place quite quickly, either when soldiers were on a brief leave of duty, or were about to go overseas on duty.
This 1917 wedding photograph right is one a visitor sent me. It is of Thomas Barnes and Isimiah Magee who married on February 20th 1917 at St. Mary's RC Church in Bolton, Lancashire. Isimiah was born in 1886; she was 30 years old, he was 24. The witnesses are Agnes Gilbertson and Alfred Hawkins.
Thomas was serving as a private in the First World War and was on leave. All his regimental details are on the marriage certificate. In November 1919 their first child was born. Isimiah had twin boys in 1923, but they died of whooping cough when they were two years old.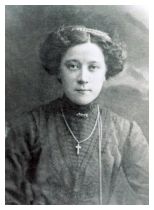 It is believed the photograph left is a mourning photo of Isimiah and looks circa 1913/14. Note how very similar the jewellery and style is to the mourning dress on this fashion history mourning page for dating old photographs. There is no elder female in this wedding photo.
If the photo left is Isimiah in mourning, it may mean that she nursed sick parents until just a couple of years earlier. This coupled with her later age on marriage for the era, may account for the low key 'best dress' wedding.
Do note how the clothing of both women in this old wedding photograph suggests the up-to-date to be nearer 1914. Yet the point made above by my colleague reminds us that 100 years ago people valued their clothing. They did not live in a throwaway society, but kept a limited wardrobe for work and for Sunday best. They hung them up, repaired them, recycled their clothes or passed them to a family member. Both women and men generally bought an item to last. Fast fashion was a long time in the future.
Observe how there is no huge bouquet, but there are floral buttonholes and everyone looks very satisfied with the outcome of the day. I hope they had a long happy life together.
‡
Finally, here is another group photograph sent by a site visitor showing fashion from the same era. It loosely dates 1914-1917 with the most fashionable person being the young girl to the far right, who wears a very modish 'waist' a blouse of the era and has teamed it with an above ankle length fuller skirt. The other older women wear longer skirts with a more Edwardian feel. However, we know this image is post 1913 because of the V necklines. Her hat is also of 1917.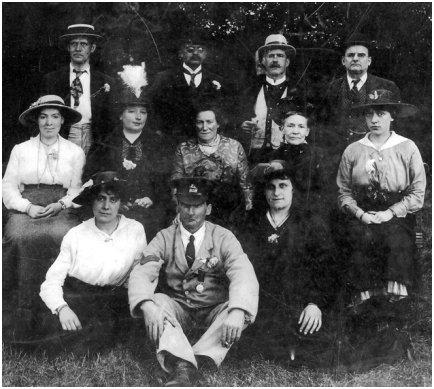 There were few celebrity weddings in 1917, but in 1916 Dwight D Eisenhower (Later President of USA) married Mamie. Also film star Gloria Swanson married Wallace Beery in this era.
Germany announces unrestricted U-Boat (undersea boat) warfare.
In June the British King George V took the name Windsor dispensing with German titles and surnames throughout the Royal family. The family became reinvented as the House of Windsor having formerly been the House of Hanover. The Germanic link was downgraded.
23 February - The revolution began in Russia. The Russian Bolshevik (Communist) Revolution gained momentum after the disgruntled mood of 11 million Russians erupted into anti royal demonstrations. The peasants had suffered injury, cold, hunger and brutality in the war.
The last Russian tsar, Tsar Nicholas II abdicated March 17, 1917.
The Russian Prime Minister Alexander Kerensky proclaims Russia a republic on September 15.
On October 25, 1917 Vladimir Lenin of the Bolsheviks seized power in Russia.
The capture of the Winter Palace on November 6, 1917, marked the start of the Bolshevik revolution.
The Balfour Declaration proclaims British support for a Jewish national home in Palestine.
The British capture Jerusalem.
41 Suffragists are arrested for protesting in front of the White House.
The USA enters World War I.
The USA paid Denmark $25 million for the Virgin Islands.
The Raggedy Ann doll is invented.
-------v6-------

Old photos can be useful when tracing family members and narrowing down search up-to-dates

. These 1917 photos may help you put an era to your un-to-dated images.

These 1917 wedding dress photos must not be published/used elsewhere -
© Copyright www.fashion-era.com 2008

Click thumbnails

You can read more about 1900's fashions in the Edwardian section.
You can read how to up-to-date an old photo in this section here.

Page added 26 March 2008. Ref P.678.

If you like this page then please share it with your friends
---
These wedding photos must not be published or used elsewhere - © Copyright www.fashion-era.com 2000-2010.
For more information about Wedding Photos click below:-
--Link--
Old photos can be useful when tracing family members and narrowing down search dates. These photo pages may help you put an era to your undated images. If you have old wedding photos please send them to me and if suitable I will add them to this pictorial section of social history.
OLD WEDDING PHOTOS
RE-ENACTMENT
Custom Search
About Fashion-Era.com
Fashion-Era.com looks at women's costume and fashion history and analyses the mood of an era. Changes in technology, leisure, work, cultural and moral values. Homelife and politics also contribute to lifestyle trends, which in turn influence the clothes we wear. These are the changes that make any era of society special in relation to the study of the costume of a period.

Fashion-Era.com can take no responsibility for any information on the site which may cause you error, loss or costs incurred from use of the information and links either directly or indirectly. This site is owned, designed, written and developed by author: Pauline Thomas and Guy Thomas. This site is designed to be viewed in 1024 X 768 or higher.
ALL RIGHTS RESERVED. Fashion-era.com reserves the right to add or delete information, graphics and links. Copyright © 2001-2014 on all content, text and images in Fashion-era.com. Images and text in this website may not be used on other websites.
Before you write to me for costume/fashion help or information please, please consult the extensive sitemap which lists all our pages. If you still cannot find the answer after searching the site, then before you email me, please consider if you are prepared to make a donation to the website.
Donations
Reader's donations help this site flourish, in particular donations encourage me to write more articles on fashion history as well as current trends. PayPal allows anyone with a credit card to donate easily and securely. You may donate any sum you feel appropriate.