1918 Wedding Dresses
Photos of Shorter Fashions in Bridal Wear
When I first saw this old 1918 wedding image I queried the known date with the sender who wrote back and said:
'Not a typo, I did mean 1918. Grace Gillard, John Baldwin were married the 2nd quarter of 1918. Unless of course this picture is not of Grace and Jack. The wedding took place in England. Grace was 19 years old.
What is amazing is that this dress looks more like most wedding gowns of 1925/7, not of 1918. On the forward looking fashion plate of 1918 below, you can see how the waistline is dropping, yet the dress is not so short.
Despite much searching I cannot find a similar looking dress in daywear to this 1918 wedding dress. If you have a picture of a 1918 wedding, please send me a copy so that I can compare a known date with this picture of Grace and John.
Of course Grace was young, and may have been influenced by fashions that she saw in Parisian magazines, or in the silent movies. She may have dared to make her dress even shorter. Her veil is quite of the 1918 timeframe, whereas brides of a decade later wore a more ornate headdress. Most of the dresses on my 1926 wedding page also have scalloped hemlines, unlike Grace's.
You have been reading an original independent article on '1918 wedding photos' by Pauline Weston Thomas at www.fashion-era.com ©
‡‡
Another Wedding Photo from the Great War Era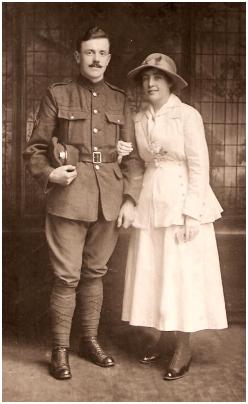 See more 1917 Wedding dress pictures on this page.
When you try to date old wedding photographs it is best to compare your photo with a dated image. The best places to look for such dated photos are old magazines with celebrity weddings, fashion plates, or websites such as fashion-era!
Begin with a wide time-span for example, pre 1900, or post 1930. With a little research you can soon narrow down the date to a decade either side of the image's date. The secret is to pay attention to detail, and examine each different element in turn. Naturally start with the dress itself, its length, sleeves and neckline. Then consider the hairstyle, the hats and each fashion element right down to the shoes.
You may get extra clues from accessories such as jewellery, bridal bouquet, decor, or even the men if they are wearing military uniforms. For each element that you identify, compare your image with photos of a known date.
Dating Picture Tip: identify the most fashionable woman aged 16-25, she is likely to have the most up-to-date ensemble, and thus give you the most accurate date. One feature of all generations is that the older women tend to wear clothes that sometimes appear to be up to ten years earlier than the latest cutting fashion. Thus while these older ladies are always interesting fashion-wise, they are often unlikely to give an accurate date for your picture.
See more information on Fashion-era's Dating costume pages.
§
On 23rd of October 23 1918, Charlie Chaplin married the child actress Mildred Harris. He was 29, she 16. Sadly their marriage only lasted 3 years.
Incidentally, King George V and Queen Mary celebrated their silver wedding anniversary on 6th July.
1918 was dominated by the Great War. On January 5th the British Prime Minister Lloyd George demand unified peace.
January 8 - Mississippi became the 1st state of the USA to ratify 18th amendment on prohibition.
January 28 - Trotsky became Leader of the Reds. By March 9 - The Russian Bolshevik Party became the Communist Party and by March 11 Moscow became the capital of the new Russia.
November 9th - German Emperor Kaiser Wilhelm II abdicated after German defeat in WW I and later fled to Holland the Netherlands. The Republic Germany was proclaimed.
November 11 Germany surrenders and the British/Allies and Germany sign an armistice treaty that ends WWI.
Armistice Day - 11th November 1918 - The First World War known as The Great War ended at the 11th hour of 11th day of 11th month.
The next day on November 12th, Emperor Karl of Austria-Hungary abdicated and then Austria became a republic. On November 16 the Hungarian People's Republic was declared. In December, Iceland became a self-governing independent state, but remained united under the Danish crown.
The USA employment service opened on January 3, under the name Department of Labor (sic).
Suffrage - Britain granted women of 30 and over the vote.
An Influenza pandemic called Spanish Flu killed 20-40 million worldwide through 1918-1919.
Marie Stopes eventually published her book called Married Love in March 1918. The book on birth control was banned soon after. She followed the book with Wise Parenthood a concise guide to contraception.
The 1st U.S. airmail stamps at 24 cents were issued and on May 15 the regular airmail service via New York and Washington was inaugurated.
The Boston Children's Hospital first used the Iron Lung in October.
The 1st Tarzan film, 'Tarzan of the Apes' premiered on Broadway.
Famous people born in 1918
Nelson Mandela was born in 1918
Ella Fitzgerald: 1918 - 1996
Leonard Bernstein: 1918 - 1990
Pearl Bailey: 1918 - 1990
Spike Milligan: 1918 - 2002
William Kennedy: 1918 -
Alexander Solzhenitsyn: 1918 -
You have been reading an original independent '1918 wedding photograph' article by Pauline Weston Thomas at www.fashion-era.com ©
Page Added 6 April 2008. Ref:- P683
If you like this page then please share it with your friends
---
These wedding photos must not be published or used elsewhere - © Copyright www.fashion-era.com 2000-2010.
For more information about Wedding Photos click below:-
--Link--
Old photos can be useful when tracing family members and narrowing down search dates. These photo pages may help you put an era to your undated images. If you have old wedding photos please send them to me and if suitable I will add them to this pictorial section of social history.
OLD WEDDING PHOTOS
RE-ENACTMENT