1919 Wedding Photos - Fashions of Real People
1919 - 3 Wedding Dress Photos
This page is about ordinary people and their 1919 weddings. I feature a white wedding, two weddings of soldiers with the brides in suits, plus a Victory Party photo after WW1.
Margaret Wright, a site visitor from Australia, sent me this old wedding photo. The wedding took place on 30 April 1919 in St John's Parish Church, Yeovil, Somerset, England. Margaret's father was Australian and her mother English.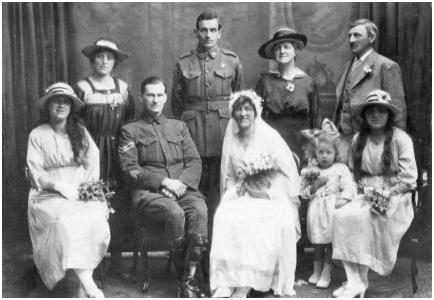 Margaret sent me some details of the people in the wedding party photo.
1919 Wedding Photo Genealogy Details - Bride and Groom : Margaret Natalie ("Meg") Woollen, and Walter Harvie ("Robbie") Robinson (Australian).
Wedding Photograph: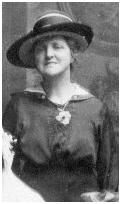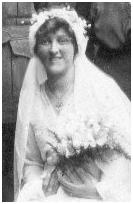 Back Row L to R - Mrs Hilda Norris, the brides's eldest sister and heavily pregnant with second child; Jock Bruce the Best Man and a Scotsman. Jock emigrated to Queensland, Australia prior to the outbreak of First World War and had joined the Australian army. He went through Egypt and France with the groom Walter and they remained lifelong friends. Mrs Emma Woollen the bride's mother. Edward Woollen the bride's father.
Front Row: Edith Woollen the bride's younger sister aged 16. Groom and Bride. The flower girl Rosamund Norris was the bride's niece, and Hilda's daughter. Hazel Woollen on the far right is the bride's youngest sister, aged 14.
Right - The 1919 bride and her mother. Her mother wears an outfit which would have been at the height of fashion in 1916 in UK.
Margaret also wrote "I remember my mother telling me that as it was an end of World War I wedding, material was very scarce. Her dress was made of tussore silk, with floating silver lace panels down the sides, and inserted around the neckline and bodice. She made all the dresses herself.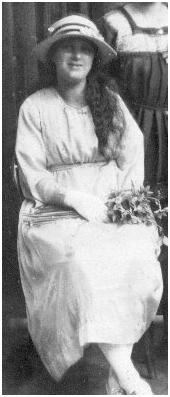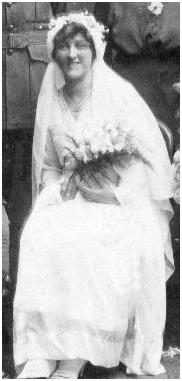 You may notice that her shoes or what you can see of them, were in keeping with the era... My mother said that when she arrived from England at the end of 1919 the fashions in Australia were a little behind those of Europe, and the dresses were more voluminous and longer."
Margaret later wrote to me with some lovely comments about memories of her mother.
"I wish you had known my dear mother - she lived to 95 after coming to Australia in a small "brides" ship with her husband and plonked down on a banana farm in hot, humid Queensland. She had three sons and then me. She loved the challenge but oh! how she longed for home. It was 30 years before she went back to England, just in time to see her mother, but not her dear dad.
She was a wonderful dressmaker and so elegant right up until she died, and still retained her peaches and cream complexion - never went out without a hat - "I'm not going to get brown, leathery skin like the Australian ladies", she would tell me. Also she would say "You will regret sunbaking one day Margaret" - and all her predictions have come home to me!
Meg's wedding veil is a mobcap style usual for the decade. The dress the bridesmaids wear is also a typical style of about 1917-1920. Right - Meg the bride's younger sister Edith.
‡
This wedding photo left was sent to me by a USA site visitor Pat Gariepy, who is a specialist collector of Military social history images.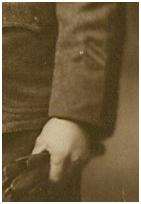 This old wedding photograph is a picture of an American soldier with his new English bride, the most likely timeframe when it may have been taken is 1919.
Patrick explained the two chevrons on the soldier's left cuff (shown again right) means the soldier spent between 12 and 18 months fighting in France in the First World War, where he would have gained a chevron for every 6 months foreign service completed.
A chevron on the right cuff, means he was wounded and a chevron would be added for each occasion on which he was wounded. This iconography of symbols would instantly give another soldier reference clues about any soldier he met alive or dead.
Most other brides wore either suits, a good best dress or a formal white wedding gown dependant on the formality or informality of the wedding. Since no other parties are present in this photo, and the bride wears a costume suit, it is quite likely that this couple were married away from their usual home with few guests present.
This fashion sketch illustrates what a typical magazine of the period suggested as desirable formal wedding attire for the bride of 1919. The reality was often that her wedding dress was a serviceable suit.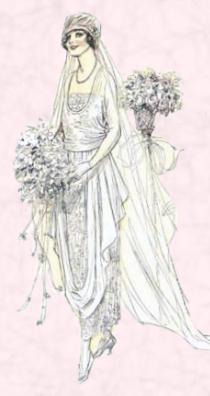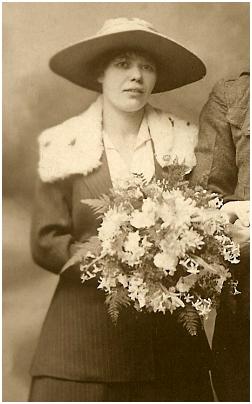 §
These fashion magazine suits below are all from late First World War era. Note how similar the silhouette lines are to those of the wedding suit above, which is known to be from 1919. The military wedding photograph further below is undated, but most likely dates to 1917 -1919.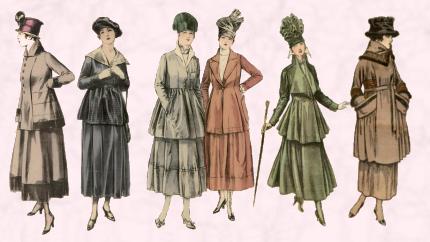 Here we see a Canadian Machine Gun Corps sergeant (CMGC 1), complete with a crop, arm-in-arm with his new bride in York, Yorkshire, England.
The costume suit silhouette of the woman wears bears an uncanny similarity with the known 1919 dress in the military wedding picture above. The size of the bride's bouquet is also very similar and her hat is a comparable width. Whilst the suited bride above wears her white blouse under her collared coat, the second bride below wears her blouse collar over her jacket lapels, but essentially the apparel style is in a very similar vogue.

Patrick told me that this was a WWI Canadian soldier's wedding of a Canadian Machine Gun Corps sergeant with his new bride in York, Yorkshire. (CMGC 1).
He also explained that for soldiers of this regiment riding crops were a required part of their uniform, and were not an affectation. Furthermore the men were required to wear their uniforms when off duty.
The reverse side of the postcard on which the wedding image was printed bears the message below. From what I can decipher, the writing suggests that the image is from Mr and Mrs A. Bates, and they were married last December. The December is probably 1918, or maybe 1919. One hopes they had a long and happy life together.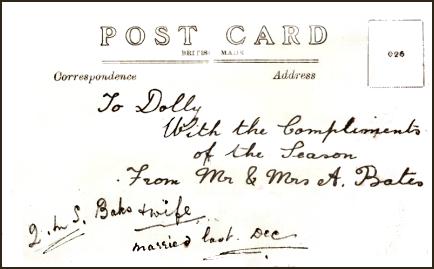 A few facts like those on the card above can be very helpful in genealogy tracing.
----¥----
1919 was a time of both great happiness and sadness. The First Great War of 1914-18, the war to end all wars was over. But so were the lives of many young men and civilians too.
Great mourning and loss was felt through Europe, Australia, Canada and the USA. But there were also celebrations, and this old photo was one of a WW1 Victory party at Hebburn and passed to me by Norman Dunn.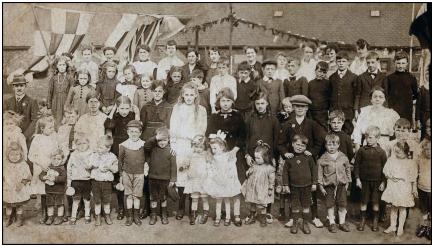 For others grief would follow them all their days. I recall my grandmother sadly telling me her two brothers were killed in the Great War, but until recently knew little of the details.
Details of wounded/dead soldiers from the Great War can be traced now by using the Commonwealth War Graves Commission using the link http://www.cwgc.org/. At CWGC I found interesting and heart wrenching details of two of my great uncles killed in the Somme. Until this information was put online, I had no idea where the burial place in France was. So you may find the link very useful for all sorts of war related information.
A Few 1919 Facts
Lady Astor was elected as the first female MP in Britain.
Suzanne Lenglen shocked Wimbledon when she played in a short dress.
June 28 1919 The Treaty of Versailles was officially signed to end World War One.
Margot Fonteyn the ballet dancer was born.
These wedding photos must not be published/used elsewhere -
© Copyright www.fashion-era.com 2009
You can read more about 1900's fashions in the Edwardian section.
You can read how to up-to-date an old photo in this section here.
Page added 6 April 2008. Ref P.752.
If you like this page then please share it with your friends
---
These wedding photos must not be published or used elsewhere - © Copyright www.fashion-era.com 2000-2010.
For more information about Wedding Photos click below:-
--Link--
Old photos can be useful when tracing family members and narrowing down search dates. These photo pages may help you put an era to your undated images. If you have old wedding photos please send them to me and if suitable I will add them to this pictorial section of social history.
OLD WEDDING PHOTOS
RE-ENACTMENT
Custom Search
About Fashion-Era.com
Fashion-Era.com looks at women's costume and fashion history and analyses the mood of an era. Changes in technology, leisure, work, cultural and moral values. Homelife and politics also contribute to lifestyle trends, which in turn influence the clothes we wear. These are the changes that make any era of society special in relation to the study of the costume of a period.

Fashion-Era.com can take no responsibility for any information on the site which may cause you error, loss or costs incurred from use of the information and links either directly or indirectly. This site is owned, designed, written and developed by author: Pauline Thomas and Guy Thomas. This site is designed to be viewed in 1024 X 768 or higher.
ALL RIGHTS RESERVED. Fashion-era.com reserves the right to add or delete information, graphics and links. Copyright © 2001-2014 on all content, text and images in Fashion-era.com. Images and text in this website may not be used on other websites.
Before you write to me for costume/fashion help or information please, please consult the extensive sitemap which lists all our pages. If you still cannot find the answer after searching the site, then before you email me, please consider if you are prepared to make a donation to the website.
Donations
Reader's donations help this site flourish, in particular donations encourage me to write more articles on fashion history as well as current trends. PayPal allows anyone with a credit card to donate easily and securely. You may donate any sum you feel appropriate.