1920 Photos of Real People in Wedding Dress Fashions
1920's Australian Bridal Couple & Wedding Group Old Photo 1920
Karen Seymour recently emailed me copies of several early 1920s wedding dress and group photos in her possession, they were taken in Melbourne, Australia. Some of these old wedding photos belonged to her Great Aunt Esther Prosser who was also a bridesmaid at two weddings. However, this page shows an earlier wedding photo of 1920 that also belonged to Esther although she is not in the image. Esther who lived to be 91 will be shown in other old photos on the 1924 wedding page.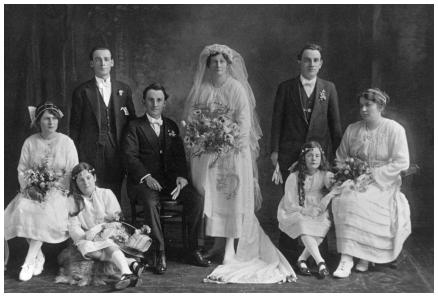 This wedding took place 2 years after the 1914-18 First World War and has a known date of July 1920. The wedding took place in Melbourne Australia and is of Clarence Dundas Seymour and Letitia Gertrude Henderson Clayton Marr.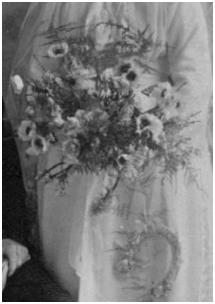 The wedding party comprises the bride Letitia's 3 sisters, Jean, Ida and Adelaide, her brother Leslie (standing at right) and her friend Grace Perry (seated on right). The groomsman behind the bridegroom is Clarence's brother Brian.
Note the bridal bouquet - The bouquet is interesting in that the flower styling is quite naturalistic for the era. I know little of Australian flowers, but suspect the main delicate bloom is a fragile flower. It has the appearance of a cross between a lisianthus and a pastel poppy.
Somewhat unfortunately, the horseshoe carried by the bride is hanging upside down. To keep the luck forever the silver wedding horseshoe should always be carried by ribbons hung from the horseshoe shoulders. Superstition says that if hung the wrong way the marriage good luck will fall out of the wedding horseshoe.
‡‡

The bridal headdress Letitia wears is in keeping with styles of the late teens and 1920s. One other factor in dating old photos of this era is to look closely at the headdresses.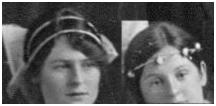 In this case the bridesmaids wear two distinctive styles of 1920s headband.
Of course the one photo most people find in old shoeboxes of photos is the wedding photo, so being able to date the bridal dress adds to you armoury of dating the image.
These 1920's wedding dress styles below date from 1920 to 1923 and may also help you date an image. Note all the headdresses which all have the similar mobcap features.

Note that the dresses are actually quite long for 1920s dresses, but that is because even day-dresses were long in the early 1920s.
There are several style and silhouette similarities between the shorter dresses of the bride and the Maid of Honour. The necklines and loose sleeve cut give a synergy to the bridal group. The clear visibility of the ankle on both adult women is also in keeping with silhouettes of the 1920's wedding fashion of the era.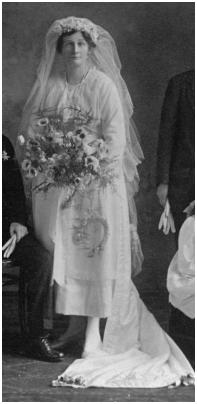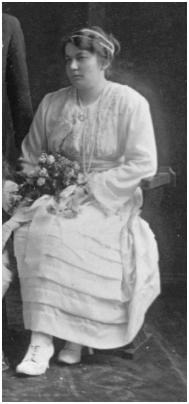 These 1920 wedding dress silhouettes also comply well with other bridal fashion history images shown also on the 1921 and 1922 wedding pages.
Note carefully the above ankle length of the dresses, the deep hem of the bride's wedding dress, and the deep wide tucks creating a texturally interesting border on the dress worn by the Maid of Honour.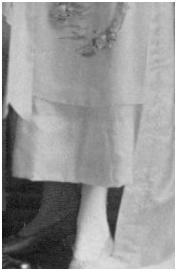 Tucks and deep hems were sometimes joined with hemstitching, lace inserts, withdrawn threads, or picot stitches. The deep hems, contrast fabric hems and tucks are a feature of early 1920s dresses.

Multiple ways were devised to piece extra lengths of contrast fabric or lace to a lower skirt. Faggotting (shown right) between two pieces of fabric would have been a great way to introduce extra fabric length in a decorative manner.
The hemline styling is also another way of expressing mistrust of the latest fashion length. The hesitant fashionista of any era often adopts in-between safer looks, which then finds its way into mainstream fashion, such as the handkerchief hemline of the mid 1920s.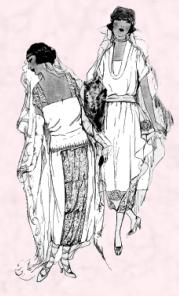 The depth of the 1920's wedding dress hem in the photograph left is such that one wonders if the wedding gown was shortened at the last minute to give it the latest stylish edge. However, one suspects that a prudent seamstresses declined to cut the vast hem away in case the dress would be used by another bride at a later date, when dresses were again floor length.
It is fair to say that after the teens the hemlines on dresses did rise and fall with regularity. The 1920 wedding dress sketches above right show how calf length gentle puffball and tiered styles were also the mode.
§
Everywoman's Magazine, a periodical of the fashion history era, featured a bridal article in the December 1920 edition. Two of the images below left and centre are taken from it. The bridal sketch far right below is also from a Good Housekeeping October 1920 magazine. These dress styles are clearly the latest fashion looks and show a narrowing and leanness to the skirt silhouette.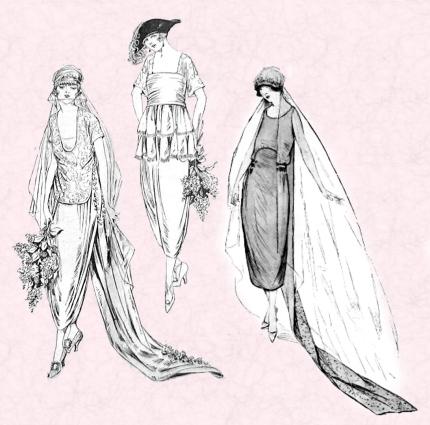 Everywoman's also commented on the wearing of 'Bridal White' compared to choosing a light bright colour and stated :-
BRIDAL WHITE
"A white dress for the bride is more or less traditional, and it is very infrequent that one has the courage to break away from the custom.
However a Society bride of a few weeks back was venturesome enough to go to the alter in peacock blue. The dress was designed on the usual stately lines that wedding gowns follow, and had a magnificent train of cloth of silver lined with blue ninon. Silver leaves held the bridal veil of blue tulle.
It was a startling innovation and I must confess that the result was extraordinarily effective."
Women were also given advice on the Trousseau and especially on the correct suits, collared coats and dresses for every possible occasion. This suit, coat and three dresses below were typical of trousseau wear, and were taken from December 1920 Everywoman's magazine.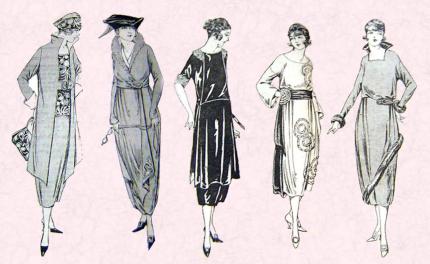 Elements found within everyday dress styles can be an important indicator of the date of an image. Using female dress as the guide is often the fastest way to date an image since male dress often seems to move more slowly especially a hundred years ago.
Old family photos are often a total mystery to those who end up owning them. So it is well worth making records of identification of people in images before all relatives pass away. Older siblings may be more knowledgeable than younger siblings, so when you have opportunity to see relatives, ask about old pictures, and make notes of names and dates on the back of those old photos.
Consider making a CD of all your family photos and enclosing them with birthday or Christmas cards. In an era when many of us live in affluent countries, such a thoughtful item can bring enormous pleasure in a way that expensive gifts cannot. We all need to know our roots and genealogy can be a fascinating hobby.
-------v6-------
1920 Facts and Events
See more late 1920's line drawings here.
You can read more about 1920's fashions in flapper fashion. You can read how to date an old photo in this section here.
These wedding photos must not be published/used elsewhere -
© Copyright www.fashion-era.com 2009
Page added 20 November 2009. Ref P.751.
If you like this page then please share it with your friends
---
These wedding photos must not be published or used elsewhere - © Copyright www.fashion-era.com 2000-2010.
For more information about Wedding Photos click below:-
--Link--
Old photos can be useful when tracing family members and narrowing down search dates. These photo pages may help you put an era to your undated images. If you have old wedding photos please send them to me and if suitable I will add them to this pictorial section of social history.
OLD WEDDING PHOTOS
RE-ENACTMENT
Custom Search
About Fashion-Era.com
Fashion-Era.com looks at women's costume and fashion history and analyses the mood of an era. Changes in technology, leisure, work, cultural and moral values. Homelife and politics also contribute to lifestyle trends, which in turn influence the clothes we wear. These are the changes that make any era of society special in relation to the study of the costume of a period.

Fashion-Era.com can take no responsibility for any information on the site which may cause you error, loss or costs incurred from use of the information and links either directly or indirectly. This site is owned, designed, written and developed by author: Pauline Thomas and Guy Thomas. This site is designed to be viewed in 1024 X 768 or higher.
ALL RIGHTS RESERVED. Fashion-era.com reserves the right to add or delete information, graphics and links. Copyright © 2001-2014 on all content, text and images in Fashion-era.com. Images and text in this website may not be used on other websites.
Before you write to me for costume/fashion help or information please, please consult the extensive sitemap which lists all our pages. If you still cannot find the answer after searching the site, then before you email me, please consider if you are prepared to make a donation to the website.
Donations
Reader's donations help this site flourish, in particular donations encourage me to write more articles on fashion history as well as current trends. PayPal allows anyone with a credit card to donate easily and securely. You may donate any sum you feel appropriate.