1921 Photos of Real People in Wedding Fashions
1920s Old Wedding Photo of Bridal Couple and Wedding Group 1921
This family wedding photo is of an ordinary couple. Nevertheless the pictures reveal a treasure trove of features typical of the fashion of the early 1920s.
1921 Old Wedding Photo of the Bridal Couple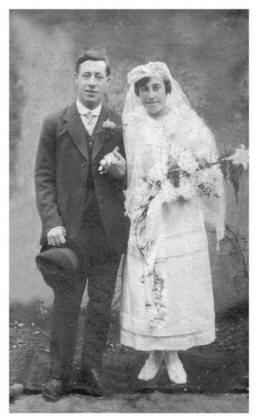 Vera's parents were married just 3 years after the Great War of 1914-18. This was an era of a society moving forward, breaking new barriers all combined with a society on the verge of an economic depression as Britain tried to rebuild itself whilst still paying for the war costs.
Many men had been lost during the war and as a result, many women lost loved ones. These women did not even have a grave to visit as many men were buried in unmarked graves. Vera's parents had to endure long months apart even though the war had ended. Relations between European countries were still fragile and men were still employed by the services.
Vera wrote: 'My Dad was in the Royal Canadian Navy (Petty Officer) and due to be away for 20 months. I know he went to Esquimalt, a remote part of Canada, but more importantly my mum was devastated to think of a whole 20 months without him. Such a short time in the scheme of things, but such a long separation for a new bride.'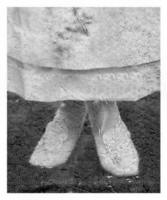 The wedding dress is worthy of note. At the time dress lengths were fluctuating. The deep tucks, whilst acceptable decoration for the era, may indicate that dress was worn by another bride a few years earlier and then altered to bring the dress into line with shorter hem lengths.
Take a good look at those lovely wedding shoes. It is just possible to make out the decorative motif on the uppers.
‡‡
This wedding group photo is a reflection of the social conditions of the era. Everyone is quite well dressed and the event was deemed worth recording, but the surroundings are make-do. This is someone's backyard. Perhaps it was the photographer's back yard which was out of necessity used for larger group photos.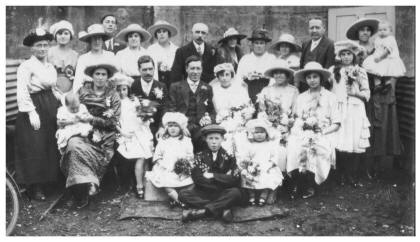 I have examined several other images of this era which seem to have been taken in the yard of a photographer. Maybe the photographers were just starting out, or perhaps they mainly shot portraits which don't demand much room.
However, it could have been the family's own yard. Observe the bicycle wheel sticking out at the photo left.
Notice also the back door to the right and the corrugated sheets of iron both sides. The latter product was used for farm buildings and also as a temporary building material.
Considerable effort has gone into arranging the group for this old photo. The children sit on a mat or rug to protect their clothes from the rough and dirty surface. The bridal group are seated and that enables the rest of the guests to be seen clearly. Look closely at the flowers that many of the female guests are holding. I think they may have come from a keen gardener in the family. No two bunches are the same and the flowers seem to be an expression of fondness, a personal gift for the recipients in the way that wedding favours are used today.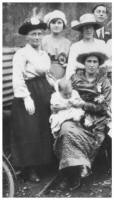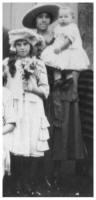 The women at the left of the photo wear what were commonly referred to in the early part of the C20th as 'waists'. A new waist could be teamed with an existing skirt for an up-to-date look. A wedding would have also been an opportunity to buy a new skirt!
High waists like these had been a feature of fashions between 1916 and 1918, but as always, there is an overlap in fashion styles in the history of the era. The woman holding a baby in the picture above right, is clearly wearing a newer style of dropped waist dress fashion.
Later on, in the fifties, the 'waist' was a garment mostly known as a shirtwaister. Today we would call the item a top or smart blouse, or simply a shirt.
The women also wear fashionable hats of the early 1920s.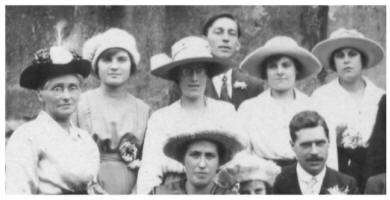 Brimmed felts look especially popular, although two very modern hats circa 1920 are shown far left. The younger girls wear tam o'shanters. Further down the page is a 1923 general photo of some of the same women.
This old wedding photo was taken on June 11th, 1921 in Walthamstow England. It is of Grace Roberts the bride and the groom, Joseph Brittain. The father of the bride who is sitting far right - is the same as the one as the father in the 1925 wedding page, but of course this is four years earlier. His wife Florence sits beside him. The bridesmaid to the right of the bride is Winnie, the bride in the 1925 old wedding photo page.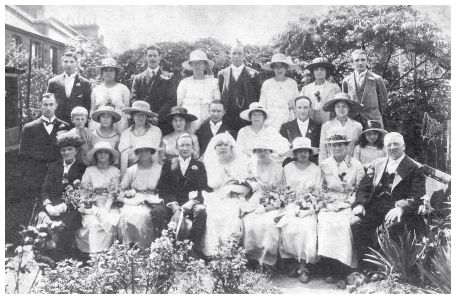 This image is not so clear as some. Indeed inspection of the original suggest that they may well have had to be still for a few minutes. But it does show a lovely array of summer hats and these fashion clothes worn still have a slight look of an earlier fashion era. Despite the fact that it was taken in 1921 it is clear that the 1920s as we think of them had not taken hold.
Jan the sender and I were both struck by the small number of men in the picture, perhaps due to the losses of the Great War discussed above. Jan believes the photo was taken in the back garden of their house. If you are researching your genealogy which includes Winne and Grace Roberts or Joseph Brittain you may contact Jan through her web pages here.
Below is a fashion history picture of note in that the younger the women, the shorter the length of their dress or skirt. In this 1920s era, skirt lengths reached their ultimate shortness between 1926 and 1927.
Back gardens are often popular places for large groups to have their photograph taken. Vera told me that this old photo was taken in 1923. Incidentally, Vera's parents own wedding in 1921 was shown in the at the top of the page.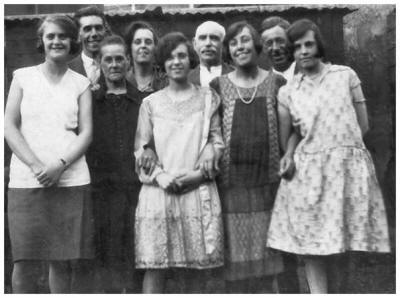 The central character in this photo above appears to be wearing a lace embellished dress with rather thick double satin streamer ribbon. If you enlarge this picture you can see that the streamer ribbon is of Luxe quality.
We ponder when this group picture was taken in relation to the wedding; was it some time after the wedding, or perhaps just before the big event.
Vera also wrote ' ....There was a double wedding in the family a few years later....'
Below this section is an old photo of a real double wedding, but which has no connection to Vera's relatives above.
...(v4r)
You may well wonder, who today chooses to have a double wedding? Well usually those with a non-inflated ego, or those who are interested in having a lavish affair, but who by joining forces with a second couple can easily reduce costs. Perhaps the brides are sisters.
The advantages of a double wedding are enormous in cutting costs, since the reception/venue hire is all only paid for once. Guests only need to buy one outfit. The double event also makes it worthwhile for guests who need to travel from afar to attend a momentous and memorable occasion. However they still need to buy two presents - one for each couple.
Nowadays most brides think of themselves as the centre of attraction for the wedding day. Few would consider sharing what has become such a big 'look at me, I am a celebrity for a day' event. In the celebrity obsessed culture of today, 'me-me' wedding events are far more usual than shared ceremonies. What with hen parties turning into spa weekends of three or four days, and wedding locations being held in exotic venues, or exclusive faraway costly locations, the average guest, especially the single old friend, feels the pinch.
Many guests today tell of their irritation at having to pay for excessive accommodation and flight bills just to attend weddings in exotic locations abroad. To this they add how disgruntled they feel that apart from the loss of holiday leave, they are obliged to top up the wedding weekend into five or seven days to make all the effort, arrangements and cost worthwhile.
One person told me that for the last three years she had been all but forced to arrange her holidays around the weddings of friends. The aspect that annoyed her most, was that others (the bride and groom) were in effect choosing her holiday destinations, and often in peak season when flights and single rooms were at a premium. Two must-attend weddings in one year easily meant that her work leave and holiday budget were soon used.
Perhaps double weddings were more usual in the 1920s. Certainly they have been popular in the past when it was considered a joyful event for twins or sisters to marry, and for parents paying for a wedding to be able to provide for a more lavish event. Whether or not double weddings will ever be all the rage again, is another matter.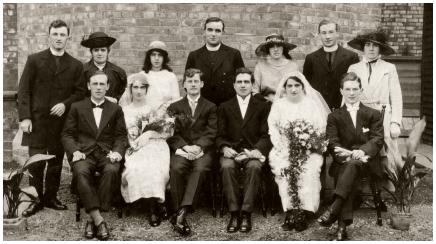 I have many photographs on this website which have originated from a colleague in Hebburn. This particular vintage wedding photo was sent to me by site visitor Patrick.
The double marriage ceremony took place on 21st June 1921 at St Aloysius' RC Church, Hebburn on Tyne, North of England. The persons shown include :-
Front row centre left - Margaret Laydon, the first bride with her bridegroom James Aspinwall M.M. Next to him in formal dress is the second bridegroom Patrick Thomas Rowan, who married bride Maria Laydon far right.
One thing that fascinates me about this 1921 Hebburn wedding is the dark colour of the footwear that both brides wear. Flesh coloured stockings were fashionable from 1921-22, but may have been initially considered risqué in some circles. I think here it implies a measure of frugality and the wedding was a stretch on their resources. White shoes are not very practical in any era, and especially 90 years ago, when travel was often by foot. The brides' dark footwear was practical and must have been worn time and again after the special event.
Briefly, I can relate that what started as a happy double wedding day, became two contrasting life stories. Margaret and James, on the left as we look at the picture, were both colleague schoolteachers. James won a Military Medal in WWI for shooting down an enemy German plane. Later he became a headmaster living to be more than 100 years old. They had seven children.
By contrast, the centre right bridal couple Maria and Patrick Rowan, three children, but a relatively short marriage. Patrick had worked as a shipyard boiler maker, but was also an accomplished piano teacher/accompanist. In the Great Depression, in 1929 he travelled to the USA where he sought work. But there he was diagnosed with cancer, and unwell, he returned to UK and died in 1931 at Hebburn, he was just 36 years old.
The family history details of these people of Hebburn can be seen on a family site here.
Old family photos are often a total mystery to those who end up owning them. So it is well worth making records of identification of people in images before all relatives pass away. Older siblings may be more knowledgeable than younger siblings, so when you have opportunity to see relatives, ask about old pictures, and make notes of names and dates on the back of those old photos.
Consider making a CD of all your family photos and enclosing them with birthday or Christmas cards. In an era when many of us live in affluent countries, such a thoughtful item can bring enormous pleasure in a way that expensive gifts cannot. We all need to know our roots and genealogy can be a fascinating hobby.
‡
Post World War I unemployment reaches 2 million in Britain

Marie Stopes opens the first birth control clinic in London.

1921 Coco Chanel introduced the world to the perfume Chanel No.5.

Novelist Edith Wharton becomes the first woman novelist to win a Pulitzer Prize for her book 'The Age of Innocence.'

1921 Albert Einstein wins Nobel prize for physics - 'for his services to Theoretical Physics, and especially for his discovery of the law of the photoelectric effect' or the theory of relativity = mc2.

Russia is swept with famine and Lenin asks the world for help.

Adolph Hitler becomes the leader of the National Socialist German Workers Party also known as the Nazis.

Prince Hirohito was appointed Regent of Japan

The first helicopter flight is made by French Aviator Etienne Oehmichen.

Britain recognised Ireland's independence as the Irish Free State when they jointly signed The Anglo-Irish Treaty in December 1921. An Irish Free State and Northern Ireland are created giving jurisdiction over twenty-six of the country's thirty-two counties.
See more late 1920's line drawings here.
-------v6-------
You can read more about 1920's fashions in flapper fashion. You can read how to date an old photo in this section here.
These wedding photos must not be published/used elsewhere -
© Copyright www.fashion-era.com 2006
Page added 10 October 2006. Updated March 2008.
If you like this page then please share it with your friends
---
These wedding photos must not be published or used elsewhere - © Copyright www.fashion-era.com 2000-2010.
For more information about Wedding Photos click below:-
--Link--
Old photos can be useful when tracing family members and narrowing down search dates. These photo pages may help you put an era to your undated images. If you have old wedding photos please send them to me and if suitable I will add them to this pictorial section of social history.
OLD WEDDING PHOTOS
RE-ENACTMENT
Custom Search
About Fashion-Era.com
Fashion-Era.com looks at women's costume and fashion history and analyses the mood of an era. Changes in technology, leisure, work, cultural and moral values. Homelife and politics also contribute to lifestyle trends, which in turn influence the clothes we wear. These are the changes that make any era of society special in relation to the study of the costume of a period.

Fashion-Era.com can take no responsibility for any information on the site which may cause you error, loss or costs incurred from use of the information and links either directly or indirectly. This site is owned, designed, written and developed by author: Pauline Thomas and Guy Thomas. This site is designed to be viewed in 1024 X 768 or higher.
ALL RIGHTS RESERVED. Fashion-era.com reserves the right to add or delete information, graphics and links. Copyright © 2001-2014 on all content, text and images in Fashion-era.com. Images and text in this website may not be used on other websites.
Before you write to me for costume/fashion help or information please, please consult the extensive sitemap which lists all our pages. If you still cannot find the answer after searching the site, then before you email me, please consider if you are prepared to make a donation to the website.
Donations
Reader's donations help this site flourish, in particular donations encourage me to write more articles on fashion history as well as current trends. PayPal allows anyone with a credit card to donate easily and securely. You may donate any sum you feel appropriate.