C20th Fashion History
1922 Wedding Dress Photos
Right - is an old 1922 wedding photo of a bride called Evelyn Griffith. She was married on September 30 1922 in CA, America.
The fashion-era visitor Anne Scott, who sent this picture, has several old photos of women possibly wearing bridal dress. But unless the bride is obviously in a bridal gown as in the case of Evelyn right, then it can be hard to decipher if a dress is just an evening gown. Even a floral corsage does not prove the dress is a gown, since many women wore fresh flowers given to them by their partner to a ball. However, a big plus in this 1922 wedding photo is the veil and headdress.
One thing I have noticed in 1920s wedding photographs, which are known to be of American origin, is that long ribbon streamers intertwined with leaves or buds are a usual styling of the bouquet. Therefore if you have a photo, the volume of ribbon streamers is an indication that a wedding took place in USA rather than UK/Europe.
In the early twenties, the style of all dresses, not just wedding gowns was changing. Dresses were soft and relaxed, but were still mid-calf length for most women.
Notice how similar the line of Evelyn's wedding dress is to the scallop hem day dress below. You can see more scallop hem dresses on this page for dating old 1926 wedding photos.
Evelyn's train is crunchy with texture. Just look at those raised floral forms that decorate the edge of the train. Her shoes are a variation of the Mary Jane style.


Evelyn's headdress is very interesting and has a new look compared to the usual dull cloche styles of the 1920s fashion era. The tiara very much follows the line of decorative trims also seen on hats of the twenties.
The bridal tulle headdress above has developed a pie-crust fan edge which gives an upward tilt to the face. This style must have been welcome for many brides, who for more than a decade had little choice but to follow the prevailing cloche veil fashion. The cloche veil dragged the hair flat and left the face devoid of uplift for the majority of brides.
You are reading an original independent '1922 wedding photograph' article by Pauline Weston Thomas at www.fashion-era.com ©
‡‡
The three fashionable 1922 styles from La Mode magazine and shown right, all have a slightly dropped waist and easy full skirts. Two of the real 'wedding' dresses have a wide boat neckline and short sleeves.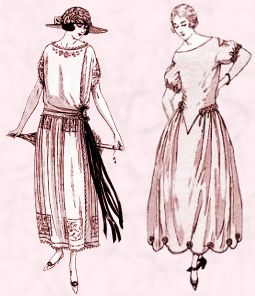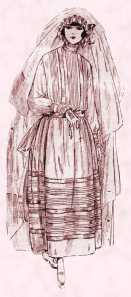 Since it was clear skirts lengths were dithering, tucks, handkerchief hemlines, extra hemline frills and contrast bands of fabric were a popular fashion hemline option.
The third dress far right above, has a scallop hemline and this was employed greatly in 1926 when hemlines rose dramatically. Even so take care to observe how long these dress sketch styles really are for dresses of 1922. Only the ankle is visible.
The first dress sketch near left, echoes styles of bygone days and the Edwardian high dog collar neck. At first glance this gown might be mistaken for a wedding dress. This tucked dress appeared as a dress pattern in la Mode in 1922 and is probably a first communion dress rather than a bridal gown.
Juliana wrote to me 'French first communion dresses of the 1920's somewhat resembled contemporary wedding dresses, but were plainer and considerably more conservative in cut, thus the high neck and long sleeves. The tucked skirt was also very common on French first communion dresses from the 1900s into the 1950s. Long sleeves seem to have been still fairly common on wedding dresses of the early 20s, but the high neck would be unusual. Note the rosary the girl holds.'
So this first dress is possibly not a true wedding look of 1922 and I draw your attention to it, as it is so easy to mistake it for a wedding gown style. It certainly had me confused until the website visitor pointed out the differences.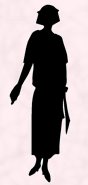 The styles here are all similar in outline to this black fashion silhouette shown right and from my fashion-era 1920s silhouettes section.
The twenties lace border hem bridal gown shown left is from an unknown old twenties wedding photograph and was provided to me by vintage USA eBay seller manaseri2007. The bride is stunning. Her silhouette is so like the black silhouette right.
Immediately see how similar the silhouette the Lace Hem dress is to the Evelyn wedding dress/headdress discussed above and shown left.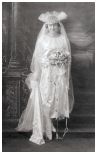 In deciding where the wedding took place, with all that trailing ribbon to the bouquet, it's easy to deduce this is an American wedding.
The piecrust fan headdress and veil is more than likely the same year as Evelyn's wedding attire. It is barely noticeable, but Evelyn's dress is very slightly shorter than the unknown Lace Hem dress left. Both dresses have scoop rounded necklines and both are very dropped waisted.

The lace insertion at the dropped waistline is delicate and reminiscent of the fine whitework dresses worn by Edwardians. The shoes follow the T-bar style.
I would surmise though that this wedding (left) took place in the early months of 1922 since the bride wears a jacket over her gown. Evelyn's wedding (right) took place in the autumn, in September.

Even giving a little room for error, I would not date this old wedding photograph left later than 1924. The styling of the dress is also very much in line with the 1922 Royal Wedding and slightly longer lengths shown below. You are reading an original independent 'old wedding photograph' article by Pauline Weston Thomas at www.fashion-era.com ©
§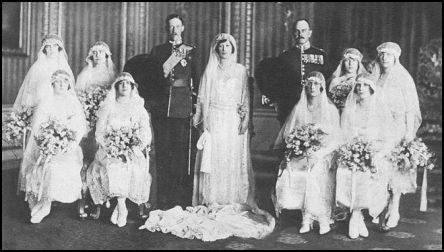 On Feb 28 1922 the wedding of Princess Mary of England to Viscount Lascelles took place in Westminster Abbey, London, England.
Queen Mary, King George and the dowager Queen Alexandra were all in attendance. In this 1922 royal wedding photo are; the bride Princess Mary of England, the groom Viscount Lascelles, plus their attendant bridesmaids. The wedding photograph was taken in Buckingham Palace.
The lace wedding dress of Princess Mary follows the straight lines of the day. Her attendants all wear cloche veils as headdresses.
Key - Standing from left to right, Lady Doris Gordon-Lenox, Lady Elizabeth Bowes-Lyon, the groom Viscount Lascelles and the bride Princess Mary of England, Major Sir Victor McKenzie, Lady Dina Bridgman and Lady May Cambridge. Sitting from left to right, Lady Mary Cambridge, Princess Maud, Lady Rachel Cavendish and Lady Mary Thynne.
The wedding of one of the bridesmaids, Lady Elizabeth Bowes-Lyon, which followed the next year is also featured on fashion-era. Lady Elizabeth Bowes-Lyon, later became the Queen Elizabeth consort of George VI. Her daughter became Queen Elizabeth; read about Queen Elizabeth's royal wedding in 1947 here.
Other Celebrity Weddings in 1922
James Cagney and Frances 'Billie' Vernon
Louis 'Dickie' Mountbatten and Edwina Ashley
Kaiser Wilhelm II and Hermine Reuss-Greiz
You have been reading an original independent 'old wedding photograph' article by Pauline Weston Thomas at www.fashion-era.com ©
This fashion-era page has been about old wedding photographs of brides, bridesmaids and their wedding attire in 1922.
These wedding photos must not be published/used elsewhere -
© Copyright www.fashion-era.com 2008
You can read more about 1900's fashions in the Edwardian section.
You can read how to up-to-date an old photo in this section here.
Page added 10 April 2008. Ref P.680.
-------v6-------
If you like this page then please share it with your friends
---
These wedding photos must not be published or used elsewhere - © Copyright www.fashion-era.com 2000-2010.
For more information about Wedding Photos click below:-
--Link--
Old photos can be useful when tracing family members and narrowing down search dates. These photo pages may help you put an era to your undated images. If you have old wedding photos please send them to me and if suitable I will add them to this pictorial section of social history.
OLD WEDDING PHOTOS
RE-ENACTMENT
Custom Search
About Fashion-Era.com
Fashion-Era.com looks at women's costume and fashion history and analyses the mood of an era. Changes in technology, leisure, work, cultural and moral values. Homelife and politics also contribute to lifestyle trends, which in turn influence the clothes we wear. These are the changes that make any era of society special in relation to the study of the costume of a period.

Fashion-Era.com can take no responsibility for any information on the site which may cause you error, loss or costs incurred from use of the information and links either directly or indirectly. This site is owned, designed, written and developed by author: Pauline Thomas and Guy Thomas. This site is designed to be viewed in 1024 X 768 or higher.
ALL RIGHTS RESERVED. Fashion-era.com reserves the right to add or delete information, graphics and links. Copyright © 2001-2014 on all content, text and images in Fashion-era.com. Images and text in this website may not be used on other websites.
Before you write to me for costume/fashion help or information please, please consult the extensive sitemap which lists all our pages. If you still cannot find the answer after searching the site, then before you email me, please consider if you are prepared to make a donation to the website.
Donations
Reader's donations help this site flourish, in particular donations encourage me to write more articles on fashion history as well as current trends. PayPal allows anyone with a credit card to donate easily and securely. You may donate any sum you feel appropriate.