1925 Wedding Photos - Fashions of Real People
1925 - Short Wedding Dress Photo
This wonderful old wedding photograph of a bride and her father approaching the church, was taken in 1925. The bride is the grandma of Jan, who is a regular site visitor to this website.
The wedding took place on what was clearly a bright sunny day on August 1st, 1925. The lovely bride, shown left, is Winifred Roberts (born on November 4th 1900) and her father Gregory Roberts (born October 16th, 1862) of Walthamstow, Essex (now London E17).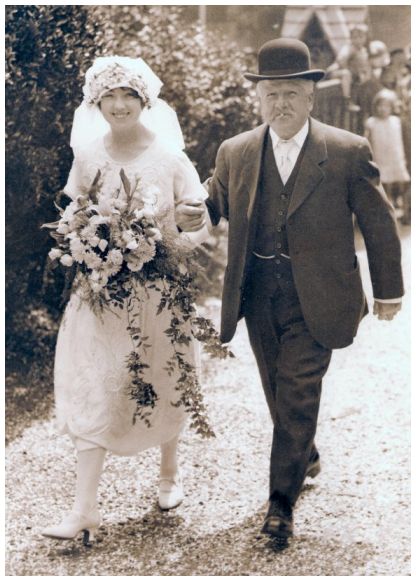 Read below a little more of what Jan wrote to me about the photo.
Jan wrote
'I am now sending a photograph from my grandma's wedding. The photograph shows her with her father walking into the church.
I have noticed a tendency for 1920s wedding photographs to be taken with the bride and groom sitting down. Have you noticed that? '
Indeed I have noticed this point about seated bridal groups.
If you have an undated wedding photo that looks post Victorian and the bridal party is sat down, it may indicate that the image is of the 1920s/1930s. The 1920s in particular seemed to be a fashion era when the bridal couple or party were seated for their wedding photos.
Jan continued 'This does not show the bride and groom, however, this is the bride and her father striding to the church with good humour and high spirits... and, apparently, a dog-end!'
Yes, just look at that dog-end between his lips.
No politically correct woman in the 21st century would allow her father to escort her smoking! Today he would be given strict instructions on his behaviour for the big event, by both daughter and mother of the bride.
But in those days women 'knew their place' and maybe this is an example of what is etiquette to one generation, is not considered good manners to another generation. This truly looks like a joyful event, let's get on with it happy wedding day.
‡‡
Take a look at those wonderful Mary Jane bar shoes. Mary Jane's have come back into fashion and you can see modern versions of the shoes here on my fashion trends pages.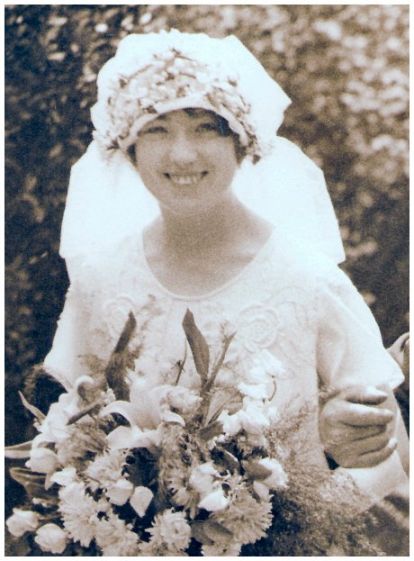 The headdress is typical of the 1920s era, actually, this style had been fashionable since about 1910. This headdress (above) almost appears to be a flower-bud foundation hat, but with a veil attached.
As the 1920s progressed, the mob cap of the bridal headdress began to be more and more embellished.
Eventually the bride's headdress took on a more medieval appearance looking much like a broad deep tiara. This change of style may be related to the influence of the traditional headdresses shown in posters by the Czech artist Alfons Mucha. You are reading an original independent 'old wedding photograph' article by Pauline Weston Thomas at www.fashion-era.com ©
...(v4r)
You may already have noticed that wonderful, well balanced, embroidery design that meanders and scrolls over the wedding gown from bodice to skirt. See also how the rose design is repeated in a symmetrical manner on the upper bodice of the wedding gown.
The organic design focuses on a central rose, and makes a play of scale with smaller and larger trailing leaves. This gives contrast between the ethereal light stitches adding intricacy, and the rich weight of heavier embroidery design work. The roses appear to have been worked in a raised satin stitch.
This bridal gown of 1925 was obviously worked with love and with great skill.
Jan explained
'The dress was probably made by the family: grandma was the youngest of five. She and her three sisters all sewed and embroidered for a living. Winnie married Albert Jeffryes and they continued to live in Walthamstow, until 1961.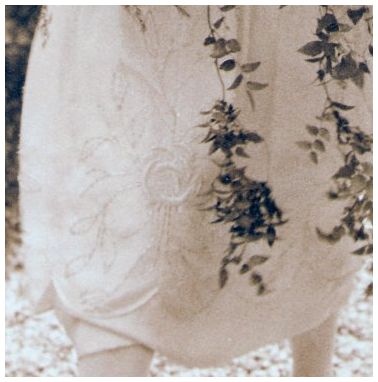 §
I find skirts of this era often interesting and this wedding dress captures the dithering hemline of the 1920s. Skirts were obviously getting shorter. But huge departures from a particular skirt length and style always takes time for mass approval. Many women would have played safe and opted for the illusion of a shorter dress. This underskirt may also have been longer and the final under length selected at the last moment.
A year later, in 1926, skirt hemlines shot up and clothes have decidedly C20th fashion look. Double layer skirts, deep banded contrast hems and handkerchief hemlines are all part of such indecisiveness of design.

The top layer of this 'new shorter' double wedding skirt has a lovely scallop edge and I think I can see some seed pearls or glass bugle beads twinkling.
1925 Compared with 1921
The double skirt was not a new style and had been in fashion since around 1912, indeed, the waist had moved up and down several times. This image left is of a bridal dress pattern of 1921 and you can see how the style elements are similar to those of the bride above.
If you are researching family genealogy and think the names here are related to you, then you may contact Jan via her website here.
Old photos can be useful when tracing family members and narrowing down search up-to-dates. These 1925 photos may help you put an era to your un-to-dated images.
This was the era of film stars such as Charlie Chaplin and Rudolph Valentino. While they were 'walking out' with starlet such as Louise Brooks and Pola Negri, there were no major film star nuptials in 1925.
Interestingly, Percy and Florence Arrowsmith were married in 1925 and in 2005 they celebrated their 80th Wedding Anniversary.
Other events of 1925 include, John Logie Baird building Britain's first TV transmitter. In Egypt, the Great Sphinx of Giza is unearthed and restored.
You have been reading an original independent 'old wedding photograph' article by Pauline Weston Thomas at www.fashion-era.com ©
These wedding photos must not be published/used elsewhere -
© Copyright www.fashion-era.com 2008
You can read more about 1900's fashions in the Edwardian section.
You can read how to up-to-date an old photo in this section here.
Page added 26 March 2008. Ref P.679.
-------v6-------
If you like this page then please share it with your friends
---
These wedding photos must not be published or used elsewhere - © Copyright www.fashion-era.com 2000-2010.
For more information about Wedding Photos click below:-
--Link--
Old photos can be useful when tracing family members and narrowing down search dates. These photo pages may help you put an era to your undated images. If you have old wedding photos please send them to me and if suitable I will add them to this pictorial section of social history.
OLD WEDDING PHOTOS
RE-ENACTMENT
Custom Search
About Fashion-Era.com
Fashion-Era.com looks at women's costume and fashion history and analyses the mood of an era. Changes in technology, leisure, work, cultural and moral values. Homelife and politics also contribute to lifestyle trends, which in turn influence the clothes we wear. These are the changes that make any era of society special in relation to the study of the costume of a period.

Fashion-Era.com can take no responsibility for any information on the site which may cause you error, loss or costs incurred from use of the information and links either directly or indirectly. This site is owned, designed, written and developed by author: Pauline Thomas and Guy Thomas. This site is designed to be viewed in 1024 X 768 or higher.
ALL RIGHTS RESERVED. Fashion-era.com reserves the right to add or delete information, graphics and links. Copyright © 2001-2014 on all content, text and images in Fashion-era.com. Images and text in this website may not be used on other websites.
Before you write to me for costume/fashion help or information please, please consult the extensive sitemap which lists all our pages. If you still cannot find the answer after searching the site, then before you email me, please consider if you are prepared to make a donation to the website.
Donations
Reader's donations help this site flourish, in particular donations encourage me to write more articles on fashion history as well as current trends. PayPal allows anyone with a credit card to donate easily and securely. You may donate any sum you feel appropriate.