1926 Photos of Real People in Wedding Fashions
1920s Wedding Photos of Bridal Groups
So many people searching their family genealogy come to the art of dating photos through fashion history. Here below is an old photo of a woman who entered the USA via Ellis Island as a child in 1904.
When dating old photos, always try to compare your photo with a dated image. Fashion plates and magazines of the era are great sources to research features of your photograph. Begin with a fifty year time-span such as pre 1950, post 1950 or pre 1900. With a little web browsing it should be possible to narrow the date to a decade either side of the image date.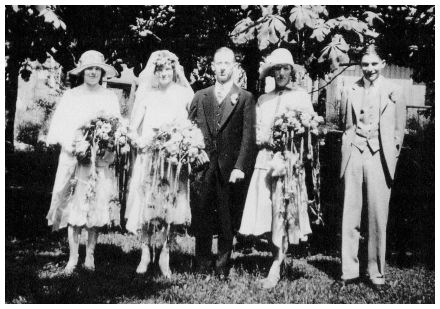 By applying techniques that I will explain, you should be able to date your old picture to within 5 years. By combining fashion features you can narrow the date to within a year or two. If you have a distinctively dressed woman you may be very lucky and hit the exact year. Examine costume, footwear, hats, hairstyles, jewellery, decor, posture and any transport. Compare your photo with comparative images of a known date to arrive at a year for that old photo. Fashion-era's Dating costume pages.
This family wedding photo right was sent by a site visitor from the USA. The old wedding photo is of Ella Simister and Charles White and their marriage took place in the USA on June 9, 1926.
There are differences in the bouquet styles in this old photo above and the wedding group photo shown below. In this wedding party the bouquets have ribbon streamers, which makes them seem larger than the sprays really were.
Even though make up was worn in this era, these women all look as if they wear very little extra cosmetic enhancement. The bride's hair looks very natural and almost unruly.
The 1926 wedding dress above was the latest shorter length and the length most associated with our mental perception of the 1920s.
‡
Dating an old photo of the 1920s should be straightforward, once you know what you are looking for, since the hemlines seemed to change each year in the twenties.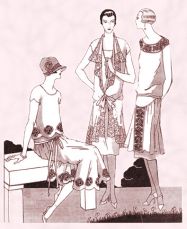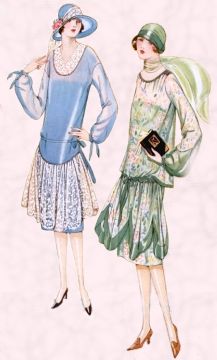 The three wedding dresses on this page all feature rounded scallop hemlines. Scallops were in vogue through the twenties, since they are a natural edge finish for lace. But, it's clear that one of the main trends of 1926 was not just shorter dresses, but dresses with scallop hem finishes.
The illustration left, shows how shaped scallop hemlines could be used as a feature on both the skirt and the loose overblouse bodice top.
Fluted double layers cut from soft fabrics were used to add lightness to skirts. Crossway bias and floating fabrics were another feature of this 1920s era. Sleeves were bloused with soft fullness at the wrist line which drew attention to 1920s manicures. This was in contrast to an otherwise boyish silhouette from head to hipline.
By 1926, shorter dresses were very much the fashionable norm for younger and older women. The double layer skirt, and scallop hemline were both ways of creating the optical illusion of the skirt length appearing shorter than it really was.
Scallops can easily be made by home dressmakers simply by drawing a portion of even circles with a cup, wine glass or saucer and then either facing them with fabric, making a narrow rolled hem, or embroidering the edge. They could also be bound with contrast fabric as shown in the McCall's dressmaking pattern green dress right.
These pretty colourful dresses from McCall's summer 1926 catalogue of dressmaking patterns show the same styling and hat accessorizing as the bridesmaid's dresses in the two bridal group old photos here. You have been reading an original independent 'old 1926 wedding photograph' article by Pauline Weston Thomas at www.fashion-era.com ©
...(v4r)
Ella, the bride above, travelled to America with her mother when just a toddler.
Joan Gillard wrote to tell me about this couple and their change of lifestyle:-
'Ella's grandparents William & Eleanor Astin were very well to do farmers in Shropshire, Great Britain. The events below all occurred around the area of Market Drayton, England, until they moved to the USA. Their daughter Matilda Astin (born 1845) married William Swan Meakin (born 1846) in Nov 1968. Matilda and William Swan attended the same boarding school in 1951. Ella's Grandma Clara Meakin was born Oct 1871 and her mother died before Clara was one year old. Clara Meakin married John Simister (b 1864) in Dec 1893. They were successful farmers, had 4 children (one died).
In April 1904 William Simister departed for the US via Ellis Island with a friend who told him that earning a living was easier in the USA.
Later, in October of 1904 Clara sailed to the US through Ellis Island with children, Cyril 8, Kathleen 5 and Ella 2 years 9 months to join John in New York State. They had a Meat Market and Grocery business.
They had another son named William who was born in 1909. The Simisters seemed to be successful. Clara's half brothers and half sisters came from England to the US and arrived at John and Clara's before finding their own homes. John died June 1955 age 91 and Clara died July 1961 age 90.
After Ella (the above bride) married, she never worked outside their home. She and Charles never had children. Charles grew up in New Jersey, USA, and had 2 sisters who were teachers. Charles worked at the Oneida Silverware factory as did numerous other Meakins when they emigrated from England.
I am not sure that they had a better life in America. They were doing so well in England......'
So many people have crossed continents seeking a better life, a bigger fortune and this family were no different. Moving on from Ellis Island and the Port of New York these people, so typical of pioneering generations before, went forward with optimism.
Nearly half of all Americans can trace family history to at least one family member arriving via the Ellis Island Immigration Station. Between 1892 and 1924 some 20 million people entered through Ellis Island. Over 1 million people passed through Ellis Island in 1907 the peak year of immigration. One day in April alone 11,747 immigrants were processed. The station finally closed as an immigration clearing depot in 1954. Those unhealthy or otherwise were not allowed entry and families were often separated as some immigrants were sent back to their original country.
The American Family Immigration History Centre contains the ship passenger records of the 25 million people who passed through the Port of New York and Ellis Island from 1892-1924. They say that at ellisislandrecords, visitors are able to access 11 fields of digitized information, as well as view and obtain reproductions of original ship manifests and photos of ships of passage, plus much more. If you are in USA and tracing family members it may be a worthwhile website to visit.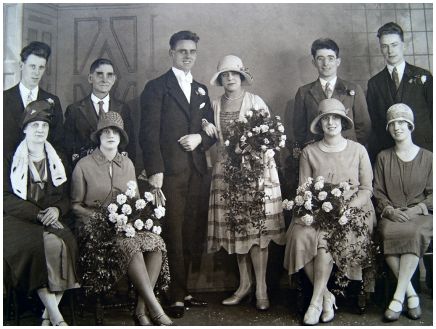 I have no firm date for the old wedding photo left a copy of which was given to me by an eBay seller of vintage collectibles and ephemera.
I would date this wedding at 1926-1928, and not earlier than 1925. The image bears a strong similarity to the wedding photo shown on the 1928 wedding page another twenties wedding, but with a known date.
In this old UK wedding photo observe how there is much more greenery in both the bridesmaids and the bride's flower sprays than in the photo above from the USA. The use and volume of flower greenery is also strikingly like that of the floral sprays in the 1928 image.
Although not a traditional wedding dress, the bride is clearly wearing quite a special dress. Take in that scallop hemline again. A close look at the old photograph shows that the lightweight narrow hemline has been rolled, just like the hand rolled edge of a good silk scarf. The darker bands going around the dress appear to be applied contrast lace.
I believe this picture was taken in the autumn winter of 1926/7 when skirts were substantially higher than in 1925. The older woman far left is wearing a coat and a fur collar or tippet, an accessory for a cooler season. It is unlikely she would have worn a fur accessory out of season. Also the long sleeved dresses of all the younger women are not pastels, but the solid colours of a colder time of year.
The ladies who sit, also have simple dresses with rounded necklines, bloused sleeves and skirts with obvious fullness. This style of dress very much fits with 1926 and early flapper style dresses. Styles of 1927 were very similar, but as 1927 progressed the silhouette was often straighter in line.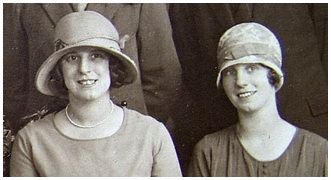 Most of the hat styles are more in tune with 1926. The far right close fitting cloche hat was especially favoured in 1927. This cloche still has a narrow remnant of a brim in line with hats of 1927.
Since 1908 some women had worn close fitting hats that clung over the brow. By World War 1 the close head fit became even snugger and the cloche hat became a firmly established headwear style. The closer and more fitting the cloche style became the shorter the hair beneath had to be. The cloche hat was statement making and said 'new woman.' Softer variations had small brims at the front.
By 1926 so many variations of the cloche had existed that the only way to update the hat style was to reduce the brim even more. Since the cloche hat brim disappeared entirely by 1928 we can surmise this is at least late 1926, possibly 1927. By 1929 asymmetric cloche brims reduced to nothing, although of course there are always women who wear items previously owned in the immediate years before an event. When dating any photograph always choose the woman with the most fashionable hairdo or hat and you'll have a very good photo date estimate date. See the cloche hat time frame here.
§
The old wedding photo right is of Norman Shaw Snr., after marrying Mary Anderson at St John's, Hebburn, North England in 1926.
Look carefully and you will see there is also evidence of a scallop hemline in the skirt of this wedding dress too. The Mary Jane shoes in all these images though have much more pointed toes than in weddings of earlier years. In earlier years toes were rounded or squared off as seen on this 1921 wedding page.
Norman the groom is wearing white spats, as is the groom in the 1926/7 wedding above. The groom looks very pleased with his decision and is firmly hanging onto his bride!
Mary Anderson, the bride right, was born 1899 and is also shown below here aged 6 with her sister Lottie Anderson.
The old photo below is of an old Hebburn Quay School class in 1905. Notice the hair ribbon bows and several of the girls wear sweaters, cardigans or hand knits that feature bobble tie closures. Those with black hair bows may well be in mourning.
A few of the girls in this photos wear protective white cotton apron smocks that are probably covering fabrics like worsted and woollen material that was difficult to clean before the washable wools of today.
Cotton was a favourite fabric for smocks. It was relatively easy to keep clean because it could be boiled. Washing would have occurred according to a ritual pattern of the washday Monday when all whites would be boiled up in a big copper boiler, mangled then hung to dry.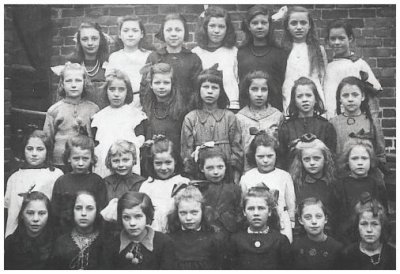 The next day or two would be spent ironing the clothes in various degrees of dampness or dryness. The small cast iron flat iron used, was heated on a stove or had hot glowing coals placed inside the base. Great care was required to stop smudges of soot appearing on the clothes. The person ironing would spit on the iron base to check the iron temperature! Sizzling meant the user was ready to iron.
Interestingly a quarter of the girls also wear necklaces, or brooch jewellery, something which probably would not be allowed in most schools today.
Schoolchildren of this era everywhere in Britain, probably looked just like this bunch of girls from Hebburn Quay Board School.
I suspect there is a difference of about 2 or even 3 years between the ages of girls shown on this photo. The girls at the back look decidedly older than the girls at the front.
At the time this photo was taken, adult women were trussed up in S-bend corsets. I doubt if any of these young girls ever imagined that as adults, they would be spared such formality and enjoy the freedom of the much looser easy 1920s dresses.
Norman wrote to me - 'I've attached a family photo for you and taken in 1918. My dads 2 older sisters are on it. Aunt Betty Dunn 2nd from left front row. Aunty Peggy Dunn 3rd from right second row from back. I have the names of most of these girls and the school was Hebburn Quay Board School.' Norman has lots of old photos here.
Many of the women in this photo were probably left as widows or single women, as the Great War of 1914-18 led to the loss of many men worldwide.
----¥----
Mary Anderson, the bride above was shown in her school photo with her sister Lottie Anderson. Later Lottie Anderson was the teacher herself (right) in this wonderful old photo of St John's Church Sunday School trip in about 1918.
Notice how the hats the girls wear bear a helmet like resemblance to the hard hats of soldiers.
No children today would ever be allowed to ride in a vehicle with such freedom as this. Health and safety rules of the Nanny state forbid such levity!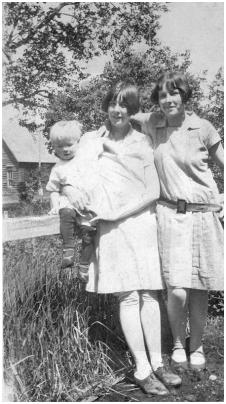 I recall a similar day out in the early 1960s, where all the children were bundled into the back of my uncle's open lorry and we could see the road through the cracks in the wooden floorboards of the truck. It was one of the best days of my life. A happy memory to be treasured and I'd wager these girls felt just the same.
One thought - have you noticed how the girls are segregated from the boys in both old photographs further above.
Caithlin Barry, a site visitor from Nevada sent me this old photo. In the picture, Caithlin's grandmother is with her sister and the baby.
Over in USA in the same year as the Hebburn Wedding above, Caithlin's mother had her photo taken as a one year old baby. In this photo you can see a little detail of the important dropped waist and visible knees. These dresses are all relaxed and casual and yet only 20 years earlier similar young women would have been bound-up in Edwardian S-bend corsets.
Note how the stockings wrinkle at the knee, and how they both have bobbed hairstyles. Clearly these young women were keen adoptees of modern haircuts.
Left - Old 1926 photo of Lois Post, Lee Post and Margaret Lynch.
If you have interesting old photos which could be included in these web pages do send me some good scans.
You have been reading an original independent 'old wedding photograph' article by Pauline Weston Thomas at www.fashion-era.com ©
January 26 - Television was demonstrated for the first time, by John L Baird of London.
February 8 - Walt Disney creates his studios.
February 16 - Suzanne Lenglen won against Helen Wills in Tennis at Cannes France.
March 7 - The first transatlantic telephone call was made between London and New York.
March 16 - The first fuel rocket was launched by Robert Goddard. It does 56 metres.
April 25 - Puccini's opera Turandot was premiered in Milan.
April 26 - A neutrality/peace treaty was signed by both Germany and Russia
May 3 - There was a British general strike.
3 million workers went on strike to support miners. It ended mid May.
August 3 - Traffic lights were installed at London's Piccadilly Circus.
August 5 - The first ever talkie movie Don Juan was screened at Warner Theatre, New York.
August 5 - Houdini famously stays in a submerged coffin for 1 hr.
September 25 - Henry Ford announced his revolutionary 8 hour, 5-day working week.
September 29 - The actress Norma Shearer wed Irving Thalberg.
November 19 - British mine strikes end after 28 weeks.
December 10 - The second part of Mein Kampf by Adolf Hitler was published.
-------v6-------
You can read more about 1920's fashions in flapper fashion. You can read how to date an old photo in this section here.
You have been reading an original independent 'old wedding photograph' article by Pauline Weston Thomas at www.fashion-era.com ©
Page added 4 April 2008:- Ref.P681
If you like this page then please share it with your friends
---
These wedding photos must not be published or used elsewhere - © Copyright www.fashion-era.com 2000-2010.
For more information about Wedding Photos click below:-
--Link--
Old photos can be useful when tracing family members and narrowing down search dates. These photo pages may help you put an era to your undated images. If you have old wedding photos please send them to me and if suitable I will add them to this pictorial section of social history.
OLD WEDDING PHOTOS
RE-ENACTMENT
Custom Search
About Fashion-Era.com
Fashion-Era.com looks at women's costume and fashion history and analyses the mood of an era. Changes in technology, leisure, work, cultural and moral values. Homelife and politics also contribute to lifestyle trends, which in turn influence the clothes we wear. These are the changes that make any era of society special in relation to the study of the costume of a period.

Fashion-Era.com can take no responsibility for any information on the site which may cause you error, loss or costs incurred from use of the information and links either directly or indirectly. This site is owned, designed, written and developed by author: Pauline Thomas and Guy Thomas. This site is designed to be viewed in 1024 X 768 or higher.
ALL RIGHTS RESERVED. Fashion-era.com reserves the right to add or delete information, graphics and links. Copyright © 2001-2014 on all content, text and images in Fashion-era.com. Images and text in this website may not be used on other websites.
Before you write to me for costume/fashion help or information please, please consult the extensive sitemap which lists all our pages. If you still cannot find the answer after searching the site, then before you email me, please consider if you are prepared to make a donation to the website.
Donations
Reader's donations help this site flourish, in particular donations encourage me to write more articles on fashion history as well as current trends. PayPal allows anyone with a credit card to donate easily and securely. You may donate any sum you feel appropriate.