1927 Wedding Photos - Fashions of Real People
Flapper Bridal Group Photo
This marvellous 1920s wedding photograph, with flapper bride and bridal guests, was emailed to me by a site visitor called June and from the USA.
On most pages I like to show old wedding photos from both the USA and the UK. My aim is to help visitors identify and date unknown photographs. There are often small, but unmistakeable national differences in bridal dresses, wedding bouquet styles, bridal veils/headdresses. Americans and English even pose differently.
The Sweder group is clearly very fashionable, with all the women wearing the latest flapper fashion trends of 1927. My general advice for dating any photograph, is always look for the most fashionably dressed person for the era. These women all wear the short dress, the important fashion style of 1927. In this old photo every woman is fashionably dressed!
The groom, Stephen Sweder of Russian/Ukrainian Austrian descent was born in 1906 at Mayfield, PA, USA. Thus the bridegroom is about 20 here, and some of the men in the photo are his brothers.
Take particular note of the two 'halo' male guests at either end of the back row; I enquired if they had somehow been added to the picture. Indeed, it was confirmed that stand-ins had been used, and the two family members who were unable to attend the wedding were cleverly inserted later.
Stephen's bride is Katherine Hoiditz (or Hoiditch) and she was approximately 18 when they married at St. John's Russian church. A year after marrying they had a son. The groom sadly died in 1943, 16 years after the picture was taken.
This is a very big bridal party. The older woman standing to the near left of the bride may be her mother. Several of the other women look as if they are genetically related. The men are a handsome bunch too. They look like they all had fun.
You are reading an original independent '1927 wedding style photograph' article by Pauline Weston Thomas at www.fashion-era.com ©
»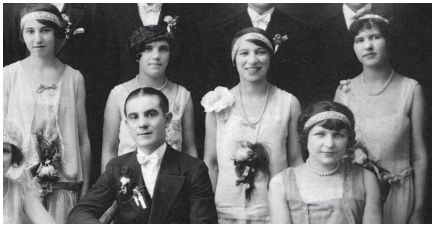 Four of the women right are clearly attendant bridesmaids, you can tell because they wear matching headbands. The woman sat at the front end wearing a contrast colour dress may have been the matron of honour as she seems to have been given a special seat, but she also wears the ornate bridal headband.
These bridal hair bands and similar brow bands, or 'drops', are back in fashion now. You can buy modern freshwater pearl versions of brow bands and lariats here from Pearlsplus.
All the female guests wear flapper style dropped waist dresses and every dress is typical of the 1927 wedding styles. Most of the women also wear pearl necklaces, and apart from the bride, each woman wears a floral corsage pinned to the front or side of her dress. None of the bridesmaids holds a floral posy, whereas the bride has a beautiful spray filled with orchids.
The fabrics in all the dresses are very characteristic of 1927, in that they float and lend themselves to circular, bias, or crosscut skirt styles. These materials would most likely have been satin, silk georgette, chiffon and lace. Most of the dresses have a smattering of sequins, or are lifted with some minor beadwork.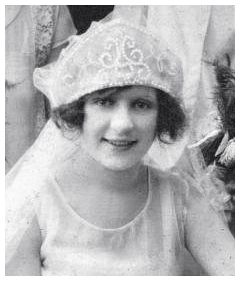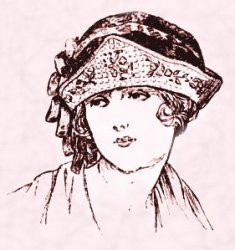 Take a closer look at the Bride Katherine's wedding headdress, it's in almost mitre style.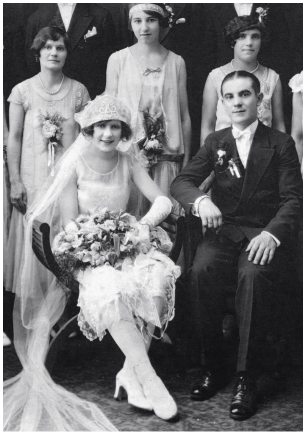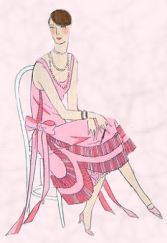 It follows the exact line of 1920s hats, but is made from stiffened organdie, or tulle, and is embellished with pearl beads. Every generation of brides seems to be attracted to the creamy whiteness and flattery that pearls lend to the complexion.
It is such an ornate bridal headdress that this lovely fresh young bride, obviously felt no need to decorate herself further with a necklace. The hat picture right is from La Mode of 1921 and it's clear that early 1920 millinery design and style elements had crept into later bridal veil headdresses of 1927.
Ω
One thing that is noticeable in many 1930s and 1920s wedding photographs, is the number of brides and bridegrooms that sit regally, almost like king and queen, whilst surrounded by their standing guests.
The seated pose was also used a great deal in fashion plates of the era like this 1927 wedding image above right.
The seated pose also allows the bride to reveal those legs.
Shorter dresses offered a new pose for photographers who made the most of capturing the image of the 'modern woman' and a skirt that rose when seated. It's not hard to visualise these bright young things, the twenties flappers, having quite a knees-up after these formal photographs were taken. You are reading an original independent 'old wedding photograph' article by Pauline Weston Thomas at www.fashion-era.com ©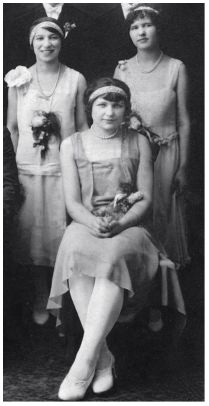 The silhouette for 1927 was straight down with the waist set low on the hipline. Skirt lengths were short but offered room for manoeuvre for the wary, with the ever useful handkerchief hem or the scallop hemline. Necklines were boat, scooped or V shaped.
The majority of female bridal guests here wear sleeveless dresses, so one can assume this was a summertime wedding as no wraps, stoles, cardigans, shrug, furs, feathers or jackets are in evidence.
A couple of dresses have a hint of a cap sleeve, but the 1927 vogue was for sleeveless dresses such as these McCall's styles of 1927 right.
This all added to the 1920s frisson of the novel appearance of so much bare skin - bare legs (albeit in flesh tone or light stockings), bare arms and bare necklines all added to the undressed look.
Everything about the relaxed styling of the twenties bare look was in total odds to the trussed up Edwardian cinched waistlines of just 20 years earlier.
The C20th was well under way, and women wanted to get as far as possible away from clothes they associated with the last century and their grandmothers. Clearly this bridal party achieved their aim. No woman would look out of place wearing these gowns in the early 21st century.
Family History Tip for Dating Old Photos - Compare your photo with comparative images of a known date to arrive at a year for that old photo. Fashion-era's Dating costume pages.
1927 Celebrity Weddings
Prince Amedeo Duke of Aosta married his cousin HRH Princess Anne of Orléans in Naples.
Ernest Hemingway and Pauline Pfeiffer
These wedding photos must not be published/used elsewhere -
© Copyright www.fashion-era.com 2008
You can read more about 1900's fashions in the Edwardian section.
You can read how to up-to-date an old photo in this section here.
Page added 9 April 2008. Ref P.682
You have been reading an original independent '1927 wedding photo' article by Pauline Weston Thomas at www.fashion-era.com ©
If you like this page then please share it with your friends
---
These wedding photos must not be published or used elsewhere - © Copyright www.fashion-era.com 2000-2010.
For more information about Wedding Photos click below:-
Old photos can be useful when tracing family members and narrowing down search dates. These photo pages may help you put an era to your undated images. If you have old wedding photos please send them to me and if suitable I will add them to this pictorial section of social history.
OLD WEDDING PHOTOS
RE-ENACTMENT
Custom Search
About Fashion-Era.com
Fashion-Era.com looks at women's costume and fashion history and analyses the mood of an era. Changes in technology, leisure, work, cultural and moral values. Homelife and politics also contribute to lifestyle trends, which in turn influence the clothes we wear. These are the changes that make any era of society special in relation to the study of the costume of a period.

Fashion-Era.com can take no responsibility for any information on the site which may cause you error, loss or costs incurred from use of the information and links either directly or indirectly. This site is owned, designed, written and developed by author: Pauline Thomas and Guy Thomas. This site is designed to be viewed in 1024 X 768 or higher.
ALL RIGHTS RESERVED. Fashion-era.com reserves the right to add or delete information, graphics and links. Copyright © 2001-2014 on all content, text and images in Fashion-era.com. Images and text in this website may not be used on other websites.
Before you write to me for costume/fashion help or information please, please consult the extensive sitemap which lists all our pages. If you still cannot find the answer after searching the site, then before you email me, please consider if you are prepared to make a donation to the website.
Donations
Reader's donations help this site flourish, in particular donations encourage me to write more articles on fashion history as well as current trends. PayPal allows anyone with a credit card to donate easily and securely. You may donate any sum you feel appropriate.