1928 Wedding Photos Showing Fashions of Real People
1920s Wedding Photos of Bridal Couple and Wedding Group
This vintage wedding page features four different brides. The first family wedding photo is of a bridal group who are known to have married in 1928. Play costume detective; use these 1928 wedding photos as the basis for dating your unknown wedding pictures from the 1920s era.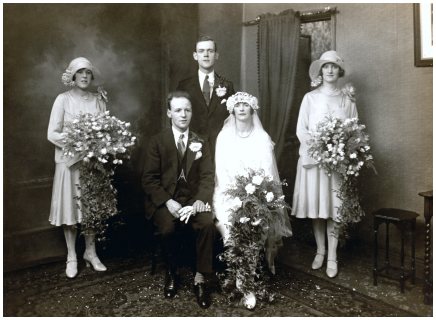 This wedding photo of the groom Thomas Paton and the bride Lucy Flemmings, was taken on Sept 1, 1928. James, brother of the groom was the best man, and is seen standing behind the couple. This delightful 1920s wedding group photo was another picture which Kathleen Paton sent to me. I have previously shown several of her forbears in wedding pages on the site.
Both bridesmaids have abundant sprays, with generous trails of leaves; these are not the tiny posies displayed by bridesmaids of other eras. From the way the women and men are dressed, to the style of their bouquets, even the interior scene, all features have a distinctly British look. The scenic cloudy background, to the left, suggests a setting in a photographer's studio, or possibly a hotel lounge.
Dating old photos is hard for the beginner new to genealogy, but using the usual principles of comparing known dated photos against undated photos to find similarities, it is possible to draw some conclusions that can at least give you a date to within 5 years.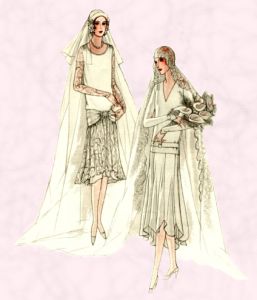 For 1928, the general fashion line for brides was the short dress. But not as short as in the period 1925-27. Hemlines had already reached maximum shortness for the twenties and now skirt lengths began to drop again. In every wedding photograph on this 1928 page the knees of the bride are respectably well covered with skirt fabric.
By 1928 hemlines settled on, or below the knee. Skirts had cross cut or circular fullness and often indistinct wavering hemlines. Bridal veils were still cloche style, but now quite long flowing into trains. Changes were being introduced with hair bands and tiara like elevation elements.
Right - McCall's bridal patterns for 1928. Note the appearance of the 'calla lily' spray in the drawing. This was a big trend in floral bouquet fashions of the 1930s, and most useful in dating old wedding photos.

The dresses here have the straight tubular bodice silhouette, which was also popular for day dresses of 1928. The bridesmaids above wear skirts which are cut on the cross-grain of the fabric, a fashion most popular after 1926 when flip, flare and swing hit the hemline.
Only skirts cut on the true bias will show this smooth easy fluting so perfectly. One aspect of bias cut garments, especially of skirts, is that once a certain length is required, the skirt has to be pieced together. Notice the seam line shown in the small image right and which illustrates a pieced bias cut fabric.
‡‡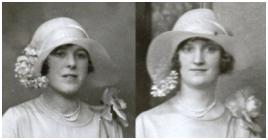 The hats that the bridesmaids are wearing in the photographs are also showing some of the side-swept brims that became smaller, and even more popular, in the thirties. This hat style is sign of a late twenties, or early thirties wedding photograph.
The floppy asymmetry of the hat is suggestive of the period 1927-1932 in particular. The wide brim hat is seen in 1926 images, but it seems to me that by 1927 that the hat style has begun to distinctly veer to one side, with upturn, and often is weighted with decoration.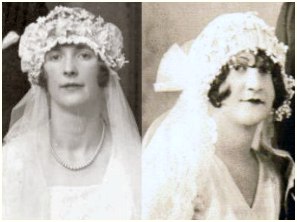 Here we have 1928 vintage photographs of two different brides. On the left is an enlargement of Lucy Flemmings, featured above. On the right is an unknown, probably American bride, who we wish to date.
The veils of these two brides mostly follow the decorated mob cap, or cloche veil style. The front of the mob caps appear shirred. The small amount of fanned tulle at the back of the right headdress, is similar to styling elements found in the veils of 1922, and seems to have mostly been an American fashion.
What makes these headdresses look different to earlier veil arrangements is actually the fuller, bouncier, hair beneath. All of the women on this page are showing much softer hairstyles. By 1928 soft waves had made a comeback, and consequently, the severity of the Eton crop haircut began to decline.
The veil similarities suggest that this unknown bride was married in the late twenties, probably 1928. When proposing the 1928 date, I also took into account other bridal gown factors, such as the V-neckline, the feather/fur hemline, and her footwear. Lucy (1928) far left above, is wearing a V-neckline, but it has a modesty filler. The unknown photo is probably not later than 1928, because by 1929, bride's skirts were often longer.
Compact bridal bouquets are more often seen in USA old photos. In theses examples, the UK bride's bouquet spray is fulsome with masses of foliage, yet relatively few flowers. The flowers are not particularly rare, and the bouquet almost appears disorganised.
Hot Tip - British 1920s wedding bouquets often had long trails of foliage greenery compared to USA bouquets.
American bridal bouquets mostly show some greenery, but are more likely to be bulked up with an abundance of trailing ribbons, bows and attached pieces, which add volume and lightness.
This vintage wedding photograph left, was taken in the USA in 1928.
The photograph is known to be of Esther (Morrill) Reynolds, she was married in Oakland, CA. on August 30, 1928; the photo was kindly provided by her descendant Anne Scott. The photo was probably taken at the parental house before the bride departed for the wedding ceremony.
Whilst today we might consider being photographed by a tiled fireplace unattractive, it's important to remember this fireplace was probably the focal point of the room and was known as a 'modern' grate. It was a symbol of progress and of affluence in the new century. Behind the fire grate itself would have been a system such as a Baxi Burner which heated water for the whole house. This was modern and comparatively clean compared to using an old copper for boiling water. Though it probably would not have been in use on a summer's day.
This a USA wedding and Esther's bouquet has trailing ribbons instead of foliage. In keeping with the latest fashion styles, this wedding gown has a V-neckline, dropped hip waistline and long sleeves. Esther wears a fashionable flapper headband to hold her veil in place.
You have been reading an original independent article dating 1928 wedding photos by Pauline Weston Thomas at www.fashion-era.com ©
‡
This brings me to two more photographs of unknown vintage, kindly sent by a collectors of old wedding photos. Missaamie and Manaseri2007 each sell vintage items including wedding photos on EBay. Note how in both images the volume of trailing ribbon in the bride's floral sprays implies that these were USA weddings, this would fit with the sources, as in this case both Missaamie and Manaseri2007 are USA based EBay sellers.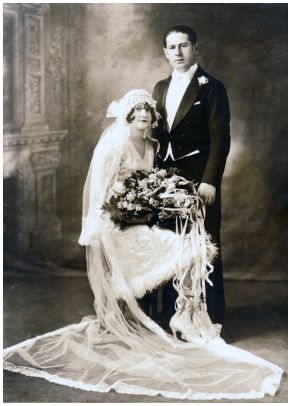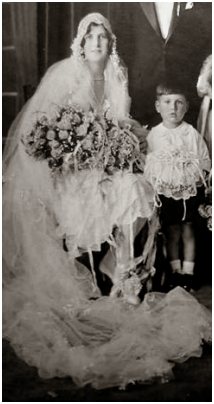 The length of both dresses, V-necklines, footwear and the headdress veils all bear a similarity to the 1928 photo at the top of the page. I would date both brides at about 1927-1929. Veils gained in length from 1927.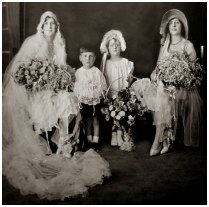 Since the hemline of the first dress is covered in fur or feathers, this wedding photo was most likely a late autumn or winter wedding. The skirt is richly embroidered. Probably this vintage photo was taken in a studio setting since you can clearly see that the background is like a painted stage backcloth and includes a fireplace in perspective.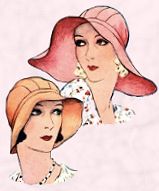 I do believe this second photo above right and also near right, was taken about 1928-29. Although the dress has a scalloped hemline, it has a V-neckline and appears longer than mid twenties styles.
Note too how the full photo shows a bridesmaid who has a late 1920s look. That asymmetric hat and the longer line skirt are clues to it being near 1929/30. These two coloured sewing pattern hats are from 1932 and as such would have been lagging a little behind manufactured garments.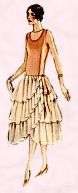 The bridesmaid dress does not look quite 1930s and the dress does not look as short as dresses of 1926/7. Her scoop neckline dress has the softer slightly longer layered flutes of late twenties fashion styles. The gown also appears to be asymmetric in cut, which is shown by the way the skirt fabric sits over the knees in an irregular uneven fashion.
The headdress which the small flower girl wears, is also similar to adult bridesmaid headwear of 1931. Costume lovers will know that trends for adults often have their beginnings in styles worn earlier by children. Fashion history shows that fashion styles have a habit of working through the generations and through the sexes, although rarely all at once.
You have been reading an original independent '1928 wedding photograph' article by Pauline Weston Thomas at www.fashion-era.com ©
You can read more about 1920's fashions in flapper fashion. You can read how to date an old photo in this section here.
Boxer Gene Tunney married Mary 'Polly' Lauder in Italy. It was one of the most sensational love stories of the 1920s. She a Carnegie heiress, he the boxer who beat Dempsey in the famous 'long count fight'.
The film 'The Wedding March' starring Fay Wray and Eric von Stroheim was released.
-------v6-------
Page added 18 April 2008. Ref P691
If you like this page then please share it with your friends
---
These wedding photos must not be published or used elsewhere - © Copyright www.fashion-era.com 2000-2010.
For more information about Wedding Photos click below:-
--Link--
Old photos can be useful when tracing family members and narrowing down search dates. These photo pages may help you put an era to your undated images. If you have old wedding photos please send them to me and if suitable I will add them to this pictorial section of social history.
OLD WEDDING PHOTOS
RE-ENACTMENT
Custom Search
About Fashion-Era.com
Fashion-Era.com looks at women's costume and fashion history and analyses the mood of an era. Changes in technology, leisure, work, cultural and moral values. Homelife and politics also contribute to lifestyle trends, which in turn influence the clothes we wear. These are the changes that make any era of society special in relation to the study of the costume of a period.

Fashion-Era.com can take no responsibility for any information on the site which may cause you error, loss or costs incurred from use of the information and links either directly or indirectly. This site is owned, designed, written and developed by author: Pauline Thomas and Guy Thomas. This site is designed to be viewed in 1024 X 768 or higher.
ALL RIGHTS RESERVED. Fashion-era.com reserves the right to add or delete information, graphics and links. Copyright © 2001-2014 on all content, text and images in Fashion-era.com. Images and text in this website may not be used on other websites.
Before you write to me for costume/fashion help or information please, please consult the extensive sitemap which lists all our pages. If you still cannot find the answer after searching the site, then before you email me, please consider if you are prepared to make a donation to the website.
Donations
Reader's donations help this site flourish, in particular donations encourage me to write more articles on fashion history as well as current trends. PayPal allows anyone with a credit card to donate easily and securely. You may donate any sum you feel appropriate.