1930 Wedding Dresses - Photos of Real People
This family wedding photo is of an ordinary couple Hilda and her husband who married in 1930 in Cardiff.
These 1930 wedding dress photos must not be published/used elsewhere -
© Copyright www.fashion-era.com 2006-8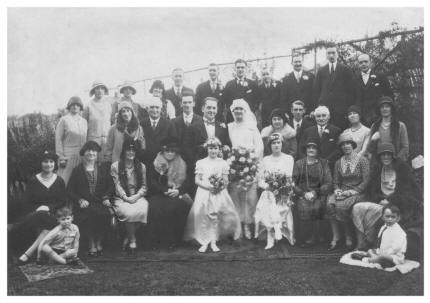 October 1930 is the date of Hilda's Wedding photo.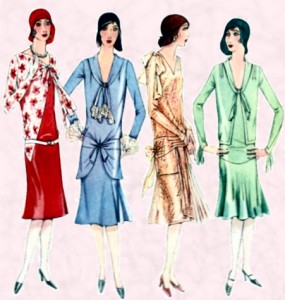 Click for an enlargement of her wedding photographs.
Hilda's wedding dress has a hemline covered in feathers. Her veil is edged with a scallop lace and follows the cloche veil style. See another dress with feathered hemline on the 1928 wedding page.
This 1930 wedding dress is much longer than the majority of bridal gowns worn through the 1920s. The shortest were in 1926/7, but there was a sudden dramatic drop in hemlines in 1930.
Most of the 1930 wedding guests are dressed for autumn days and some for even colder weather. All the women wear long sleeved dresses, or coats and either could be dressed up with fur scarves/collars. Suits are not much in evidence at this wedding.
Many of the dress styles follow the dropped waist silhouette of the previous few years, but with longer skirt lengths. If you are comparing an unknown wedding photo with these images chances are your photo was late 1920s early 1930s.
These McCall's pattern right are for dress styles for 1929.
»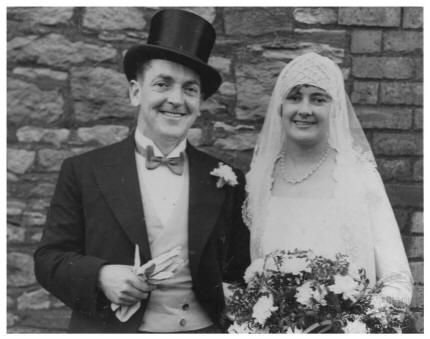 Old photos can be useful when tracing family members and narrowing down search dates

. These vintage wedding photo pages may help you put an era to your undated images.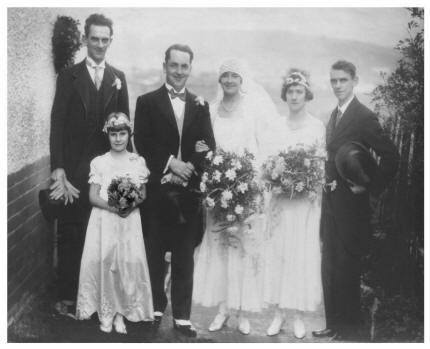 The bride and bridesmaid wear much longer gowns that truly adopt the latest fashion styles of 1930.
These day dress models below are typical of fashionable styles at the dawn of the new decade in 1930. The line is slender, but the waistline has begun a shift upward. The evening dresses show longer calf lengths which had begun to take hold in 1929.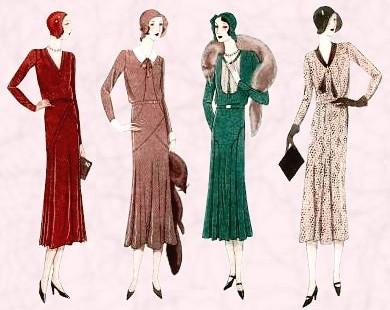 Ω
The bride's trousseau was still an important feature of the preparations for marriage in 1930.
My 1930 Good Housekeeping page illustrates what outfits the bride might be expected to select for her 1930 wedding trousseau.
This April 1930 fashion issue concentrated on advising the bride of all the latest fashionable styles from Paris and in particular the new silhouette and skirt length. The fashionable new length for the new thirties decade had dropped dramatically and was 4 inches below the knee. This issue also explained specific clothing items could be bought directly from that issue of Good Housekeeping. It also itemised the 1930 trousseau at a cost of $386.15. The fashionable 1930 trousseau included a satin wedding gown, a veil, a 3 piece going away suit and a suitcase of other items which amounted to more than 5 types of dresses, a full coat, jackets, lingerie and more sundry items.
Go to 1930 wedding trousseau page.
See more late 1930's line drawings here.
You can read more about 1920's fashions in flapper fashion. You can read how to date an old photo in this section here.
Another 1930's Wedding Dress
James Paton and (Mary) Veronica Standen 1931 - Gorton
Right - This old 1930s wedding dress photo is from Kathleen and is of James Paton and (Mary) Veronica Standen. This photo was taken on May 23, 1931 in Gorton, Manchester, England.
Note how the bride's wedding dress has lengthened and is the truly fashionable ankle length of 1931. The shoes however are still the Mary Jane style that had been in favour for many years.
One very nice touch is the bride holding a prayer book rather than carrying a floral bouquet.
This ensemble shows a move away from 1920s styling. The longer fuller skirt with the bodice on the waist is firmly set in the newer fashion for 1930s wedding dresses.
Features that you see in later decades are not present in this 1931 wedding photography, for example, the bride is not wearing earrings, neither does she appear to be 'painted' with make-up.
Pretty accessories like Veronica's headdress are very striking, with the veil substantially shorter than many 1920s veils. You can see in the photo below the detailed work that went into sewing the pearls. See more 1931 Wedding dress photos
Page added 15 September 2006
If you like this page then please share it with your friends
---
These wedding photos must not be published or used elsewhere - © Copyright www.fashion-era.com 2000-2010.
For more information about Wedding Photos click below:-
Old photos can be useful when tracing family members and narrowing down search dates. These photo pages may help you put an era to your undated images. If you have old wedding photos please send them to me and if suitable I will add them to this pictorial section of social history.
OLD WEDDING PHOTOS
RE-ENACTMENT