C20th Fashion History 1930s Wedding Dresses
Wedding Photos of 1931 Brides
This wedding took place in 1931 in Cardiff, Wales. Sadly the bride died in 1934, probably during childbirth.
In this 1931 wedding photograph, the bride's bouquet was made from locally grown fresh orchids provided by the bride's father who grew them in his greenhouse. The bridesmaids' dresses have skirts cut just like that worn by the bride in the top photo and all show the same swing flare and sway.
In both images the drop waists suggest that 1920's fashion styles are still more important to the ordinary women than the styles we associate with the later 1930s and Wallis Simpson who epitomised the era. By 1930 the waist had generally risen to its normal position and the bride followed this new fashion.
The bride's headdress is an extravagant almost Tudor affair and shows it developing volume after 20 years of close mob cap veiling styles popular from c1913.
‡‡
Right - This old 1930s wedding photo is from Kathleen and is of James Paton and (Mary) Veronica Standen. This photo was taken on May 23, 1931 in Gorton, Manchester, England.
Note how the bride's wedding dress has lengthened and is the truly fashionable ankle length of 1931. The shoes however are still the Mary Jane style that had been in favour for many years.
One very nice touch is the bride holding a prayer book rather than carrying a floral bouquet.
This ensemble shows a move away from 1920s styling. The longer fuller skirt with the bodice on the waist is firmly set in the newer fashion for 1930s wedding dresses.
Features that you see in later decades are not present in this 1931 wedding photography, for example, the bride is not wearing earrings, neither does she appear to be 'painted' with make-up.
Pretty accessories like Veronica's headdress are very striking, with the veil substantially shorter than many 1920s veils. You can see in the photo below the detailed work that went into sewing the pearls.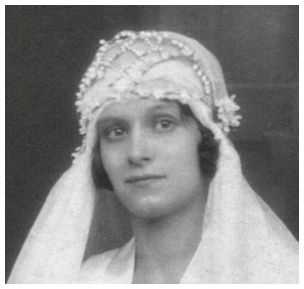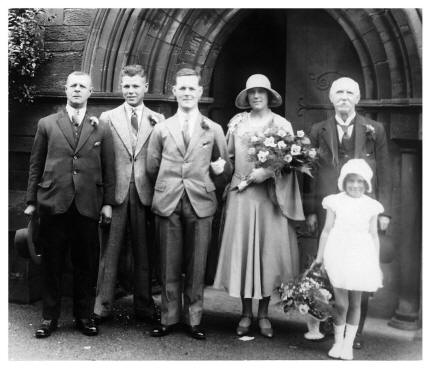 This photo shows the fashion history of an everyday Church wedding of 1931.
Although this a 1930s wedding dress, the bride's dress still has a 1920's look. Apart from the use of bias cut fabric in the skirt and sleeves which create rolling drape, this dress is not that representative of 1930s fashions. The bride wears ankle strapped Mary Jane style shoes. The brimmed felt hat is very typically late 20s.
The wedding photo features Irene's parents. Irene is a site visitor. The wedding group photo was taken at a really old church called St. Paul's Church in Jarrow which was where St. Bede studied with the Monks.
§
...(v4r)
The Venerable Bede was born in 673 near Sunderland, and at age 7 commenced a Benedictine education. This education was at St. Benet Biscop at Wearmouth Abbey and later at Jarrow (Tyne).
Modest and humble, he spent the whole of his life as a monk. He never travelled away from the locale, although he was in tune with the world and in 735 wrote an appealing letter suggesting reform ideas to halt the troubles of the Church in Northumbria.
His erudite works for which he is remembered were dependant on the superior libraries of St. Benet Biscop. Bede wrote on many subjects including the Scriptures, poetry, mathematics and timekeeping. Bede is famous for his unbiased historical viewpoint and writings, especially 'Ecclesiastical History of the English People'. The latter historical work has been a source of guidance for the progress of Christianity in early Britain.
According to St. Cuthbert, who documented Bede's death, Bede died just after he had dictated the last sentence of his translation of St. John's Gospel. 50 years after his death in 735 he was declared a Saint and his body moved from Jarrow to rest at Durham Cathedral and it lies in the Galilee Chapel.
Celebrity Weddings in 1931
Margaret Sullavan and Henry Fonda (Only lasted 3 months!)
Gloria Swanson and Michael Farmer
Clara Bow and Rex Bell
Maria Ria Franklin and Clarke Gable
Emilia Earhart (Aviator) and George Putnam
If you like this page then please share it with your friends
---
These wedding photos must not be published or used elsewhere - © Copyright www.fashion-era.com 2000-2010.
For more information about Wedding Photos click below:-
--Link--
Old photos can be useful when tracing family members and narrowing down search dates. These photo pages may help you put an era to your undated images. If you have old wedding photos please send them to me and if suitable I will add them to this pictorial section of social history.
OLD WEDDING PHOTOS
RE-ENACTMENT
Custom Search
About Fashion-Era.com
Fashion-Era.com looks at women's costume and fashion history and analyses the mood of an era. Changes in technology, leisure, work, cultural and moral values. Homelife and politics also contribute to lifestyle trends, which in turn influence the clothes we wear. These are the changes that make any era of society special in relation to the study of the costume of a period.

Fashion-Era.com can take no responsibility for any information on the site which may cause you error, loss or costs incurred from use of the information and links either directly or indirectly. This site is owned, designed, written and developed by author: Pauline Thomas and Guy Thomas. This site is designed to be viewed in 1024 X 768 or higher.
ALL RIGHTS RESERVED. Fashion-era.com reserves the right to add or delete information, graphics and links. Copyright © 2001-2014 on all content, text and images in Fashion-era.com. Images and text in this website may not be used on other websites.
Before you write to me for costume/fashion help or information please, please consult the extensive sitemap which lists all our pages. If you still cannot find the answer after searching the site, then before you email me, please consider if you are prepared to make a donation to the website.
Donations
Reader's donations help this site flourish, in particular donations encourage me to write more articles on fashion history as well as current trends. PayPal allows anyone with a credit card to donate easily and securely. You may donate any sum you feel appropriate.