C20th Fashion History 1953 Wedding Photos
1950s Bride and Wedding Group 1953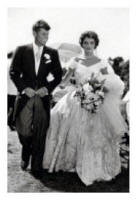 Jacqueline Bouvier married John Fitzgerald Kennedy on 12 Septemeber 1953.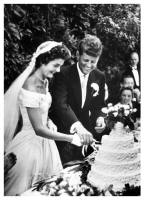 She was 24, he 36. They were married in Newport, Rhode Island. Jackie's wedding dress was a ball gown of ivory silk taffeta with a huge round skirt. The dress created by dressmaker Ann Lowe.
The wedding dress required 50 yards of ivory silk taffeta. Jackie had a portrait swathed neckline which she set off with a single strand of family pearls. The wedding gown took 2 months for Anne Lowe to complete.
The full bouffant skirt had interwoven tucking bands and tiny wax flowers. Her grandmotherís heirloom rose point lace veil was attached to her hair with orange blossoms amid a tiara of lace. The evening before the wedding she was given a diamond bracelet by John Kennedy and a diamond pin by the Kennedy parents.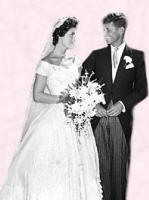 Jackie's 10 bridesmaids wore pink silk faille gowns with Tudor caps. Lee Bouvier Canfield (sister) was the matron-of-honor and the flower girl was Janet Auchincloss. Other bridal attendants were Nancy Tuckerman, Martha Bartlett, Shirley Oakes, Aileen Travers, Sylvia Whitehouse, Ethel Skakel Kennedy, Jean Kennedy and Helen Spaulding.
Jackie Kennedy's bridal spray of 1953 was a bouquet of white and pink spray orchids with gardenias. The church was decorated with pink gladioli and white chrysanthemums. The Kennedy newly weds departed after a wedding lunch reception under a shower of paper-rose petals
Ω
More 1950's Wedding Dresses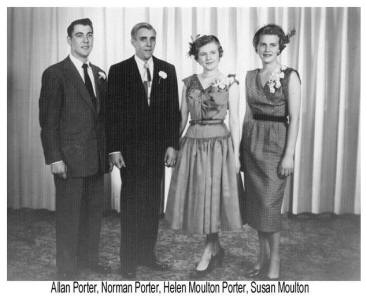 The bride Helen is wearing a formal ballerina length grey satin evening dress in thick duchess satin. The dress follows the lines of stylish cocktail gowns of the day. The hat was black velvet with an ostrich feather. Whilst Helen wears a full skirted dress that shows off her waistline, her sister wears a slim sheath dress also popular at the same time.
Both women wear flower corsages on their shoulders. Helen appears to be wearing a fashion of today in her hair - a fascinator. Her sister appears to be wearing a small Juliet cap hat. The two brothers wear lounge suits. These formal photos were taken after the wedding at a class reunion, but show the outfits worn at the wedding.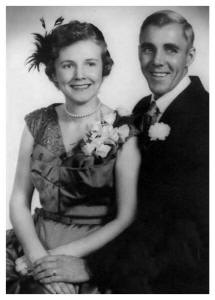 Helen was widowed after twenty years and remarried another 10 years after her first husband Norman above died. You can see her second 'white' wedding in 1984. (I have lost touch with Helen - please get in touch Helen).
Ľ
1950's Bridesmaids

See more of this 1950's Wedding
These 1953 wedding photos and site text content must not be published/used elsewhere -
© Copyright www.fashion-era.com 2006
This page added 12 October 2006.
If you like this page then please share it with your friends
---
These wedding photos must not be published or used elsewhere - © Copyright www.fashion-era.com 2000-2010.
For more information about Wedding Photos click below:-
Old photos can be useful when tracing family members and narrowing down search dates. These photo pages may help you put an era to your undated images. If you have old wedding photos please send them to me and if suitable I will add them to this pictorial section of social history.
OLD WEDDING PHOTOS
RE-ENACTMENT