1956 Grace Kelly's Royal Wedding
Also a Wedding of Ordinary Folk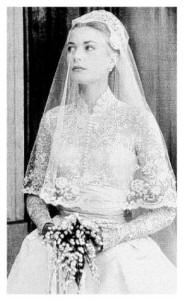 In 1956, the wedding of the year, which some regard as the wedding of the century, was that of film star Grace Kelly to Princes Rainier of Monaco.
The couple were officially wed on April 18, 1956 in a civil ceremony. The next day they wed publicly in an elaborate Catholic Mass in Monaco. During the ceremony they looked straight ahead, never looking at each other, just as they had been directed by senior church officials.
After the event Princess Grace was said to have hated every minute of the public wedding, in particular being filmed under strong lighting. She much preferred the private ceremony with Prince Rainier the day before.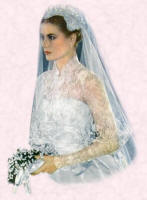 The lace decorated upper bodice and high neck of the wedding gown was a decorous choice for an actress who could no longer have any doubt cast on her suitability as a royal bride and princess.
Prince Rainier immediately banned the showing of films in Monaco if they had Grace Kelly in the cast. Fiction was not to be blurred with fact. It is still against the law in Monaco to show films featuring Grace Kelly.
‡
Grace Kelly's wedding dress was designed by Helen Rose, wardrobe designer at MGM. The MGM wardrobe department made the wedding dress as a gift from MGM.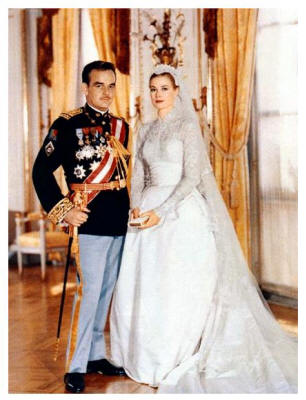 At the time, film star Grace Kelly was tied to an MGM contract for another 7 years. To get out of her 7 year contract with MGM Grace Kelly had to agree to the wedding being filmed by MGM for worldwide distribution. In later days she regretted the filming intruding on her wedding day.
The wedding gown was made from antique Valenciennes rose point lace, twenty-five yards of silk taffeta and ninety eight yards of tulle. Her veil was covered with appliquéd lace lovebirds and thousands of seed pearls.
Prince Rainier designed the Napoleonic influenced dress uniform himself.
After the wedding the couple held a garden party for residents of Monaco. I have been unable to find out what they ate as a reception meal, but I'm sure it was more elaborate than the wedding breakfast described below!
The wedding photo below shows the entourage of Maids of Honour and bridesmaids wearing their special dresses. I like to think of those bodices and full semi sheer sleeves as in June Allyson style.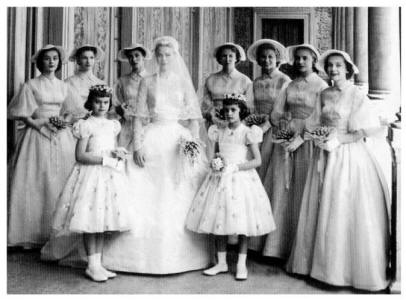 Princess Grace did a great deal to bring the Grimaldi family into the limelight for Monaco, as did Princess Diana for the British House of Windsor 25 years later.
Sadly like Princess Diana who died in 1997, Princess Grace also died after a car accident in 1982. In both instances we look on and see the makings of a fairytale, when the reality for both princesses was quite different as they lived their lives in the public eye.
This page must not be published/used elsewhere -
© Copyright www.fashion-era.com 2006
§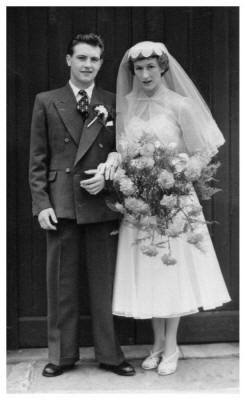 By comparison with the Royal wedding above, this image is of an everyday wedding held a few months later in June 1956.
This family wedding photo depicts a church wedding of an aunt of mine called Gloria with her first husband.
Always interested in fashion, Gloria was hot on trend for 1956. This wedding dress mimics the very fashionable late 'new look' cocktail dress of the era. The 'new look' lasted for many years after its late 1940s introduction.
In 1956, it was a look thought to be a very modern choice over the traditional bridal look of the full length wedding dress.
This fashionable shorter length white wedding dress Gloria wore was made of tulle. This length of wedding dress was called ballerina length. Today we would regard a ballerina length wedding dress as a good choice for a semi formal or civil wedding. (You can see a typical ballerina length vintage prom dress here.)
Her very pretty wedding dress has shoestring straps, decorative bra bodice and a sheer bolero cover up with long sheer slim fitting sleeves. Modesty was still the norm in wedding dress choice and the little semi sheer bolero was an essential cover up for the church ceremony.
The short wedding veil is set atop a Juliet cap and the whole sits neatly on her hairstyle which has been treated with a permanent wave. Her hairstyle is a look alike version of the short hairdos made fashionable in the 1950s by film stars such as Jane Wyman, Gina Lollobrigida and Leslie Caron.
These wedding photos must not be published/used elsewhere -
© Copyright www.fashion-era.com 2006
In this picture right, you can just see June in the background wearing her bridesmaid dress, which was lemon and teamed with a lemon feather and rhinestone headdress.
You can also see the embroidered bow decorative detail of Gloria's veil as she and the groom cut the bottom layer of the wedding cake.
In the 1950s, wedding cakes were usually rich fruitcakes, covered in marzipan and royal icing. The cakes were trimmed with silver trinkets such as silver shoes, silver leaves, horse shoes, silver dragees little flowers and hearts.
Nowadays fresh flowers or sugarcraft moulded flowers are more usual as bridal cake decoration.
In the 1950s brides often kept a tier of the wedding cake for a first christening. This was done on the presumption that most brides would produce a first baby in the first year of marriage and good 'heavy' rich fruitcakes are known to keep a year or so.
(See my recipe for rich fruitcake here and for sugarcraft recipe also.
Gloria kept one of her wedding cake tiers rather too long. Her first child was 2+ years when christened. When the revamped wedding cake renamed a christening cake was cut, parts of the cake were mouldy. Fortunately Gloria had produced a back up decorated sponge cake. Relatives had expressed doubts about the original cake as the icing had yellowed, so the back up plan was activated!
Food rationing had ended in 1952, but people were still mindful of the value of food. At Gloria's June wedding breakfast everyone had a full plate and it was considered a treat. The wedding breakfast was probably like thousands of other post war wedding receptions of ordinary working folk and held up and down the country throughout the 1950s. The wedding reception was held in a hired social club and the wedding breakfast was catered by Gloria's family. Every family member was invited including children so there were many guests.
The meal consisted of a plated-up full slice of boiled ham with a typical 1950's salad made of lettuce, spring onions, tomato, cucumber, beetroot, boiled egg all served with either creamed potato or new buttered potatoes and pickled chutneys. The dessert was an individual home made cocktail fruit jelly and custard trifle, finally there was a piece of wedding cake and a sweet sherry toast. All a long cry from the millennium menu of today, which might drip with artfully arranged international temptations from chardonnay, Greek style mezé, lobster delicacies, towering timbales, profiteroles and parfaits.
Gloria was 19 when she married, but later divorced and was remarried by the 1970s, she had greater success with her current second marriage.
...(v4r)
This particular wedding was over 50 years ago. Unlike earlier eras many marriages that took place in the 1950s and later have ended in divorce and remarriage. Of course changes in the divorce laws along with legal aid, women becoming more independent and self supporting, cohabitation and cultural attitudes, have all contributed to the change in the the nation's marriage habits.
Marriage statistics are always a little behind. Because of the growing popularity of marriages taking place abroad at holiday destinations the figures are also less accurate than they could be. In fifty years the age of a first marriage for many women has increased substantially. The peak age for marriage continues to rise with 59% of all marriages being first marriages.
According to National Statistics the average age of a United Kingdom single status bride in 2002 was 28.7 years. That figure highlights the fact that the average single bride is now almost 10 years older than Gloria was in 1956. The average age of all brides (including those single, divorced and widowed) is now 32.6 years.
So often now people are tracing their family trees using old wedding photos. In view of these statistics and the number of second and third marriages you are all well advised to state the surnames of all parties on the back of photographs, so that future generations can trace family trees with ease. I've lost count of the number of times site visitors have written to me to say they do not know who the people are on photos. Thus get out that tattered box of photos and those old albums and add some genealogical information to those old photos right now. To check dates use the pages/images on site here to compare eras.
You can read more about 1950's fashions in fifties glamour here. You can read how to date an old photo in this section here.
You can see some another ballerina dress bride and ballerina bridesmaids of a 1956 wedding here.
Page added 15 September 2006
If you like this page then please share it with your friends
---
These wedding photos must not be published or used elsewhere - © Copyright www.fashion-era.com 2000-2010.
For more information about Wedding Photos click below:-
--Link--
Old photos can be useful when tracing family members and narrowing down search dates. These photo pages may help you put an era to your undated images. If you have old wedding photos please send them to me and if suitable I will add them to this pictorial section of social history.
OLD WEDDING PHOTOS
RE-ENACTMENT
Custom Search
About Fashion-Era.com
Fashion-Era.com looks at women's costume and fashion history and analyses the mood of an era. Changes in technology, leisure, work, cultural and moral values. Homelife and politics also contribute to lifestyle trends, which in turn influence the clothes we wear. These are the changes that make any era of society special in relation to the study of the costume of a period.

Fashion-Era.com can take no responsibility for any information on the site which may cause you error, loss or costs incurred from use of the information and links either directly or indirectly. This site is owned, designed, written and developed by author: Pauline Thomas and Guy Thomas. This site is designed to be viewed in 1024 X 768 or higher.
ALL RIGHTS RESERVED. Fashion-era.com reserves the right to add or delete information, graphics and links. Copyright © 2001-2014 on all content, text and images in Fashion-era.com. Images and text in this website may not be used on other websites.
Before you write to me for costume/fashion help or information please, please consult the extensive sitemap which lists all our pages. If you still cannot find the answer after searching the site, then before you email me, please consider if you are prepared to make a donation to the website.
Donations
Reader's donations help this site flourish, in particular donations encourage me to write more articles on fashion history as well as current trends. PayPal allows anyone with a credit card to donate easily and securely. You may donate any sum you feel appropriate.