C20th Fashion History 1958 Wedding Photo
Late 1950s Bride with Bridesmaids Wedding Group 1958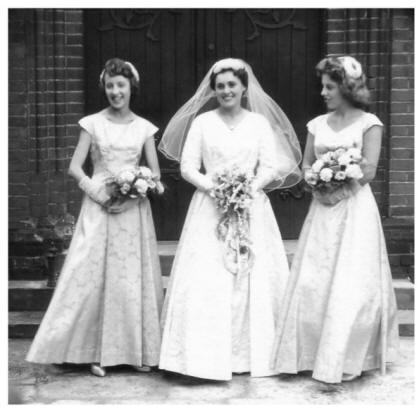 This is a 1958 wedding picture of Barbara and her bridesmaids. Barbara was another cousin of Vera whose wedding is featured on the fashion era web site. The bride and bridesmaids all wear figured damask fabric dresses.
Note how the style of bride's bridal floral spray is moving away from the large fern dominated bouquets of previous years and is becoming more modern in style. The bridal group wear satin shoes and no doubt they were Dylon fabric dyed to match and tone with the dresses. It was customary in this era to team bare arms with long gloves.
Barbara later wrote to me that 'My bouquet was pink orchids and the bridesmaid's dresses were ice blue and you are correct in saying their shoes were dyed to match. The wedding was in August and in the following December I had my dress altered into an evening dress and wore it to my firm's Christmas Dinner at the Savoy, London.'
This latter point is interesting. In the last century many brides did buy their 'expensive' wedding dresses with an eye to altering them into evening dresses. In the Victorian era women often chose a grey dress as it was so suitable for years to come after the wedding. It is probably only in the last decade that women have become affluent enough to discard a wedding dress after one day of wearing.
‡‡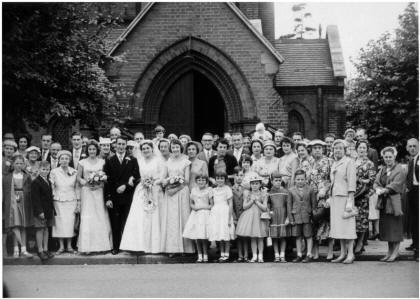 What a wonderful wedding group scene from 1958.
The two images left are especially interesting from a fashion history point of view. I have even wondered if these guests wear the same suit and wonder if that is why the second guest stands half-shaded by a bridesmaid.
The jackets are almost identical. Look closely at the cut of the collar. The figuring on the left picture is clearer. But I do faintly see figuring on the first fabric image. I wonder if these guests bought the same ensemble - every woman's nightmare!
However, they do both look extremely smart. Fashion history is a continuous cycle, since there is only so much designers can do to the human body when designing clothes for a form that is much the same today as it was 2000 years ago. Waists are thicker today, but these two guests could quite easily slot into a wedding picture 50 years later.
(Later Barbara wrote to tell me 'The two "guests" you compare are, on the left of Brian (the groom's) mother, Nora Cole, and on the right my mother, Ellen Hibbit. On the day their suits did not look at all alike, but with hindsight I can see what you mean.')
The woman to the very far right of the photo below is also interesting. One of the major mass looks of 1950s fashion history was the use of stoles in general and of an open weave brushed mohair stole in particular. Brushed mohair stoles were worn in much the same way as a Pashmina has been used globally in the past 15 years.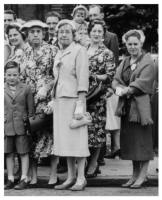 Two of the women far right also wear patterned suits. These were more likely to have been patterned, high lustre, sateen cotton dresses with matching jackets, than skirts and jacket suits. The dresses beneath would have been straight sheath dresses either sleeveless, cap sleeved or sundress straps.
The matching dress and jacket was one of the most versatile outfits in a woman's wardrobe and it performed a similar function to the trouser suits of today. When a 1950s woman wondered what to wear, she often wore a dress and matching jacket. You can just see the top of the matching dress at the neckline if you enlarge the photo.
Bags varied in style from a traditional handbag to a simple clutch bag for events. In the very back of the right image above, you can see a child wearing a formal princess nanny style coat like this one here.

The small skull and Juliet caps that most women here wear are also representative of 1950s hat fashion history. In the 1950s women often wore hats not just to weddings, but also to any formal event such as a Sunday church service or a top job interview.
‡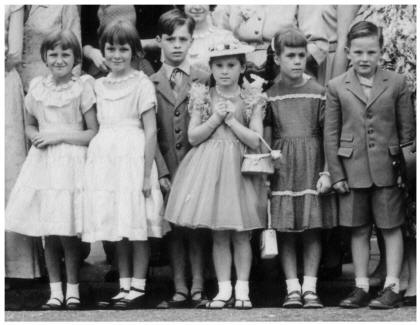 In fashion history we generally find that children's clothes do bear a similarity to adult dress. Sometimes they copy adult dress and lag behind, but sometimes they lead adult dress and we copy their styles.
These girls of 1958 wear full skirted dresses with gathers into a semi fitted bodice waist. The dresses are almost junior versions of women's clothes.
The centre girl is neatly accessorized. She carries her little handbag, wears a necklace and a hat. I wonder what she had in that bag.... perhaps Rowntree's Fruit Gums or Spangles and of course some confetti. I bet she is still passionate about 'it' bags today.
Her dress has some loose lace floral motifs applied to the top of the skirt. Three of the young girls are dressed in identical dresses, which makes me think they were possibly flower girls or the girls wanted to appear as if they were flower girls.
The children's dresses were most likely made from cotton or the fairly new polyamide fibre called bri-nylon, which was in its heyday in the 1950s for children's clothes.
A 1950s child could be put in a white or pastel nylon dress and brilliant white socks and a mother would know that however dirty the child became, the fabrics would wash and drip dry overnight. If she was lucky she would do that same washing in a twin tub washing machine.
Boys wore short trousers until they were about 11 or 12 when they went to secondary modern or grammar school.
Famous wedding - Paul Newman married Joanne Woodward.
Both Bill Gates and Madonna were born in 1958.
The first experiments first began in an attempt to develop the modem.
Paris fashion dictated shorter skirts above the knee.
Yves St. Laurent introduced the Trapeze line.
Last debutantes presented at Court in UK.
USA annual family income reaches $5000.
De Gaulle became President of France.
NASA Founded.
Stereo LP records first sold.
Berlin Airlift.
-------v6-------
These wedding photos and site text content must not be published/used elsewhere -
© Copyright www.fashion-era.com 2006
This page added 12 October 2006.
If you like this page then please share it with your friends
---
These wedding photos must not be published or used elsewhere - © Copyright www.fashion-era.com 2000-2010.
For more information about Wedding Photos click below:-
--Link--
Old photos can be useful when tracing family members and narrowing down search dates. These photo pages may help you put an era to your undated images. If you have old wedding photos please send them to me and if suitable I will add them to this pictorial section of social history.
OLD WEDDING PHOTOS
RE-ENACTMENT