1960s Photos of Royal Wedding Dresses
1960 Princess Margaret Wedding Pictures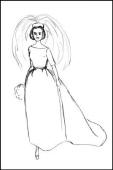 The decade started with a typical wedding dress silhouette like this picture left and the Vogue pattern right.
The skirt is less full than the 1950s crinoline wedding dresses, but still has volume.
The bodice is neat and fitted with straight sleeves and the train flows from the centre back waist.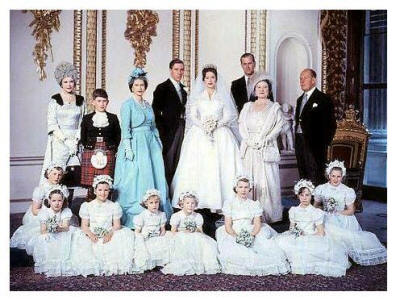 Standing next to H.R.H. Princess Margaret are the H.R.H. Duke of Edinburgh, the Queen Mother and Sir Ronald Armstrong Jones. H.R.H. Princess Margaret is wearing the famous Poltimore Tiara, a gift from Queen Mary. The princess had her hair arranged in a huge bun which formed a firm base for the large tiara. Incidentally, the tiara can be converted into a necklace. In 2006 this Poltimore Tiara was sold for over $1.5 million dollars.
Standing next to the bridegroom are Her Majesty the Queen, H.R.H. Prince Charles and Lady Anne Armstrong Jones (Mother of the Groom).
The eight bridesmaids were led by H.R.H. Princess Anne, who is seated below her grandmother.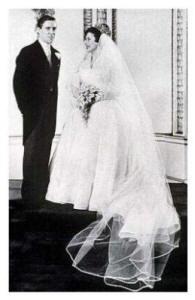 ‡‡
The silk wedding dress was designed by fashion designer Norman Hartnell who had also designed special gowns for her sister, including the Her Majesty The Queen's coronation gown and her wedding dress. Princess Margaret's wedding gown followed the general lines of fashionable wedding dresses of the early 1960s.
However her future husband Tony Armstrong Jones renowned for his keen eye for design, had suggested that with her petite frame and low height, she should choose a classic unfussy style that would help streamline her look. So there was no lavish embroidery, thick antique heirloom lace or heavy embellishment. Thus the bodice had a V neckline to elongate the line from face to waist and the sleeves were also long and slim. Thus Princess Margaret's wedding dress was very simple and uncluttered and the silk tulle veil was satin bound. All in all, her wedding dress looks very classy nearly 50 years on.
1960 Key Events Facts
Old photos can be useful when tracing family members and narrowing down search dates. These photo pages may help you put an era to your undated images. If you have dated photographs of interest that could be made into a C20th wedding page that will help others to date unknown genealogical photos I may be able to add them as a page.
§
You can read more about 1960's fashions in the 60s mini section.
You can read how to date an old photo in this section here.
Page added 3 October 2006
If you like this page then please share it with your friends
---
These wedding photos must not be published or used elsewhere - © Copyright www.fashion-era.com 2000-2010.
For more information about Wedding Photos click below:-
--Link--
Old photos can be useful when tracing family members and narrowing down search dates. These photo pages may help you put an era to your undated images. If you have old wedding photos please send them to me and if suitable I will add them to this pictorial section of social history.
OLD WEDDING PHOTOS
RE-ENACTMENT
Custom Search
About Fashion-Era.com
Fashion-Era.com looks at women's costume and fashion history and analyses the mood of an era. Changes in technology, leisure, work, cultural and moral values. Homelife and politics also contribute to lifestyle trends, which in turn influence the clothes we wear. These are the changes that make any era of society special in relation to the study of the costume of a period.

Fashion-Era.com can take no responsibility for any information on the site which may cause you error, loss or costs incurred from use of the information and links either directly or indirectly. This site is owned, designed, written and developed by author: Pauline Thomas and Guy Thomas. This site is designed to be viewed in 1024 X 768 or higher.
ALL RIGHTS RESERVED. Fashion-era.com reserves the right to add or delete information, graphics and links. Copyright © 2001-2014 on all content, text and images in Fashion-era.com. Images and text in this website may not be used on other websites.
Before you write to me for costume/fashion help or information please, please consult the extensive sitemap which lists all our pages. If you still cannot find the answer after searching the site, then before you email me, please consider if you are prepared to make a donation to the website.
Donations
Reader's donations help this site flourish, in particular donations encourage me to write more articles on fashion history as well as current trends. PayPal allows anyone with a credit card to donate easily and securely. You may donate any sum you feel appropriate.