1960s Photos of Real People in Wedding Fashions
1961 Wedding Dress Pictures
These photos were sent to me by Vera a visitor to this fashion-era website. They are real fashion history photos of a fashion conscious young woman.
The first wedding picture is of Vera entering the church. You can see the bridal party waiting for the wedding music signal to start so that they can walk down the church aisle. As was once the tradition for every bride, Vera wore her veil over her face. However, the tradition is slowly dying out, probably due to many weddings being held, not in a church, but in a registry office or country house hotel.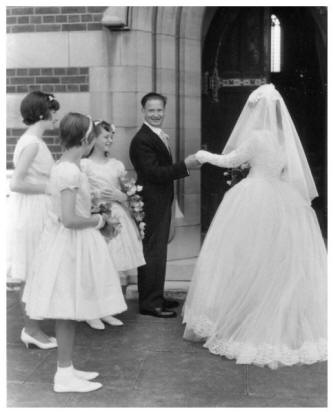 Notice the lovely pointed lace sleeves and the small waist on Vera.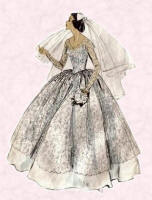 Vera's gown is a wonderful example of the bridal fashion for 1961.
The skirt silhouette has still has similar look to the style set by the wedding of Princess Grace of Monaco in 1956. The close fitting bodice and the full skirted gown are also in line with a fashion set by H.R.H. Princess Margaret at her 1960 wedding to photographer Anthony Armstrong Jones.
This 1957 pattern Vogue 9084 right is also similar in line to Vera's dress.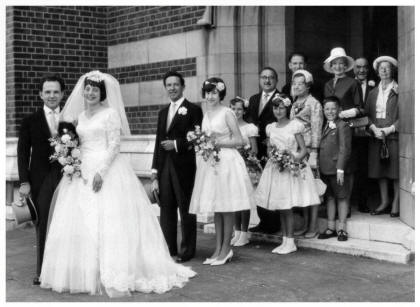 ‡‡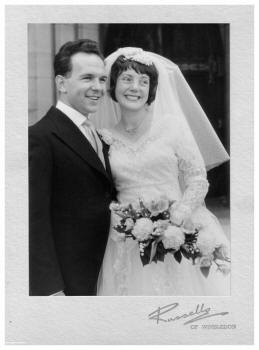 The wedding picture above shows Vera and her husband Peter leave the church, followed by the bridal party.
The bridesmaids wear ultra bright white ankle socks. It would take a miracle to get girls of that age to wear socks with a formal dress today. However in 1961, brilliant white nylon socks from America were all the rage. The brighter white the better. Vera told me that the bridesmaids, her nieces, wore lemon dresses and this seems to have been a popular colour choice from 1955 to the early 1960s.
About the dress and the wedding morning she wrote, 'I was awake very early of course ... my nieces, the bridesmaids arrived quite early too because the wedding was at 10am.
The dress I chose was from a current book showing many styles. My sister-in-law's mother made it free of charge, which must have saved a fortune because she was a professional dress maker. I went through her books and chose bits of different dresses which she put together ... you can see the result in the photographs.'
Vera also wrote to tell me, 'The day before my wedding saw me sitting in the hairdresser's chair having my hair seriously back-combed, then the whole of that night I laid on my stomach, head on hands in order to stop my hair becoming squashed. Even so in the morning it was considerably flatter than the previous evening.'
...(v4r)

After the wedding service Vera and her new husband Peter, held a wedding reception and Vera sent me a copy of the bill from 1961. It details the cost of the wedding breakfast, reception including wines and drinks at the Stork Club, London. The 1961 wedding reception in total cost £76.16.6d., as you can see from this itemised bill when you enlarge it.
She also wrote 'The final item here is the bill for our wedding breakfast. It wasn't anything special really ... cold meat and salad for the main course, but I can't remember the rest. I think we had to keep the costs down a bit. Overall the whole wedding cost around £300.'
As the sixties saw the rise of the Affluent Society, so formal wedding attire was back on the agenda. The wedding was once again developing event status after the austerity of hastily arranged war weddings.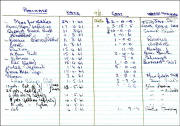 The men in the main bridal party all hired their formal morning dress suits from Moss Bros which would have been part of the £300 Vera mentions.
Vera also sent me an exercise book list with just a few of the rough costs of the wedding as they occurred. The list, see right, is full of deposits made and sundries for the gowns. It also details where items were purchased, such as the shoes from Manfields, a shoe company that has stood the test of time.
These wedding photos must not be published/used elsewhere -
© Copyright www.fashion-era.com 2006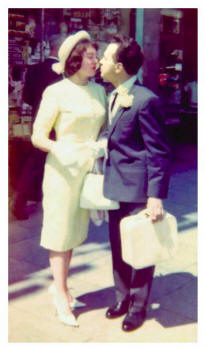 Vera looks perfection in this 'off on honeymoon' photo. She is so beautifully groomed in her lemon yellow dress and jacket suit.
Vera told me that in 1961 she found that £3 bought a good pair of winkle picker shoes with nice high heels and the going-away suit she wore cost £3 too.
Her new husband Peter looks delighted with his choice of bride and he carries her little vanity case full of personal beauty items to keep a wife looking well groomed.
Vanity cases such as this one, were a must-have of the 1960s. Inside they were often lined with moiré fabric and had little elasticated pockets so that women could store containers and jars safely.
Women used them for an overnight occasion, going dancing or, if they went on to night classes straight from work. In the 1960s in particular you would see girls entering Mecca and Top Rank ballrooms with their little vanity cases ready to help prepare the their hair of that of their friends. In a way vanity cases of the 1960s era acted in much the same way as a consumer uses an oversized 'it' bag today. The likely contents were different, yet had similar functions.
Although many women regularly had a weekly shampoo and set at the hairdressers, the vanity case probably contained all the requirements for a do it yourself hairdo. Contents such as hairbrush, mirror, a make up bag and hairspray by a brand like Supersoft, would have been essential for touch-ups. It may have contained a liquid hair lacquer bought in a pump action spray from a local hairdresser. It was common practice in the 1950s and 1960s to purchase a bottle of hair lacquer after a hair-set appointment so that a woman could brush up her hair herself.
To this list add rollers, hair grips, spare stockings and perhaps spare gloves in case they became soiled and the case was probably full.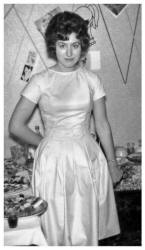 The last photos here are of Vera with Peter at a 14 June 1961 party to celebrate their friend Anna's 21st coming of age birthday party.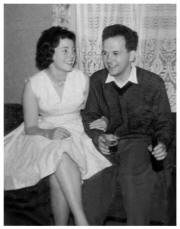 Both Vera and Anna's dresses are so typical of full skirted dresses of c1960. The mod look and Mary Quant was still to arrive.
Vera wrote that her fiend Anna had naturally thick wavy hair. When you see that bouffant hairstyle you know why Vera and other young women like Anna also needed that vanity case.
Look more closely at the enlarged picture and you'll notice the 60s finger buffet party food.
‡
If 1961 was a year of memorable history for Vera, then for the rest of the world it was one of notable history with both optimistic and pessimistic happenings.
Old photos can be useful when tracing family members and narrowing down search dates. These photo pages may help you put an era to your undated images. If you have dated photographs of interest that could be made into a C20th wedding page that will help others to date unknown genealogical photos I may be able to add them as a page.
My sincere thanks to Vera in Evesham for the chance to use such lovely old wedding photos.
Click thumbnails
You can read more about 1960's fashions in the 60s mini section.
You can read how to date an old photo in this section here.
-------v6-------
Page added 3 October 2006
If you like this page then please share it with your friends
---
These wedding photos must not be published or used elsewhere - © Copyright www.fashion-era.com 2000-2010.
For more information about Wedding Photos click below:-
--Link--
Old photos can be useful when tracing family members and narrowing down search dates. These photo pages may help you put an era to your undated images. If you have old wedding photos please send them to me and if suitable I will add them to this pictorial section of social history.
OLD WEDDING PHOTOS
RE-ENACTMENT
Custom Search
About Fashion-Era.com
Fashion-Era.com looks at women's costume and fashion history and analyses the mood of an era. Changes in technology, leisure, work, cultural and moral values. Homelife and politics also contribute to lifestyle trends, which in turn influence the clothes we wear. These are the changes that make any era of society special in relation to the study of the costume of a period.

Fashion-Era.com can take no responsibility for any information on the site which may cause you error, loss or costs incurred from use of the information and links either directly or indirectly. This site is owned, designed, written and developed by author: Pauline Thomas and Guy Thomas. This site is designed to be viewed in 1024 X 768 or higher.
ALL RIGHTS RESERVED. Fashion-era.com reserves the right to add or delete information, graphics and links. Copyright © 2001-2014 on all content, text and images in Fashion-era.com. Images and text in this website may not be used on other websites.
Before you write to me for costume/fashion help or information please, please consult the extensive sitemap which lists all our pages. If you still cannot find the answer after searching the site, then before you email me, please consider if you are prepared to make a donation to the website.
Donations
Reader's donations help this site flourish, in particular donations encourage me to write more articles on fashion history as well as current trends. PayPal allows anyone with a credit card to donate easily and securely. You may donate any sum you feel appropriate.