Late 1960s Wedding Photos of Real People
1969 Wedding - Mini Wedding Dress Photo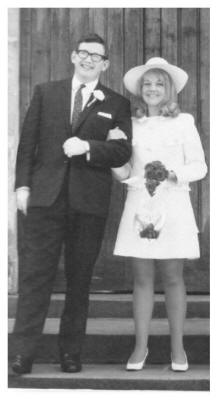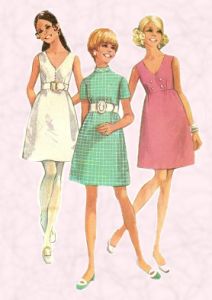 In 1967 Susan married Ray Sellars on her 21st birthday. She wore an expensive matching dress and jacket with a textured diamond pattern. The boxy jacket has stylish and fashionable 1960s wide-set collar.
Susan's wedding dress was A-line and mini length. Amazingly, mini-dresses got even shorter the following year.
By this time many brides, who had a traditional wedding gown, were also wearing large floppy hats instead of veils, as Susan did.
After a few years of marriage the couple moved to South Africa where many British professionals were employed as engineers and teachers in the 1970s.
‡
Dress patterns of the late 1960s era followed an A-line style, or were frequently empire-line, baby doll garments like these shown above right.
The wedding dress patterns of 1969 also followed empire styles, just as these sketches below show. Other styles were A-line flared dresses with very loosely cut princess line panels.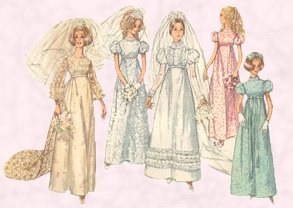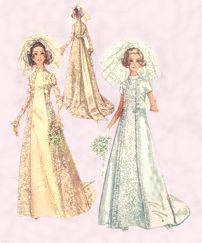 If you are trying to date an old wedding photograph it is useful to compare your photo with a dated image. The best places to look for such dated photos are magazines featuring celebrity weddings, or websites such as fashion-era!
Begin with a wide time-span for instance, pre 1990, or post 1945. With research you can soon narrow the date to a decade. The secret is to pay attention to detail, and examine each element of the picture in turn. Naturally start with the wedding dress itself, its hem length, sleeves and neckline. Then consider the hairstyles, the hats and each fashion element right down to the shoes.
You may get information from accessories such as jewellery, the bride's bouquet, decor, or even the men if they are wearing uniforms. For each element that you identify, compare your image with photos of a known date.
Dating Group Picture Tip: identify the most fashionable woman aged 16-25, she is likely to have the most up-to-date fashion, and thus give you the most accurate date.
Two Celebrity Weddings of the Year - 1969
Audrey Heburn married Andrea Dotti (He was a Psychologist).

Julie Andrews married Blake Edwards (He was a director of light entertainment).
...(v4r)
Other Memorable Events of 1969
On 20th July 1969 Neil Armstrong was the first man to step onto the moon and was followed by 'Buzz' Aldrin.
The Woodstock festival happens near Bethel in New York state.
Concorde the supersonic aeroplane made its first flight.
The Representation of the People Act in UK.
This extended the right to vote to all men and women over 18. In practice it meant a reduction in the voting age from the former 21yrs to the lower age of 18yrs. Not only could people vote at 18, but also they could marry without adult permission.
The 50 pence coin was introduced in UK.
Real progress in the computer world. Ritchie & Thompson's UNICS operating system developed into UNIX.
ARPANET the precursor to the internet. ARPANET was created in 1969 by the United States Defence Advanced Research Agency. It was the first wide area packet switching network and allowed universities and other research projects to transmit information. ARPA = Advanced Research Projects Agency Network.
These wedding photos must not be published/used elsewhere -
© Copyright www.fashion-era.com 2006
You can read more about 1960's fashions in the 60s mini section.
You can read how to date an old photo in this section here.
Page added 8 October 2006
If you like this page then please share it with your friends
---
These wedding photos must not be published or used elsewhere - © Copyright www.fashion-era.com 2000-2010.
For more information about Wedding Photos click below:-
--Link--
Old photos can be useful when tracing family members and narrowing down search dates. These photo pages may help you put an era to your undated images. If you have old wedding photos please send them to me and if suitable I will add them to this pictorial section of social history.
OLD WEDDING PHOTOS
RE-ENACTMENT