Mid 1980s Wedding Dresses
Photos of Real People at 1984 Wedding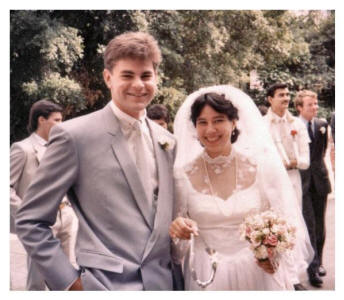 This wedding was of Gary and his bride. The wedding took place in Hong Kong. The bride's 1984 wedding dress had a sweetheart bodice and a semi sheer neckline filler with lace decoration, culminating in a small lace stand neckline. The bodice style is very similar to that of the wedding gown worn by Helen below.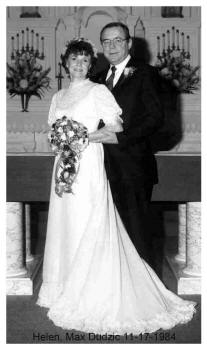 You may remember this bride from her wedding in 1953. Helen was widowed after 20 years and was single again for 10 years before marrying her second husband Max.
At her first wedding Helen wore a beautiful grey satin cocktail dress or what some might think of as a prom dress. 30 years later when she married again at her 1984 wedding in America, Helen opted for the full white wedding dress she did not have the first time around
She wrote to me, 'My second wedding dress was dark ivory with a lace bodice and featured a chapel length train. It was made of a very fine almost sheer cotton type material...'
The material Helen is probably describing might have been a cotton and Dacron (polyester) mixed fibre fabric which was very popular for wedding wear in the 1970s and early 1980s. The fabric can be made to appear almost sheer and can drape softly. The fabric mixture has the look of sheer cotton lawns, but is lighter in weight and does not crease as badly as pure muslin type fabrics can.
These 1980's wedding dress photos must not be published/used elsewhere -
© Copyright www.fashion-era.com 2006
»
The weddings on this page all show women wearing wedding dresses with high or stand collar necklines, although low necklines were also a look of the era. The lower neckline was getting a little tired since the mass popularity of the style after the wedding of Princess Diana in 1981.
The first three brides wear wedding dresses with a semi sheer lace upper bodice. Mandarin and high stand collars were a popular wedding neckline after the many square necklines of the 1970s.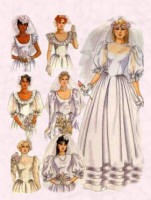 Decorum was back in fashion especially in bridal wear. 'V' Yokes with extra flounces of chiffon, sometimes of several layers, had been fashionable since the mid 1970s. 10 years on the yokes had become curved.
Another feature of 1980s wedding dresses was the big sleeves, which reached massive puffed fullness. Big to elbow puffed sleeves were made popular after the wedding of Princess Diana, although most of the brides (below) on this web page have chosen slimmer sleeves than those shown in this typical dress pattern right of 1984/5.
You can read about train styles here.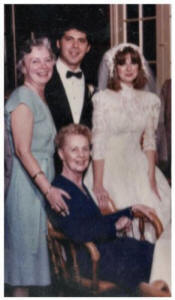 All of the 1980's wedding dresses on this page feature lace and are high necked. Another wedding of 1984, also in America, was sent to me by Shannon a relative of this bride called Jill.
Jill's dress looks a very typical wedding dress of 1984. The wedding dress style and hairstyle show influences from the TV serial Dynasty. The shoulders are widening and the bodice is rich with decorative detail. The sleeves are slightly puffed at the head and you can just make out some inner shoulder support for the extended sleeve head. Such sleeves often had a been supportive net.
Jill's hair is very typical of the tumbling hairstyles of the era and the contrasting short hair of the women sitting is also very representative of 1980s hair with a slight punk lifted effect.
You can read more about the 1980s shoulders in power dressing.
Ω
Paula Cody - 1984 Wedding Dress
Finally, Paula wears a high necked Edwardian style wedding gown made from antique silk and old lace from her mother's attic. The sleeves are similar in style to that of the the wedding dress in the photo above. The fussy features of frilling were very popular after the lead set by the New Romantics and the resultant fancy blouse fashions of the 1980s.
The little flower girls all wear yoked style dresses in poly cotton lawn.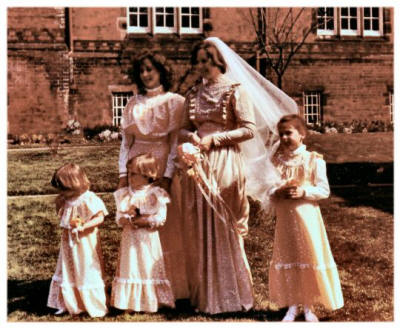 Paula's great grandfather was Samuel Franklin Cody of Farnborough was famous for flying old planes. I recall her father, who gave her away, was the spitting image of all the pictures you see of S.F. Cody. The silk used to make the wedding dress was actually a narrow bolt of old natural silk that might have once been from the same silk batch used in one of S. F. Cody's flying experiments. It must have been very high quality silk initially for his kite and flying experiments. The silk was still good to sew with some 70 years after Samuel Cody's death.
Elton John married Renate Blauel in 1984.
Other Memorable Events of 1984
The term 'cyberspace' is coined William Gibson's novel Neuromancer.
TV footage of the famine in Ethiopia shocks world as 6 million face brink of death.
Bob Geldof and Band Aid release 'Do They Know It's Christmas' for famine relief.
Apple Computer releases the Macintosh personal computer with now famous TV advert.
Reagan re-elected as USA president in landslide election
Portable compact disc player introduced and set to replace tapes
Chemical disaster in Bhopal, India, December 3rd.
Stonewashed jeans developed.
The AIDS virus recognised.
In 1949 the George Orwell book called 1984 was published. 1984 is a book about an imaginary future where every aspect of life including an individual's thoughts is under totalitarian state controls. The totalitarian state is known as Oceania with a dictator called Big Brother. The story revolves around the thought police surveillance that Big Brother operates within Oceania to stop people like the main character Winston from having their own thoughts and non dictated lives.
Use of close circuit camera today recording our every move, the monitoring of emails and the nanny state forbidding simple activities, is the modern parallel with the concept of 'Big Brother' watching over our every move.
Old photos can be useful when tracing family members and narrowing down search dates. These photo pages may help you put an era to your undated images.
These 1980's wedding dress photos must not be published/used elsewhere -
© Copyright www.fashion-era.com 2006
You can read more about 1980's fashions in the 80s power dresing section.
You can read how to date an old photo in this section here.
Page added 20 October 2006
If you like this page then please share it with your friends
---
These wedding photos must not be published or used elsewhere - © Copyright www.fashion-era.com 2000-2010.
For more information about Wedding Photos click below:-
Old photos can be useful when tracing family members and narrowing down search dates. These photo pages may help you put an era to your undated images. If you have old wedding photos please send them to me and if suitable I will add them to this pictorial section of social history.
OLD WEDDING PHOTOS
RE-ENACTMENT
Custom Search
About Fashion-Era.com
Fashion-Era.com looks at women's costume and fashion history and analyses the mood of an era. Changes in technology, leisure, work, cultural and moral values. Homelife and politics also contribute to lifestyle trends, which in turn influence the clothes we wear. These are the changes that make any era of society special in relation to the study of the costume of a period.

Fashion-Era.com can take no responsibility for any information on the site which may cause you error, loss or costs incurred from use of the information and links either directly or indirectly. This site is owned, designed, written and developed by author: Pauline Thomas and Guy Thomas. This site is designed to be viewed in 1024 X 768 or higher.
ALL RIGHTS RESERVED. Fashion-era.com reserves the right to add or delete information, graphics and links. Copyright © 2001-2014 on all content, text and images in Fashion-era.com. Images and text in this website may not be used on other websites.
Before you write to me for costume/fashion help or information please, please consult the extensive sitemap which lists all our pages. If you still cannot find the answer after searching the site, then before you email me, please consider if you are prepared to make a donation to the website.
Donations
Reader's donations help this site flourish, in particular donations encourage me to write more articles on fashion history as well as current trends. PayPal allows anyone with a credit card to donate easily and securely. You may donate any sum you feel appropriate.