Themed Tudor & Elizabethan Fancy Dress Wedding (Page1)
These wedding photos are of a themed fancy dress wedding of the daughter of an old friend of mine. Pat's daughter Ceri decided to have a themed fancy dress style wedding based very loosely around Tudor and Elizabethan times. These wedding photos show it was a huge success. Ceri picked a wide time span for her guests to choose a character and was relaxed if they veered off slightly into another era as Robin Hood and Maid Marian did!
In fact she even did this herself. Her dress was intended to be in true Elizabethan style, but she and the London Dress designer decided that her figure was better suited to a skirt style of a much later period and it pays homage to C18th panier skirts rather than farthingale skirts. The bodice does show Elizabethan influence in the styling, but the main thing is that it is a glorious silk dress that suited Ceri. See wedding photo below.
The Themed Costume Wedding Group Picture of Ceri and Simon in Castle Style Grounds.
All thumbnails enlarge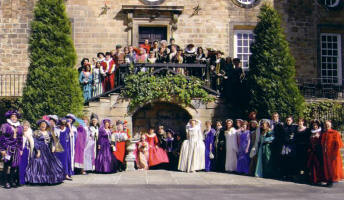 Unless all your friends are avid re-enactors if you choose to have a themed wedding, take a wide time span such as Ceri did, perhaps choose the Victorian era which has several interesting time frames offering a broad spectrum of styles.
Remember that your guests are bound to be able to find something then that suits their character. Being too dictatorial - everyone must dress only from 1 year, for example from 1883 might kill this type of idea unless your friends were ones you met at a Regency re-enactment or similar!
Wedding Photo of the Bride with her Mother
...(v4r)
Remember whilst it may be your dream day, the guest may not be quite so cooperative if you are too prescriptive. Flexibility and just that fact that your friends are prepared to make themselves look fairly daft for your benefit should make you realise that tolerance is required and if you can relax about it then everyone, including you will have great and very memorable day.
My friend Pat is dressed as Queen Elizabeth and I bet that even the BBC could not find a better stand in. She paid £25 to hire her dress! The bride's designer dress cost £4000. There are more wedding photos of Pat overleaf who truly was in character.
§
If you like this page then please share it with your friends
---
These wedding photos must not be published or used elsewhere - © Copyright www.fashion-era.com 2000-2010.
For more information about Wedding Photos click below:-
--Link--
Old photos can be useful when tracing family members and narrowing down search dates. These photo pages may help you put an era to your undated images. If you have old wedding photos please send them to me and if suitable I will add them to this pictorial section of social history.
OLD WEDDING PHOTOS
RE-ENACTMENT
Custom Search
About Fashion-Era.com
Fashion-Era.com looks at women's costume and fashion history and analyses the mood of an era. Changes in technology, leisure, work, cultural and moral values. Homelife and politics also contribute to lifestyle trends, which in turn influence the clothes we wear. These are the changes that make any era of society special in relation to the study of the costume of a period.

Fashion-Era.com can take no responsibility for any information on the site which may cause you error, loss or costs incurred from use of the information and links either directly or indirectly. This site is owned, designed, written and developed by author: Pauline Thomas and Guy Thomas. This site is designed to be viewed in 1024 X 768 or higher.
ALL RIGHTS RESERVED. Fashion-era.com reserves the right to add or delete information, graphics and links. Copyright © 2001-2014 on all content, text and images in Fashion-era.com. Images and text in this website may not be used on other websites.
Before you write to me for costume/fashion help or information please, please consult the extensive sitemap which lists all our pages. If you still cannot find the answer after searching the site, then before you email me, please consider if you are prepared to make a donation to the website.
Donations
Reader's donations help this site flourish, in particular donations encourage me to write more articles on fashion history as well as current trends. PayPal allows anyone with a credit card to donate easily and securely. You may donate any sum you feel appropriate.