Fashion History of The Aesthetic Dress Movement
In the mid-Victorian era 1870-1880 a group of talented artists, poets, writers and some actors were known as the Aesthetes. The painter and designer William Morris and architect Voysey designed houses together. They were fastidious about every detail from wallpaper and furniture, to window and fireplace proportions and choice of curtains.

William Morris designed textiles and embroideries and produced them through his company Morris and Co. Many of his original flowing organic designs are still used by Sanderson and Co. (Recently Sanderson's designs was bought out.) Today although the colouration is more suited to modern living.
Left - The designer craftsman artist and writer William Morris.
The Aesthetic movement which they led was a revulsion to what they saw as ugly machine made products of the Industrial Revolution and to certain artefacts seen at the Great Exhibition of 1851. This ranged from a distaste felt for the ugliness of false veneers to the crudeness of aniline dyes and the over working of Victorian imagery. It ignored the fact that those on low incomes wanted to be able to have cheap goods that imitated upper class elegance and which could only be made by cheap mass methods.
Aesthetic dress may also have been a revulsion to the over use of the sewing machine which allowed excessive embellishment of dresses simply because it could achieve over trimming more easily.
Aesthetes were often vegetarians. Those within the movement were often early animal welfare rights campaigners. They objected to the use of feathers on hats and the use of whole dead birds as a hat ornament. Modern vegetarianism has its roots in this movement.

The Aesthetes were influenced by the Pre-Raphaelite paintings of Dante Gabriel Rossetti and Edward Burne Jones who idealized medieval life in imaginary ethereal scenes. The women in the painting appeared to wear no corsetry and the freedom and naturalness of this was admired by the Aesthetes. To blend and suit these surroundings it was felt that some reform in style of dress was needed and among artistic people it was known as Aesthetic dress.
Pre-Raphaelite dress by Dante Gabriel Rossetti 1886.
In contrast the second type of reform in dress came from those who thought medical reasons were why women's clothing needed reform. Both types of clothing were available from Arthur Liberty's shop in London.
‡‡
Aesthetic dress was a protest against the contemporary fashion for bustles in various forms and restrictive corsets.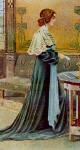 In fashion history terms only a very small section of the community ever wore it initially, but it did spread to middle class intellectuals, to artistic and literary people. Aesthetic dress was made of wool or Liberty silk or velvet fabrics.
Aesthetic fashions were cut looser and was unstructured in the style of medieval or Renaissance garments with larger sleeves. The dress appeared loose compared with figure hugging fashion garments of the era. Loose waited corset free women were considered to have loose morals and it did not help that many of the Aesthetic women were thought slightly Bohemian and beyond the normal social conventions and morals of the time.
Above Left - Dress from a 1905 Liberty catalogue.
The typical fashionable aesthetic lady would have red flowing hair often henna enhanced, a pale face, green eyes and wore heelless shoes. This model of aestheticism was frequently ridiculed in Punch cartoons where the wearer might be shown with her hair brushed into her eyes. The idea of red hair itself was ridiculed as red hair was thought of as social assassination.
Often the Aesthetic dresses were embellished with large sunflowers, daffodils or other organic forms worked in free form art embroidery, peasant decoration or smocking. The subtle colours were earthy and found in nature. Natural softer vegetable dyes produced half tints of indigo, salmon, sage-green, terracotta, amber gold. Most of all Aesthetics liked the colours to look old and faded, strange, antique or even vaguely exotic as peacock blue might be.
The power of the Aesthetic movement upon the textile trade of Britain was fundamental in getting manufacturers to change attitudes about how they used the new materials such as the initially crudely toned aniline dyes. Even so an image of bold colour was generally the norm in the 1890s.
...(v4r)
Arthur Lasenby Liberty managed to persuade British Manufacturers to revive some of the Persian dyeing techniques and to use oriental designs as well as introducing new aesthetic designs.
Arthur Liberty was a great enthusiast about everything oriental. He opened a shop in Regent Street in 1875 selling eastern imported soft silks and soft oriental fabrics that were quite different from the stiff fabrics of the day. Their charm was the play of light on the irregularity of the threads. Fabrics were often hand printed and some fabrics were made up by the dressmaking department of Liberty into aesthetic gowns.
Liberty styles such as the classic Greek gown 'Athene', Japanese kimonos and Kate Greenaway styled children's clothes, Indian pyjamas and embroidered coats from China and Japan all typify styles found at Libertys.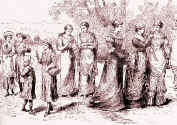 Right - Rational dress of the Victorian era - early forerunner garments to simpler later aesthetic dress styles.
The robes designed for a graceful appearance and healthy comfort were quite different from the tightly fitted, bustled and trained fashion dresses. They slowly filtered into main stream fashion because of the comfort factor. They were the forerunner of Tea Gowns adopted by gentle ladies everywhere. The Aesthetic movement was more or less dead by 1900 having been superseded by Art Nouveau which expressed similar ideals in the aesthetics of arts and crafts.

In Scotland Charles Rennie Mackintosh (1863-1928) designed furniture, textiles, and jewellery. He was influenced by the Aesthetics Arts and Crafts movement and later by Dutch Art Nouveau designers. Contemporary abstract art was one of the main influences in the art of Mackintosh.
Left - Chair designed by Charles Rennie Mackintosh.
Jewellery and furniture in the style of Mackintosh are still produced today.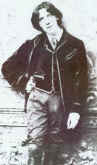 Oscar Wilde was linked with the Aesthetic movement. He liked to wear a velvet jacket, flowing tie, a wide-awake hat and in the early days of the movement often wore much ridiculed breeches. Wilde knew the value of speaking through appearance as he made satirical references to this in his plays and in a lecture on dress. He believed that flowing robes of classical lines and practical Turkish style trousers would be the better garb for both sexes.
Right - Oscar Wilde in male aesthetic dress.
If this art style appeals to you then consider this classic Art Nouveau Holiday House Accommodation in Scotland.
‡
If you like this page then please share it with your friends
---
--Link--
For more information about the Victorian Era
1837-1901 click on the title links below:-
Home TO TOP OF PAGE To Next Page