Ancient Greek Costume History
Grecian Ladies Head Dress
Read more factual details of Greek clothing on the Greek costume history page.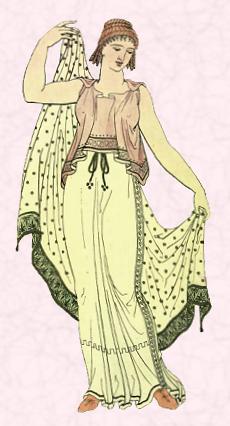 This page has images of typical draping arrangements of Grecian dress for women of ancient Greece.
The overall look for both Ancient Greek women and men is one of fabric drapery created by the chiton. This is a garment which for most occasions reached the feet. An image showing how to make a basic chiton is shown on the Greek costume page.
For drama productions, carnival floats, re-enactment or fancy dress purposes it is always essential to get the hair and feet as correct as practical.
Females of ancient Greece in the main did not wear footwear. The majority went barefoot, but some of the wealthier Greeks did wear light sandals. Such simple sandals were made from one piece of leather with thonging attached so that the sandal could be drawn up around the sole of the foot.
‡‡
Creating the correct hairstyle will make or break your Ancient Greek look. These days with the availability of faux hair extensions, braids and plaits it should be quite easy to create a hairstyle which is Grecian and similar to any of these shown below.
Women frequently tied their hair back with filet mesh, so for re-enactment purposes, this is something you may be able to do using old diamond fishnet hosiery or purpose bought hair accessories. These are fairly easy to obtain from stores such as Claire's Accessories, alternatively try ballet, equestrian and drama supply shops. As usual, EBay is also a good source of a wide variety of hair accessories.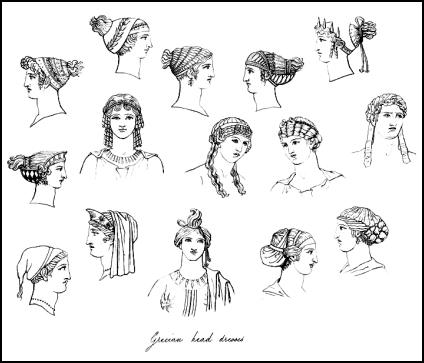 Above and below are typical Greek hairstyles and headdresses for women, the line drawings are taken from Hope's Book of Antiquities.
For fancy dress, you could also invent some golden tiara type pieces by pasting golden doilies onto clear stiff clear acetate and shaping it into a form which fits your head. You could also add dried or fresh bay leaves by sticking the leaves onto a former or band. Another tip spray the band with a gold or copper paint.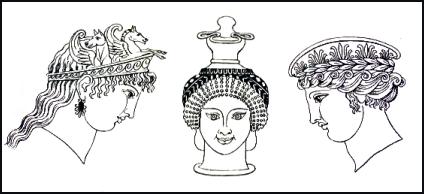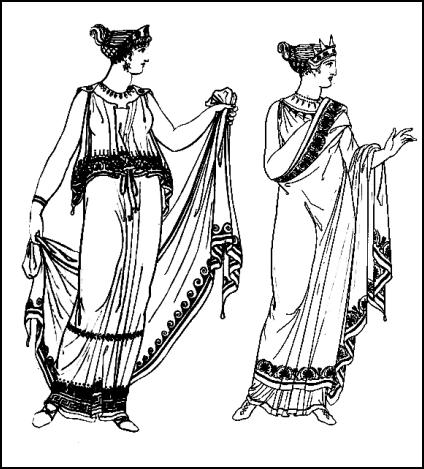 §
Above - one of the easiest arrangements of dress for a Grecian female, observe how it is enhanced by the use of border print fabric. See the simple Greek chiton pattern here.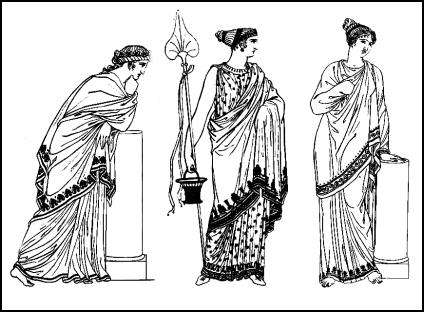 The Ancient Greeks used borders to create drapery interest, the knack is to wrapped around the body in an interesting fashion.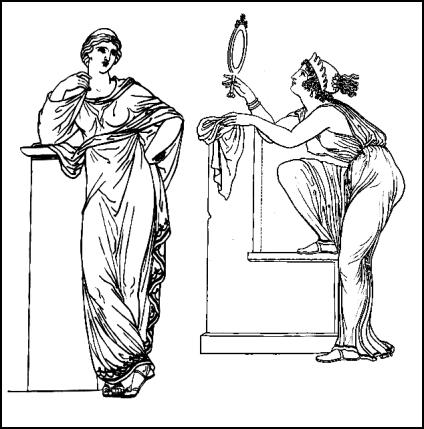 From the image above its clear the fabric can be fairly diaphanous, or if you prefer select a material which is totally opaque.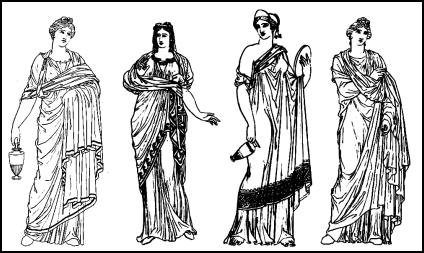 ‡
From all these images taken from Hope's Antiquities you can appreciate how your costume can expose as much upper body or as little as you wish. You can cover up with an extra cloak or bare a shoulder, You may even find a one shouldered dress in the shops that can be a modesty basis for a costume to which you can add more layers of fabric.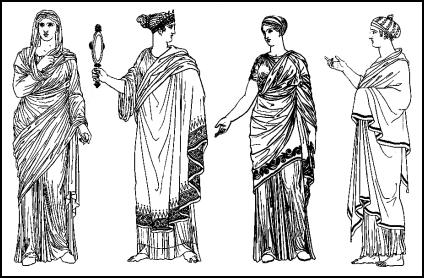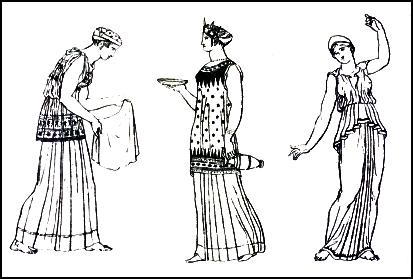 -------v6-------
Page added 20 October 2008 Ref: P701
If you like this page then please share it with your friends
---
--Link--
For more information about Ancient Costume
see these pages:
Also more detailed information on Ancient Egyptian Costume
Custom Search
About Fashion-Era.com
Fashion-Era.com looks at women's costume and fashion history and analyses the mood of an era. Changes in technology, leisure, work, cultural and moral values. Homelife and politics also contribute to lifestyle trends, which in turn influence the clothes we wear. These are the changes that make any era of society special in relation to the study of the costume of a period.

Fashion-Era.com can take no responsibility for any information on the site which may cause you error, loss or costs incurred from use of the information and links either directly or indirectly. This site is owned, designed, written and developed by author: Pauline Thomas and Guy Thomas. This site is designed to be viewed in 1024 X 768 or higher.
ALL RIGHTS RESERVED. Fashion-era.com reserves the right to add or delete information, graphics and links. Copyright © 2001-2014 on all content, text and images in Fashion-era.com. Images and text in this website may not be used on other websites.
Before you write to me for costume/fashion help or information please, please consult the extensive sitemap which lists all our pages. If you still cannot find the answer after searching the site, then before you email me, please consider if you are prepared to make a donation to the website.
Donations
Reader's donations help this site flourish, in particular donations encourage me to write more articles on fashion history as well as current trends. PayPal allows anyone with a credit card to donate easily and securely. You may donate any sum you feel appropriate.