Ancient Greek Costume History
Grecian Men's Dress & War Uniform
This page has images of typical Ancient Greek dress for men, and in particular of battle dress uniform.
In Ancient Greece, male everyday dress was very similar as shown in this image right of the Greek poet. Beside him is a trumpeter who would have called men to battle.
For drama productions, carnival floats, re-enactment or fancy dress purposes it is always essential to get the hair and feet as correct as practical.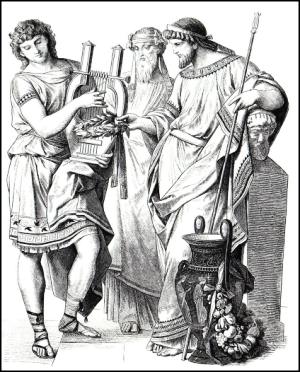 Greek sandals when worn, were a very simple affair of a piece of leather wrapped around the sole of the foot and thonging was used to lace the leather to get it to stay on the foot.
For men in particular the costume is fairly simple, the exception is the highly ornate Grecian helmet used as a status symbol and for battle dress.
Read more factual details of Greek clothing on the Greek costume history page. This page is an original 'Greek Battle Dress Costume History' article by Pauline Weston Thomas 2008 © - Copyright www.fashion-era.com
It was not just on the battle field that Greeks won battles, but also at the Olympic games. The Greek man shown left is an Olympic victor. In the centre is a priest of Dionysus, and to the right a King.
The vase shown in the image is a typically important reference source for many of the Greek costume images we have access to today.
The man and women below are rustics who wear a simple peasant dress called the chiton. This simple tunic would also have acted as an under foundation for the leather and metal armour of soldiers.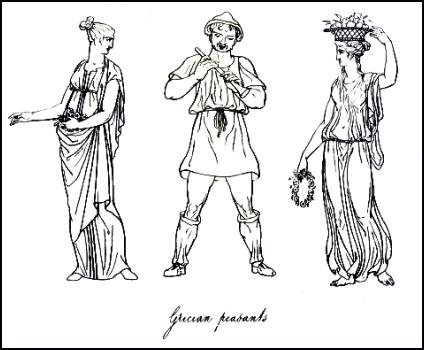 ‡‡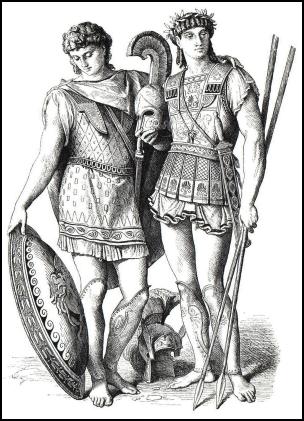 Helmets and shields, such as these shown in the (Braun and Schneider Munchener Bilderbogen magazine) image above, were an important part of the masculine Grecian style and were worn by soldiers during battle.
Metal and leather was used to shield prominent areas of the body that were most vulnerable to injury. Leg protection called greaves added more skin coverage.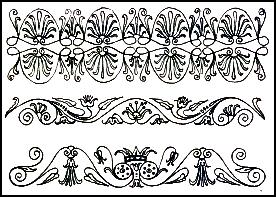 The helmet which almost totally encased the face, could deflect a spear and the movement of the plume tail decoration might distract the attacker visually from a precision aim. The other reason for varieties of plume decoration was so that soldiers could distinguish between friends and foes.
The metal battle dress itself was costly since it had to be crafted by skilled metalworkers. Leather greaves were worn on the legs and some of the decorative Greek scrolling pattern is visible in the image above.
The patterns on the soldier's uniforms are typical Greek patterns and show evidence of scroll work patterns such as these right. Note a similar pattern on the armour bodice and how it is intermixed with trellis and geometric designs.
If you are making costumes or fancy dress, featuring these decorative pattern elements would enhance the 'Greek' effect enormously. A stencil could easily reproduce such patterns and some sewing machines have similar embroidery patterns that could be used to great effect. This page is an original 'Greek Battle Dress Costume History' article by Pauline Weston Thomas 2008 © - Copyright www.fashion-era.com
§
Greek shields used for drama productions appear more realistic when they create the illusion of weight. To achieve this gravitas, either add metal weights the reverse side or better still add heave metal decoration to the front.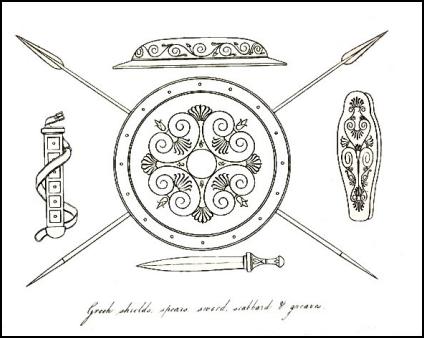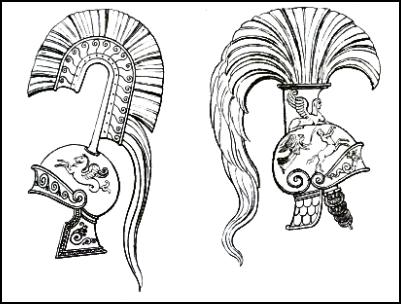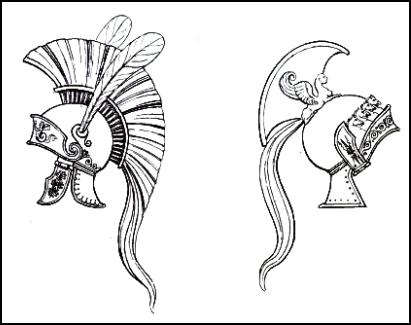 This selection of Grecian helmets shows how ornate and how high they were, this had the effect of making the soldiers appear taller and more aggressive. Horsehair crests made the helmet an impressive sight. The height of the helmet would also have helped absorb or deflect the sword blade attack. This page is an original 'Greek Battle Dress Costume History' article by Pauline Weston Thomas 2008 © - Copyright www.fashion-era.com
Greek male battle dress shares many similarities with Roman battle dress.
Page added 20 October 2008 Ref: P702
-------v6-------
If you like this page then please share it with your friends
---
--Link--
For more information about Ancient Costume
see these pages:
Also more detailed information on Ancient Egyptian Costume
Custom Search
About Fashion-Era.com
Fashion-Era.com looks at women's costume and fashion history and analyses the mood of an era. Changes in technology, leisure, work, cultural and moral values. Homelife and politics also contribute to lifestyle trends, which in turn influence the clothes we wear. These are the changes that make any era of society special in relation to the study of the costume of a period.

Fashion-Era.com can take no responsibility for any information on the site which may cause you error, loss or costs incurred from use of the information and links either directly or indirectly. This site is owned, designed, written and developed by author: Pauline Thomas and Guy Thomas. This site is designed to be viewed in 1024 X 768 or higher.
ALL RIGHTS RESERVED. Fashion-era.com reserves the right to add or delete information, graphics and links. Copyright © 2001-2014 on all content, text and images in Fashion-era.com. Images and text in this website may not be used on other websites.
Before you write to me for costume/fashion help or information please, please consult the extensive sitemap which lists all our pages. If you still cannot find the answer after searching the site, then before you email me, please consider if you are prepared to make a donation to the website.
Donations
Reader's donations help this site flourish, in particular donations encourage me to write more articles on fashion history as well as current trends. PayPal allows anyone with a credit card to donate easily and securely. You may donate any sum you feel appropriate.