Early Clothing Costume History 500-1066AD
Saxon, Frankish & Anglo-Saxon Clothing

After the fall of the Roman Empire Britain went into the period known as the Dark Ages and the next area of costume is of the Saxon and Frankish fashion era 500 to 599 AD.
This page is one of illustrations only and further below these small illustrations are shown a larger size.

These images above represent the period after that - the Anglo Saxon era about 700 AD to 1066.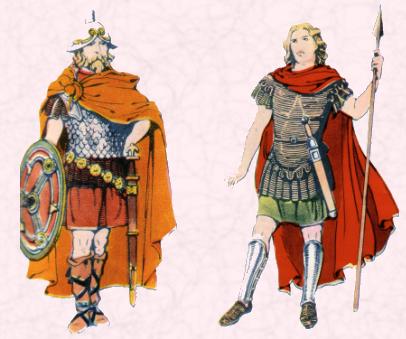 Above left - A British Chief. Above right - A British Soldier
‡‡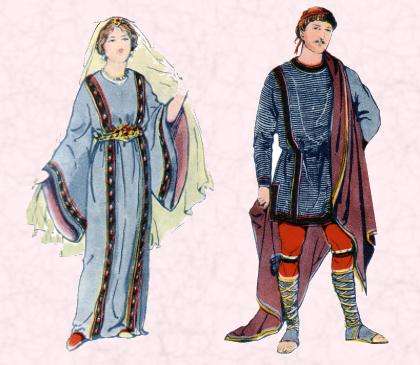 Above left - A Frankish Lady - Above right - A Frankish Nobleman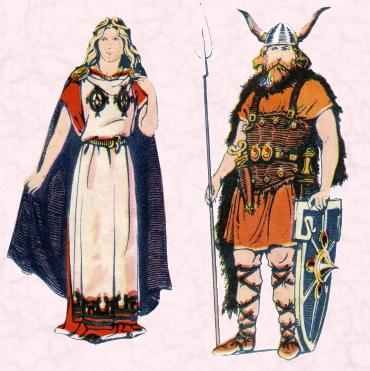 Above left - A Saxon Chief - Above right - A Saxon Lady

Above left - An Anglo-Saxon King - Above right - An Anglo-Saxon Queen
§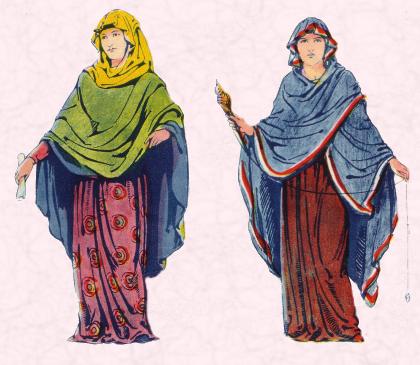 Above left - An Anglo-Saxon Lady - Above right - An Anglo-Saxon Woman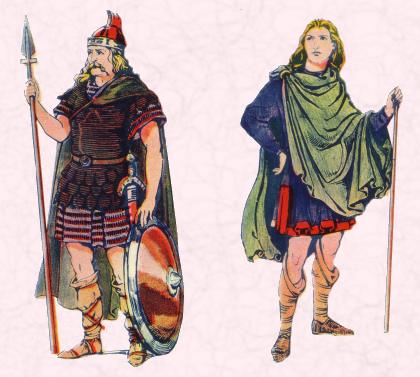 An Anglo-Saxon Warrior and an Anglo-Saxon Man
Read more about English Costume after 1066.
-------v6-------
Page added 24 October 2008 Ref: P.705
If you like this page then please share it with your friends
---
--Link--
For more information about Ancient Costume
see these pages:
Also more detailed information on Ancient Egyptian Costume
Custom Search
About Fashion-Era.com
Fashion-Era.com looks at women's costume and fashion history and analyses the mood of an era. Changes in technology, leisure, work, cultural and moral values. Homelife and politics also contribute to lifestyle trends, which in turn influence the clothes we wear. These are the changes that make any era of society special in relation to the study of the costume of a period.

Fashion-Era.com can take no responsibility for any information on the site which may cause you error, loss or costs incurred from use of the information and links either directly or indirectly. This site is owned, designed, written and developed by author: Pauline Thomas and Guy Thomas. This site is designed to be viewed in 1024 X 768 or higher.
ALL RIGHTS RESERVED. Fashion-era.com reserves the right to add or delete information, graphics and links. Copyright © 2001-2014 on all content, text and images in Fashion-era.com. Images and text in this website may not be used on other websites.
Before you write to me for costume/fashion help or information please, please consult the extensive sitemap which lists all our pages. If you still cannot find the answer after searching the site, then before you email me, please consider if you are prepared to make a donation to the website.
Donations
Reader's donations help this site flourish, in particular donations encourage me to write more articles on fashion history as well as current trends. PayPal allows anyone with a credit card to donate easily and securely. You may donate any sum you feel appropriate.