Ancient Costume - Egyptian Dress Costume Plates
Part 5 - Ornamental Patterns and Egyptian Collars
Ancient Egyptian Decoration
Styles of Egyptian robe with free pattern guides were discussed on the detailed pages of Egyptian Costumes. However, decorative elements were mostly confined to the removable collars on garments and other removable accessories such as headwear, girdles (striking wrap sash belts) and deep arm cuffs. But if you need a wearable costume you have to have basic body covering too, so check out my other Egyptian pages.
To complete your Egyptian costume add a collar, typical jewellery and eye make up. To be fair there are plenty of King Tut collars available at fancy dress party costume outlets online. But part of the fun of going to an Egyptian fancy dress event is making your own Egyptian inspired costume and most importantly achieving something that fits you proportion wise rather than being made as one size fits all. Think how much more hygienic your own costume would be too!
Decorative Elements in the Land of the Pharaohs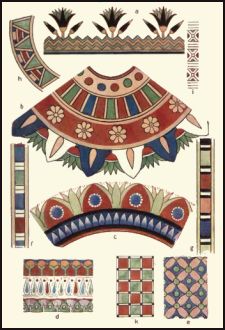 Once you have a base under garment, the next stage of making an ancient Egyptian tunic style costume, is making the collar. The Egyptian collar was highly ornamental.
The colours in the decorative ornament plate used reference points found at the British Museum. These colours and patterns are similar to those found in dyes used in wall paintings illustrating ancient Egyptian beads, wool and fabrics.
Decoration in Egyptian dress was chiefly confined to the collar. But if you just want to add a few Egyptian touches consider wearing simple decorative armband amulets.
The patterns used were made with either beads, jewels, embroidery or painted leather pieces. But they also used coloured glass so don't be afraid to incorporate fake gems from broken costume jewellery.
Patterns were also stamped and painted directly onto the materials. Favourite Egyptian motifs were the Lotus flower. Look out for craft stamps or stencils, from shopping channels such as QVC or make your own simple potato print stamps.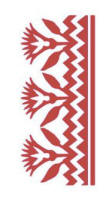 This simple paper stencil I made right was made using the computer. It is based on the motif at the top of the decorative ornament plate left.
Click the stencil for an enlargement which you can print off on A4 paper. Cut the stencil silhouette carefully with a sharp craft knife.
Fast Fancy Dress Tip Timesaver - If you want fast patterned fabric use such a stencil as a the basis for a pattern foundation of colour. Add extra complex detail with a paintbrush of fabric paint felt pens.
‡‡
Free Egyptian Collar Pattern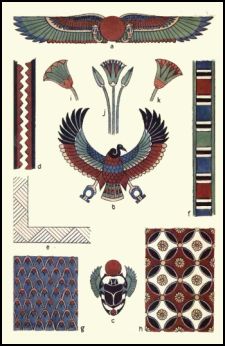 The Decorative ornament plate shown left has typical Egyptian style patterns. The vulture, scarab beetle, fanned wings and lotus flowers are seen as often as the cobra featured on the coffin lower down the page.

The pattern shape for this collar shown right is very simple and is based on removing about 1/5th of a circle and using the larger portion.
Female adult collar sizes are frequently between 14 and 16 inches, but make the hole in the centre of your collar pattern to an approximation of your neck size.
Fancy Dress Tip - To make an easy circle attach a pencil, biro or piece of blackboard chalk to some string and draw your outer circle whilst holding the string taut.
Fast Fancy Egyptian Dress Tip - Use Vilene iron-on or similar interfacing on the back of your fabric to give your collar some stiffness and stability.
Fast Fancy Dress Egyptian Costume Tip - Dispense with fabric altogether and use Vilene, Pellon pelmet interfacing or a similar commercial product for the collar. This will be firm, but softer to wear than cardboard.

Paint, bond coloured fabric with Bondaweb, or stick cut coloured paper onto the collar to achieve a base colour. Add pieces of painted leather, metallic sweet wrappers, beads, gems, braids or scrap fabric to ornament the collar base. Consider using products like Vilene Bondaweb or easy fusible products to speed your task and aid creativity in other ways. Bondaweb can also be used to apply textured wools and braids. Trim the collar at neck and edges by gluing a suitable gold braid or other trim.
Need more inspiration - Typical Egyptian decoration patterns could follow this pattern left and part of King Tutankhamen's pectoral decoration.
...(v4r)
If you have lots of time - perhaps a weekend or even better a week - then make a *Papier-Mâché collar, using one of the many recipes already available on the internet. With care and attention plus a well researched recipe, you can achieve an almost porcelain like finish to the end product.
Create areas of surface interest with the Papier-Mâché by building and moulding gem like texture using a teaspoon and melon ball tool. Nuts, washers, plastic water bottle tops, lentils, pasta stuck onto such a collar all add fascinating richness when sprayed gold.
WARNING - Avoid adding metal bits with sharp edges, or grooves such as beer tops.

When the Papier-Mâché collar is thoroughly dry, quick spray with gold paint spray. Work outside and wear a mask when using spray paint. Next paint collar sections with coloured metallic, pearlized paints and other craft materials. Varnish the collar to make it shine with brilliance.
Tip - If you have no varnish, use egg white or egg yolk for a golden glow and let it dry hard. If you have some body dust you could add that to the egg mix for a shimmering effect, but avoid getting a fairydust or angelic look. It really would be worthwhile investing in some varnish and a small tin of lustrous gold enamel paint.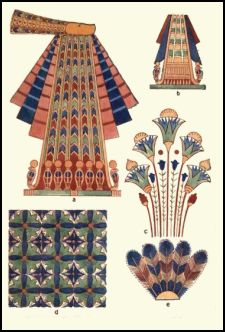 The Decorative ornament plate shown left has typical Egyptian style patterns found on male sash girdles. See the other pattern plate further up.
Remember winged and fanned decoration was a universal feature of Egyptian pattern on dress. Typical characteristic Egyptian elements included the hawk, the beetle, the lotus flower and geometric patterns that were cleverly entwined.
In many ways these all over intertwined repeat patterns are similar to motifs found in other civilisations including Aztec and Celtic forms.
The patterns were also used to make beaded networks worn over garments. This meant pattern could be transferred easily to a freshly laundered plain garment.
Above right we have one of the coffin layers of the boy King Tutankhamun. Note that rich intense pattern that could be incorporated into your own collar designs.
Glass and enamel were favourite techniques for decoration in the Land of the Pharaohs. The famous vulture collar laid on the mummy chest of Tutankhamun was primarily inlaid with blue and coral red coloured glass. The glass was possibly of high value as a product in itself in Egyptian eyes and was inlaid into the same solid gold as any other item encrusted with true precious gems. The birth of costume jewellery may have occurred in Egypt.
If you live in the United Kingdom try to make time to book ahead for reserved tickets at the Egyptian Exhibition at the Bubble Exhibition Space at the O2 in Greenwich London. The full address is O2 Millennium Way, Greenwich, London SE10 where you have the opportunity to see the spectacular exhibition of Tutankhamun and the Golden Age of the Pharaohs.
The UK Tutankhamun exhibition runs from Nov 15 2007 to August 30 2008. If you are travelling from abroad be warned that Greenwich is on the perimeter of London and in real terms that means allowing about an hour from Oxford Circus in the West End of London. Ticket and ticket types vary, but the cheapest ticket Monday to Thursday is £15 for an adult rising to £20, but with family ticket and group concessions. An audio tour, narrated by Omar Sharif is up to £4 more at the door. Find out more by visiting the kingtut.org website.
This travelling exhibition will run in UK until August 31 2008 and then it moves to the USA and to the Dallas Museum of Art for October 2008. The Texas USA based Tutankhamun and the Golden Age of the Pharaohs Exhibition will open at the Dallas Museum of Art on October 3rd, 2008.
-------v6-------
Page Added 14 Nov 2007. Ref:-P662
You have been reading an original costume history article by Pauline Weston Thomas at www.fashion-era.com ©
Types of engravings, lithographs pochoirs and laid paper are here.
If you like this page then please share it with your friends
---
--Link--
For more information about the Egyptians
see these pages:
Custom Search
About Fashion-Era.com
Fashion-Era.com looks at women's costume and fashion history and analyses the mood of an era. Changes in technology, leisure, work, cultural and moral values. Homelife and politics also contribute to lifestyle trends, which in turn influence the clothes we wear. These are the changes that make any era of society special in relation to the study of the costume of a period.

Fashion-Era.com can take no responsibility for any information on the site which may cause you error, loss or costs incurred from use of the information and links either directly or indirectly. This site is owned, designed, written and developed by author: Pauline Thomas and Guy Thomas. This site is designed to be viewed in 1024 X 768 or higher.
ALL RIGHTS RESERVED. Fashion-era.com reserves the right to add or delete information, graphics and links. Copyright © 2001-2014 on all content, text and images in Fashion-era.com. Images and text in this website may not be used on other websites.
Before you write to me for costume/fashion help or information please, please consult the extensive sitemap which lists all our pages. If you still cannot find the answer after searching the site, then before you email me, please consider if you are prepared to make a donation to the website.
Donations
Reader's donations help this site flourish, in particular donations encourage me to write more articles on fashion history as well as current trends. PayPal allows anyone with a credit card to donate easily and securely. You may donate any sum you feel appropriate.