Months in the Calendar - February, Birthstone Amethyst
The piece below was designed by Princess Beatrice, daughter of Queen Victoria and is from an 1881 publication.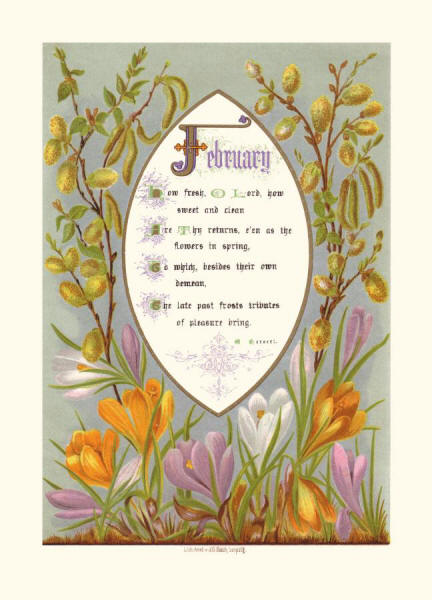 Click thumbnails
Today you can copy this idea using well crafted calligraphy skills, or simply use a decorative font from the computer. Add your own border using wrapping paper, decoupage or other sketching skills.
»
February
Februarius is named after Februa a purification festival.
Astrological signs
Aquarius January 21–February 21 Pisces February 22–March 21
February's Birthstone is Amethyst
A good quality amethyst will be a rich deep purple gem, but paler tones of lilacs to rose amethysts are available to suit many tastes and price ranges. The amethyst birthstone is very hard wearing and this makes it a good jewellery buy.
The amethyst is the stone of Saint Valentine, and was once the stone of Royals as purple was the colour of power. This is the perfect gemstone to give as a jewellery gift on Saint Valentine's Day, which is celebrated on February 14th each year.
Derivation of amethyst - Latin amethystos (sober). The stone is believed to protect wearers from getting too intoxicated with alcohol.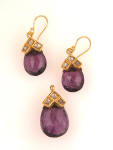 These diamond and amethyst earrings with matching pendant are by Kiran Nirankari, a very talented and unique jewellery designer. Born in India and having lived mostly in the USA, she has very skilfully blended the ancient jewellery techniques of India.
These techniques include meena (enamelling), kundan (gold foil used in setting Polkis) and polkis (flat real diamonds) with the western designs. She uses coloured stones such as topaz, peridots, citrines and amythest. On these she skilfully designs pieces of jewellery in the kundan style. These artistically designed stones are then made into very attractive western style jewellery.
She has also designed jewellery using the ancient style of Thewa. This uses 24k gold on coloured glass to blend with contemporary designs. Her special feature is that she makes one-of-a-kind pieces, always making newer designs. You can see and appreciate her designs at her website www.kirann.com
Birthstones of the Calendar
The name of many calendar months have Latin derivations. Birthstones were initially linked to the Zodiac, but now are linked to calendar months. Birthstone jewellery has always been thought to have magical powers within them with such powers passed to the wearer of the gem. This idea has been revived by new age followers who extol the virtues of natural quartz crystals. They emphasise the importance of good harmony, energy, chi, balance, and healing. In addition the stones are often very pretty! Talismanic Jewellery has gained new importance since the millennium.
Individuals often feel special wearing jewellery corresponding to their own birthstones. Many people develop collections based around a fondness for their own particular birthstone. Some months of the year have two or three stones as birthstones. New gems and semi precious stones have become more popular. Cultures have merged and mixed so much in the past 100 years, that original lists of birthstones popular in any one country have tended to merge so that several stones are often featured in lists.
Page Added 26 November 2005
See Topics Below for More Ideas on Christmas Traditions, Customs, and Recipes
Calendar Months

Seasonal Calendar Extras

Seasonal Humour
Custom Search
About Fashion-Era.com
Fashion-Era.com looks at women's costume and fashion history and analyses the mood of an era. Changes in technology, leisure, work, cultural and moral values. Homelife and politics also contribute to lifestyle trends, which in turn influence the clothes we wear. These are the changes that make any era of society special in relation to the study of the costume of a period.

Fashion-Era.com can take no responsibility for any information on the site which may cause you error, loss or costs incurred from use of the information and links either directly or indirectly. This site is owned, designed, written and developed by author: Pauline Thomas and Guy Thomas. This site is designed to be viewed in 1024 X 768 or higher.
ALL RIGHTS RESERVED. Fashion-era.com reserves the right to add or delete information, graphics and links. Copyright © 2001-2014 on all content, text and images in Fashion-era.com. Images and text in this website may not be used on other websites.
Before you write to me for costume/fashion help or information please, please consult the extensive sitemap which lists all our pages. If you still cannot find the answer after searching the site, then before you email me, please consider if you are prepared to make a donation to the website.
Donations
Reader's donations help this site flourish, in particular donations encourage me to write more articles on fashion history as well as current trends. PayPal allows anyone with a credit card to donate easily and securely. You may donate any sum you feel appropriate.