Costume Sources of Information for Fashion History
Dress has so fascinated society that a number of records are available to us such as this fashion plate from La Mode Illustrée. These records are either visual representation or written commentary.
On this page are the possible starting points for your research. Combine this with a look at the section on paintings and the bibliography.
This fashion plate enlarges. See more plates in the new section.
Museum collections of major national museums and private institutions show actual costume and accessories. In the UK the Victoria and Albert Museum in Kensington, London is one of the prime sources of costume. The other great costume collection is held at the Costume Gallery in Bath, in the West of England. Both venues house superb collections of costume.
In Bath, the Costume Gallery provides individual audio controls with up to 6 language translations. The costume displayed is only one quarter of the actual costume available and it is all used in regularly rotated displays.
Additionally the Research Centre at Bath connected to Bath Museum Educational services has wonderful resource material such as original C19th accessories as well as published material such as La Belle Assemblee , Moniteur de la Mode, Englishwoman's Domestic Magazine, Le Petit Courrier des Dames, Le Follet, Godeys, The Queen and Chic Parisian. In addition they hold many fashion catalogues of the C20th.
Prior to the medieval era those seriously researching costume details, need to resort to written sources. These are often difficult to use and are usually in Latin or medieval English. For example many royal household accounts have never been translated into modern day English. They do not always translate well as they were often written by monks and other educated clergy. Sometimes the references to clothing are lost in the translation.
Until the 16th century most evidence is taken from the following:-
| | | | |
| --- | --- | --- | --- |
| Metalwork | Stonework | Sculpture | Mosaics |
| Woodcarvings | Sketches | Ceramics | Paintings |
| Embroideries | Tombs | Weavings | Stumpwork |
| Body Jewellery | Cave Drawings | Brass Rubbings | Cave Drawings |
Few artefacts before 1600 AD have survived. Those that have, were usually found in extreme environmental conditions where either intense cold or dryness preserved articles. Such items have been found in freezing areas of Russia or the contrasting dry sands of Egypt. Sometime jewellery or hard body equipment such as ivory beads and armoury survive, whilst the surrounding fabric may have disintegrated.
‡‡
From the 16th century costume plates appeared.
It is important to understand that costume plates represent fashion as it was worn.
In contrast fashion plates like pre 20th century fashion dolls promote and publicize possible future fashions.
It is still possible to collect good costume and fashion plates in antique shops and at auction sites and is discussed in my vintage section. Prices vary and are dependant on the quality and rare value of the print. As an example I paid £12.50 in 2002 for the page of 8 illustrated mantles shown on the page Victorian Pictures of Mantelets.
However the plate from La Mode Illustrée shown above which is almost A3 size compared to the A4 Mantelets above, cost me £15 fourteen years earlier.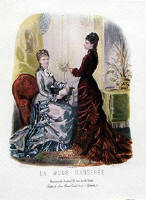 One of the easiest ways to see fashion plates is by visiting a museum site or commercial site that sells them on the internet.
For the collector who is interested in a particular era and maybe who just wants to enliven their decor with a set of fashion plates then there are great reproductions of fashion plates on the market. Learn how to spot difference between modern reprint fashion plates at my page here.
Some of the most attractive examples of reproduction print fashion plates I have seen are for sale at alldressforms.com and some examples are shown below.
Late Victorian Dress
The two late Victorian pictures above are of fashion plate reproductions of the originals found in La Mode Illustrée and sold by alldressforms.com in their fashion Art section.
Fashion Dolls date from as early as the 14th century. They were widely used in the 17th and 18th centuries as a primary means for supplying the last word in:-
Fashion
Hairstyles
Millinery
In the UK visit the National Gallery, Country Houses and Galleries. Paintings.
...(v4r)
Visual representations of dress need to be cross-checked with other information. The problem of artistic license has always existed and even the photographs available after Kodak's camera invention of 1888, are not always a true record.
Essays
Satires
Biographies
Contemporary Novels
Memoirs
Historical Works
Philosophy Books
Etiquette Manuals
Personal Conduct Manuals
Records
Newspapers
Magazines
Posters
Event Programmes
Accounts of Travel and Exploration
Religious Manuals (often a very rich source of information on dress)
Diaries e.g. those of Queen Victoria, Jane Austen, Samuel Pepys.
Where legend and fact have blended all can play a part in validating authenticity of representation.
Exhibition Catalogues such as those from the Great Exhibition of 1851 give facts that are frequently illuminating. Auction houses produce catalogues and Sotheby's and Christies have catalogues with detailed information of sales collections such as Wallis Simpson's jewellery and the sale of the clothes of the late Princess of Wales, Diana.
There are collections of trade cards and advertisements in national and local collections. Companies, especially long established ones, often have a written history or records that they will allow the public to access. Old catalogues of shops such as that of Sears or Harrods or Selfridges are a rich source of information.
In addition cartoons, especially those by Punch magazine, can encapsulate fashion or current ideals of modesty or immodesty. Similarly moral writers of today still describe fashion as right or wrong just as writers of 1000 years ago did.
Public libraries, museums, galleries and private collections may contain family records with account books and local business archives. Newspapers both local and national have always carried articles on fashion and the materials used in fashionable dress. Centenary celebrations and the like sometimes reveal huge collections of photographs that someone found in an attic.
By its very nature this information is constantly changing, but some of my favourite museums of costume are below. For a full list of museums in UK with costume go here.
There are also other collections in the UK too many to mention, but some of my favourites that I have personally visited and always enjoy are:-
The Costume Collection in central Nottingham.
The Potteries Museum and Art Gallery in Hanley, Stoke on Trent where you can compare ceramics of the era.
The Museum Of Childhood in Bethnal Green (Wedding Dresses/Doll's Houses)
Platt Hall in Manchester
Christchurch (near Bournemouth) Costume Museum
The Museum Of Welsh Life at St. Fagans - Folk Museum just outside Cardiff
Fashion-Era.com can take no responsibility for any loss you may incur as a result of using the information here.
Home TO TOP OF PAGE To Next Page
If you like this page then please share it with your friends
---
For more information about Resources click on the titles below:-
--Link--
Custom Search
About Fashion-Era.com
Fashion-Era.com looks at women's costume and fashion history and analyses the mood of an era. Changes in technology, leisure, work, cultural and moral values. Homelife and politics also contribute to lifestyle trends, which in turn influence the clothes we wear. These are the changes that make any era of society special in relation to the study of the costume of a period.

Fashion-Era.com can take no responsibility for any information on the site which may cause you error, loss or costs incurred from use of the information and links either directly or indirectly. This site is owned, designed, written and developed by author: Pauline Thomas and Guy Thomas. This site is designed to be viewed in 1024 X 768 or higher.
ALL RIGHTS RESERVED. Fashion-era.com reserves the right to add or delete information, graphics and links. Copyright © 2001-2014 on all content, text and images in Fashion-era.com. Images and text in this website may not be used on other websites.
Before you write to me for costume/fashion help or information please, please consult the extensive sitemap which lists all our pages. If you still cannot find the answer after searching the site, then before you email me, please consider if you are prepared to make a donation to the website.
Donations
Reader's donations help this site flourish, in particular donations encourage me to write more articles on fashion history as well as current trends. PayPal allows anyone with a credit card to donate easily and securely. You may donate any sum you feel appropriate.