Denim Jeans - Fashion History
In fashion history, jeans and denim history continues to baffle us. No one truly knows the perfect answer to where jeans began. As so often happens fashions often emerge together in various parts of the world and are the result of the sudden availability of a new fabric, cloth, dye or technique.
But we do know that the phrase denim jeans is thought to derive from several sources. The majority of source books suggest that denim derives from the English translation of the South of France French phrase 'Serge de Nīmes'. Denim fashion history is thus associated with Serge de Nīmes.
It may well be that the fabric which was made in France also had a version made locally in England, and was called by the same name of denim, in the same way that Cheddar cheese is called cheddar all over the world. The Serge de Nīmes was originally a wool silk mix, twill weave. Certainly by the 19th century in England, denim had a white warp and a navy woof (weft). Denim was considered a hard wearing sturdy fabric, ideal for heavy labouring.
It is also thought the name ' jeans ' comes from 'Genoese' the name for Italian sailors of Genoa who when at sea dressed in blue fustian fabric, composed of a cotton and wool or linen blend. Genoese fabric was imported into Britain as far back as the 16th century.
Thomas Hardy used the word fustian to describe basic clothes of a skilled countryman in 'The Mayor Of Casterbridge'. He mentions a fustian waistcoat, breeches and a jacket, all the type of garments often made up in jeans material today. In Pickwick Papers, fustian is described by Dickens as 'common fustian' which firmly puts it in the everyday category.
In the 19th century, American weavers made hard wearing cotton duck, denim and jeans fabrics to satisfy a home market. At some time, some manufacturers must have replaced the yarns with the locally produced, more readily available cotton making the fabrics all cotton.
‡‡
Jeans history would be nothing without Levi Strauss. Levi Strauss is credited with inventing jeans. Levi Strauss emigrated with his family to New York in 1847. His family sold dry goods such as canvas tenting and Manchester drapery goods. He moved to San Francisco in the early 1850s because he thought the same dry goods business would be brisk, because of the California gold rush.
About 20 years later, a solvent Levi Strauss and a Nevada tailor joined forces to patent an idea the tailor had for putting rivets on stress points of workman's waist high overalls, commonly known as jeans. Levi Strauss chose to use the stronger denim fabric and cotton duck, putting his own name on the product. Later the duck fabric was dropped as consumers found denim more comfortable, particularly after washing. Washing creates the faded bloom on the indigo blue dyeing that we all love.
Eventually in the 1950s people asked for denim jeans or just as often - Levi's jeans, rather than waist overalls. Other manufacturers began to produce jeans. Other brand names such as Lee Coopers and Wranglers also became famous. Each brand is renowned for having a particular cut.
Jeans fashion history was truly made in the 1950s when film stars wore it in movies that the teenagers of the day followed with avid interest.
For many years jeans were only used as work wear clothes, but by the 1940s they were considered leisure wear in America.

Once pop and film stars like Elvis Presley, James Dean, and Marlon Brando sported them, they became desirable internationally in the 1950s and are associated with rock and roll and pop music. Later in the 1960s, jean brands old and new were worn universally in the western world.
Left - Marlon Brando screen idol in jeans in the 1950s.
In the 1970s, individuals began to really personalize flared bell bottom versions of jeans and added bells up the sides of flared leg styles. Floral and abstract textural embroidery, metal eyelets and studs, transfers, appliqué and even anti-war graffiti biro writing were all popular forms of decoration. Jeans were a great hit with flower people and the hippie revolution. Jeans were the only uniform to wear to a 1970's pop concert.

Jeans never seemed to die, as individuals would cut off the legs to make Bermuda shorts, then short shorts or even duffle bags using a cord to draw up the waist loops. Old jeans got recycled into patchwork jeans and skirts. Right - Denim mini skirt
The most famous jeans are still probably those produced by Levi as Levi 501s. Pre shrunk jeans had been introduced in the 1960s. 501s traditional button fly jeans designed in the Victorian era need to be shrunk to fit. They were a huge hit again in the 1980s when reintroduced to a new generation.
In a 1980's television advertisement Nick Kamen removed his jeans and stripped to his underpants at a launderette. He proceeded to launder the jeans making them 'shrink to fit' to the music of Marvin Gaye's 'I heard it through the grapevine'. Kamen helped make jeans into a new fashion item for a new generation with the clear link to sexual allure.
...(v4r)
By the 1980s, ripped, frayed and torn jeans were a normal sight. Coloured jeans from white through to pastels were also popular as were stonewashed blue jeans. In the 80s, designer jeans with names like Gloria Vanderbilt, Calvin Klein and Armani among so many fashion designers, became the designer label jeans to be seen wearing. Stone washed jeans became a must-have.
By the 1990s, black jeans were very popular for a while and jeans in general were seen a lot in the early 1990s. But shades of blue are always loved and sometimes the darkest shade is high fashion and sometimes the most washed out faded pairs become the hottest. By 2008 the spring trend was for butter soft washed out pale blue denim jeans. Coloured jeans of all shades made an appearance.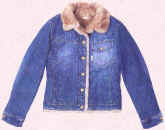 In 2000, designers were Swarovski crystal beading and silver or gold spraying jeans amid rip tears, frayed slashes, fur and feather decoration. Denim was hot yet again and used to make everything from footwear, jackets, bags, basque corsets to jewelled cuffs.
Left - Denim jacket from the designer Paul Smith.
The 1990s saw some changes such as denim with an added percentage of Lycra to enhance fit and comfort.
Jeans are most definitely here to stay as 50% of us under 60 like to wear them, easily preferring them to combat trousers which are now considered very passé. Jeans with lycra are so much more comfortable. They fit and cling around the buttocks in a way that accommodates less than perfect figures. Marks & Spencer
stock a very wide range of own brand jean styles and you have 90 days to return them if they don't fit.
You can get a wide range of sizes of quality jeans including plus size jeans from internet and high street stores such as The Gap. If you are large you will almost certainly be able to get the size you want from the Internet.
Today in the mid noughties the premium denim market is status ridden and has coded tribal signs and signals with not so subtle stitching, logos, tabs, decorative pockets, shading and distressing. The signs are easily decoded by those who recognise the little differences. Whether or not it truly matters is another discussion. But it's fair to say much of this billion dollar business is due to celebrity aping, and in a status driven society wanting the brands celebrities wear.
Another recent development is for maternity jeans. Italian styles are particularly popular for those mothers-to-be who want to remain stylish.
‡
Jeans can be bought in Marks and Spencers in 2006 for as little as £9. I bought a perfectly good pair of M&S indigo basic straight leg skinnies with 2% comfort Lycra for £15 yesterday. Before Xmas I bought a pair of black Earl jeans for £115. Frankly the fit is much the same. The cut of these pairs is very similar when I lay the two different brands together. Yet somehow I value the costlier Earl jeans more, along with the shopping experience of being in a store selling other high fashion designer labels such as Burberry, Paul Smith and Armani etc. It was all a much more more self indulgent experience. We convince ourselves we deserve what we perceive as a better product. The problem is people prefer to say they are wearing jeans by Armani or D&G rather than jeans by a high street mass market company.
The 79 Earl Jeans I bought that day, are very nice quality denim, and the boot cut is just right, but they are not £100 nicer than the £15 pair! On me the Earl jeans were superior to any Armani styles I tried too the same day in that shop and this is the key to jeans - trying different types even in the same size. The biggest factor in choosing jeans once you have found a pair with a reasonable body fit, is then just trying about seven or eight pairs of the same style until the perfect fitting pair emerge. Despite weight fluctuations I can still wear those Earl jeans in 2008. The fit was correct and suited to my shape.
Status driven purchasing of jeans reached new heights at the millennium. The humble origins of work wear Levi Strauss pants are a long way from the rise of new body image brands like Seven for All Mankind, Rock & Republic, Earnest Sewn, Citizens of Humanity, True Religion and Blue Cult jeans. All come at an inflated price........perhaps that is the attraction for many. Do remember sometimes it can be a case of the Emperor's New Clothes and sometimes a designer pair really is better. But as a consumer you should learn to judge for yourself. Feel the quality of the denim, look for deep dyeing and pre washing to avoid excessive dye loss when you launder. If you wear jeans daily, then it may be worth paying more for them.
Today the denim and jeans market for all sorts of denim products is flourishing. Denim is used today for any and every item from fashion wear, school uniforms, handbags, spectacle cases to caps. Denim is here to stay.
See also my page Plus Sizes.
-------v6-------
For more information about the 1950s Era and main links to 1920s, 1930s and 1940s sections click on the titles below:-
--Link--