Princess Diana 1980-90's Fashion Icon
Throughout her brief life Princess Diana supported many British designers especially Arabella Pollen, Bruce Oldfield, Amanda Wakeley and Catherine Walker. Initially the Princess of Wales was encouraged by staff of Vogue to pursue a particular look.
As the 1980s progressed she gained confidence in her own fashion style and became more and more elegant as she began to understand what suited her. Diana became an icon in fashion history.
Diana started to wear clothes by international designers of her own choice including Versace, Christian Lacroix, Ungaro and Chanel.
Above Right - Lady in Red - One of Diana's favourite colours.
By the 1990s she was a world leader of fashion in clothes, accessories, make up and hair. She became a trendsetter hounded by the press for her latest look, latest remark or latest romance.
High street stores and brand labels eagerly copied her outfits and customers in the 30-45 age group recognised her as their fashion leader, copying all her trademarks of style even her fitness fever.
In fashion history terms millinery had been dying a slow death in the 60s and 70s as fewer and fewer people wore hats for even occasion wear. The Princess of Wales gave new impetus to the millinery trade with her early passion for hats and once more it became stylish for everyone to wear hats at weddings.
Diana gained world television coverage daily to the largest number of people ever. She was easily the most influential fashion icon of the 20th century exhibiting flair and a dash of daring. She will always be part of 1980s fashion history.
Before her marriage Lady Diana Spencer dressed in the manner of the Sloane set she mixed with. She liked to wear high necked frilly ruffled blouses, pearls, floral skirts, loose short sleeved shirt blouses, low pump shoes, simple dresses and country tweed suits. All were clothes very much liked by the 'county set'.
Once engaged she began to wear slightly more glamorous clothes although sometimes these seemed too old for a woman so young.

Right - Diana in the puff sleeves that mark the big shouldered evening fashion look of the 1980s.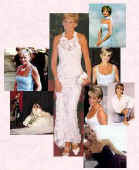 Within 5 years of her engagement she had developed the Dallas factor with big hair, big shoulder pads and big name glitzy outfits.
On the right in her later streamlined style of the 1990s.
By the time of Diana's death in 1997 she was a world renowned fashion icon with her place ensured in fashion history.
Diana the Princess of Wales became admired for her pared down cool sophisticated assured style in a honed and fit body.
‡‡
Official photographs of her wearing a deep green taffeta silk ball gown before her marriage shows a romantic Diana.
The full skirted taffeta silk crinoline ball dress with puffed sleeves was widely copied by stores such as Laura Ashley and it became the dress style to wear to May Balls and similar yuppie events.
Getting out a romantic fantasy prom style ball dress was an occasion to shed the power suit showing the woman of aspiration and taste beneath.
Add beauty to your stunning evening dress by wearing it with a 14k white gold necklace.
The Princess supported many British designers beginning with Elizabeth and David Emanuel who designed her much criticized puff ball meringue wedding dress in 1981. The beautiful dress was based on a romantic look of huge puffed sleeves with a full skirt of ivory silk pure taffeta, old lace and hand embroidery incorporating 10,000 pearls and sequins.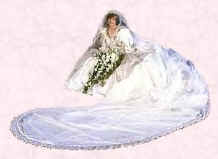 The dress had a twenty five foot train and when the princess emerged from the carriage at the cathedral the world saw how creased the dress appeared. The creases soon dropped out, but the fabric and construction method used was criticized worldwide.
David Emanuel complained in a TV interview that the carriage was far too small for both Diana and her robustly built father along with her full skirted dress, hence the inevitable creases.
I think he was probably right - no fabric deserves to be treated that way.
Diana in her Emanuel designed wedding dress that set a trend for weddings of the 1980s.
...(v4r)
Diana's going away pert pink ensemble was made by David Sassoon of the Couture design house Belville Sassoon. He made many other garments for the Princess.
Many brides must have loved it because the style became affectionately known as a meringue dress. Whilst many might not choose the crinoline meringue style in the 21st century, thousands did in the immediate following decade.
Only in 1992 was there a move toward straighter, more simple, less girly styles, but it took some years for the majority of brides to notice this fact.
The Princess of Wales, Diana adopted the tailored big shoulder look shortly after the christening of Prince William in 1982. She was already setting fashion trends. The soft dreamy styles adapted from the New Romantic look and hats which had been passé for decades were instantly a hit with all who saw her as an inspiration for living out their dreams of fashion.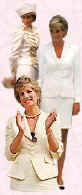 She soon fuelled the fever even more as she wore sharper and sharper square shouldered suits. Later in the 1990s the suits simply defined her well honed figure, rather than adding padding to it.
Right - Princess Diana Fashion- in her well cut suits.
Diana wore suits in the way a business woman wore them. She had found her style and suits were part of her working wardrobe as were slim sheath dresses with minimal jewellery. The picture above illustrates the change from the very formal braided suit and hat to the crisper leaner, uncluttered lines she began to favour in her last years.
The Princess of Wales, Diana died in a car crash in Paris on 31st August 1997, aged 36, one year after her final divorce settlement from Charles, Prince of Wales. She would have been 40 in July 2001 and some say died young enough to only be recalled as a great beauty of her era rather than an ageing royal outsider.
Anyone who looks at Diana today might think her clothes ordinary, and lacking a fashion edge. The truth is that at the time they were quite forward looking and trend setting. As always, 20+ years later and after Diana's rise as one of the 20th century's greatest fashion icons, there are those who condemn Diana and her fashion taste. Recently, in a Sunday Times condensed book article there was a spiteful attack on Diana. Greer wrote, 'Diana was never a fashion icon; she dressed to the same demotic standard of elegance as TV anchorwomen do, plus the inevitable hat.'
I disagree. Diana did more for the fashion and flagging hat industry than either industry could ever thank her.
Reader check out my page on Laver's Law and see how easy it is to knock fashion icons as time moves forward. Why - well the familiar soon looks old fashioned. Fashion moves at a frightening pace. The rest of the world just loved following trends she set. Some observers felt safer wedded to their hippy looks of yesteryear. Others were setting a contrary trend of punk and other subculture styles. Most of us were pleased that Diana constantly moved us forward. Diana really was an outstanding fashion icon of her day, especially once she abandoned her early advisors and found her own style.
If you like this page then please share it with your friends
---
For related 1980 fashion and also 1990s fashion go to:-
--Link--