King George III - 1760-1820
Page 3 - The Women's Fashions
English Costume History by Dion Clayton Calthrop
DRAWINGS TO ILLUSTRATE THE COSTUME OF THE REIGN OF GEORGE THE THIRD
The female dress costume history images shown below are from the chapter on late C18th English dress 1760-1820, plus the illustrations appendix and taken from English Costume by Dion Clayton Calthrop. As there are so many illustrations to this particular chapter, I have divided it into 3 sections. This page - Page 3 - Shows the female costume plates of women's clothing of this 60 year Georgian reign. For the Introduction to this book see this introduction written by Dion Clayton Calthrop. My comments are in italics.
Women's English Costume Drawings GEORGE III
GEORGE THE THIRD
Reigned sixty years: 1760-1820.
Born 1738. Married, 1761, Charlotte Sophia of Mecklenburg-Strelitz.
These colour plates show the last of the pannier dresses, which gave way in 1794 or 1795 to Empire dresses. After the French Revolution all dress of both men and women underwent radical changes.
Georgian Women Hairstyles, High Wigs & Headwear
Calthrop wrote:- The drawings of the women's dresses should also speak for themselves. You may watch the growth of the wig and the decline of the hoop - I trust with ease. You may see those towers of hair of which there are so many stories. Those masses of meal and stuffing, powder and pomatum, the dressing of which took many hours.

Those piles of decorated, perfumed, reeking mess, by which a lady could show her fancy for the navy by balancing a straw ship on her head, for sport by showing a coach, for gardening by a regular bed of flowers.
Heads which were only dressed, perhaps, once in three weeks, and were then rescented because it was necessary.
Monstrous germ-gatherers of horse-hair, hemp-wool, and powder, laid on in a paste, the cleaning of which is too awful to give in full detail. 'Three weeks,' says my lady's hairdresser, 'is as long as a head can go well in the summer without being opened.'
The Ladies Calash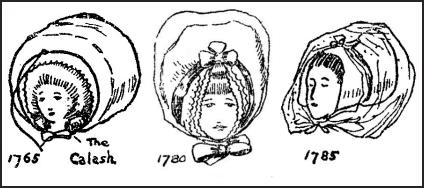 Then we go on to the absurd idea which came over womankind that it was most becoming to look like a pouter pigeon. She took to a buffon, a gauze or fine linen kerchief, which stuck out pigeon-like in front, giving an exaggerated bosom to those who wore it. With this fashion of 1786 came the broad-brimmed hat.
The Mob Cap
Travel a little further and you have the mob cap.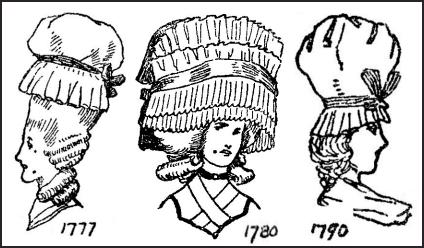 All of a sudden out go hoops, full skirts, high hair, powder, buffons, broad-brimmed hats, patches, high-heeled shoes, and in come willowy figures and thin, nearly transparent dresses, turbans, low shoes, straight fringes.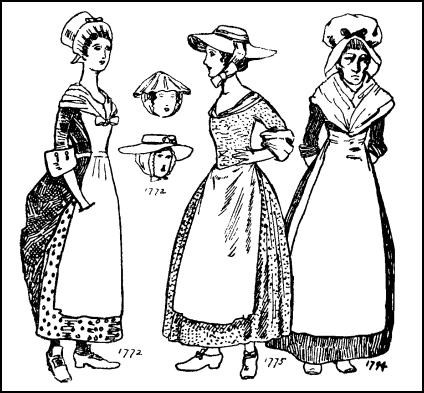 I am going to give a chapter from a fashion book, to show you how impossible it is to deal with the vagaries of fashion in the next reign, and if I chose to occupy the space, I could give a similar chapter to make the confusion of this reign more confounded.
»
DRAWINGS BY CALTHROP AND THE DIGHTONS, FATHER AND SON
FASHION DRAWINGS 1, 2, 3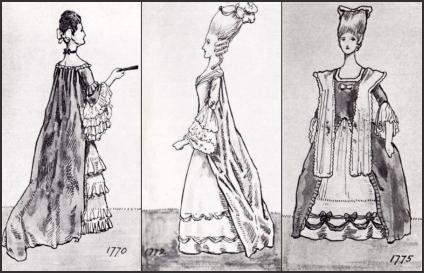 ABOVE - GEORGIAN FASHION DRAWINGS 1,2, 3, - 1770,1772, 1775.
FASHION DRAWINGS 3, 4, 5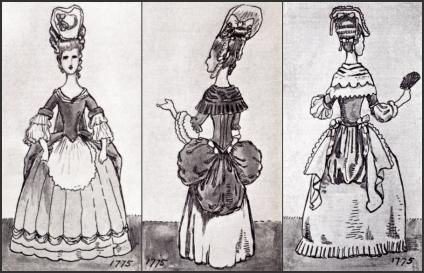 ABOVE - WOMEN'S GOWNS DRAWINGS 3,4,5
FASHION DRAWINGS 7, 8, 9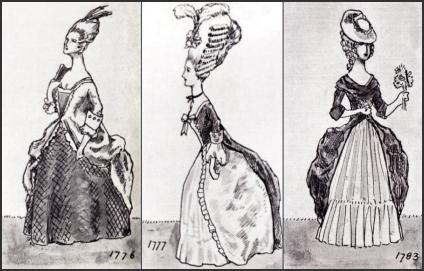 ABOVE - GEORGIAN FASHION DRAWINGS 7, 8, 9
FASHION DRAWINGS 10, 11, 12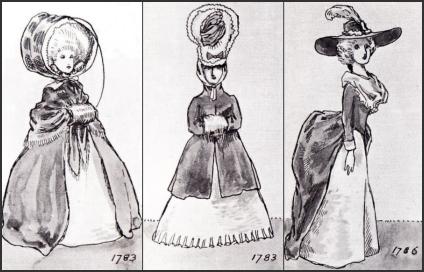 ABOVE - WOMEN'S GOWNS DRAWINGS 10, 11, 12
FASHION DRAWINGS 13, 14, 15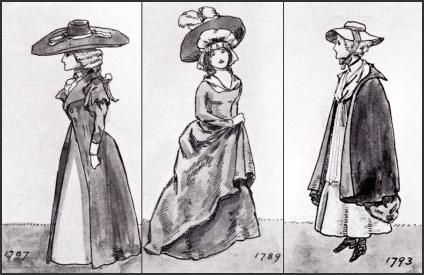 ABOVE - GEORGIAN FASHION DRAWINGS 13, 14, 15
Ω
FASHION DRAWINGS 16, 17, 18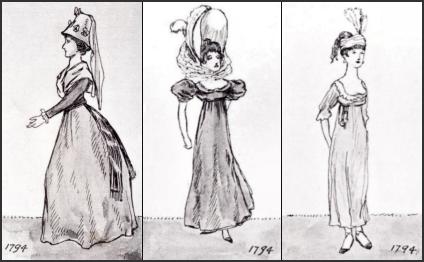 ABOVE - WOMEN'S GOWNS DRAWINGS 16, 17, 18
FASHION DRAWINGS 19, 20, 21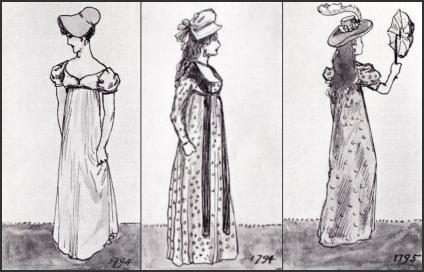 ABOVE - GEORGIAN FASHION DRAWINGS 19, 20, 21
FASHION DRAWINGS 22, 23, 24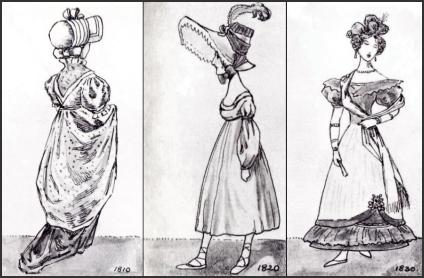 ABOVE - WOMEN'S GOWNS DRAWINGS 22, 23, 24
You have been reading English Costume History at www.fashion-era.com © from the chapter showing images of women's fashions during the time of Hanoverian King George III 1760-1820, from Dion Clayton Calthrop's book English Costume.
Page Added 23 August 2010. Ref:-818.
If you like this page then please share it with your friends
---
For more information about English Costume By Dion Clayton Calthrop
see these pages:
Custom Search
About Fashion-Era.com
Fashion-Era.com looks at women's costume and fashion history and analyses the mood of an era. Changes in technology, leisure, work, cultural and moral values. Homelife and politics also contribute to lifestyle trends, which in turn influence the clothes we wear. These are the changes that make any era of society special in relation to the study of the costume of a period.

Fashion-Era.com can take no responsibility for any information on the site which may cause you error, loss or costs incurred from use of the information and links either directly or indirectly. This site is owned, designed, written and developed by author: Pauline Thomas and Guy Thomas. This site is designed to be viewed in 1024 X 768 or higher.
ALL RIGHTS RESERVED. Fashion-era.com reserves the right to add or delete information, graphics and links. Copyright © 2001-2014 on all content, text and images in Fashion-era.com. Images and text in this website may not be used on other websites.
Before you write to me for costume/fashion help or information please, please consult the extensive sitemap which lists all our pages. If you still cannot find the answer after searching the site, then before you email me, please consider if you are prepared to make a donation to the website.
Donations
Reader's donations help this site flourish, in particular donations encourage me to write more articles on fashion history as well as current trends. PayPal allows anyone with a credit card to donate easily and securely. You may donate any sum you feel appropriate.