Page 5 - Images 25-32
Wenceslas Hollar English Women's Dress in The 17th Century English Costume From Dion Clayton Calthrop
Page 5 - Images 25-32
Drawings by Wenceslaus Hollar, circa 1650
English Women's Dress of the 17th Century - Wenceslas Hollar Engravings
This late Jacobean costume history page consists of images 25-32 from Wenceslas Hollar's Ornatus Muliebris Anglicanus - and from the book ENGLISH COSTUME PAINTED & DESCRIBED BY DION CLAYTON CALTHROP. The six images are shown in larger size further down this Hollar webpage.

For the Introduction to this book see this introduction written by Dion Clayton Calthrop. My comments are in italics. This page shows 6 of the Hollar Engravings of English Gowns C1640.
Calthrop says that for wonderful images of C17th dress we can do no better than look at the 'Ornatus Muliebris Anglicanus,' a careful compilation by Hollar of all the dresses in every class of society.
Page 5 - Images 25-32
Drawings by Wenceslaus Hollar, circa 1650
English Women's Dress of the 17th Century - Wenceslas Hollar Engravings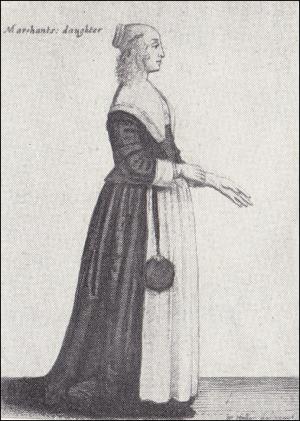 A Merchant's Daughter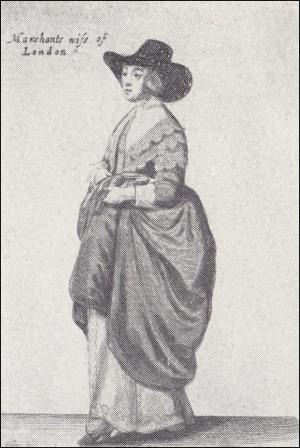 A Merchant's Wife of London
»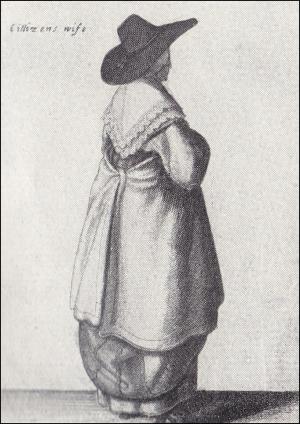 A Citizen's Wife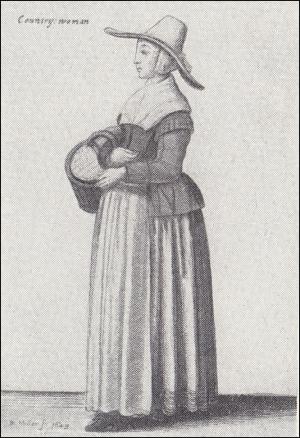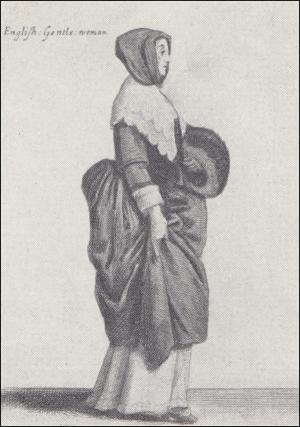 An English Gentlewoman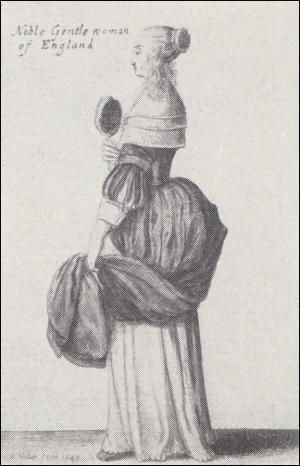 A Noble Gentlewoman of England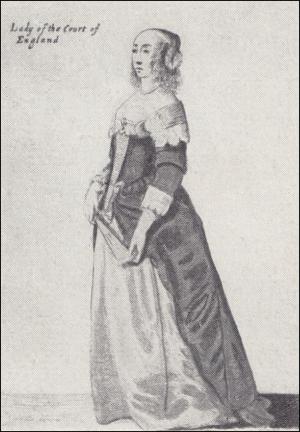 A Lady Of The Court Of England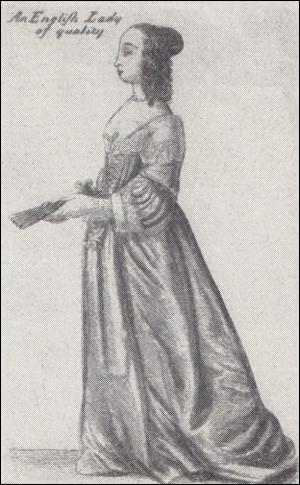 An English Lady Of Quality
Ω
Calthrop says that for wonderful images of C17th dress we can do no better than look at the 'Ornatus Muliebris Anglicanus,' a careful compilation by Hollar of all the dresses in every class of society.
Bohemian artist Wenceslaus Hollar was born 13 July 1607 a native of C17th Prague. He left Prague in 1627 and worked as a printmaker and watercolour artist mostly in Britain, but also did commissions abroad. During the English Civil War he spent time in Antwerp and worked on his now famous images of the area.
Hollar published many books of painted and engraved (etched) subject matter. He studied the human and architectural form as well as the organic, producing superior etched imagery of everyday costume, high fashion, cathedrals, cityscapes and portraits.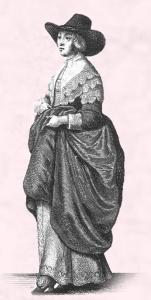 He also made many engraved images you might be familiar with today such as detailed shell studies and natural history images that told a story. Heraldic emblems, mythological beasts, Corinthian columns all featured in his portfolio. He was in London in 1660 and famously recorded the Fire of London of 1666 with before and after pieces as a published work in 'Views of London.' Since so few of these buildings exist today we can be thankful to Hollar for recording the London architecture of that era.
The art collector The Earl of Arundel had met him in 1636 and invited him to London in 1637 where Hollar made many etchings related to the English way of life. Some of the images are fashion related. His depiction of fur muffs are exquisite - one feels as if every hair of the fur is represented in the engraving.
Although Hollar was almost blind in one eye he was one of the most skilled and talented etchers of any period. Even though his career appears to have been successful and he worked for many booksellers and publishers, Hollar died in great poverty in London on 25 March 1677. It is claimed the dying Hollar begged bailiffs to leave him with his bed. His earliest dated work is 1625 and Hollar's final output has been catalogued at well over 2700 separate etchings.
Etching is an intaglio technique that was developed at the start of the 16th century. Intaglio was considered an easier form of etching than the earlier method, as the image is burnt into the copper plate rather than incised with a piercing tool. In Intaglio an acid resistant wax coat protects the copper plate whilst a needle is used to draw the imagery onto the coated plate. Once the design is completed and ready, the copper plate is immersed in an acid bath and the acid burns into the needle scraped areas for a first take. Soft lines are stopped with more wax and those that need to be deeper and bolder get re-immersed in the acid bath. The result is that the acid etches deeper lines providing depth, tone and shade when the copper plate is finally sent to press and thus inked and pressed onto paper.
This intaglio etching system is marvellous for producing the finest of details. Hollar was a master at the technique so that in original early run copies of his work it is possible to see the finest detail such as the lace texture of a Vandyke collar, a rose on a shoe or the fine stripe of a fabric.
The British Museum and Windsor Castle also one of the homes of Her Majesty Queen Elizabeth II both hold substantial collections of Hollar's engravings. The University of Toronto has a large collection of Hollar's work online too in their Wenceslaus Hollar digital collection. PWT.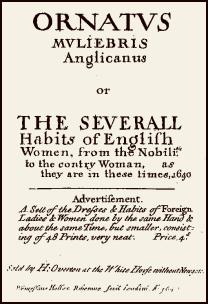 Drawings by Wenceslaus Hollar, circa 1640
ENGRAVINGS BY HOLLAR
This late Jacobean costume history page of images consists of 6 of the costume drawings by Wenceslaus Hollar, circa 1640. The Wenceslas Hollar Engravings of English Women's Dress were made in the 17th Century and taken from English Costume by Dion Clayton Calthrop.
For the Introduction to this book see this introduction written by Dion Clayton Calthrop. My comments and notes on Hollar are in italics.
You have been reading English Costume History at www.fashion-era.com © from the engravings of Hollar - 4 and from Dion Clayton Calthrop's book English Costume.
Page Added 18 August 2010. Ref:-824.
If you like this page then please share it with your friends
---
For more information about English Costume By Dion Clayton Calthrop
see these pages:
Custom Search
About Fashion-Era.com
Fashion-Era.com looks at women's costume and fashion history and analyses the mood of an era. Changes in technology, leisure, work, cultural and moral values. Homelife and politics also contribute to lifestyle trends, which in turn influence the clothes we wear. These are the changes that make any era of society special in relation to the study of the costume of a period.

Fashion-Era.com can take no responsibility for any information on the site which may cause you error, loss or costs incurred from use of the information and links either directly or indirectly. This site is owned, designed, written and developed by author: Pauline Thomas and Guy Thomas. This site is designed to be viewed in 1024 X 768 or higher.
ALL RIGHTS RESERVED. Fashion-era.com reserves the right to add or delete information, graphics and links. Copyright © 2001-2014 on all content, text and images in Fashion-era.com. Images and text in this website may not be used on other websites.
Before you write to me for costume/fashion help or information please, please consult the extensive sitemap which lists all our pages. If you still cannot find the answer after searching the site, then before you email me, please consider if you are prepared to make a donation to the website.
Donations
Reader's donations help this site flourish, in particular donations encourage me to write more articles on fashion history as well as current trends. PayPal allows anyone with a credit card to donate easily and securely. You may donate any sum you feel appropriate.