Young Fashion Designers
Fashion-era.com Young Designer 2006 - Christopher Raeburn
CHRISTOPHER RAEBURN MA.,
RCA Graduate Show 7-8th JUNE 2006
Christopher is a 23 year old womenswear designer from the Royal College of Art - the world's only wholly postgraduate University of art and design.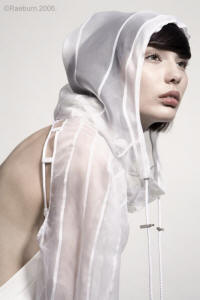 These images are of Christopher's fashion designs from the graduate catwalk show, the climax of two years of MA study.
Christopher's exciting and progressive style has consistently been awarded recognition in competitions and the press (see below).
The desirable fashion collection shown here is entitled 'Godspeed' and is inspired by extremes of functional clothing and the beauty of the modern, nomadic city-lifestyle.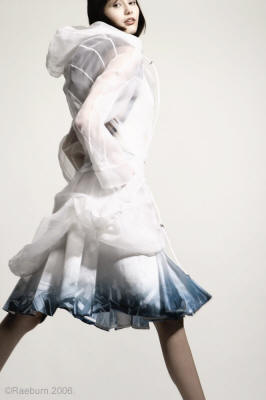 The clothing in Christopher's Godspeed Collection often adapts to different social environments, and combines heavy military wools, unique digital prints, functional details, contoured leather accessories and laser-cut sterling-silver fittings, to present a strong, wearable, feminine profile.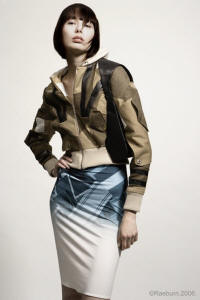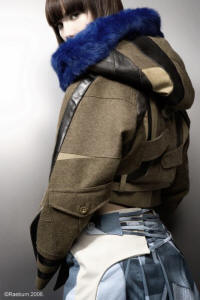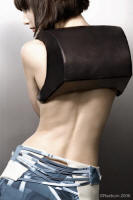 Christopher frequently works in collaboration with Graeme, his 26 year-old brother who also graduated from the same course at the RCA in 2003.
The Raeburn partnership is unique within the world of fashion. Graeme is providing support in the form of innovative bags and accessories.

‡
Late June 2006
Christopher is now also making items to order and he told me '...in particular the jackets have been a real hit... in reality it's an amazing opportunity for people to place an order with a unique outcome and certainly an area where I am flexible to move with customers ideas, while still working under my own concepts. '
Christopher tells me he has a new website here. He and his brother Graeme are now working closely together on a new menswear range. Watch this space.
Christopher is enterprising and has won prizes and placements from a wide range of companies sponsoring fashion and design competitions.
Deutsche Bank Short-listed – 2006.
Umbro - design competition. Winner. 2005.
Miss Selfridge Competition. Runner-up. 2005.
Pommery Champagne design competition. Winner. 2005.
Swarovski & the Costume Society Fabric and Gem Competition. Finalist. 2004.
Fashion Fringe. Semi Finalist. 2004.
Chris Raeburn has also been rightly feted by the press and websites as an innovative and talented young British fashion designer. I certainly admire his innovative design work which is fresh, urban, wearable, sophisticated yet retains a youthful edge.
Elle, September 2005 reported on his designs for Miss Selfridge competition:
"Christopher Raeburn's urban take on the brief was a hit with the judges. They especially liked his hybrid mitten-gloves."

WGSN, June 2005 - report on the catwalk collection for Miss Selfridge competition:
" Christopher Raeburn's casual collection of cropped trousers and skirts, with striped inserts and sailor buttons, was singled out for its attention to detail and masterful execution."
CHRISTOPHER RAEBURN CONTACT DETAILS

To arrange an interview or for more information and images please contact;
E; info@raeburndesign.co.uk or christopher.raeburn@alumni.rac.ac.uk
To visit Christopher's website go to http://www.raeburndesign.co.uk/ and also see more of his work at the RCA site, under Fashion Womenswear here.
‡
-------- Link Foot ---------
If you like this page then please share it with your friends
---
For more information on Young Fashion Designers & Fashion Trends go to:-

Custom Search
About Fashion-Era.com
Fashion-Era.com looks at women's costume and fashion history and analyses the mood of an era. Changes in technology, leisure, work, cultural and moral values. Homelife and politics also contribute to lifestyle trends, which in turn influence the clothes we wear. These are the changes that make any era of society special in relation to the study of the costume of a period.

Fashion-Era.com can take no responsibility for any information on the site which may cause you error, loss or costs incurred from use of the information and links either directly or indirectly. This site is owned, designed, written and developed by author: Pauline Thomas and Guy Thomas. This site is designed to be viewed in 1024 X 768 or higher.
ALL RIGHTS RESERVED. Fashion-era.com reserves the right to add or delete information, graphics and links. Copyright © 2001-2014 on all content, text and images in Fashion-era.com. Images and text in this website may not be used on other websites.
Before you write to me for costume/fashion help or information please, please consult the extensive sitemap which lists all our pages. If you still cannot find the answer after searching the site, then before you email me, please consider if you are prepared to make a donation to the website.
Donations
Reader's donations help this site flourish, in particular donations encourage me to write more articles on fashion history as well as current trends. PayPal allows anyone with a credit card to donate easily and securely. You may donate any sum you feel appropriate.
---
---
For superb Victorian or Edwardian
re-enactment costumes in USA, try the reproduction costume range at:
recollections.biz
---