Junior Fashion Gallery
How To Make A Paper Dress by Chloe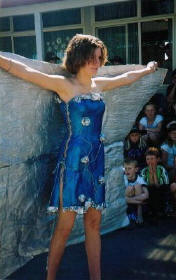 Chloe's older friend Jesse who is 13, is modelling a dress that 11 year old Chloe designed for a school competition.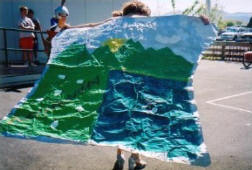 What a great creation. Chloe's pictures show the scenic cape right
Below these photographs are instructions to make this paper dress. Chloe wrote the instructions herself.
Have fun.
The cape from behind shows Marlborough a district of New Zealand with its scenes of water, grape vines, sheep and whales tail.
Chloe and her family live in Aotearoa, New Zealand which her father describes as paradise. Chloe loves busking and she plays the violin as well as winning fashion competitions. What talented young lady. Read below how to make this paper dress.
Instructions On How To Make The Paper Dress
You will needů.
First you have to wrap the mannequin in gladwrap (Clingfilm) and make sure you completely cover it.
Get the wallpaper glue and rip some newspaper up then start paper mache around from the waist to under the arms like a boob tube.
Do 3 layers of newspaper then 2 layers of newsprint.
Leave to dry overnight.
Take outside in the open and spray the paper mached bit with a metallic colour (e.g. blue).
When dry get some news paper and make a rose shape then get some more paper and scrunch it up and make some ruffles for around the bottom and the top.
Take them outside and also spray them a metallic colour (eg silver).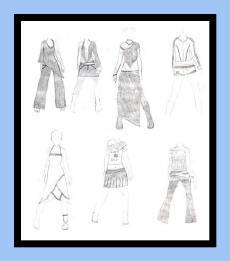 Get a hot glue gun and stick the ruffles on the top and the bottom all the way round.
Then find some old silver lace and a hole punch, punch 10 holes down the side and lace the sides up with it.
Then randomly stick the roses on the front and the lace so it looks like a climbing rose.
Voila! - a paper dress.
Safety Note - please use sprays only in well ventilated areas and with a protective face mask to avoid inhalation of noxious fumes.
Above are some of Chloe's working drawings as she developed her ideas.
-------v6-------
Picture presentation reset using Paint Shop Pro 7 graphics background or simple borders.
If you like this page then please share it with your friends
---