Antique Costume & Fashion Plates
Early Costume Plates History Part 1 - 1494 to 1806
There is a difference between a fashion plate and a costume plate. Costume plates show costume as it was worn in the past, especially everyday past fashions. Fashion plates promote and publicize possible future fashions. Costume plates are about the fashions of the past and fashion plates are about fashion ideas now or the near future. Costume plates almost always include national, theatrical, court and royal dress.
Masks and disguises were used for masquerades, carnivals and fancy dress parties especially in times of less liberal attitudes enabling people to let their hair down. Plates often featured dress for these occasions. So some pictorial examples are misleading. At the bottom of the page here is a misleading costume plate against a fashion plate. One is a true fashion of the day and the other a costume selection of dress from a previous era or a depiction of European regional dress.
Fashion plates really reached their peak in the 19th century when they were hand coloured engravings. Early costume plates are often black and white engravings and were almost always of men not women.
Albrecht Dürer made the first costume plates in 1494 when he made a record of clothing styles typical of national and regional dress of Nuremburg and Vienna These were the first costume engravings of dress already worn in the past. Later in 1640, Wenceslas Hollar a very talented Polish engraver when working in England, produced 26 costume plates showing day dress of the typical English middle classes. He went on to make some 2740 plates on various subjects including European costume and accessories.
Of the generations of the famous C17th Bonnart family of engravers, Nicolas Bonnart (the elder) is famed for male and female costume plates and the family still produced plates into the 1730s. Between 1775 and 1783 some 36 costume history prints we now know under the short title of Le Monument du Costume were made. They were not fashion plates, but are the best known plates of the era and have been reprinted many times. They also showed new elements of detail that led to the fashion plate of the C19th.
356 other very pretty mostly hand coloured fashion plates were also produced by competitors such as Cabinet des Modes that ran from 1785 to 1789.
§
In 1778 Jacques Esnauts and Michel Rapilly of Paris joined forces and began to issue their La Gallerie des Modes publication of coloured fashion plates. Between 1778 and 1787 they in total, issued some 342 figure plates and some 72 hat plates, all published at spasmodic intervals. This work is exceptionally scarce in original form even among museum collections, with the main (incomplete) copy of the collection held at the Bibliothèque Nationale in Paris.
Fortunately for we costume lovers 325 of the figure fashion plates were reproduced by Émile Lévy in Paris between 1911 and 1914 and they were also hand coloured. Even the Lévy reproduction issue became valuable.
There is a copy of the Lévy reproduction Gallerie des Modes in the Victoria and Albert, London Museum.
The next lot of famous costume plates were after 1794 by Nicolaus Wilhelm von Heideloff. Heideloff was a painter of miniatures, he found himself out of work after the French Revolution. He next sought work in London where he initially found employment at R. Ackermann the publisher of fine prints and book seller. Next he left to work alone and soon issued his own Gallery of Fashion, promising that it would contain accurate copies of styles worn by ladies of rank and fashion.
Heideloff issued this monthly Gallery of Fashion and each issue contained 2 lovingly hand coloured aquatints finished with gold, silver or other metallic paints. Heideloff issued in total 217 Georgian fashion plates between 1794 and 1803 showing 362 different figures. They are great examples of the Directoire era. The figures are shown in many activities almost always out of doors and accessories always complete the picture. There is wonderful set of Heideloff's Gallery of Fashion held at the Victoria and Albert Museum and the image below is from a Heideloff fashion plate from 1796.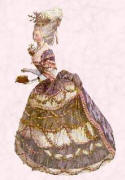 Costume plates may be commissioned to show for example all the kings and queens of a nation over the years or regional dress of a country. In particular, costume plates often show occupational everyday dress as has been typically worn. Some plates such as these below may even give a version that would be seen as an idea for fancy dress costume. This plate below from 1839 does just this as it captures 'elements' of dress from a previous era and as such can be totally misleading.
Other Examples
I include these 2 references to an early C19th costume book Le Bon Genre and The World of Fashion magazine on this early page as it has neat examples explaining differences in costume and fashion plates and satirical takes on fashion.
Le Bon Genre - Satirical Review
Le Bon Genre was a costume book first published in 1817. It's worth recalling that there had been hostilities between France and England for years. Despite the Battle of Waterloo and the resolving of ongoing indifferences the Parisian French took every opportunity to ridicule English fashions even after the cessation of war. This plate below is an example of a caricature piece of an old outmoded 'English' hag choosing headwear that would obviously do nothing to enhance her whatever her final choice.
Another important book of costume published at much the same time between 1814 and 1822 was Horace Vernet's Almanach des Modes. This latter book also showed oddities of fashion a year after their adoption. It is famous for the inclusion of plates on both Merveilleuses and Incroyables which ridiculed the extravagant fashions of youth.
§
The World of Fashion began in 1824 and was very much an important London Regency publication with fashion plates showing up to six figures. Later World of Fashion plates are often inferior copies of work by Héloïse Leloir (one the 3 Colin sisters), but more of The World of Fashion plates are in existence in UK than those from rarer magazines. The best plates were from the early days and done by the engraver W. Alais.
One interesting point about World of Fashion plates is that they often contained up to six figures (most others had a maximum of two figures). Pages were often split to show the headwear or hair style or upper detail of a bodice. These images below are quite delightful and not as crudely coloured as some I have seen.
One is a true fashion of the day and the other a costume selection of dress from a previous era or a depiction of European regional dress. The far left dress reminds me of the type of regional Spanish dress one sees on holiday in places like Mallorca or the Canary Islands.
The World of Fashion 1839
Both these early Victorian images are from a copy of 'The World of Fashion' issued in March 1839. However the plate left of 4 women gives an artist's version of earlier costume, whereas the plate right is a true fashion plate and depicts suggested fashion styles for women to follow for 1839.

These thumbnails give good enlargements.
These images are courtesy of UK EBay antiquarian print and engraving seller known as Cabrio4. You can buy attractive fashion plates from Cabrio4 with confidence. Her fairly priced fashion plates are frequently accompanied by descriptive text.
It is worth mentioning that portraits have also been used to record costume. Of course portraits of well dressed women compared to toiling women of the past, were probably of ladies, wearing fashionable contemporary dress of the day, probably their best dress. But it's also true to note that artists would also deliberately dress their sitters in gowns of another era or in fantasy gowns or have them wear a gown half open with the sitter showing vast amounts of shoulder, totally unlike the true manner of wearing an item and all in the name of artistic excellence.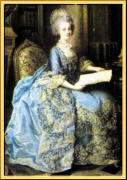 Read more about Ackermann's Repository of Arts and La Belle Assemblée on the next page.

Types of engravings, lithographs pochoirs and laid paper are here.

If you like this page then please share it with your friends
---
--Link--

©Copyright Fashion-era.com 2005-2011
These images should not be reproduced in printed book form matter, as greetings cards, gift wrap etc., or as part of any electronic material such as a CD, DVD, TV videos, ebooks, websites or similar item.

Please DO NOT write to me asking for advice on your fashion plate as NONE can be given.

This Fashion Plates Page Added 8 Oct 2005

For more about Fashion Plates
click on the title that you need:-

Some images in this section are courtesy of eBay seller Cabrio4
Custom Search
About Fashion-Era.com
Fashion-Era.com looks at women's costume and fashion history and analyses the mood of an era. Changes in technology, leisure, work, cultural and moral values. Homelife and politics also contribute to lifestyle trends, which in turn influence the clothes we wear. These are the changes that make any era of society special in relation to the study of the costume of a period.

Fashion-Era.com can take no responsibility for any information on the site which may cause you error, loss or costs incurred from use of the information and links either directly or indirectly. This site is owned, designed, written and developed by author: Pauline Thomas and Guy Thomas. This site is designed to be viewed in 1024 X 768 or higher.

ALL RIGHTS RESERVED. Fashion-era.com reserves the right to add or delete information, graphics and links. Copyright © 2001-2014 on all content, text and images in Fashion-era.com. Images and text in this website may not be used on other websites.

Before you write to me for costume/fashion help or information please, please consult the extensive sitemap which lists all our pages. If you still cannot find the answer after searching the site, then before you email me, please consider if you are prepared to make a donation to the website.

Donations
Reader's donations help this site flourish, in particular donations encourage me to write more articles on fashion history as well as current trends. PayPal allows anyone with a credit card to donate easily and securely. You may donate any sum you feel appropriate.