Antique Fashion Plates - La Belle Assemblée & Ackermann's
Fashion Plates After 1770 Fashion History
According to the late James Laver, fashion plates hardly existed before the French Revolution which was in 1789. With their hand colouring they almost belong to the 19th century, for after 1900 most fashion plates were produced mechanically. At the end of the 1880s, experimental colour printing had begun and the chromo-lithograph became the colour method of choice for the new century with just a few magazines retaining hand colouring. In the main, fashion plates after 1900 did not have hand colouring features.
Fashion plates as hand coloured engravings really began in England with the publication of an English monthly magazine called The Lady's Magazine in 1770. The publishers did not tint the plates in each Lady's Magazine issue in the early days, but dressmakers did this themselves so by about 1790 they were sold touched with colour. Before that, coloured versions were simply tinted by enthusiasts at home. Fashion plates from The Lady's Magazine run until 1837.
A range of other magazines with fashion plates from England, France and Germany all ran in this era and included the following Cabinet des Modes 1785-89 and Journal de la Mode et du Goût 1790-93.
La Belle Assemblée of 1806 was one of the earliest and most influential of journals including fashion information along with The Lady's Monthly Museum which began some years earlier in 1798.
Another magazine Le Beau Monde also began in 1806 as a very obvious rival to that of La Belle Assemblée which had first published about 8 months earlier.
Other very pretty plates were also produced by competitors such as the Journal des Dames et des Modes with inner fashion plates entitled Costumes Parisiennes. This ran from 1797 to 1839.
All of these magazines related to female interest and were issued either monthly, fortnightly or weekly. Each contained engraved or lithograph plates beautifully hand coloured and typically the artwork was protected with tissue paper.
§
This important magazine had a 63 year run, although it did change ownership in that time. La Belle Assemblée contained not only hand-coloured fashion plates, but also sheet music and articles of general interest so it had broader appeal than just fashion.
In his authoritative book, Hand Coloured Fashion Plates 1770-1899, Vyvyan Holland comments that the production of the fashion plates of this magazine La Belle Assemblée falls into five natural periods, beginning with the conventional crudely coloured first period of 1806-1809. This era for plates was made worse by the lack of colour in clothing, since white gowns were mostly in fashion then.
The second period 1809-1820 was much improved, with even greater improvement in the third period from 1821 to 1832 and this last period is the one I personally collect.
The 1831 engraved fashion plate below is one of these superior engravings. It is so dainty and elegant. It has wonderful colour and the 150 word description of the yellow evening dress refers to it as a 'dress of canary coloured gaze Clementine over satin......' The engraving is so well done you can almost touch the shimmering light attracting satin fabric folds and the shadows of the gauze overskirt. This is the quality associated with La Belle Assemblée.
This hand coloured engraving is from a William IVth fashion periodical called La Belle Assemblée.

It came complete with a fashion description text of fabrics and styles of the greatest detail for May 1831. This was a joy to read as descriptive text is so often missing.

This image was purchased from eBay engraving seller Cabrio4
At 24cm by 15cm, La Belle Assemblée is often much smaller than people expect when they first buy original prints. That's because at about 9" tall the pages were intended to be held for reading. However, the smallness means the engravings have a delicacy and daintiness, making them even more attractive to collectors.
Sometimes the small plates show four figures. This one just below is one of my La Belle Assemblée plates with a group of figures. The colour on this plate is brilliant and intense. I confess that my prime interest in such plates is not purely academic as you might think. I enjoy using them grouped as sets in rooms and other women like them as exquisite unusual gifts. However when you look at a picture daily be sure it is one that has attractive elements and is finely executed. I never cease to be amazed how many visitors peer with interest at the fine details and delicacy of such pieces.
La Belle Assemblée.
This 24cm by 15cm La Belle Assemblée fashion plate has several lovely gowns including 2 court dresses on the far left and the green walking dress and the blue carriage dress. Again the hairstyle details from the romantic 1830s are perfect. The smallness of the plate makes it zing with quality as it is so finely worked and tinted. This image came with text making it doubly interesting to a collector.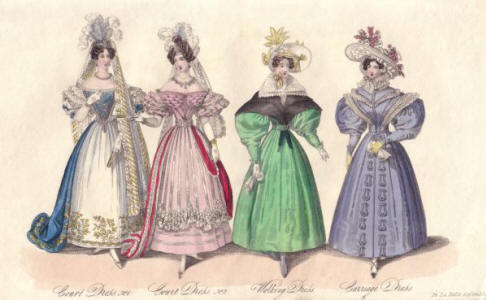 This image was purchased from Cabrio4 an eBay fashion plate seller.
But it is the fourth period of fashion plate making for La Belle Assemblée that began after 1832 and lasted until 1854 that produced many plates which were inferior copies of French plates. Holland implies that the best period for these plates is between 1820 and 1832 and also between 1854 and 1869 when it produced delightful plates with many by Héloïse Leloir sister of Anaïs Toudouze. La Belle Assemblée was discontinued in 1869.
Now many of these magazine plates are much rarer than when Holland first examined the 5 periods some 50 years ago and so all plates from La Belle Assemblée have become very collectible.
§
The full name of La Belle Assemblée which was owned by John Bell, was Bell's Court and Fashionable Magazine Addressed Particularly to the Ladies. Even now, it is considered a mine of fascinating information about the literary and artistic world of the era, plus other contents of hints and tips to achieve perfection in all areas. Fashion information was but a small part of the overall magazine. After 1832 when the magazine changed hands, it was renamed as The Court Magazine and La Belle Assemblée. The plates issued for the next 23 years are thought inferior. The most attractive plates were by Héloïse Leloir were issued between 1854 and 1869. In 1869 the magazine ceased to exist, but these artists were still sought after at other superior magazines.
In 1809, a new fashion plate fashion journal called The Repository of Arts, Literature, Commerce, Manufactures, Fashions and Politics was created by Ackermann. Now we know it mainly by the name Ackermann's Repository of Arts.
The fashion plates were included as a guide for ladies and dressmakers. It also contained other images of other design elements such as pictures of furniture and art pieces that might interest refined ladies in their home making. It paid special attention to classical styles and taste in relation to art. Each monthly magazine had two or more fashion plates of a lone figure or a model plus child. In total Ackermann released around 450 fashion plates and the magazine ceased to exist in 1829 with the prettiest plates thought to be between 1826 and 1829.
Ackermann's Repository of the Arts

Fashion Plate 1819.

Morning dress of embroidered fine lawn fabric.
See and read more about the French magazines Le Petit Courrier des Dames and Le Journal des Dames et Des Modes Costumes Parisiens and Le Follet Courier des Salons via the links.
If you like this page then please share it with your friends
---
--Link--
©Copyright Fashion-era.com 2005-2011
These images should not be reproduced in printed book form matter, as greetings cards, gift wrap etc., or as part of any electronic material such as a CD, DVD, TV videos, ebooks, websites or similar item.
Please DO NOT write to me asking for advice on your fashion plate as NONE can be given.
This Fashion Plates Page Added 8 Oct 2005
For more about Fashion Plates
click on the title that you need:-
Some images in this section are courtesy of eBay seller Cabrio4
Fashion-era.com

Fashion-era.com looks at women's costume and fashion history and analyses the mood of an era. Changes in technology, leisure, work, cultural and moral values, homelife and politics have all contributed to lifestyle trends which influence the clothes we wear. These are the changes that make any era of society special in relation to the study of the costume of a period.

Fashion-era.com can take no responsibility for the information above and any outcome which may cause you error, loss or costs incurred from use of the information and links either directly or indirectly from this website or other websites.

If you would like to receive information advising you of updates to the site and other information of interest, sign up for membership now. Click here and get a free sample ebook to kick off your membership.

This web site is owned, designed, written and developed by Pauline Weston Thomas and Guy Thomas.

ALL RIGHTS RESERVED. Fashion-era.com reserves the right to add or delete information, graphics and links to this website. Copyright © 2001 - 2011 on all content in Fashion-era.com.

If you email me below for costume/fashion help or information please consider first if you are prepared to make a payment to the website. Make a payment for Pauline's help here

Please read the message directly above before E-Mailing us if you have comments at

This site should be viewed in 1024 X 768 or higher.

Home Sitemap