Antique Fashion & Costume Plates
1820+ Le Petit Courrier des Dames Fashion History
As so often happened in American, English and other European publications, many early plates were crude copies from French magazines. Only when publishers paid to use the imported quality engraved plates from French magazines did the magazines really win the hearts of subscribers.
Le Petit Courrier des Dames (French)

Many new C19th long-lived fashion magazines began life in the 1820s and old favourites died too. For one year the now very collectible Le Petit Courrier des Dames had begun life as Nouveau Journal des Dames in 1821. This was an important French fashion magazine and it produced a weekly issue uninterrupted until 1865. Each issue had one or two fashion plates and many are considered the finest in the C19th. Artists who made some of the finest plates were Madame Florensa de Closmenil, A. Pauquet, Hervy, Laure Noel, A. de Taverne and E. Preval.

Another good French Fashion Plate magazine was Le Journal des Dames et Des Modes - Costumes Parisiens. You can see 2 of my favourite plates from this further down.
Le Petit Courrier des Dames
1850 dresses below. Day dress and evening dress in tulle and grenadine, trimmed with ribbons.
Shawl of white lace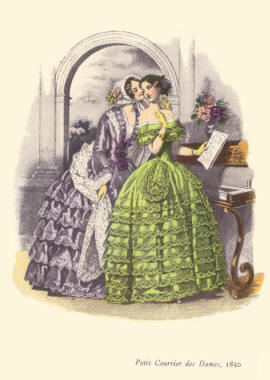 .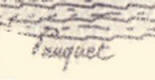 Above - The artist signature of A.Pauquet .
§
Townsend's Selection of Parisian Costumes (English)
In 1823 Townsend's Selection of Parisian Costumes an English publication, used imported plates from both Le Petit Courrier des Dames and Le Journal des Dames et Des Modes Costumes Parisiens. The latter word is often spelt many ways on various plates.
Both these last two publications produced very fine engravings and Townsend found that when it economised and used badly made plates, sales went down. Fortunes were regained once they used French plates again.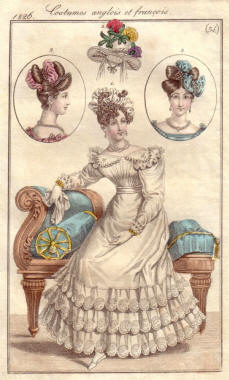 This is a hand-coloured fashion engraving from an 1826 Le Journal des Dames et Des Modes Costumes Parisiens.
With vibrant colours and extraordinary detail it is an exquisite work of art in its own right. The Apollo knot hairstyle details are magnificent.
Bought from Cabrio4 at eBay.
--banner2--
Below is another of my fashion plates from the Le Journal des Dames et des Modes magazine of the year 1826. These engravings are particularly good with fine and pretty detail. The headings usually state Costumes Parisians, sometimes I even think it reads Parisions.
Le Journal des Dames et des Modes Costumes Parisians - 1826.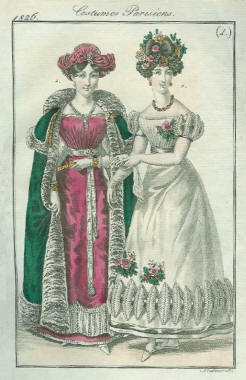 This hand tinted image was bought from EBay fashion plate and engraving seller known as Cabrio4. What a wonderful pelerine mantle so perfectly accommodating for the newly developing fuller sleeves.
Yes eBay can become an expensive habit............ and can you tell I like this era?
If you like this page then please share it with your friends
---
--Link--
©Copyright Fashion-era.com 2005-2011
These images should not be reproduced in printed book form matter, as greetings cards, gift wrap etc., or as part of any electronic material such as a CD, DVD, TV videos, ebooks, websites or similar item.
Please DO NOT write to me asking for advice on your fashion plate as NONE can be given.
This Fashion Plates Page Added 8 Oct 2005
For more about Fashion Plates
click on the title that you need:-
Some images in this section are courtesy of eBay seller Cabrio4
Fashion-era.com

Fashion-era.com looks at women's costume and fashion history and analyses the mood of an era. Changes in technology, leisure, work, cultural and moral values, homelife and politics have all contributed to lifestyle trends which influence the clothes we wear. These are the changes that make any era of society special in relation to the study of the costume of a period.

Fashion-era.com can take no responsibility for the information above and any outcome which may cause you error, loss or costs incurred from use of the information and links either directly or indirectly from this website or other websites.

If you would like to receive information advising you of updates to the site and other information of interest, sign up for membership now. Click here and get a free sample ebook to kick off your membership.

This web site is owned, designed, written and developed by Pauline Weston Thomas and Guy Thomas.

ALL RIGHTS RESERVED. Fashion-era.com reserves the right to add or delete information, graphics and links to this website. Copyright © 2001 - 2011 on all content in Fashion-era.com.

If you email me below for costume/fashion help or information please consider first if you are prepared to make a payment to the website. Make a payment for Pauline's help here

Please read the message directly above before E-Mailing us if you have comments at

This site should be viewed in 1024 X 768 or higher.

Home Sitemap
Ω
---
---
For superb Victorian or Edwardian
re-enactment costumes in USA, try the reproduction costume range at:
recollections.biz
---