Antique Fashion & Costume Plates
One of the longest lived fashion plate magazines Le Follet Courier des Salons first appeared in 1829. This French magazine was exceptionally stylish and although early plates were not signed, many collectors are now familiar with the signatures of later years. After the 1840s, all the best fashion plate designers worked for Le Follet.
The plate below is by the famous artist Anaïs Toudouze one of the three Colin sisters, the others being Laure Noël and Héloïse Leloir (all nee Colin). Many of the models were set at the opera or at evening events or placed against ornamental garden scenes. Anaïs Toudouze was responsible for many plates and later passed the skills to her daughter Isabelle who worked at Le Follet after her mother.
Le Follet Courier des Salons Original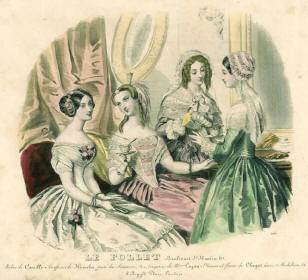 Le Follet Tea Party Image courtesy of Cabrio4 at eBay.
Le Follet was a magazine equivalent to our Vogue of today and flourished to the turn of the century. It still hand coloured plates when other magazines had moved onto much cruder litho printing.
§
La Mode was founded in 1829 by Henri de Girardin. He employed the artist Sulpice Guillaume Chevalier who adopted the nickname Gavarny after confusion over his name and that of a watercolour he exhibited of the village Gavarnie in the Pyrenees. This nom de plume later became Gavarni. From 1830 to 1837 Gavarni designed the most feminine and vital of fashion plates. Many of his pieces also featured charming drawings of children.
He continued mainly as an artist of satirical city street life and is still well thought of today. His fashion work occasionally appeared in other magazines such as Le Voleur, La Vogue and later L'Abeille Impériale. He died in 1866.
Copies of La Mode are exceptionally rare, but I mention it here because of the interest in the Gavarni connection. In addition I want to draw attention to how easy it would be to confuse the Gavarni connection with the later Le Moniteur de la Mode.
Le Bon Ton was one of three new Paris magazines of the early 1830s. Le Bon Ton appeared in 1834. It had been preceded in 1833 by the French Le Journal des Demoiselles and also La Musée des Familles. Le Bon Ton employed the very best artists with fashion plate expertise.
If you like this page then please share it with your friends
---
--Link--
©Copyright Fashion-era.com 2005-2011
These images should not be reproduced in printed book form matter, as greetings cards, gift wrap etc., or as part of any electronic material such as a CD, DVD, TV videos, ebooks, websites or similar item.
Please DO NOT write to me asking for advice on your fashion plate as NONE can be given.
This Fashion Plates Page Added 8 Oct 2005
For more about Fashion Plates
click on the title that you need:-
Some images in this section are courtesy of eBay seller Cabrio4
Fashion-era.com

Fashion-era.com looks at women's costume and fashion history and analyses the mood of an era. Changes in technology, leisure, work, cultural and moral values, homelife and politics have all contributed to lifestyle trends which influence the clothes we wear. These are the changes that make any era of society special in relation to the study of the costume of a period.

Fashion-era.com can take no responsibility for the information above and any outcome which may cause you error, loss or costs incurred from use of the information and links either directly or indirectly from this website or other websites.

If you would like to receive information advising you of updates to the site and other information of interest, sign up for membership now. Click here and get a free sample ebook to kick off your membership.

This web site is owned, designed, written and developed by Pauline Weston Thomas and Guy Thomas.

ALL RIGHTS RESERVED. Fashion-era.com reserves the right to add or delete information, graphics and links to this website. Copyright © 2001 - 2011 on all content in Fashion-era.com.

If you email me below for costume/fashion help or information please consider first if you are prepared to make a payment to the website. Make a payment for Pauline's help here

Please read the message directly above before E-Mailing us if you have comments at

This site should be viewed in 1024 X 768 or higher.

Home Sitemap