Antique Fashion & Costume Plates - Moniteur de la Mode
Part 6 - Fashion Plates - 1840+ Fashion History
The Moniteur de la Mode was first published in 1843 and fashion plates entered a new age where they were made more scenic and became conversation pieces. It is an important Paris magazine in that most artwork was done by the artist Jules David. It was David who developed the fashion plate into a composition with interesting backgrounds. He placed the models in settings such as garden or against rose trailed pergolas. He also used carefully studied interiors from bedroom to dining room to drawing room. We are able to observe ladies taking afternoon tea or strolling at the racecourse and at the same time get a good idea of the surrounding style of the day.
For the British fan of fashion plates, the artist Jules David is particularly important as The Englishwoman's Domestic Magazine (a Beeton publication) imported French engravings to use instead of struggling to create inferior artwork. Many British households have access to copies of The Englishwoman's Domestic Magazine and they can often be found in antiquarian bookshops.
Jules David always signed his fashion plate designs and all were used initially for Moniteur de la Mode. Later the original engravings were sold on and found their way into both German, French, Spanish and American publications. This meant that in what were then distant places like America, fashions could be up to a year out of style as designs were kept in seasonal line.
The American version of this magazine was the Monitor of Fashion which ran 1853-54 in New York.
Below are two very different fashion plates from the publication.
The total of plates David produced for the Moniteur de la Mode was 2600 and he died in 1892, after half a century of work for the magazine. The one below shows the signature of David.
G. Gonin succeeded in 1892 as the main artist and the magazine continued until the early C20th.
§
Les Modes Parisiennes was another important magazine born in Paris in March 1843, but initially as a larger format magazine. The size was reduced to quarto in January 1944 because the originally oversized magazines were being damaged in the post. So the magazine was redefined and copies of plates after 1844 were quarto.
The prime artist was François-Claudins Compte-Calix. Compte-Calix was a watercolour artist of repute. He also executed the illustrations for several costume history books of his day.
Le Petit Messager des Modes began also in 1843. Competition was high that year!
Le Petit Messager des Modes 1864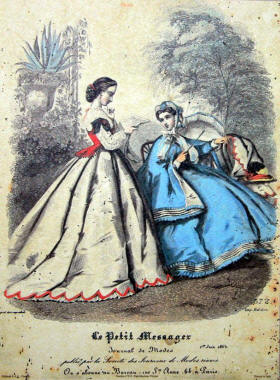 This 'aged' reproduction image is courtesy of alldressformsand available for purchase from there.
If you like this page then please share it with your friends
---
--Link--
©Copyright Fashion-era.com 2005-2011
These images should not be reproduced in printed book form matter, as greetings cards, gift wrap etc., or as part of any electronic material such as a CD, DVD, TV videos, ebooks, websites or similar item.
Please DO NOT write to me asking for advice on your fashion plate as NONE can be given.
This Fashion Plates Page Added 8 Oct 2005
For more about Fashion Plates
click on the title that you need:-
Some images in this section are courtesy of eBay seller Cabrio4
Fashion-era.com

Fashion-era.com looks at women's costume and fashion history and analyses the mood of an era. Changes in technology, leisure, work, cultural and moral values, homelife and politics have all contributed to lifestyle trends which influence the clothes we wear. These are the changes that make any era of society special in relation to the study of the costume of a period.

Fashion-era.com can take no responsibility for the information above and any outcome which may cause you error, loss or costs incurred from use of the information and links either directly or indirectly from this website or other websites.

If you would like to receive information advising you of updates to the site and other information of interest, sign up for membership now. Click here and get a free sample ebook to kick off your membership.

This web site is owned, designed, written and developed by Pauline Weston Thomas and Guy Thomas.

ALL RIGHTS RESERVED. Fashion-era.com reserves the right to add or delete information, graphics and links to this website. Copyright © 2001 - 2011 on all content in Fashion-era.com.

If you email me below for costume/fashion help or information please consider first if you are prepared to make a payment to the website. Make a payment for Pauline's help here

Please read the message directly above before E-Mailing us if you have comments at

This site should be viewed in 1024 X 768 or higher.

Home Sitemap